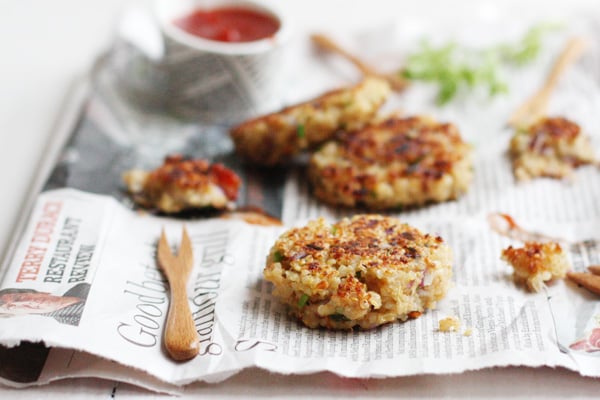 Cooking quinoa is one of the easiest, most rewarding exercise you can indulge in your kitchen. It practically cooks itself and freezes well. Not to mention, it is healthy hip and really tasty. When I cooked a big pot of quinoa earlier this week from Heidi's Super Natural Every Day cookbook, I wasn't quite sure what I wanted to do with it. The Little Quinoa Patties recipe in the book was inspiring and I adapted it to make a delicious snack that was devoured by Nick and Rivs. The little one needed coaxing but that didn't work either. So I can safely proclaim this recipe certifiably good for adults, young adults and adventurous eight year olds.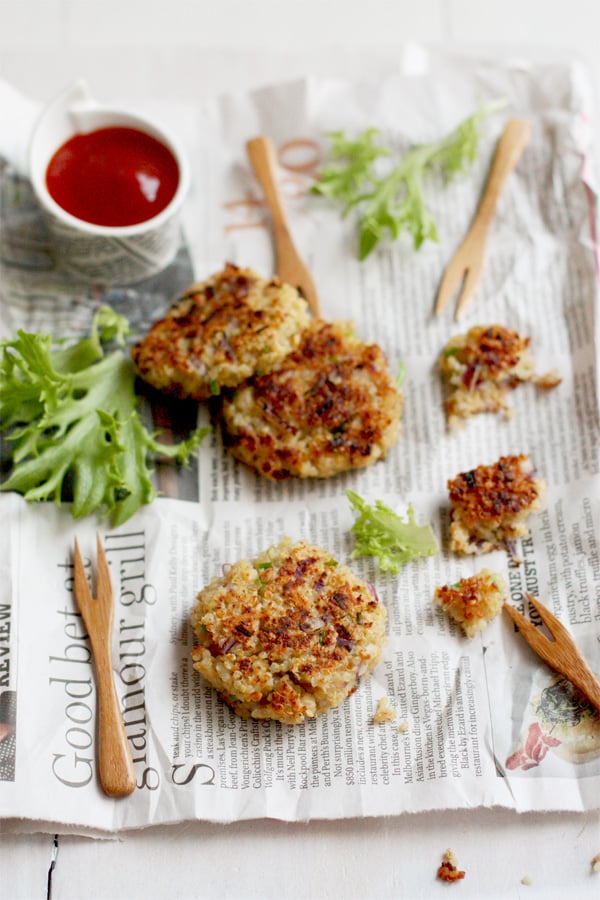 The marriage of garlic and thyme is a happy one as The Flavor Thesaurus suggests but when you add chives and paprika to the mix, the party really begins. The flavours in this patties start out soft on your palate but slowly grow and delight you. Rounded at first and then sharp and peppery all at once. The tomato ketchup and salad greens work really well and I can see these little bites being casual enough to please a crowd at a picnic yet sophisticated enough for your special dinner for two topped with a soft-centered egg and a spicy relish.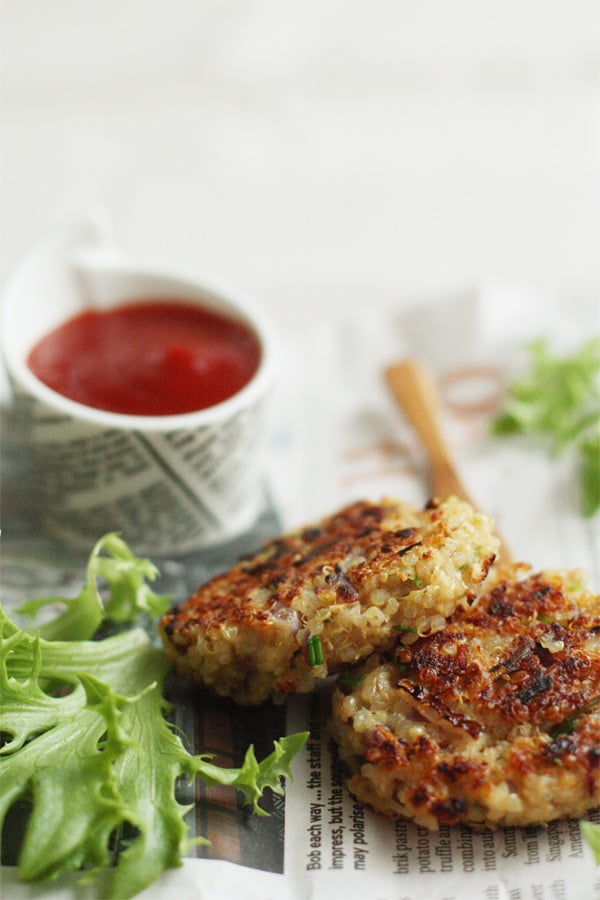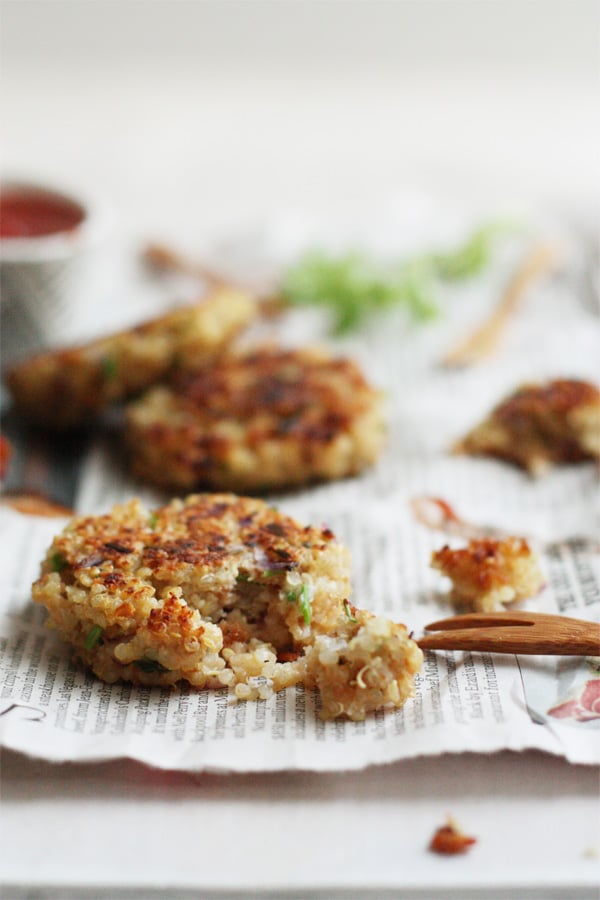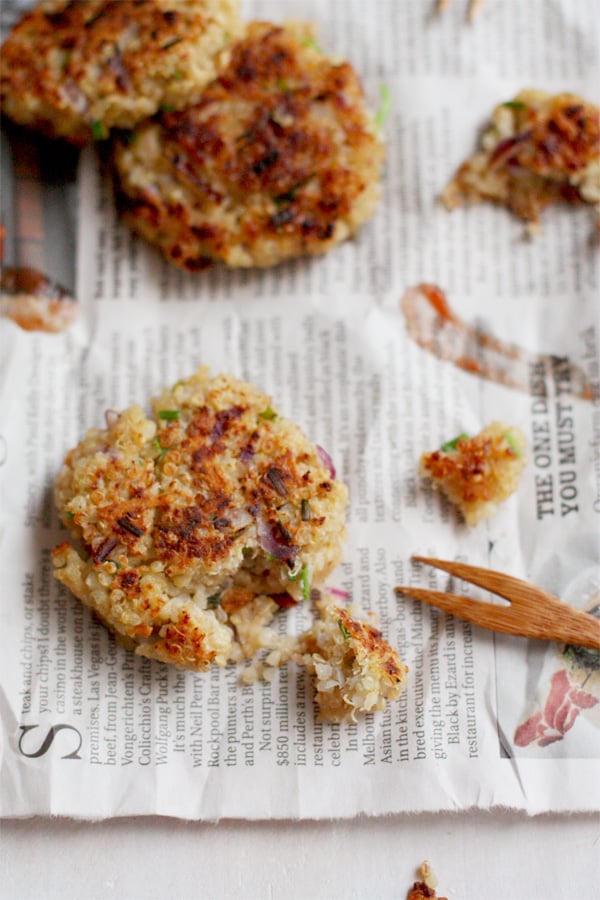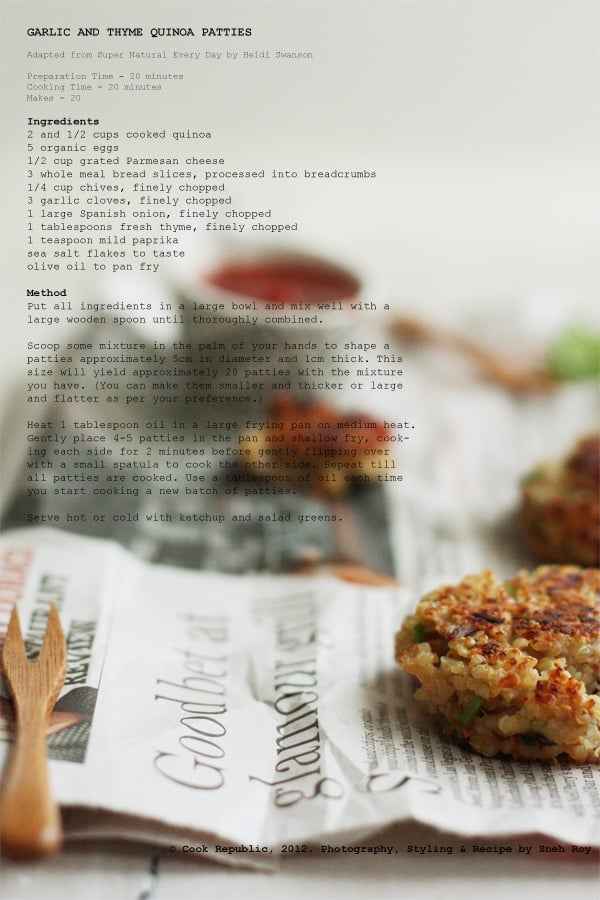 Recipe
Hungry For More Recipes? Subscribe to my newsletter. Check out Facebook, Instagram and Pinterest to see everything I share! And if you love cooking and new cookbooks, join my free Cooking Club on Facebook!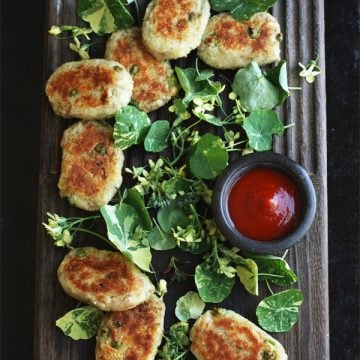 Ingredients
2

and 1/2 cups cooked quinoa

5

organic eggs

1/2

cup

grated Parmesan cheese

3

whole meal bread slices

,

processed into breadcrumbs

1/4

cup

chives

,

finely chopped

3

garlic cloves

,

finely chopped

1

large Spanish onion

,

finely chopped

1

tablespoons

fresh thyme

,

finely chopped

1

teaspoon

mild paprika

sea salt flakes to taste

olive oil to pan fry
Instructions
Put all ingredients in a large bowl and mix well with a large wooden spoon until thoroughly combined.

Scoop some mixture in the palm of your hands to shape a patties approximately 5cm in diameter and 1cm thick. This size will yield approximately 20 patties with the mixture you have. (You can make them smaller and thicker or large and flatter as per your preference.)

Heat 1 tablespoon oil in a large frying pan on medium heat. Gently place 4-5 patties in the pan and shallow fry, cooking each side for 2 minutes before gently flipping over with a small spatula to cook the other side. Repeat till all patties are cooked. Use a tablespoon of oil each time you start cooking a new batch of patties.

Serve hot or cold with ketchup and salad greens.
Notes
These are delicate patties and a tad tricky to shape as they may stick to your hands or fall apart in the pan. Gently handling will prevent them from falling apart. once one side is cooked, they become easier to manage and even flatten nicely for even browning.
If you find it impossible to work with them or shape them, try adding 1 tablespoon of plain flour to make them hold their shape.
Did you make my recipe?
I'd love to hear how you went! Tag me on Instagram @cookrepublic