Masquerading under the moniker of Chola Bhatura, the quintissential street food king of Punjabi cuisine is the humble Chana Masala which loosely translates to North Indian Spicy Chickpeas, well not really. It basically means Spicy Chickpeas, I just added the North Indian bit.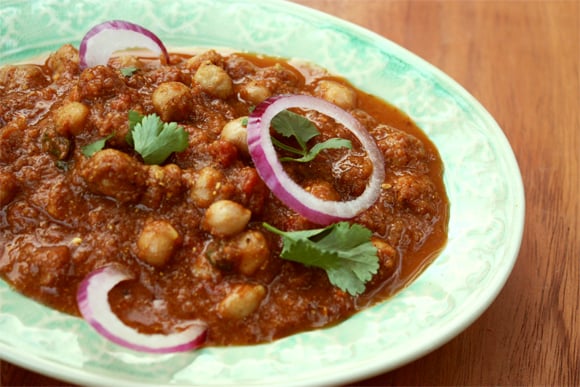 I have always loved this very fragrant, very spicy dish. It is responsible for my love affair with the mighty chickpea. My mum used to make this with a lot of love and care, slowly simmered over low to medium heat for almost 2 hours and it was absolutely gorgeous in its complexity and flavours. She always soaked the chickpeas overnight with a dash of bicarbonate of soda or baking powder. And I continued that tradition for a long time before I developed the ease of canned chickpeas. Shame on me! Because, I do believe that dry chickpeas that are soaked impart a more robust, more authentic flavour to this wonderful dish than the canned chickpeas swimming in some sticky liquid (which has to be completely rinsed off). So one of these days, I might take a clean break from my hectic schedule to go old school and cook the "chana" as my mum used to make.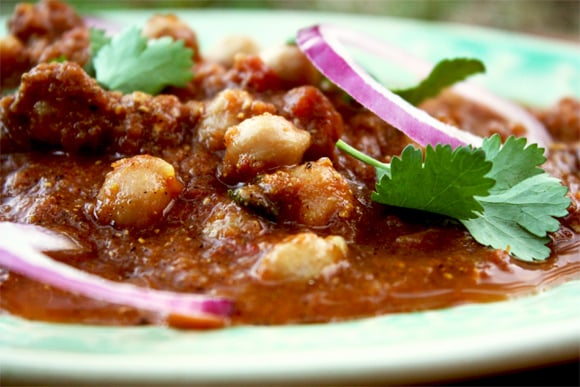 In restaurants, the chickpeas are always served with hot, puffed, fried Indian bread called "Bhatura". It is one of those wickedly delicious, very sinful breads that are not the most convenient and easy to make. So, I make them maybe once a year when inspiration and motivation strikes. There is no real replacement for the "Bhatura". The "Puri" comes close and is relatively easier and faster to conjure in your deep fryer. But the amazingly versatile Chana Masala goes just as well with bread or rice. My favorite is laying a bread slice on a platter, topping it up with hot chana masala and garnishing with chopped onion, coriander and an extra dash of spices and sweet tamaring chutney.
The version of Chana Masala that I have for you today is the one I grew up with and love the most. It is very close to what is dished up in parts of northern India.
[print_this]
recipe
CHANA MASALA
Preparation Time - 10-15 minutes to assemble ingredients | Cooking Time - A maximum of 2 hours | Serves - 4-6
Ingredients
2x400g chickpea cans, drained
4 small red onions, roughly chopped
1 inch piece ginger, roughly chopped
4 garlic cloves
1 green chili
1 tablespoon olive oil
2-3 small pieces of cinnamon
1-2 whole cardamoms, crushed
3 fresh/dried bay leaves
3 tablespoons yogurt
1/2 tsp ground turmeric
1 tablespoon ground cumin
1 tablespoon ground coriander
2 tablespoons garam masala
1 tsp raw sugar
1 tsp mango powder
2 teaspoons tamarind puree/paste
juice of half lemon
4-5 whole peppercorns
salt to taste
1 litre water
pinch of asafoetida
200g diced tomatoes
for the garnish
1 small red onion, sliced into fine rings
1/2 cup freshly chopped coriander leaves
2 teaspoons chaat masala
Method
Blend onion, garlic, ginger and chili to a coarse paste in a food processor with 2-3 tablespoons of water. Heat oil in a deep, wide, heavy bottomed pan on medium heat. Fry bay leaves, cinnamon, peppercorns and cardamoms for a minute. Add the onion mixture and tomatoes and saute for 4-5 minutes till it starts changing color. Add sugar, salt, cumin, coriander, garam masala, turmeric powder, mango powder, lemon juice and tamarind paste. Cook for another few minutes, mixing well. Add yogurt and stir for a minute.
Add chickpeas and 1 litre water. Bring to a boil, reduce heat and simmer on low heat for about an hour. Check to see that there is enough liquid in the pot, adding small quantities if it starts drying up.
Cook till the liquid has reduced, coating the chickpeas in a delicious looking, thick brown sauce.
Stir through the garnish just before serving. Serve hot with rice or puris or bhatura.
Notes
*Secret Ingredient Alert* The restaurants in India that serve up this very authentic, very traditional dish; have a very delicious after-taste. It is kind of tangy and spicy all at once, something that is addressed with the use of tamarind in this recipe. But after trying out many different variations, I found that adding a good few spoons of tomato ketchup brings it very close to that coveted taste. Try it!
[/print_this]