Ever notice how a homemade cookie kicks the crumbs of a store-bought one? I notice it all the time and despite all my efforts to have a batch of homemade cookies on hand at all times, I take the easy route and buy [gasp!] a packet of biscuits or a bag of cookies from the local Cookieman store. One of the reasons for turning my back on homemade cookies was a recent cookie baking disaster which I promptly fault the recipe for. Another was lack of time and yet another was the extreme state of fussiness my boys had descended into.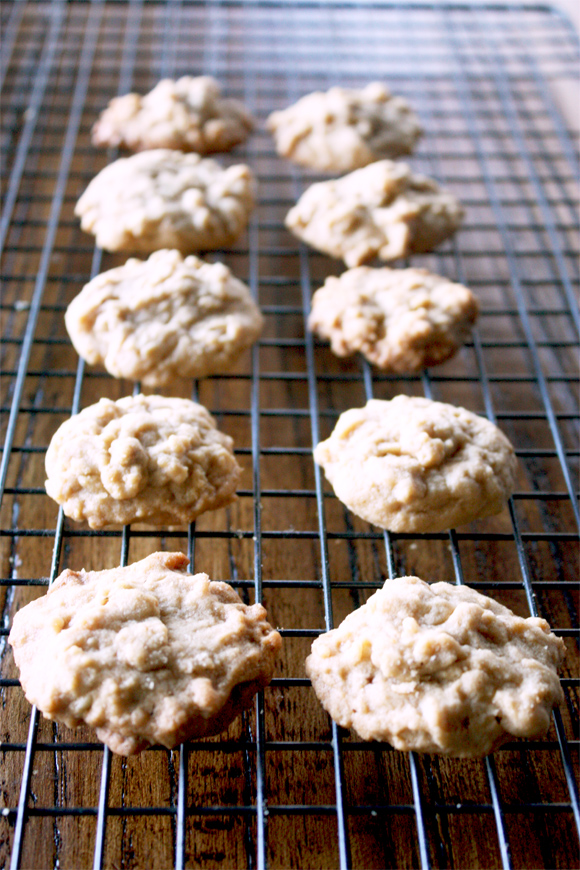 Then out came the sun [well, not literally; the weather is as drab as they come towards the wane of winter in Sydney] and my first-born proclaimed that he would like me to make some yummy cookies. This time I turned to a book I have used and swear by,
Michele Cranston's Comfort from the Marie Claire Series of cookbooks
. I added in some extra fibre in the form of rolled oats and the peanut butter cookies were very very nice indeed.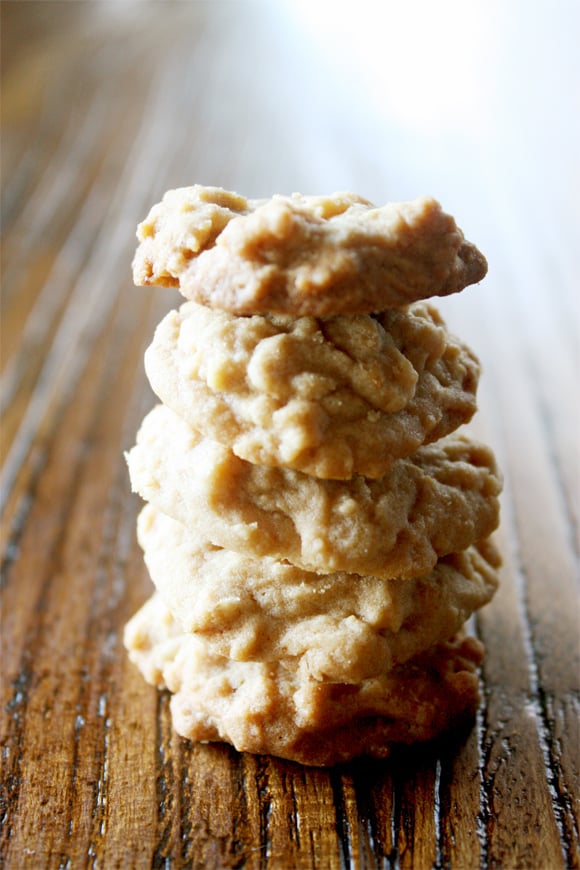 [print_this]
recipe
CRUNCHY PEANUT BUTTER OAT COOKIES
Preparation Time - 15 minutes | Baking Time - 20 minutes | Makes 35
Ingredients
90g softened unsalted butter
4 heaped tablespoons crunchy peanut butter
150g firmly packed brown sugar
1 cup plain flour
1 teaspoon baking powder
1/4 teaspoon ground cinnamon
1/4 cup rolled oats
1 egg
Method
Preheat the oven to 180°C (350°F) and line a baking tray with baking paper.
Cream softened unsalted butter, peanut butter and brown sugar with a hand mixer until pale and creamy. Add the egg and stir thoroughly.
Sift in flour, baking powder and cinnamon. Add oats and mix well.
Drop teaspoonfuls onto the tray, leaving room for the cookies to spread. Bake for approximately 12-15 minutes.
Remove cookies from the oven. Allow to cool on the baking tray before lifting and cooling on wire racks.
Note
Let the cookies cool almost completely on the baking tray before you handle them to put them on the wire racks. They tend to crumble when they are still warm.
[/print_this]