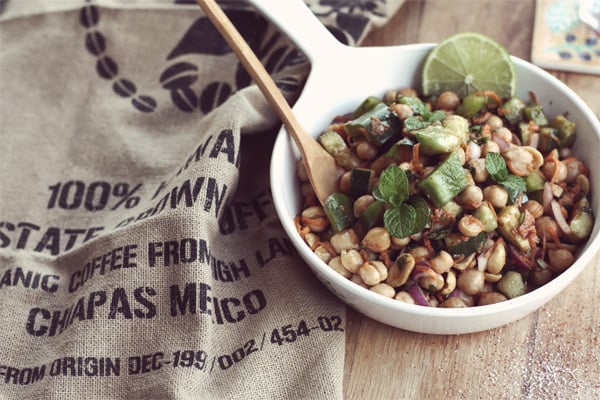 On the streets of Mumbai, especially around a large water body like the curve of a beach or a lake are colourful gypsy like carts selling
bhelpuri
(bh-ail-poo-ree) and
panipuri
(p-aa-nee-poo-ree).
Bhelpuri
is a very popular street snack made up of puffed rice, tomatoes, onions, coriander, very fine noodles called sev, chili, coriander, lemon, black salt and tamarind chutney amongst other things. It is sweet, sour, tangy and totally addictive. The
bhelpuri
often called
bhel
, is my inspiration for today's recipe.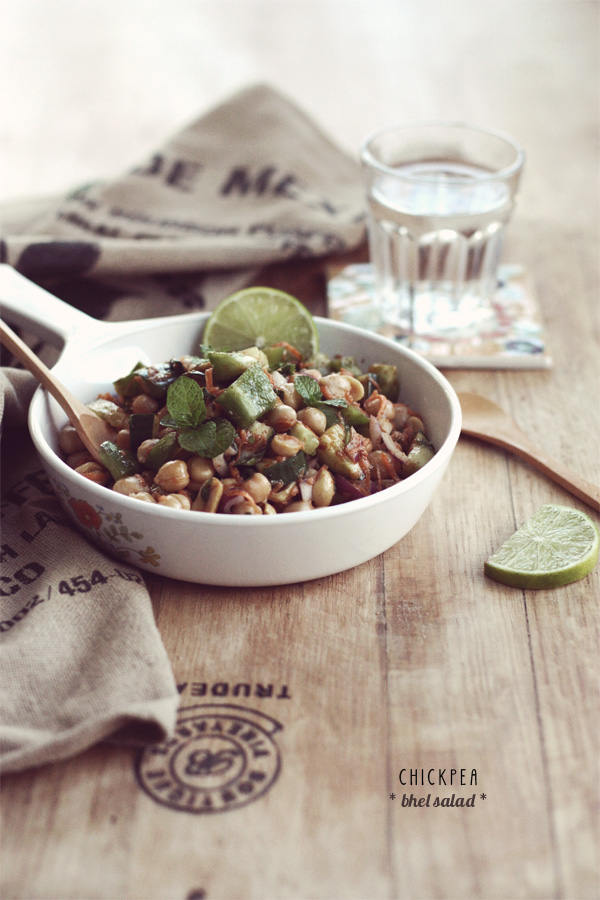 Instead of puffed rice, I used chickpeas as the base of my recipe. One of the main reasons I chose to go with chickpeas is that I wanted the salad to be crisp and crunchy for a barbecue we were invited to. This salad can be made ahead and it stays fresh even after a good few hours. It tastes great warm or cold. The hefty dose of lime gets the tastebuds going and the protein in the chickpeas thoroughly satisfies. Healthy and perfect as an appetizer or a meal by itself, this salad is easily customised to include more texture, more bite, more greens - you name it! I have made a version of this with kale and almonds and it is as delicious as this one.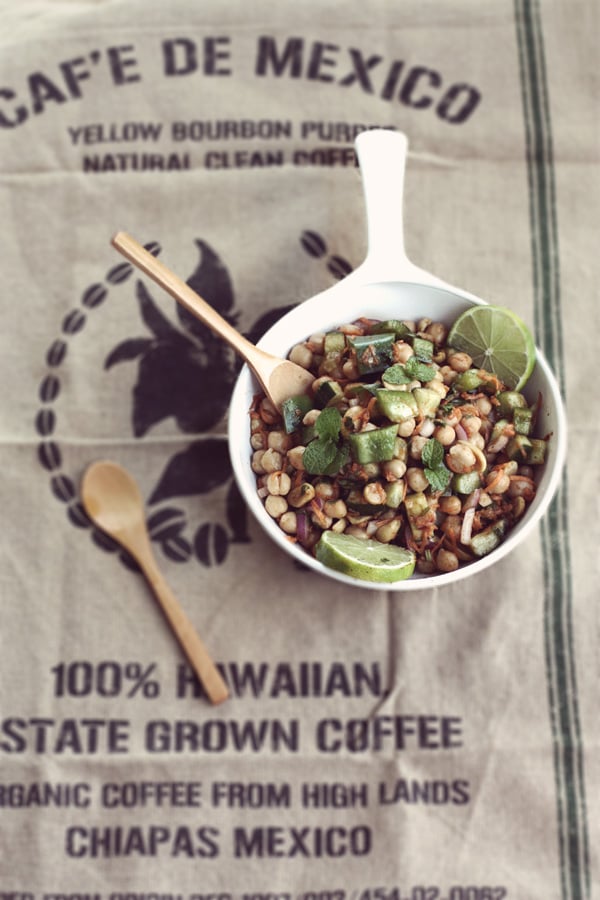 [print_this]
Chickpea Bhel Salad
Preparation Time - 15 minutes
Serves - 4
Ingredients
1 400g can chickpeas, rinsed and drained
1 green capsicum, diced
1 red onion, finely chopped
1 cucumber, diced
1 carrot, grated
1/4 cup toasted peanuts
bhel dressing
2 tablespoons olive oil
1 tablespoon ground cumin
1/4 teaspoon ground red chili
1/4 teaspoon black salt
1 tablespoon raw sugar
1/4 cup fresh coriander leaves, finely chopped
a handful of mint leaves
juice of 1 lime + lime wedges to serve
Method
Combine all ingredients except the lime wedges in a large bowl and gently toss to combine and coat. Garnish with lime wedges and serve at a barbecue or on grilled bread with a dollop of tomato chutney.
My Notes
It might not always be easy to get your hands on black salt (I usually find it at Indian grocery stores or at organic greengrocers also called kaala namak ), but the addition of it is what makes this salad truly tangy and marvellous. Black salt has a pungent smell and a delightful salty/tangy flavour. It is one of the key ingredients in bhel and other savoury snacks. It is known to be cooling in nature and aids in digestion.
If you can't find black salt, you can substitute with pink or regular salt to taste.
For a picnic or potluck, you can mix the bhel dressing ingredients and carry the dressing in a small mason jar. Simply mix through with the other ingredients and toss for a lovely fresh sald.
[/print_this]