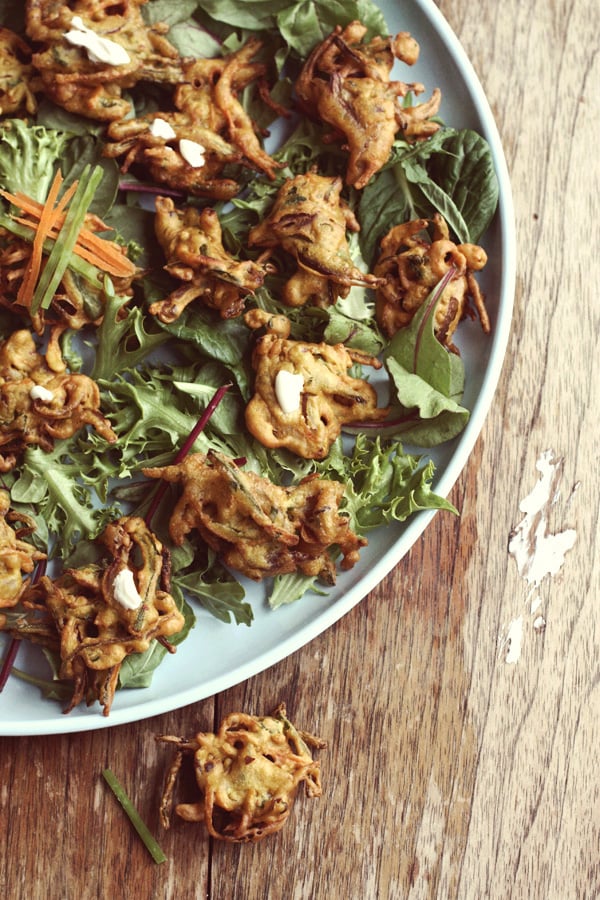 I have never been much of a salad person. There, I admitted it! But something has changed. I seem to like them now. Maybe I am all grown up. Maybe it is a phase. I am but a puppet to my whims and fancies. And my whim of the moment are salads. Not regular salads, mind you. Quirky ones! Really really quirky ones!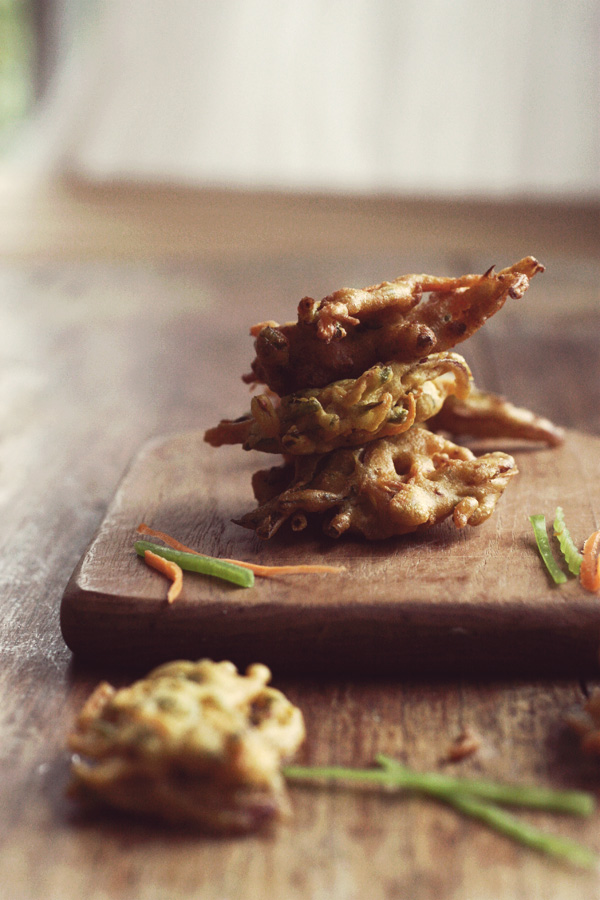 I love fritters. Vegetable fritters are my favourite. Crunchy, textural little beauties. I don't make them as often as I would like to on account of the deep frying that I like to steer clear of. But when I do, especially on chilly afternoons, it is a joyous thing. The inspiration for this salad came from my need to indulge in a fritter fest one weekend and the self-induced pressure to take something nice for a dinner we were invited to. The recipe by Valli Little in Delicious More Please was perfect for what I had in mind. The Bhaji salad that she writes about is based on the Indian fritter called bhaji and is served with micro herbs.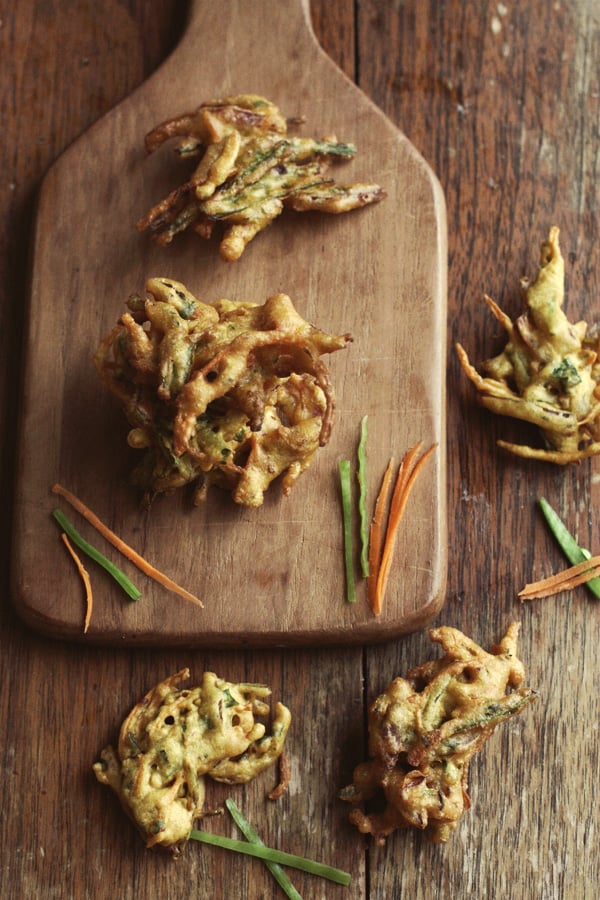 What I really love about this dish is how it can be easily adapted to anything you might have in the fridge or pantry. There are at least a dozen variations you could make of this dish. Mine is a vegetarian version cooked especially for my vegetarian friend, who I might add enjoyed it a lot. But you can make it with prawns, shredded chicken and even tofu. You can use seasonal vegetables and change the garnish. You can change the accompanying dressing and serve it up with a spicy sauce or a chunky dip. Endless possibilities!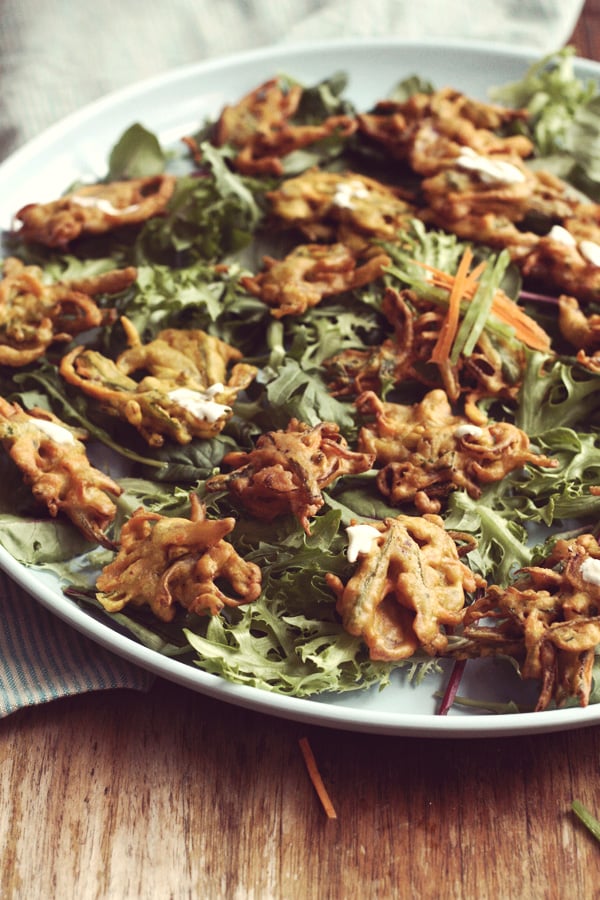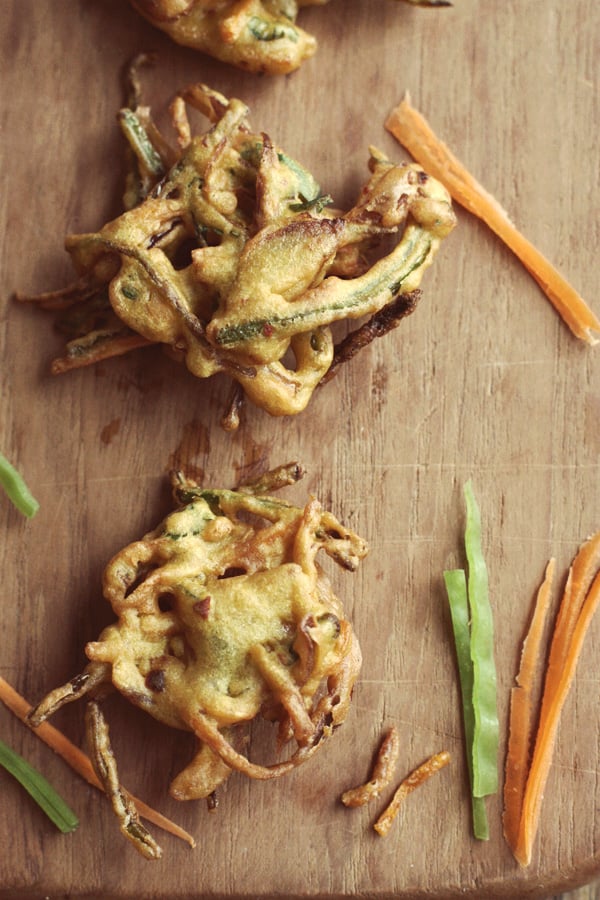 [print_this]
Vegetable Fritter Salad
Preparation Time - 20 minutes
Cooking Time - 20 minutes
Serves - 8
Ingredients
batter
2 cups chickpea flour (besan)
10 curry leaves, finely chopped
1 teaspoon red chili flakes
1/4 cup coriander leaves, finely chopped
1 teaspoon ground turmeric
1 teaspoon ground cumin
1 teaspoon garam masala (optional)
1 tablespoon raw sugar
1/4 teaspoon bicarbonate of soda
salt to taste
vegetables
1 red onion, thinly sliced
1 large carrot, cut into thin matchsticks
15 snow peas, cut into thin strips
dressing
1/2 cup sour cream
juice if 1 lemon
freshly ground black pepper
salt to taste
oil for deep frying (I used Canola oil)
assortment of salad greens to serve
Method
Combine all ingredients for the batter in a large bowl with enough cold water to form a thick batter. Consistency wise you hould be looking for something that is looser than cake batter and thicker than pancake batter. You can add more chickpea flour to get the right consistency. I always do this step by feel rather than measurements. Rest batter for 10 minutes. Add the vegetables and stir well to coat.
Half fill a deep fryer or large saucepan with canola oil. Heat to 180C. You can use a cooking thermometer to guage the temperature of the oil or test it by dropping a cube of bread in it. If it sizzles, rises to the top and turns golden in 30 seconds, your oil is ready.
Working carefully and in batches, drop a heaped tablespoon of batter using either a spoon or your hand in the hot oil. (I find scooping batter with my fingertips and thumb much easier than a spoon). Cook for 2 minutes on each side, until golden and nicely browned. Remove with a slotted spoon and drain on paper towels. Repeat with remaining batter until all fritters are cooked.
Mix ingredients for the dressing in a small bowl to form a loose sauce. Arrange salad leaves on a large platter, top with vegetable fritters and drizzle with the dressing.
My Notes
I amp up the amount of chili when I am cooking just for Nick and me as we are both chili fiends. If you find the amount of chili too much, reduce it. The sugar in the recipe cuts through some of the spice and the flavours work really well together. Skipping the garam masala will also make these less spicy as really fresh garam masala can pack a punch. The dressing also helps tame some of the spices.
[/print_this]