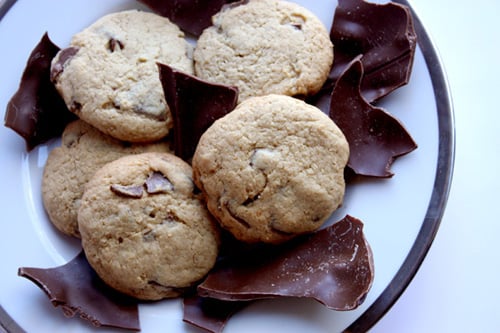 We bought a HUGE Chocolate egg for Easter. Nick insisted that he absolutely had to have one because it was so wonderfully packaged, looked so colorful and appealing and it called out to the little boy in him. I did warn him that it was humanly impossible to eat it without feeling sick, but he championed his cause saying he'd have help from the boys in finishing it off. So Darrell Lea made another Easter sale and we got the gigantic chocolate egg home. It sat on our kitchen shelf, proudly on display for 4 months before I reminded Nick for the upteenth time of his vow to finish it off. So one lazy Saturday afternoon both my boys sat down on the floor, unraveling the shiny Mr Egg packaging and devoured him for half an hour before they gave up. I was left with a box full of chocolate chunks [yes, we had to bash Mr. Egg into pieces for storage purposes]. This beautiful chocolate chunk and coconut cookie recipe is my first, chewy attempt at finishing off that lovely milk chocolate while it is still fresh.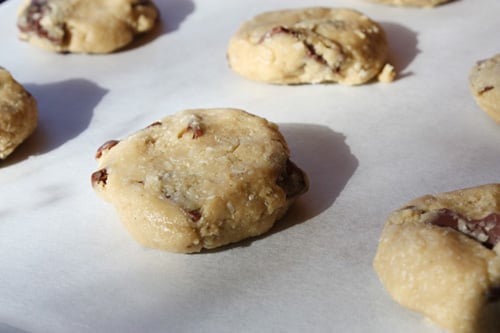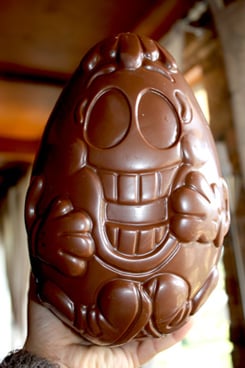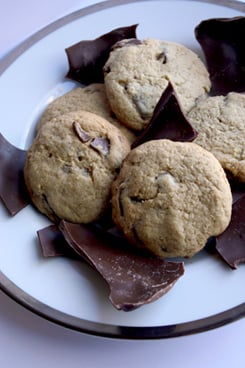 CHOCOLATE CHUNK AND COCONUT COOKIES
[Preparation Time : 20 minutes/ Baking Time : 20 minutes/ Makes 20-24]
Ingredients
125g butter, softened
1/2 tsp vanilla extract
1 cup firmly packed brown sugar
2 eggs
2 cups plain flour, sifted
1 tsp baking powder
a pinch of salt
1 cup dessicated coconut
180g milk chocolate broken into chunks
Method
Preheat the oven to 190oC [375oF]. Place the butter, vanilla and sugar in a bowl and beat until light and creamy. Beat in the eggs.
Stir through the flour, baking powder, salt, coconut and chocolate.
Roll tablespoons of mixture into balls. Place them on a baking tray lined with baking paper 3-4 cm apart. Flatten them slightly. Bake for 20 minutes until lightly browned.