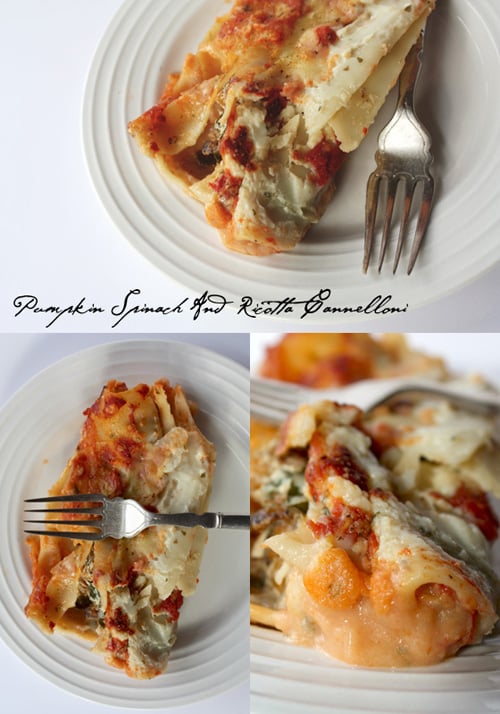 I have never made cannelloni before and now that I have, I don't know why I never did. I was browsing through Bill Granger's "Feed Me Now" [yes, again .. and I would take this moment to enthusiastically recommend this book to anyone who is looking for special recipes that lean towards healthy and have that home-made feel to them, to buy this book straightaway] and the Pumpkin Cannelloni recipe caught my eye. Lorraine from Not Quite Nigella has tried it with flying marks, so I thought to myself, why not? But on that day, I was feeling especially lazy, so I adapted the recipe, omitted many ingredients and whipped up something so delectable, I couldn't believe what I had been missing out on all along. I used store-bought Alfredo sauce and Passata for this recipe, since I didn't have any home-made pasta sauces left over.
PUMPKIN SPINACH AND RICOTTA CANNELLONI
[Preparation Time : 30 minutes/ Baking Time : 30 minutes/ Serves 2]
Ingredients
10 cannelloni tubes
2 cups diced pumpkin [1 cm diced pieces]
1 cup chopped spinach
1/4 cup ricotta cheese
1 tsp chicken stock powder
1 tsp thyme
1/4 tsp dried red chilli flakes
1 cup alfredo sauce
1 cup passata
1/2 cup mozzarella cheese
freshly ground black pepper
1 tsp olive oil
Method
Preheat oven to 180oC.
Heat oil in a pan on medium. Add pumpkin, thyme, chilli and chicken stock powder. Sauté for 5 minutes till pumpkin is tender. Add spinach and ricotta. Cook for another minute. Remove from heat. Allow to cool. Mash a bit with a spoon.
Fill pumpkin mixture in cannelloni tubes. In a glass, ovensafe dish, place the tubes snugly. Top with alfredo sauce and then passata. Sprinkle with shredded mozzarella and black pepper.
Bake in the pre-heated oven for 20-30 minutes until cooked and cheese is golden.