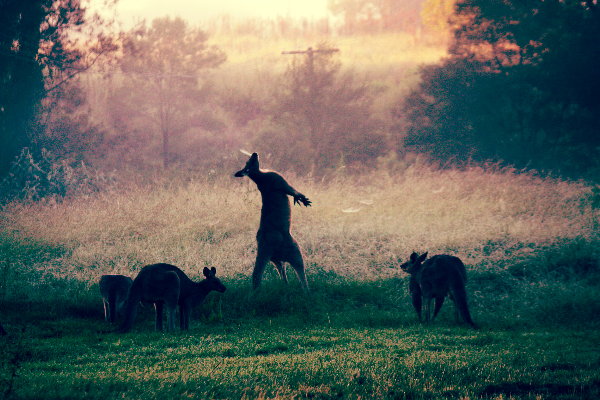 April has been an eventful month for me. Over the Easter weekend, we went away camping with our friends. Always a skeptic about wide open spaces and unpredictable animals, I was amazed at the wonderful photo opportunities a camping trip could provide. And the sheer bliss of being disconnected from all your gadgets and spending time with friends and family. Nothing can beat that. I will be writing about our first camping trip soon, but today I wanted to share a stunning photo that Nick took on a solitary early morning walk when he chanced upon a gathering of kangaroos. I have been working on a lot of illustrations for a project and have managed to sneak in a little illustration work for the blog's autumn header focusing on apples, a theme that will be prevalent on the blog in the month of May.
This month we saw many birthdays in the family with my oldest turning 8, I tested a couple of recipes (excellent ones!) for Billy Law's soon to be released cookbook Have You Eaten?, I was nominated for Best Australian Blogs 2012 (would love a vote or two if you click through the link, thanks!) and I was approached to be featured and published in a soon to launch international lifestyle magazine. The month is almost at a close, but I have a list of my favourites from the month of April to share. Hope you enjoy the links!
This explanatory DIY tutorial on making Mini Terraniums in spice jars.
Davy Bonny's collection of photos are gorgeous, unadulterated and unedited.
This recipe for Maple Granola outlines the exact time at which to add different ingredients in the process of getting a perfect crunchy granola. This recipe for Granola is grain and gluten free.
Emi Uchida's beautiful blog about recipes made from produce grown in her own garden in Vancouver - Gobo Root
I find myself fascinated by the concept of Hand Pies and Making Your Own Mascarpone.
This month in my exploration of other blogs, I am baking Lemon Poppyseed Cake, Pumpkin Oat Bread & Whole Wheat Spinach Calzones.
Words To Live By. Light in this photo. Moodiness in the food.
These chic steel tiffin tins. These handy bites for afternoon tea. These boots.
Books I am pre-ordering this month : Jerusalem by Yotam Ottolenghi. Zenbu Zen by Jane Lawson. Whole Larder Love by Rohan Anderson. Mr. Wilkinson's Favourite Vegetables by Matt Wilkinson.
If you have young (or even slightly older) kids, I highly recommend Press Here by Herve Tullet and The Wrong Book iPad App.
Have a fabulous weekend!