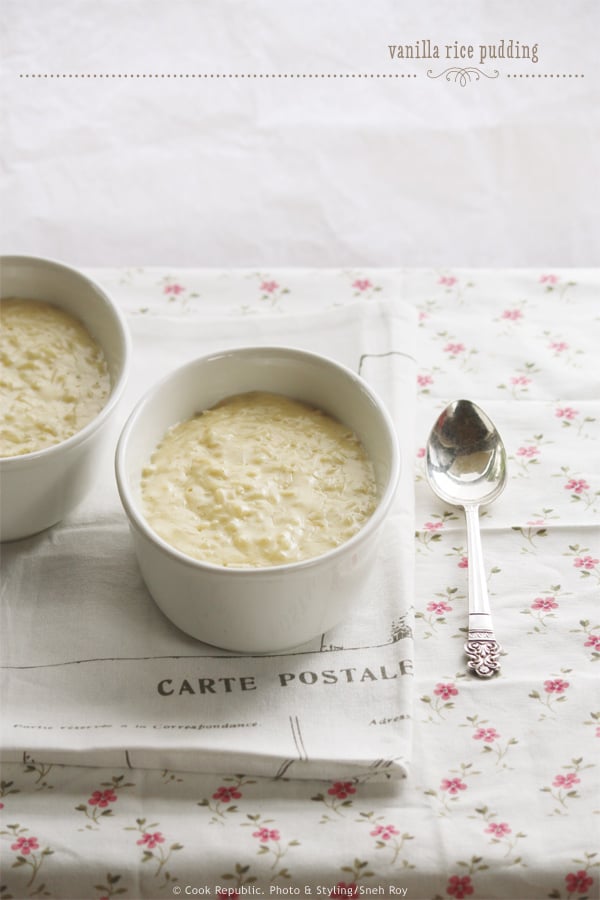 When you are curled up on the couch in your worn and much loved brown blanket, the tip of your toes still tingling with cold inside your woollen socks, your breath toasty on your palms as you try to warm them; there is but one thing that would melt your insides into rivers of molten warmth. Hugging a bowl of still-warm-from-the-cooktop vanilla rice pudding with the delicious steam fogging up your vision and a spiced wine poached plum to cut through the creaminess. If Downton Abbey happens to be on at the same time, your life may very well be complete.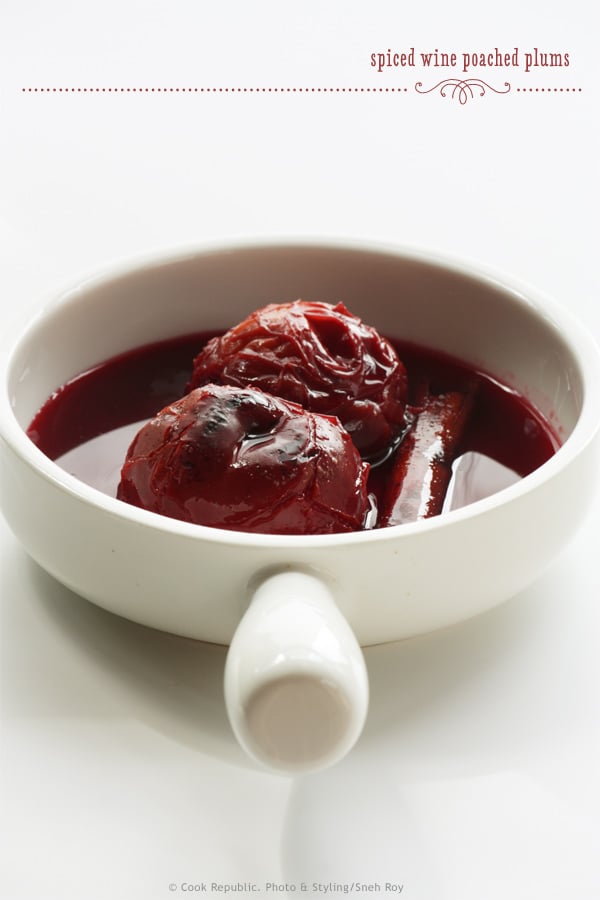 A simple vanilla pudding is a fast, cheap and comforting dessert for those chilly nights when nothing else seems to warm you up. We are seeing quite a few of those in Sydney lately, chilly nights that is. It is quick to make, almost akin to porridge. I like to make it a tad special but serving it with a beautiful ruby plum or two poached gently in red wine simmering away with spices. The sweet creaminess of the pudding, the delicate vanilla after taste, the kick from the spicy wine and the tart sour flavour of the plum works magic together.
[print_this]
Vanilla Rice Pudding With Spiced Wine Poached Plums
Preparation Time - 20 minutes
Cooking Time - 30 minutes
Serves - 6
Ingredients
for the pudding
1 cup short or long grain rice (approximately 180g)
400ml water
pinch of salt
1 tablespoon vanilla extract or 1/2 vanilla pod
1 litre full fat milk
3-4 tablespoons caster sugar
200ml pure (whipping) cream
for the plums
6 whole plums
2 cups red wine (I use a Shiraz or a slightly sweet Syrah)
1 tablespoon sugar
2 inch piece of cinnamon
4-5 cloves
1 teaspoon citrus peel
Method
to make the pudding
In a heavy bottomed saucepan, boil rice and water with a bit of salt for 10 minutes on medium heat. Add vanilla extract (or pod), sugar and milk. Reduce heat to the lowest setting, cover with lid and gently simmer for 30 minutes. Stir and check occasionally to ensure the pudding doesn't stick to the bottom and start browning. Add the cream, stir well and cook for 5 more minutes.
At this point if using a vanilla pod, remove the pod and scrape the seeds into the pudding. Remove from heat, stir well and allow to cool to just warm. Add more sugar if you want it sweeter. Serve with poached plums.
to make the plums
In a heavy bottomed saucepan, place the plums. Add the wine, sugar and spices. Spoon some wine on to the plums. On low-medium heat, poach plums covered for approximately 15 minutes. When soft and cooked, remove from heat and carefully slice out the stone of the fruit before serving the plum on the pudding with a light drizzle of the wine sauce.
[/print_this]