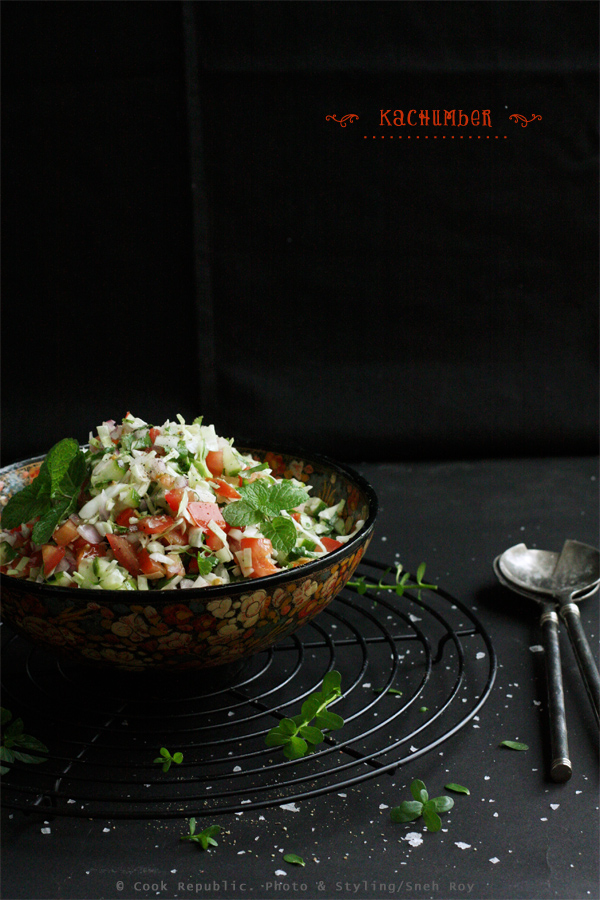 Kachumber [kuh-choom-burr] was my favourite salad growing up. I loved rolling the word of my tongue and enjoyed eating it even more. More relish than salad, it was sweet and sour with a fresh tingly taste on your palate. With as many variations as there were cooks, my family's version of it was onion, tomatoes and cucumber finely chopped in a bowl with sugar, salt and lemon. Instant bliss!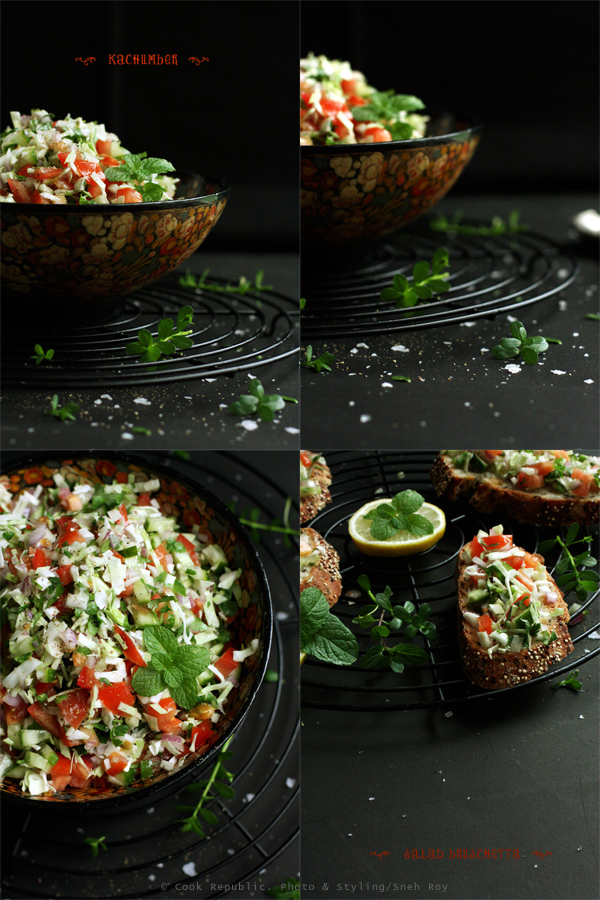 Lately, I have been cooking a lot from
Under The Walnut Tree, a beautiful cookbook by Anna Bergenstrom and Fanny Bergenstrom
. When I came across a recipe for Spicy Indian
Kachumber
, the nostalgia hit hard. It dredged up a memory of me at age 6, extremely sick and not being allowed real food for a long period of time. I remember the day my mum announced that the doctor had given the green light on solids and real food. I remember my extreme excitement to have a taste of something other than porridge and watery soup. My mum reeled me in saying that I would have to start slow with something simple and fresh minus all the spices prevalent in Indian food. She served me
kachumber
on lightly toasted bread. I remember the taste to this day. It was beautiful, made more poignant and memorable by having been denied real food.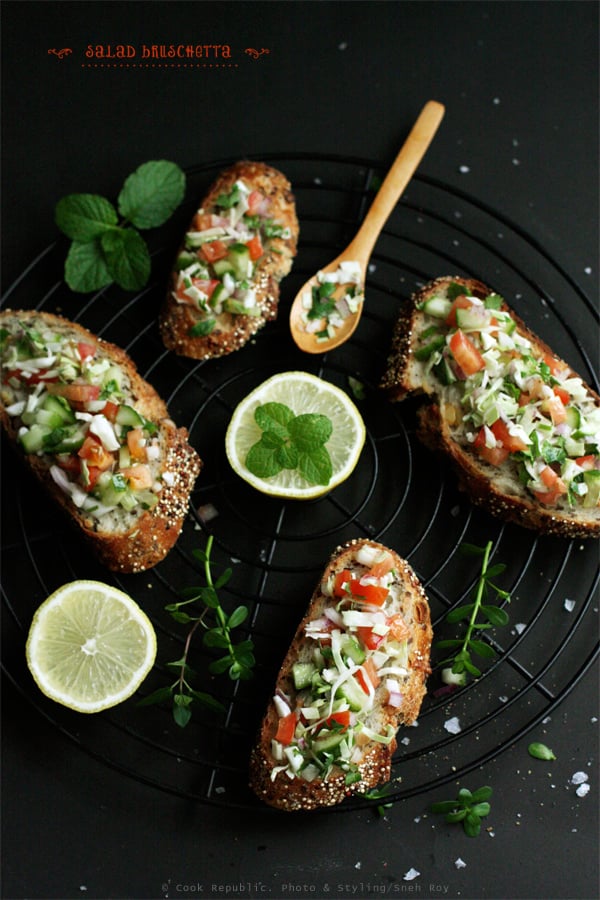 As the boys bounced around on their trampoline with a dozen or so plush angry birds bouncing with them and Nick mowed the lawn, I recreated a childhood favourite in a matter of minutes. I had some beautiful Quinoa And Soya Bread from Brasserie Bread which I sliced and toasted to serve this kachumber on.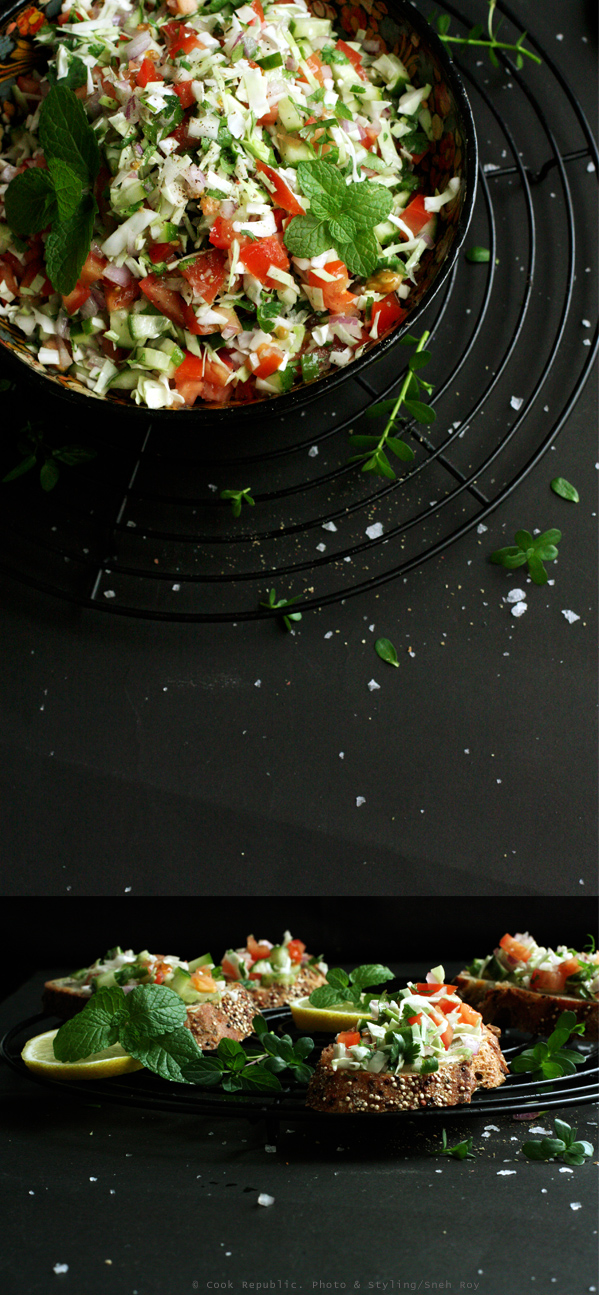 Fine knife work is a must for this recipe, so take your time. And remember to add the sugar and salt just prior to serving or it will sweat. I love it best on its own, but I have tried it rolled in a spinach wrap/tortilla, on sliced and toasted baguette and spread inside a dinner roll.
Food Photography & Prop Styling Alert - Black wire rack from Target, $12. Hand painted wooden bowl from Vinnies, $2. Vintage chrome salad servers from Vinnies, $3.
[print_this]
Kachumber And Salad Bruschetta
Preparation Time - 10 minutes
Makes - 1 large bowl to serve 6
Ingredients
1 spanish onion (red onion), finely diced and chopped
1 large lebanese cucumber, finely diced
2 large tomatoes, finely diced
1/4 cup fresh raw mango, finely diced
1/2 cabbage, shredded fine and chopped
1/2 cup fresh coriander leaves, finely chopped
juice of 1/2 a lemon
1/2 teaspoon salt
1 to 2 tablespoons raw sugar
freshly ground black pepper
mint leaves to garnish
Method
Combine all ingredients except mint leaves in a large bowl and toss around to mix well. Garnish with mint leaves and serve.
Alternatively, slice and toast your favourite baguette or loaf of bread and top with kachumber for instant salad bruschetta.
[/print_this]