Chopped salad never looked so good or so easy to make! With at least four veggies and a handful of ingredients, this delicious Indian Kachumber Salad is ready in minutes and is a great way to boost your veggie intake at every meal. Fresh, crunchy and tangy, have it alongside Chana Masala or a Tomato Garlic Dal.
Jump to:
🥗 What is Kachumber?
Kachumber (pronounced kuh-choom-burr) is an Indian salad made up of finely chopped onion, tomato, cucumber, coriander, lemon and chilli. It is similar to many Mediterranean and Middle Eastern salads made with finely diced ingredients - like the famous Shirazi salad.
Kachumber is often made fresh in the morning to accompany the entire day's meals. More relish than salad, it tastes sweet and sour with a fresh tingly taste on your palate. A perfect accompaniment to dal, rajma masala or dishes like aloo gobi, kachumber salad has many variations throughout India.

🥙 Why make this Kachumber Salad?
Simple and quick to make. Takes about 10 minutes and no cooking is required.
Fresh, light and healthy.
Great way to boost your veggie intake.
🍅 Ingredients & Substitutions
Here is what you'll need to make Kachumber Salad
Vegetables
Onion - Pink or white salad onions are perfect for this salad as they are milder and sweeter. If you only have red onions, here is a trick to make them sweeter and less pungent. Chop red onion and then soak it in a bowl of chilled or ice water for 8-10 minutes. Drain water and use it in your salad. This removes the bite and makes them sweeter.
Tomato - Use the ripest red tomatoes. These are incredibly sweet and juicy. When you can't find large red tomatoes, use sweet cherry or grape tomatoes instead. When using large tomatoes, make sure to remove the seed and pulp to avoid making the salad soggy.
Cucumber - Lebanese cucumbers are perfect for this recipe. They are sweet and have a lovely, verdant flavour. Remove and discard cucumber seed before dicing. This keeps the salad nice and dry and stops it from becoming soggy.
Cabbage - My grandma used to make kachumber salad with cabbage added to it. I loved that version so much as a child that I have now adopted this in my own home.
Fruit & Herb
Raw Mango - If you have never used raw mango in your salads, you are seriously missing out. When in season, both my grandma and my mum used to add tiny little cubes of raw mango to the kachumber salad. Sweet, sour and tangy, the raw mango has a velvety flesh that is utterly delicious. If you can find raw mango, add it. But if you can't, then just leave it out.
Coriander - No other herb does justice to the kachumber. Coriander is a trademark of all Indian salads and must not be skipped. If you hate coriander (Yes, I know there is a whole subsect of humans who don't like coriander!), just leave it out or add mint instead.
Flavour Makers
Green Chilli - Indians love their spice and tiny green chillies (similar to bird's eye but green) are a constant fixture in all their recipes. I love using green cayenne chilli (similar to the Serrano chilli). This has a milder heat and adds a lovely grassiness to the salad. If you can't find cayenne chilli or don't like spice, substitute with green capsicum/bell pepper.
Roasted Cumin Powder - This adds an incredible boost of flavour to the salad. Can be left out if made for kids/grown-ups who don't like spice.
Chilli Powder - This is purely optional. I don't usually add chilli powder to my everyday kachumber. I only add it when I am entertaining and want that extra oomph both in terms of flavour and aesthetic. Kashmiri chilli powder is the traditional choice, but it can be quite spicy. I would suggest sweet paprika or Gochugaru (Korean red pepper flakes) for gentler heat.
🥣 How to make Kachumber Salad?
Prep cucumber by scooping the seeds out with a spoon and discarding them.
Dice the cucumber finely.
3. Deseed tomatoes by cutting each in quarters and removing the fleshy seeds and pulp. Dice tomatoes into tiny cubes.
4. Add all salad ingredients to a large bowl.
Mix the salad thoroughly and rest for at least 15 minutes in the fridge to allow the flavours to develop.
🔪 Helpful Salad-Making Tips
Fine knife skills are a must. The salad must be chopped really fine for a splendid eating experience. This is one of those slurpy "spoon" salads that give you an explosion of flavours and textures in every spoonful.
Remember to deseed your tomato and cucumber and discard the seeds. This prevents the salad from going soggy.
When salt and sugar are added to the veggies, the vegetables tend to sweat and release water. So salt and sugar must be added closer to the time of serving so that the salad has enough time to marry the flavours but will still stay fresh and reasonably dry.
Serving Suggestions & Storage
Kachumber salad usually doesn't stay fresh for very long in the fridge as the veggies weep liquid and it gets soggy (still delicious! I used to drink the yummy salad juice when I was young). But my version ensures that the salad doesn't weep and stays crisp and fresh for up to three days in the fridge in an air-tight container. Freezing is not recommended.
Kachumber salad can be eaten as a side to Indian or Western dishes. It can also be rolled up in spinach wraps or stuffed in pitas along with falafels.
Try heaping kachumber on top of toasted sourdough smeared with burrata.
Serve as a side salad for a North Indian meal alongside Palak Paneer and Vegan Dal Makhani.
💚 More Chopped Salad Recipes
Recipe
Hungry For More Recipes? Subscribe to my newsletter. Check out Facebook, Instagram and Pinterest to see everything I share! And if you love cooking and new cookbooks, join my free Cooking Club on Facebook!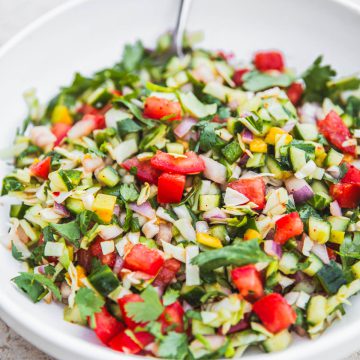 Ingredients
1

cup

(

150

g

)

diced Lebanese cucumber

,

medium-large, deseeded

1

cup

(

160

g

)

diced tomatoes

,

large, deseeded

1/2

cup

(

70

g

)

diced onion

,

pink or white variety

1

cup

(

100

g

)

chopped green cabbage

1/2

cup

coriander

,

roughly chopped

1/4

cup

(

35

g

)

chopped raw green mango

,

(optional)

1

tbsp

diced green chilli

,

cayenne or jalapeno, deseeded

1

tbsp

lemon juice

1

tsp

raw sugar

1/2

tsp

flaky salt

1/4

tsp

chilli powder

,

see notes for substituition)

1/2

tsp

ground cumin
Instructions
Add cucumber, tomato, onion, cabbage, coriander, mango and green chilli to a large bowl.

Add lemon juice, sugar, salt, chilli powder and cumin to the bowl. Mix well.

Chill in the fridge for at least 15 minutes to allow flavours to develop. Check for seasoning and adjust accordingly.
Notes
Deseeding cucumbers and tomatoes - Traditionally, these veggies are not deseeded when making kachumber. This in turn makes the salad weep a lot of liquid and become soggy in a couple of hours. Deseeding veggies ensures that the salad stays dry and keeps fresh in the fridge for up to 3 days. If you like your salad slightly juicier, deseed only the cucumber and leave the seeds of the tomato in. Cucumber - Lebanese cucumbers are perfect. They are sweet and have a lovely flavour. Tomatoes - Use the ripe but firm, red tomatoes. If you don't have large tomatoes on hand, try halved cherry tomatoes instead. Onion - White salad onions or pink onions have less of a bite and are perfect for this salad. regardless of what onion you use, try this trick to make them less pungent. Chop them and soak them in chilled or ice water for 10 minutes and drain. Chilli - Green cayenne chilli, serrano and jalapeno are all milder in heat. Deseed them before using. If you don't like heat, leave them out. Green mango - Available at fresh grocers, green mango is firm and sour. I like to let mine ripen for a day or two so it is sweet and sour when I add it to the kachumber. If you can't find it, leave it out. Chilli powder - Use Kashmiri chilli powder (hot) or Gochugaru/Korean red pepper flakes (mild) or sweet paprika (mild) for this recipe. It adds a nice zing to the salad.
Nutrition
Calories:
27
kcal
|
Carbohydrates:
6
g
|
Protein:
1
g
|
Fat:
0.2
g
|
Saturated Fat:
0.04
g
|
Polyunsaturated Fat:
0.05
g
|
Monounsaturated Fat:
0.1
g
|
Sodium:
206
mg
|
Potassium:
171
mg
|
Fiber:
1
g
|
Sugar:
4
g
|
Vitamin A:
271
IU
|
Vitamin C:
14
mg
|
Calcium:
28
mg
|
Iron:
1
mg
Did you make my recipe?
I'd love to hear how you went! Tag me on Instagram @cookrepublic