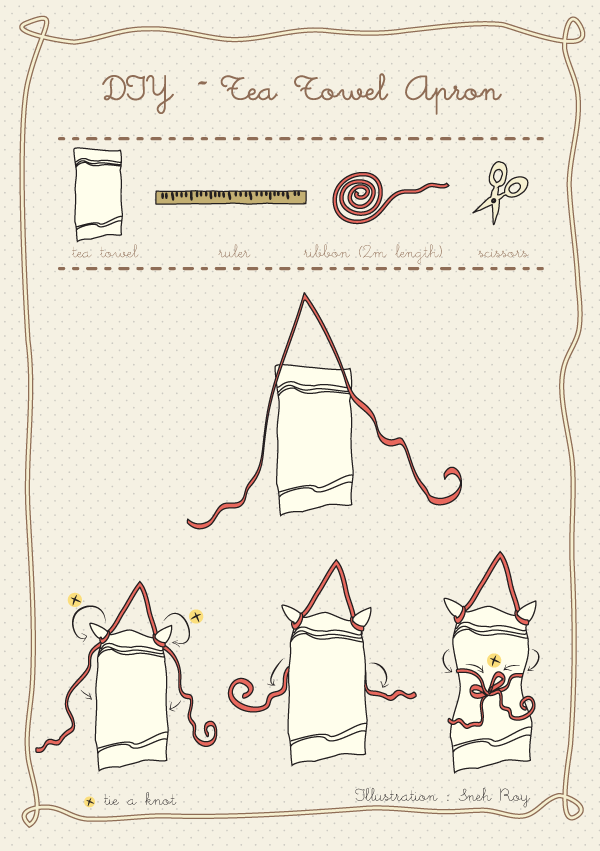 When it comes to sewing with a sewing machine, I am well .... terrified! Along the lines of learning to drive, giving birth and dogs. I used to have a sewing machine a very long time ago that I bought with ideas of grandeur parading through my head. I used it that one time when my mum showed me how to use it. After ignoring it as an invisible piece of furniture for 3 years, I finally sold it to an old lady who was so happy to have bought it, she couldn't stop bopping up and down. To each their own, I say!
I have over the years hand stitched everything. Including curtains for 2 bedrooms. And by hand stitched, I mean it literally. The curtains were the most painful and even with a heavy duty needle they took me close to a month and countless blisters on my fingers. The second most painful was Nick's beautiful gray jacket. Painful because of the ribbing I get every time he wants to wear it and the button is not on there. Even today. This has been going on for the past two years and has become a running joke between us. I haven't sown his button on even though I tell him that I will. And he hasn't taken up the challenge himself too. We are not lazy people. In fact we zip around like Energizer bunnies all day. But some things are not meant to be and that missing button is proof of that.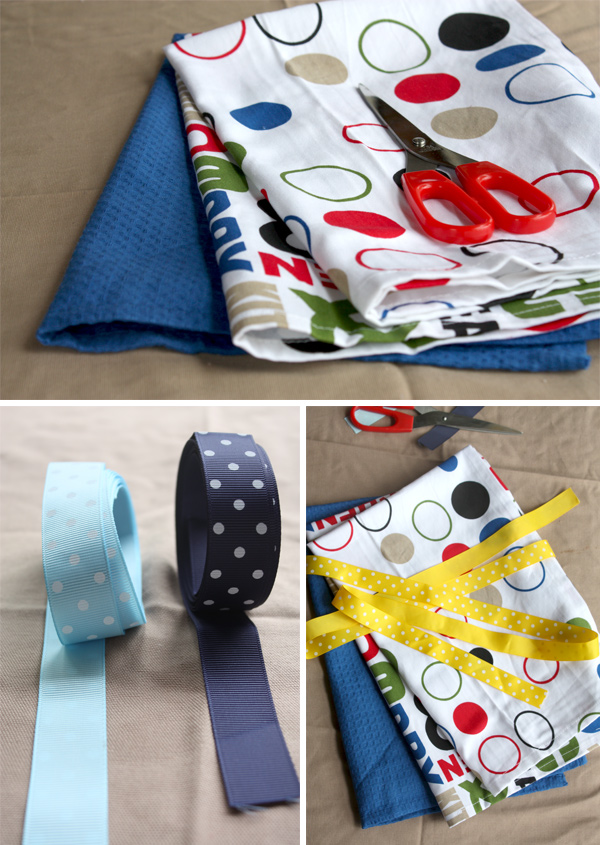 So back to my sewing hardships. Besides hand stitching everything for the past ten years, I have also figured out ways to get by without sewing by any and all means possible. That may include glueing, tying, knotting, hot glueing, stapling or all of the above. I have gotten great at knots too.
For Gummy Bear's 3rd birthday in January, I decided to do a cooking party. "How cool would it be to have cute little aprons for every little child coming to the party?" I thought. "Oh Cr%#, I wish I had that sewing machine and had learnt how to use it!" was a thought that instantly followed the first one. I was on a strict deadline as far as timing for the party went and hand stitching 20 little aprons would be well, ridiculous. So I thought of the next best thing - tying and knotting!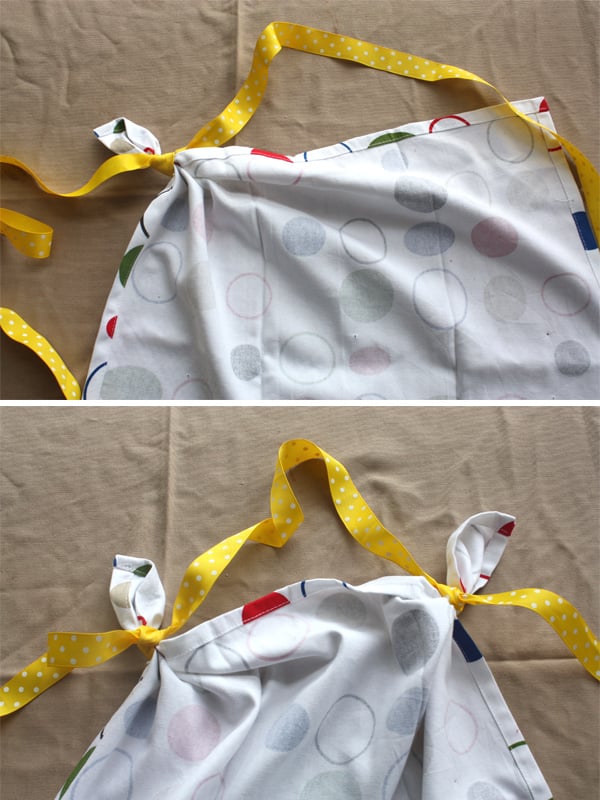 3 to 7 year old little children have tiny little torsos, God bless them! Torsos that don't need much more than a tea towel for an apron. So I went to K-Mart and bought 20 cotton tea towels with colourful dots, stripes and patterns. Rummaging through my stash of beautiful grosgrain ribbons that I had bulk bought on ebay from the US (yes, another one of my other mad tying phases), I found matching and contrasting ribbons for the tea towels. I cut a long stretch of ribbon, approximately 2-3 meters (depending on the height of the children that would get the apron) and spent an hour tying and knotting 20 gorgeous little aprons for children aged 3 to 7.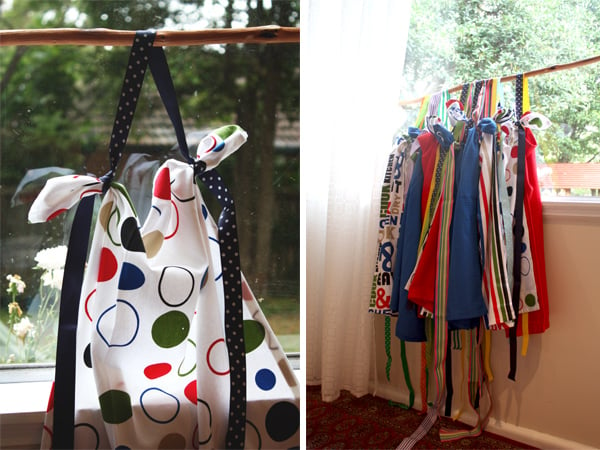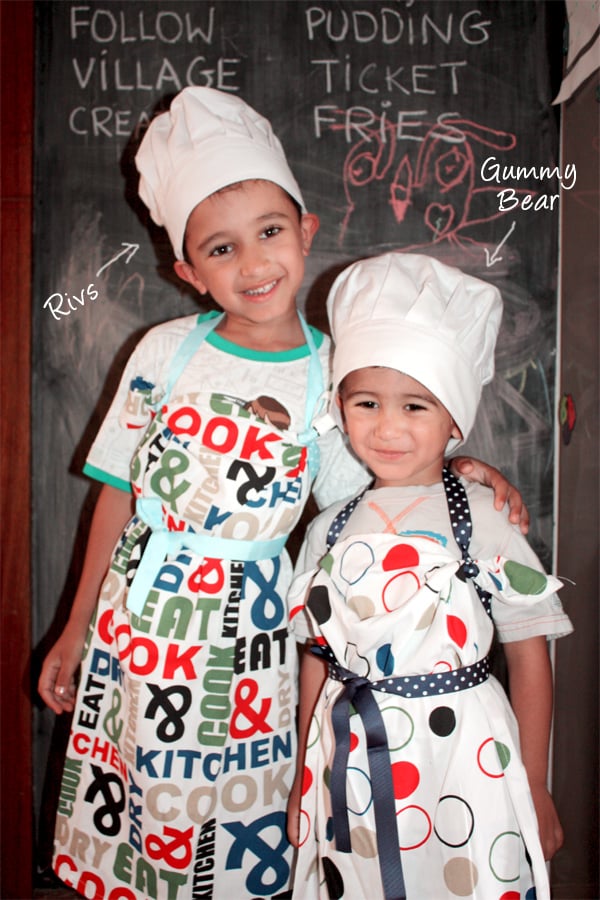 See the aprons in action! Rivs & Gummy Bear, happy as two larks at Gummy Bear's cooking party.
[print_this]
To Make One Apron
1 tea towel
1 grosgrain ribbon, 2 to 2.5 meters long
ruler
scissors
Lay out the apron on a flat surface, vertically with the longer edge perpendicular to you. The short edge on top will be the top of your apron.
Leaving a gap approximately 20 centimeters from this top edge, place the middle of your ribbon. Holding the middle of your ribbon in place with a weight, fan out the two ends of the ribbon along the two top corners of the tea towel.
Where the top left corner intersects the ribbon, tie two basic tight knots around the tea towel with the ribbon. Do the same on the right top corner with the ribbon.
You will get a loop on top that will go around the child's neck and rest the apron on their chest. You will also get two fluffy bunny ears where you have tied the ribbon around the tea towel. You can make them as small as possible when you are tying the knot to make them as inconspicuous as possible.
All done! What a great idea for party favours, isn't it?
[/print_this]