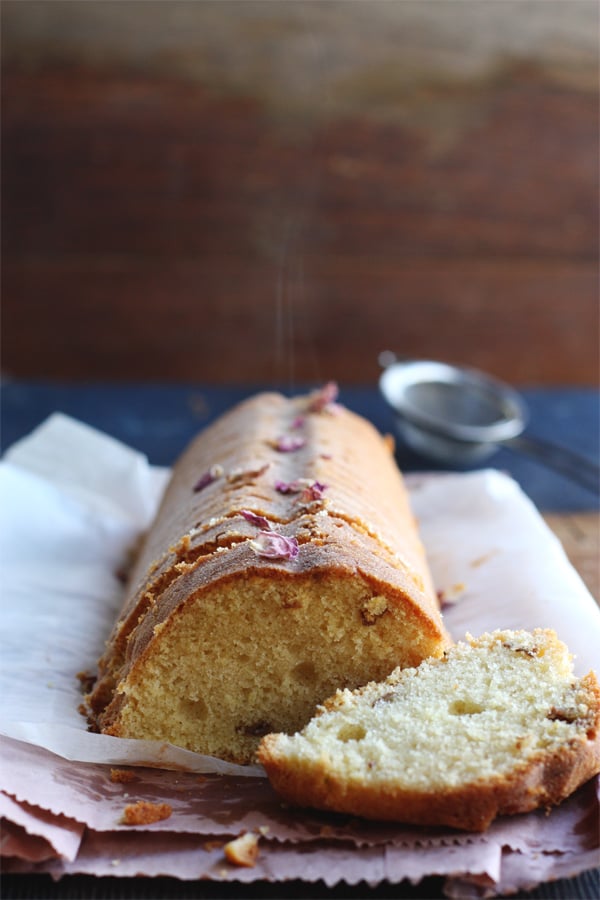 On a visit to a deli and specialty food store in St.Ives, I found a beautifully packaged box of rose petals by Pariya. It is no secret that I love rose petals in cooking and am always looking for unique and creative ways to cook with them. With the weather being cold and not a single rose in bloom in my garden, I was thrilled to find this box of one of my favourite ingredients.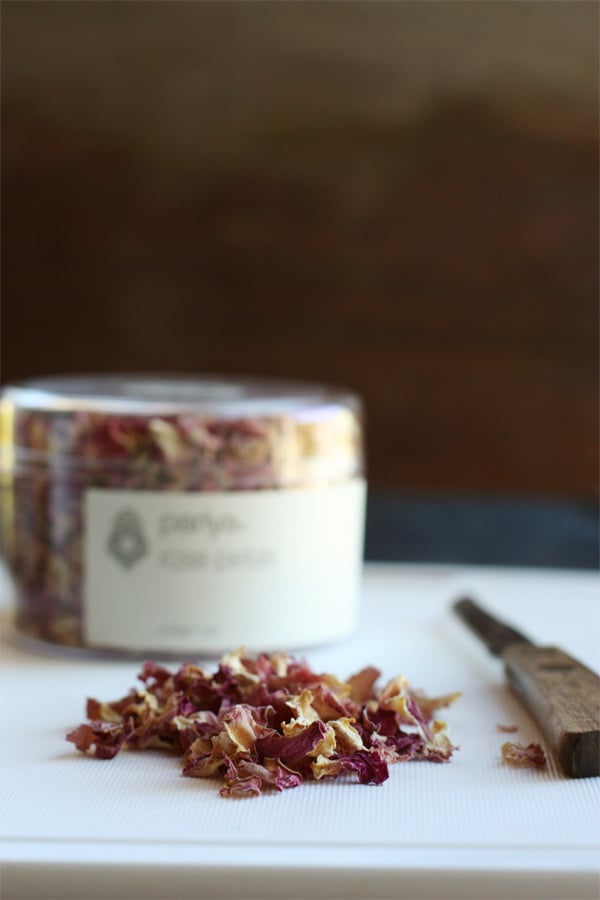 Browsing through the Flavour Thesaurus for some flavour matching ideas, I decided to make a French Almond bread peppered with finely chopped rose petals. I have been cooking and baking a lot from Serge Dansereau's French Kitchen cookbook and he has a fantastic no fuss recipe for an almond bread in it. I adapted that recipe and modified it to work with the rose element.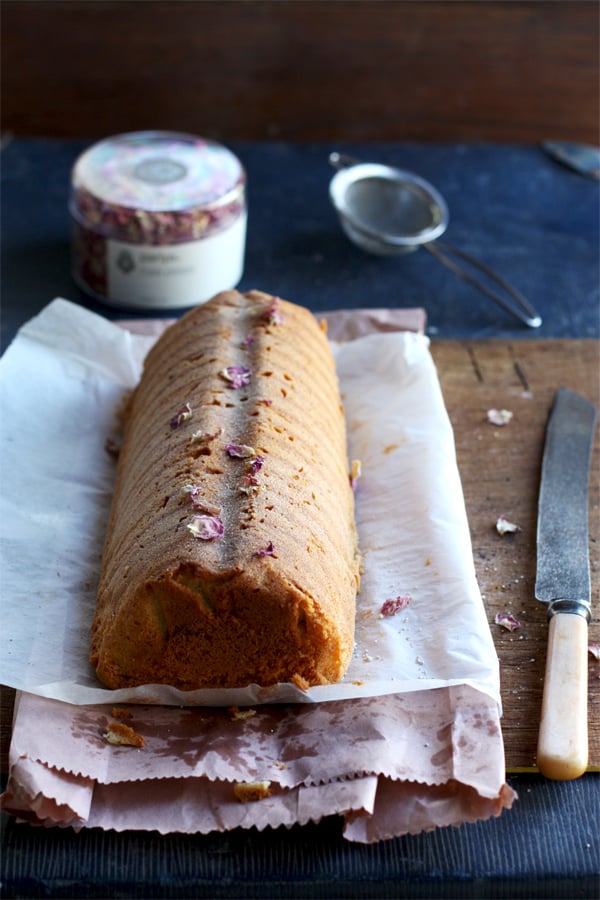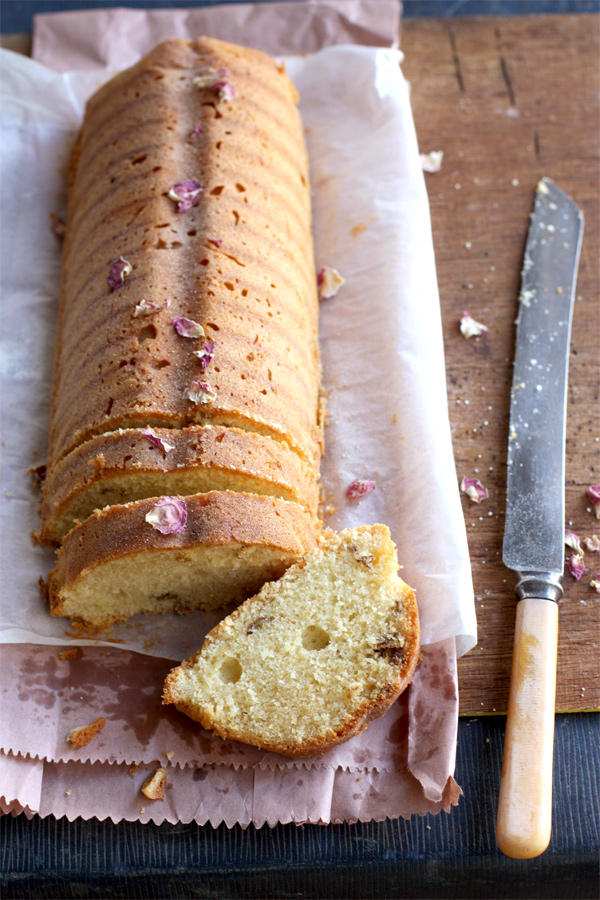 The bread was literally melt-in-the-mouth when it was warm from the oven. The aroma that filled the house was absolutely beautiful. The steam that rose from the loaf, as I sliced it up for photography was poetic. I baked it in a vintage milk bread pan that I was lucky enough to find in a thrift store. I loved the shape it gave the bread. I later baked a huge loaf of this bread for Australia's biggest morning tea which Nick took to work. This has to be one of the best breads I have ever eaten. It becomes firmer the next day but I would advise against toasting in a toaster, as it is a tad crumbly.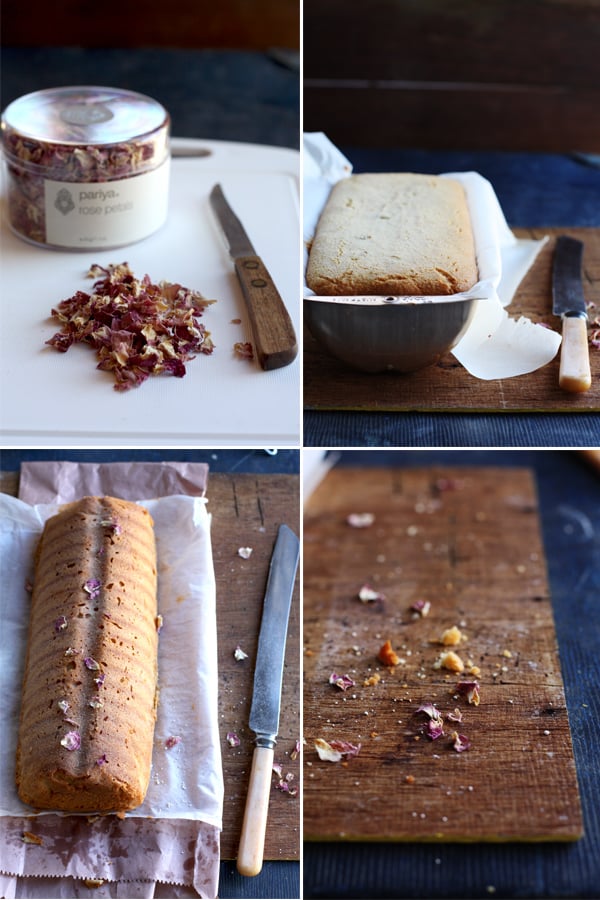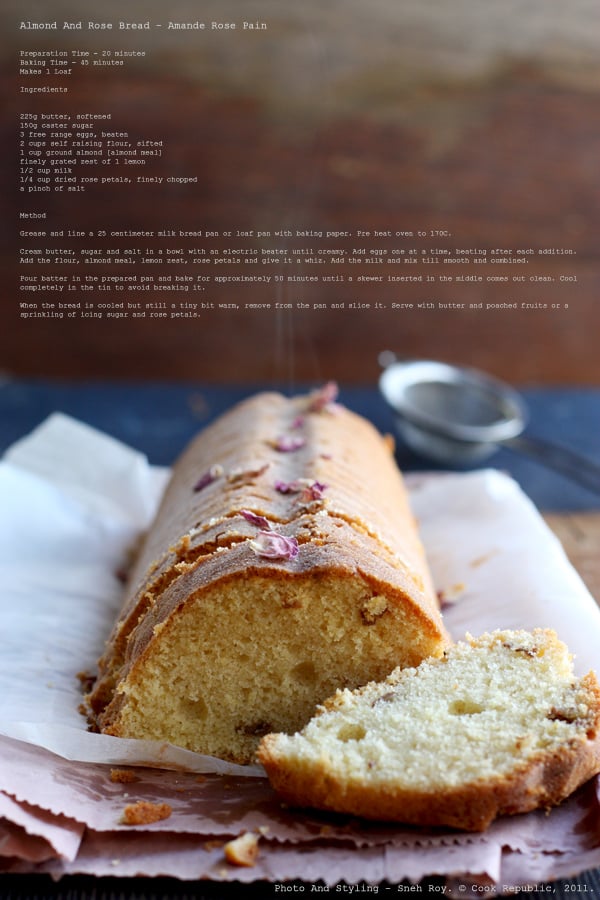 [print_this]
recipe
Almond And Rose Bread - Amande Rose Pain
Preparation Time - 20 minutes
Baking Time - 45 minutes
Makes 1 Loaf
Ingredients
225g butter, softened
150g caster sugar
3 free range eggs, beaten
2 cups self raising flour, sifted
1 cup ground almond [almond meal]
finely grated zest of 1 lemon
1/2 cup milk
1/4 cup dried rose petals, finely chopped
a pinch of salt
Method
Grease and line a 25 centimeter milk bread pan or loaf pan with baking paper. Pre heat oven to 170C.
Cream butter, sugar and salt in a bowl with an electric beater until creamy. Add eggs one at a time, beating after each addition. Add the flour, almond meal, lemon zest, rose petals and give it a whiz. Add the milk and mix till smooth and combined.
Pour batter in the prepared pan and bake for approximately 50 minutes until a skewer inserted in the middle comes out clean. Cool completely in the tin to avoid breaking it.
When the bread is cooled but still a tiny bit warm, remove from the pan and slice it. Serve with butter and poached fruits or a sprinkling of icing sugar and rose petals.

[/print_this]