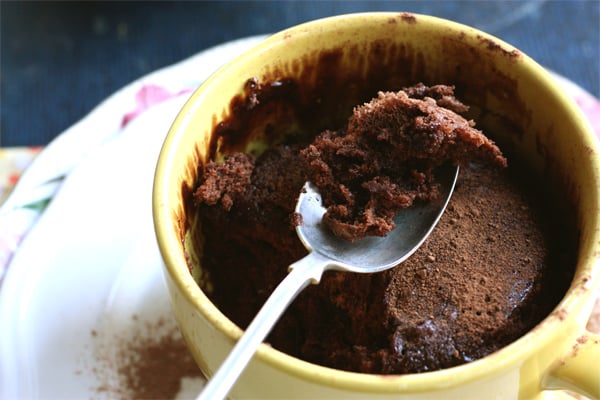 Mug cakes are like a round of gossip. You come across one, you indulge, you pine for more, you dig around for another one, you indulge some more until you are spent and then it all dies down for a few days. Until you come across another one and you have to do it all over again! I don't do gossip. But I do mug cakes!
One of the first mug cakes I ever experimented with was Lorraine's fantastic 5 minute mug cake on Not Quite Nigella. I did that mug cake one cold night for an impromptu chocolate craving and we loved it. For a few days after that, I experimented with every mug cake recipe I could find until the fad wore off. It wasn't until a few weeks ago that my vicious mug cake circle began again. This time the evil ingredient was Nutella. On googling Nutella mug cake, this nutella mug cake recipe from A Family Kitchen was one of the first results to catch my eye.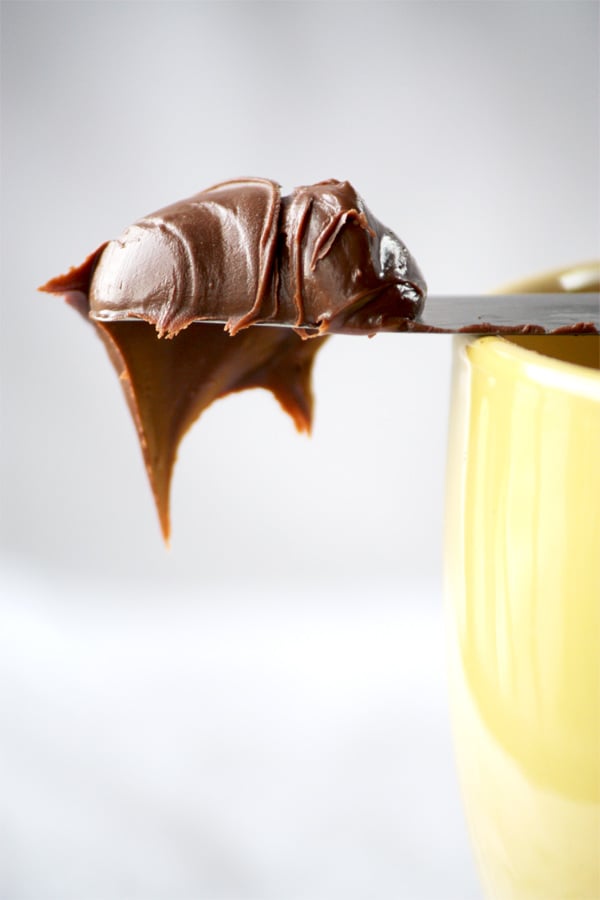 I adapted that recipe changing the quantity of ingredients till I was happy with a much lighter and a tad healthier version. My Nutella mug cake has a fraction of the oil and sugar. This obviously makes it slightly spongier than extremely gooey and moist. Something that is fixed by serving with a scoop of light vanilla ice cream. I actually had the mug cake straight from the microwave while it was still warm and other than a generous dusting of cocoa powder, I didn't feel that it needed anything else.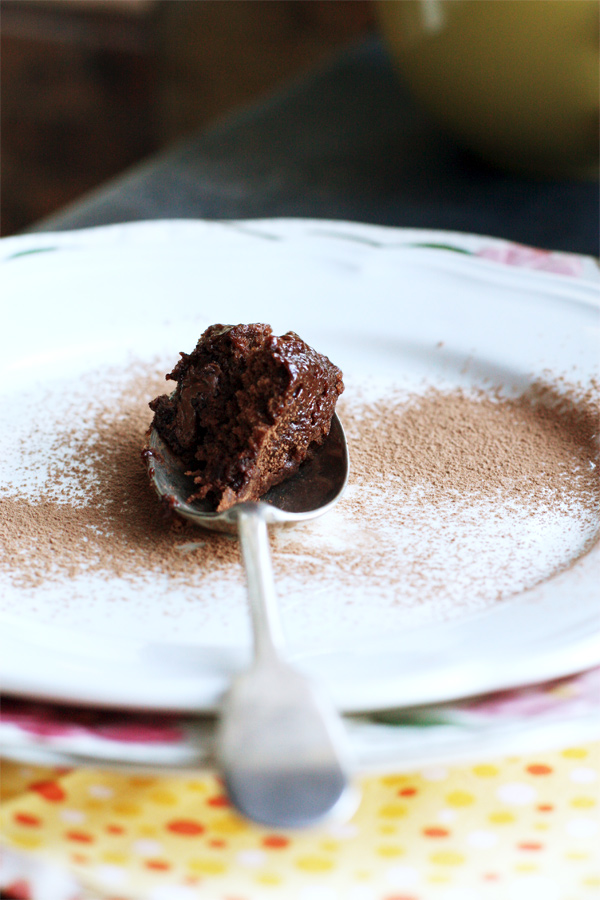 I have a 1100W microwave and I cooked this mug cake at the highest power for approximately 1 minute and 30 seconds, watching it like a hawk and stopping at precisely 1 minute to avoid the overflow and then cooking 3 more times at 10 second intervals. Depending on your microwave wattage and power levels, you will have to watch it as it cooks to avoid overflow and spillage. It cooks very quickly so anywhere from a minute to two should be fine.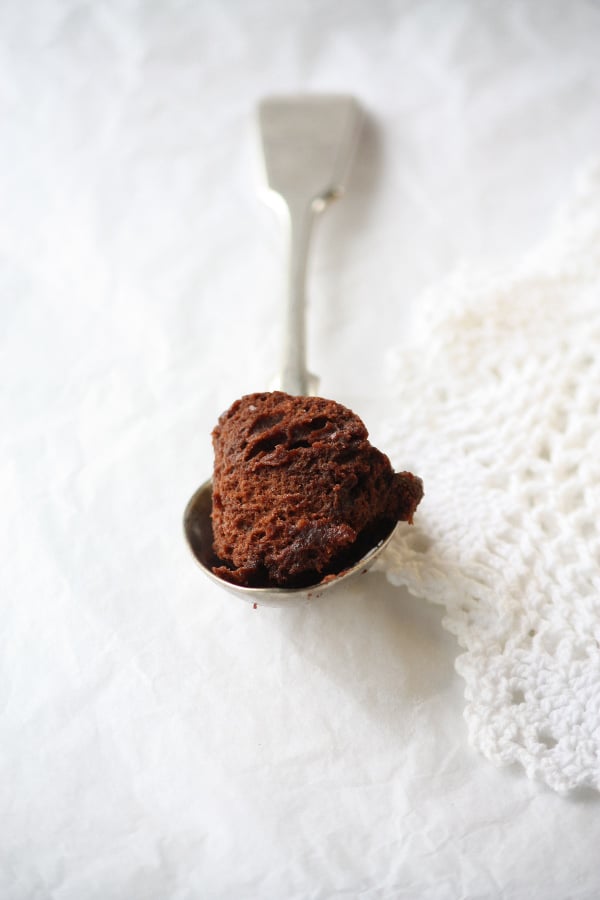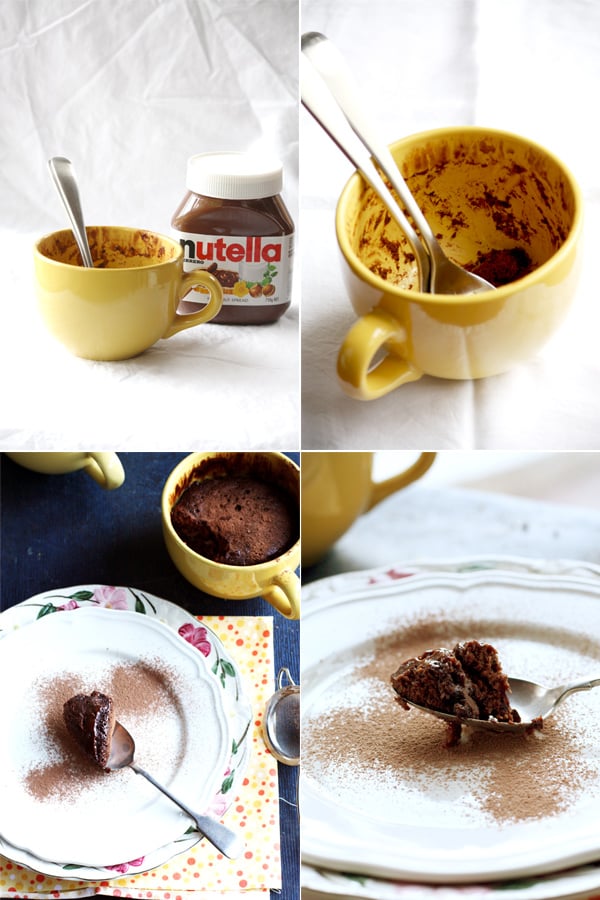 If you have made any version of a mug cake, Nutella or otherwise, you are welcome to leave your links in the comments below. I am always looking to experiment with new recipes!
[print_this]
recipe
2 Minute Nutella Mug Cake
Preparation Time And Cooking Time - 2 to 4 minutes
Serves - 2
Ingredients
4 tablespoons self-raising flour
3 tablespoons cocoa powder
3 tablespoons nutella
3 tablespoons skim milk
1 tablespoon raw sugar
1 tablespoon olive oil
1 egg
Method
Combine all ingredients in an oversized microwave safe mug. Whisk lightly with a fork until combined and smooth. Microwave for a minute watching as the cake rises in the mug, stopping if it is about to overflow and continuing a couple of times for 10 second intervals till cooked. [Don't be tempted to overcook. The cake virtually finishes cooking in that first 1 minute rise]
[/print_this]