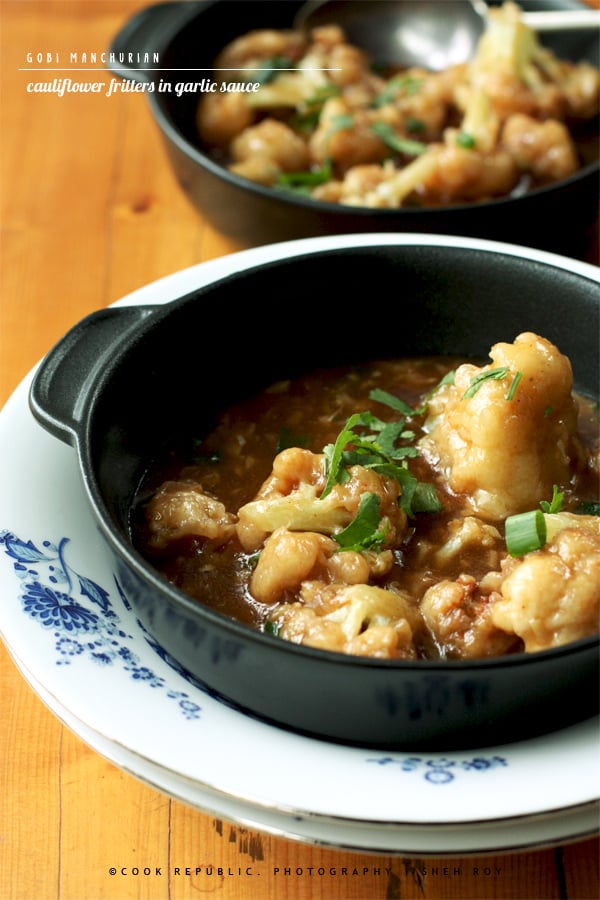 Gobi Manchurian is an Indo-Chinese dish that is said to have been invented by a small Chinese community living in eastern India by marrying classic Chinese techniques with Indian flavours. Gobi is a Hindi word for cauliflower. This dish comes in two versions - dry and wet. A two-part process of cooking this dish involves dipping cauliflower florets in a special batter and deep-frying them to crisp fritters.
This is the dry version and can be served by itself with a hot sauce. The second part of the dish involves adding the fritters to a Chinese sauce redolent with ginger and garlic. This the wet version which I am sharing today. This vegetarian dish makes a great starter (dry version) or main course (wet version) and was one of my favourite things to eat when I was in India.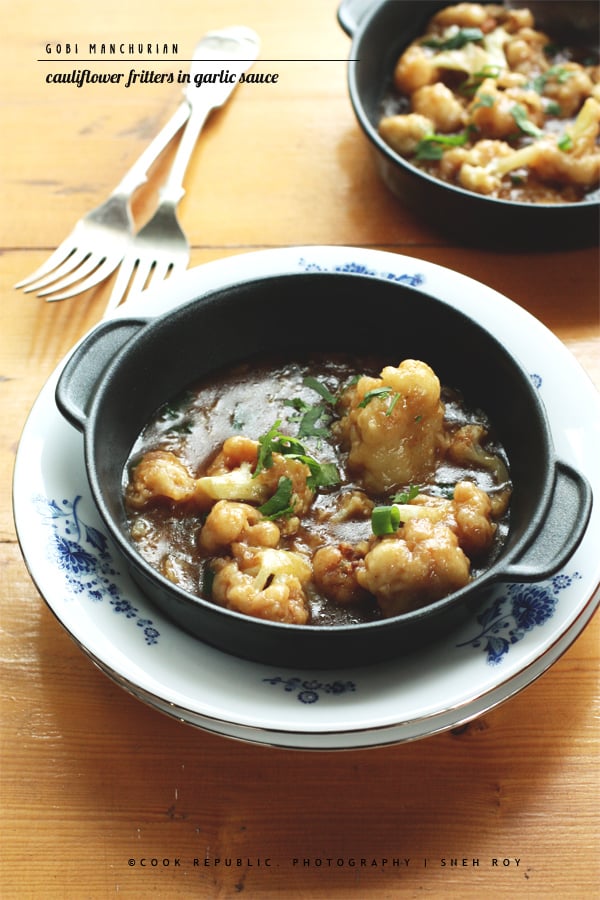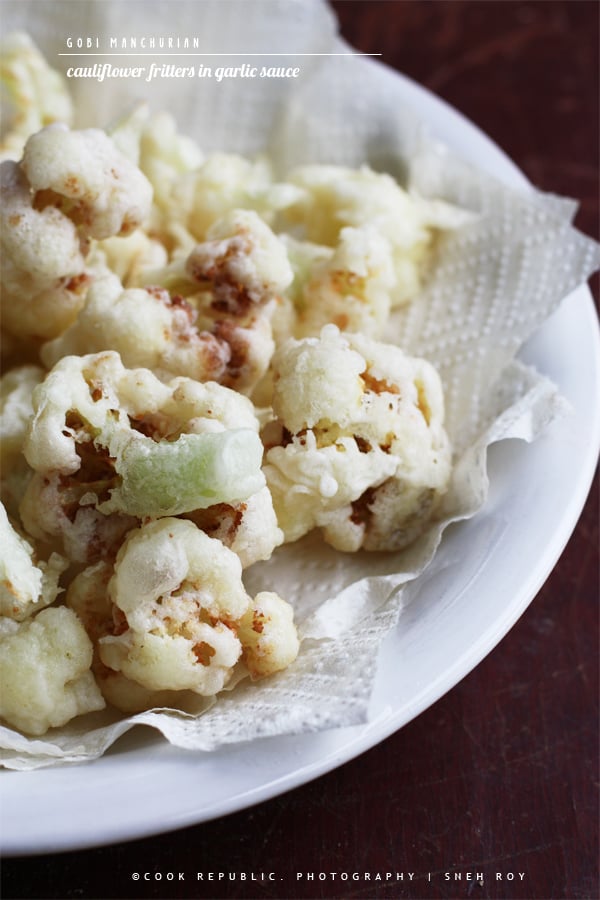 Hungry For More Recipes? Subscribe to my newsletter. Check out Facebook, Instagram and Pinterest to see everything I share! And if you love cooking and new cookbooks, join my free Cooking Club on Facebook!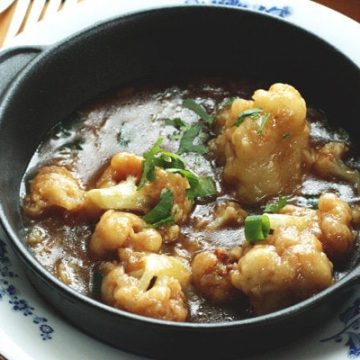 GOBI MANCHURIAN (Cauliflower Fritters In Garlic Sauce)
An Indo-Chinese dish of deep fried battered cauliflower florets in a Chinese garlic sauce.
Print Recipe
Rate / Comment
Ingredients
for the cauliflower fritters

16

medium sized cauliflower florets

salt to taste

oil for deep frying

1/2

cup

plain flour

1/4

cup

cornflour

1/4

teaspoon

red chilli powder

2-4

tablespoons

water

for the sauce

2

tablespoons

peanut oil

1

teaspoon

finely chopped ginger

1

tablespoon

finely chopped garlic

1

tablespoon

finely chopped green chilli

1

tablespoon

finely chopped coriander stalk

1/4

teaspoon

white pepper

2

tablespoon

dark soy sauce

1

teaspoon

sugar

salt to taste

1

cup

vegetable stock

1

tablespoon

cornflour mixed with 1/4 cup water

handful of sliced spring onions and coriander leaves for garnish
Instructions
Combine all the ingredients for the fritters except oil in a bowl. Mix well to get a thick pancake batter consistency of the coating. Deep fry battered florets until golden and set aside to drain on paper towels.

Heat 2 tablespoons oil in a pan. Add ginger, garlic, green chilli and coriander stalk. Sauté for half a minute. Add soy sauce, salt, sugar and pepper. Simmer uncovered for 2 minutes. Add cornflour mix and stir to avoid getting lumps. Cook for a few minutes, stirring till sauce thickens.

Add cauliflower fritters to the sauce. Mix once and garnish with spring onions and coriander. Serve hot with steamed or fried rice.
Did you make my recipe?
I'd love to hear how you went! Tag me on Instagram @cookrepublic