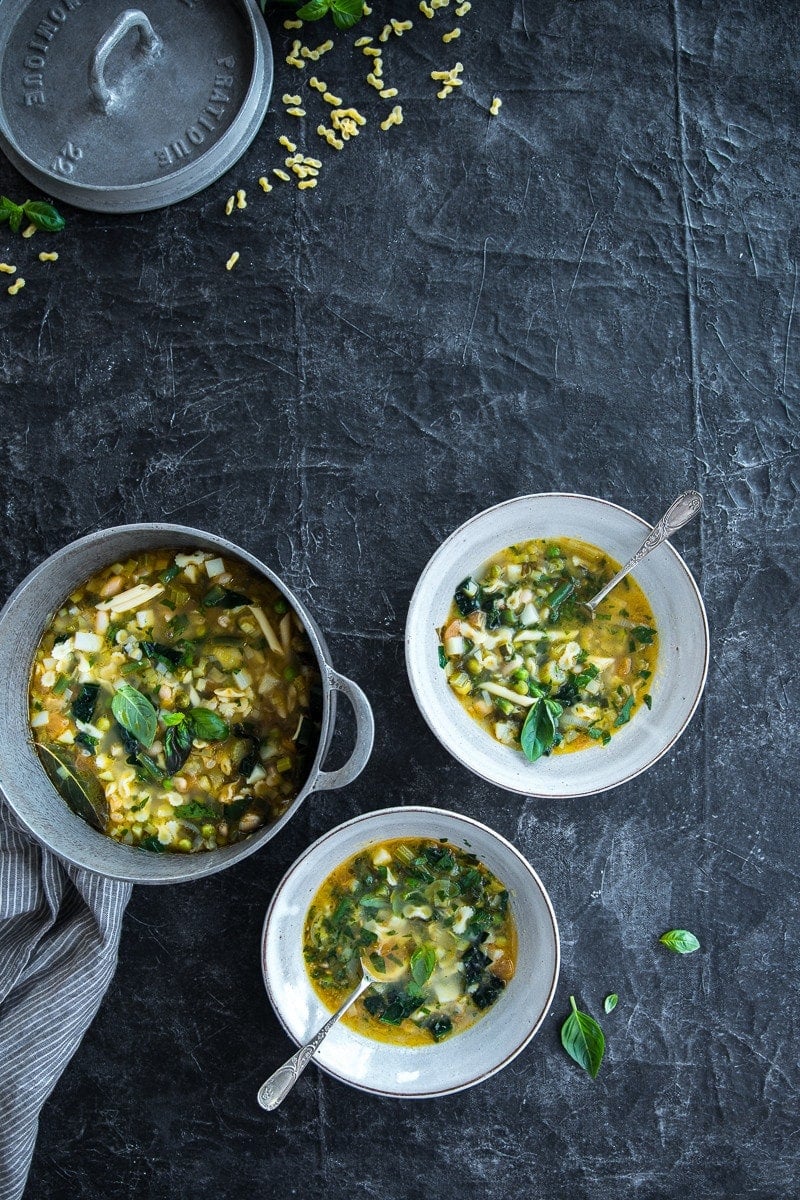 Have you ever had a green minestrone soup? A herb infused green broth with scores of neatly diced green vegetables and tiny pasta. Warming, hearty and vegan to boot; it is one of the most beautiful dishes you will serve at the dinner table. Because, making a green minestrone soup is an art. Just like the opera. Where the singers and the musicians are perfectly synced and the notes have to be precise and hit at the right time. Where the colours and movement all add to the increasing drama before the perfect finish.
Just like the opera, a green minestrone demands your utmost attention. Give that for a mere half an hour and you shall be rewarded with the most gorgeous looking bowl of vibrant greens and perfectly cooked pasta.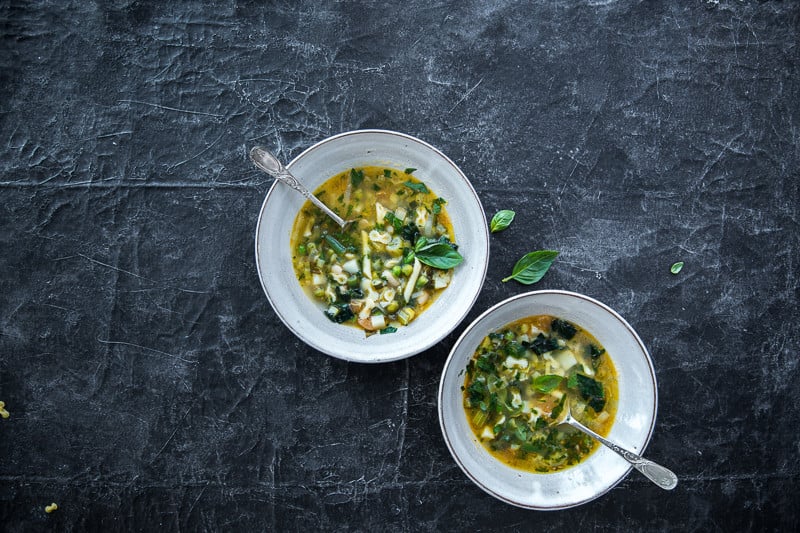 Now a typical minestrone is red because of the tomato base. So making a green minestrone may seem daunting at first but with a bit of ingenuity, you can easily achieve the green colour.  Green vegetables don't take very long to cook. So, the order in which you add the vegetables and how long you cook them is key to the success of this recipe. The tougher vegetables like potato, zucchini and celery go in first whereas the fresh greens and herbs go in last and cook for a brief minute.
If you can find green tomatoes, the minestrone will be truly green. Chopping and dicing evenly for a minestrone is one of my favourite things to do. It is very therapeutic and relaxing. The choice of pasta is probably equivalent to choosing the star of the opera. And that is why I love the Garofalo brand of Pasta.
I first discovered Garofalo pasta by accident a few years ago at Thomas Dux. I was instantly drawn to the bold and beautiful packaging. Because I was studying design at the time, the perfectly cut pasta visible through the entirely transparent packaging was a big draw for me. That and the quirky numbering system they have for their pasta.
Widely divided into long cuts, short cuts, soup cuts and specialty cuts, Garofalo also offers whole wheat, gluten free and organic options. A company that started in Italy in the 1700s, their products have been available in Australia for a while but they have now officially launched here which means their entire range is at our fingertips. At the moment you can buy Garofalo pasta at specialty delis, grocers and online stores.
They have a very cute pasta in their soup cut range called No 23. Farfalline. A baby version of the Farfalle, the Farfalline is the perfect past for this green minestrone soup with its delicate ruffled bows and quick cooking ability. My choice for this soup is the farfalline along with Penne Mezzanelle (No 75). I make this soup with homemade vegetable stock, but you could use whatever you have on hand. I also add some savoury yeast flakes for an added nutritional boost.
The abundance of herbs really lifts the garden flavours of this beautiful soup brimming with nutrients. It is the perfect hand and heart-warming dinner on a cool night. Leftovers make a great after school snack. I add boiling water and extra seasoning when reheating it and the boys lap it up with crusty sourdough. Perfect!
Pasta and soup! Best combination ever, right? It is such an easy, cheap and filling weeknight meal especially as we head into winter. Do you tweak your traditional dinners to make them more nutritious and less naughty? I would love to hear your tips, as I am always on the lookout for fresh ideas to make meals lighter and brimming with goodness. Don't forget to leave your comment and rating below if you make and love this recipe. Share your soup with me on Instagram using #cookrepublic ,okay?
Recipe
Hungry For More Recipes? Subscribe to my newsletter. Check out Facebook, Instagram and Pinterest to see everything I share! And if you love cooking and new cookbooks, join my free Cooking Club on Facebook!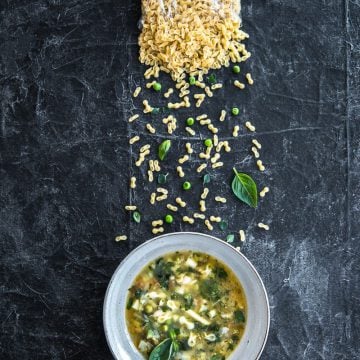 Ingredients
2

tablespoons

olive oil

2

bay leaves

1

leek

,

sliced and chopped (white only)

4

garlic cloves

,

minced

1

celery stalk and leaves

,

chopped

1

small zucchini

,

diced

1

small potato

,

peeled and diced

¼

cup

fresh or frozen peas

10

green beans

,

sliced

1

green or slightly unripe tomato

,

diced

1

X 400g can cannellini beans

,

rinsed and drained

2.5

litres vegetable stock

1

teaspoon

savoury yeast flakes

1/3

cup

(

70

g

)

Garofalo Farfalline Pasta (uncooked)

1/4

teaspoon

ground turmeric

¼

cup

fresh parsley

,

chopped

¼

cup

fresh basil

,

torn

¼

cup

fresh oregano

handful of Tuscan Kale leaves

,

chopped

salt to taste

freshly ground black pepper

extra olive oil

,

basil and Parmesan cheese (optional), to serve
Instructions
Heat olive oil in a large Dutch Oven on medium. Add bay leaves, garlic and leek. Sauté for 5 minutes until the leek starts caramelizing.

Add celery and cook for a minute, tossing constantly.

Add zucchini, potato, peas, green beans, tomato, cannellini beans and stock.

Reduce heat to medium-low and simmer uncovered for 20-25 minutes.

Increase heat to medium. Add the Garofalo Farfalline Pasta and mix gently. Allow to cook for 3-4 minutes until the pasta is just al dente.

Add the turmeric, parsley, basil, oregano and Tuscan Kale. Season with salt and pepper. Cook for a minute and then remove from heat.

Serve hot in bowls with a drizzle of extra virgin olive oil, torn basil leaves and a generous grating of Parmesan cheese (if using).
Did you make my recipe?
I'd love to hear how you went! Tag me on Instagram @cookrepublic
note - This recipe was developed for Pasta Garofalo and this post was sponsored by them. I have been using Pasta Garofalo for years and all musings and opinions are my own.