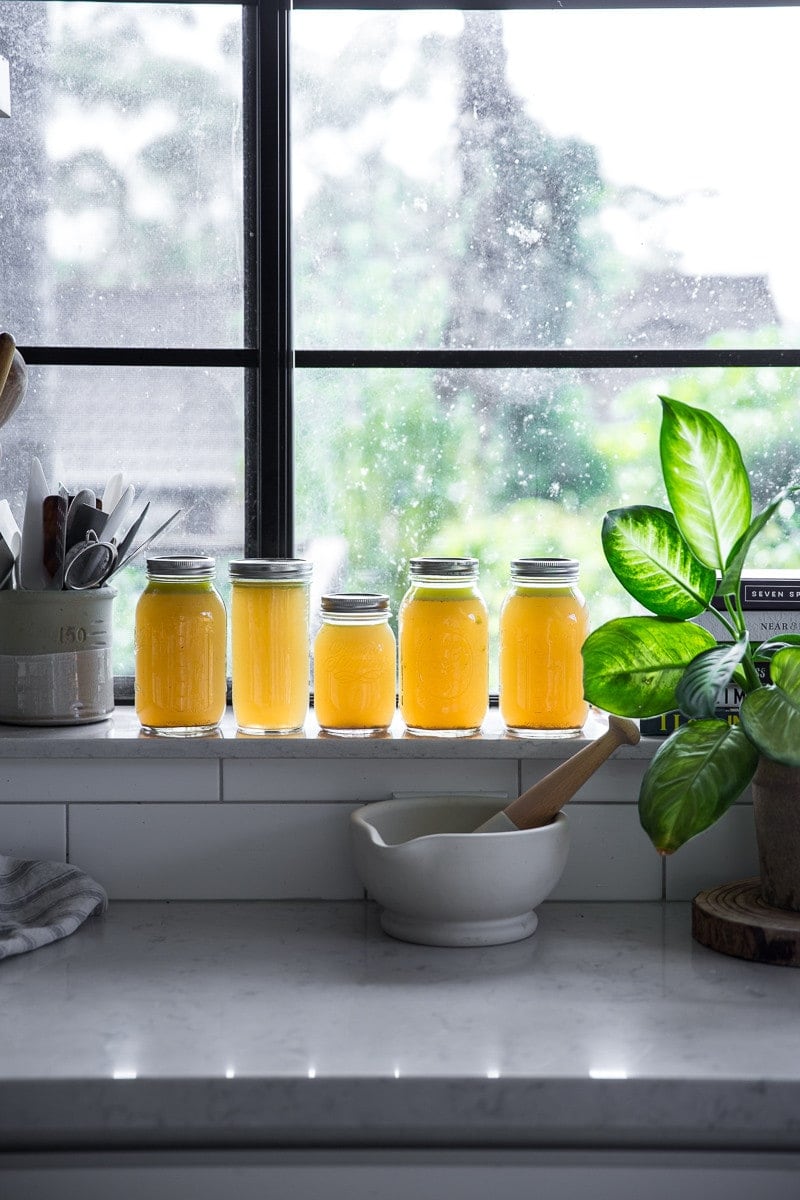 6 months and counting. I haven't worked in the weekend. Instead, I have reclaimed Saturdays and Sundays. I even have a sweatshirt that says Saturdays Sundays and it has become my weekend uniform (I'll post a picture next time!). Since quitting work in the weekends, I have rediscovered the excitement I felt for Sundays as a child. I never thought that would ever be possible again. Because, Sunday is really free. Truly. No strings attached. Free to do whatever my heart fancies.
Most Sunday mornings unravel slowly like steam unfurling from a hot cup. I wake up slowly, I walk around slowly, I even blink slower. Bliss! And then after I've had my cup of coffee and walked around the garden with my camera, I cook. Today I am making another batch of this nourishing Turmeric Chicken Broth. Why don't you make it with me?
I call this broth because it is good enough to sip on its own in a big mug. Or you could use it as a stock for anything and everything. The boys love this for an after school hot drink along with either dumplings or fritters. A big 6-litre batch will last us for a week or two. I add all the ingredients to a big pot and let it simmer away while I do other things. Before I know it, I have a huge supply of stock ready to bottle and freeze. It makes me feel very productive without having done much. I always use a whole organic, free range chicken from the butcher's for this recipe. And fresh whole turmeric which is the most amazing thing for your body and health. It imparts a beautiful golden hue to the broth. And tastes divine.
All you need is a huge stockpot, a strainer and freezer-safe containers. I have a big Scanpan stock pot with litre measurements marked on the inside (very handy!). I like to freeze the broth in different sized boxes for the freezer, small ones for Chinese stir-fries and curries while the big ones for soups. The broth also gets bottled in some mason jars to store in the fridge for easy drinking over the next few days. The chicken broth will keep in the fridge for three days and in the freezer for up to two months.
If you make this chicken broth your Sunday project today, I'll show you some amazing ways to use up this broth in recipes throughout the week. It is a total powerhouse of nutrients, supports your immune system and heals your gut lining. And it has the added benefit of protecting your joints and being great for your skin. And vegan-lovers, fret not! I shall be sharing my Green Turmeric Broth recipe with you soon, but in the meantime, you can always whip up this delicious mushroom broth.
Autumn has been very gracious this year. The chickens have fluffy butts, there is more of less in my kitchen, the view from my bedroom window is magical. And before I go, I'd like to share some pictures of autumn mornings in and around our backyard. Some foggy and some sun kissed. But all beautiful with an explosion of camellias, memories of Easter egg hunts, boys who share and the serendipitous magic of the mundane.
Happy Sunday lovelies! xx
Recipe
Hungry For More Recipes? Subscribe to my newsletter. Check out Facebook, Instagram and Pinterest to see everything I share! And if you love cooking and new cookbooks, join my free Cooking Club on Facebook!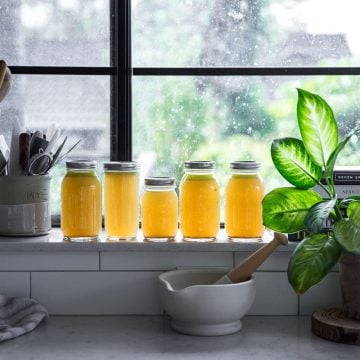 Ingredients
1

whole organic free range chicken

2

onions

,

quartered

2

celery stalks with leaves

,

chopped

3

carrots

,

chopped

2

spring onions

,

chopped

8

garlic cloves

,

crushed

1

inch

piece ginger

,

sliced

1

inch

piece fresh turmeric

,

sliced

14

peppercorns

8

cloves

2

bay leaves

3

stalks parsley

6.5

litres water

1 1/2

teaspoons

salt

,

or to taste

freshly ground black pepper
Instructions
Place all ingredients in an 8 litre heavy bottomed stockpot.

Simmer on medium for 15 minutes. Reduce heat to low, cover with lid and simmer for 45 minutes to 1 hour.

Remove from heat and allow to cool a bit. Strain into freezer safe lidded jugs/boxes and freeze for up to 2 months. Alternatively, store in the fridge and use within 3 days.
Notes
Simmer for longer if you want a richer more concentrated broth.
Poached chicken can be shredded and used in salads or pastas. It also makes a great addition to clear broths/soups.
Don't be afraid to season this generously. If the salt is not enough, drinking it straight up is not very pleasant.
Did you make my recipe?
I'd love to hear how you went! Tag me on Instagram @cookrepublic
ONE YEAR AGO – APPLE AND ALMOND CAKE
TWO YEARS AGO – MOZZARELLA AND ZUCCHINI SALAD + FOOD WRITING & PHOTOGRAPHY WORKSHOP
FOUR YEARS AGO – GRILLED HALLOUMI ON KALE AND WHITE BEANS
FIVE YEARS AGO – HONEY CHOCOLATE AND PISTACHIO BARK
SIX YEARS AGO – ALMOND AND ROSE BREAD
SEVEN YEARS AGO – HYDERABADI CHICKEN BIRYANI WITH MODERN DUM