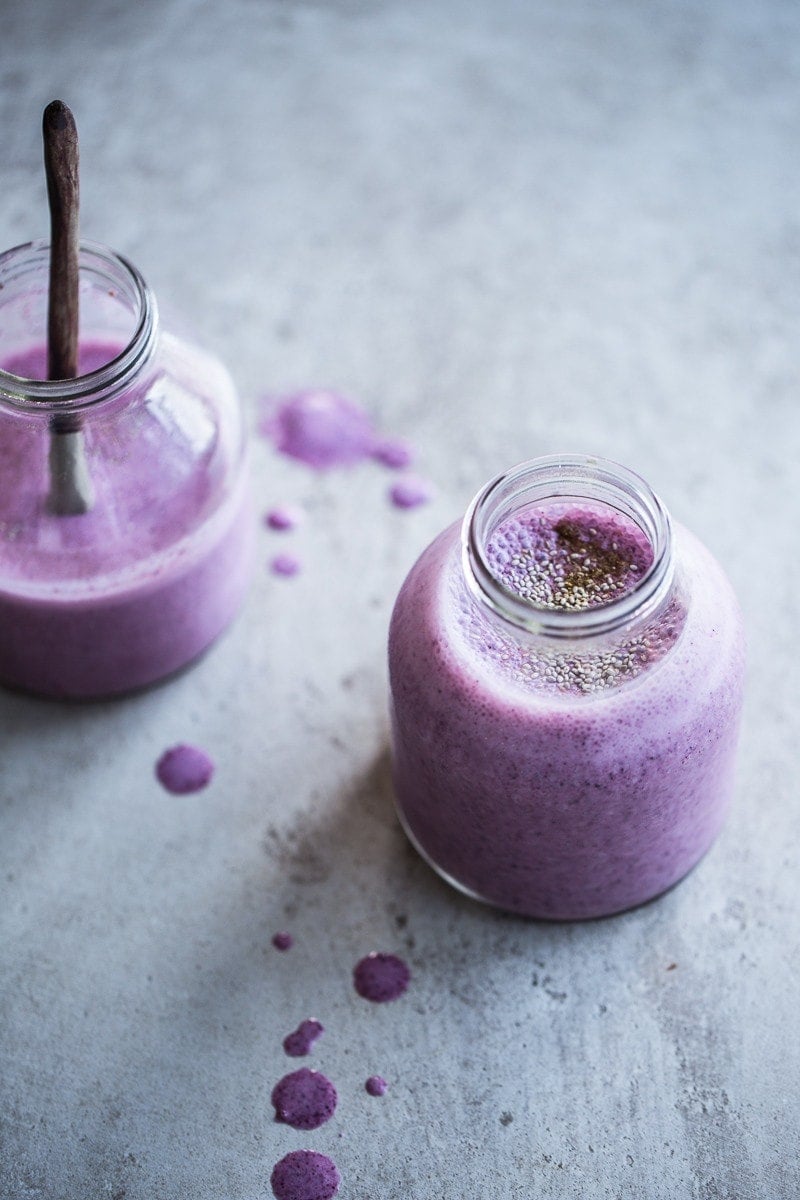 In the cooler months, I forgo my usual morning smoothie for a hot breakfast. On most days a big bowl of steaming porridge does wonders for my soul. Some other days I'll fry an egg with some sautéed mushrooms and greens and eat it with a sprinkling of dukkah. On days like those, I'll make a small batch of this 5 Minute Blueberry Chia Lassi and pack it in a jar for my herb gardening or podcast walking session. When you have worked up a sweat, it is a very satisfying dose of antioxidant rich berries and probiotics. Plus it also adds to my ongoing effort to have many small (preferably low carb) meals in the first half of my day.
A lassi is a traditional drink originating in northern India. It is a refreshing accompaniment to a complete balanced meal. The savoury version made of thinned yoghurt, spiked only with cumin and salt, is usually had at the start of a meal. A sweet lassi on the other hand is served as a dessert and is laden with fruit, spice and mint. My ancestors would have a cow if they saw me adding chia seeds to my lassi, but all is fair in the food blogging world I say! I bet you have added your own share of unusual ingredients to your smoothies that you didn't even know were actually lassis.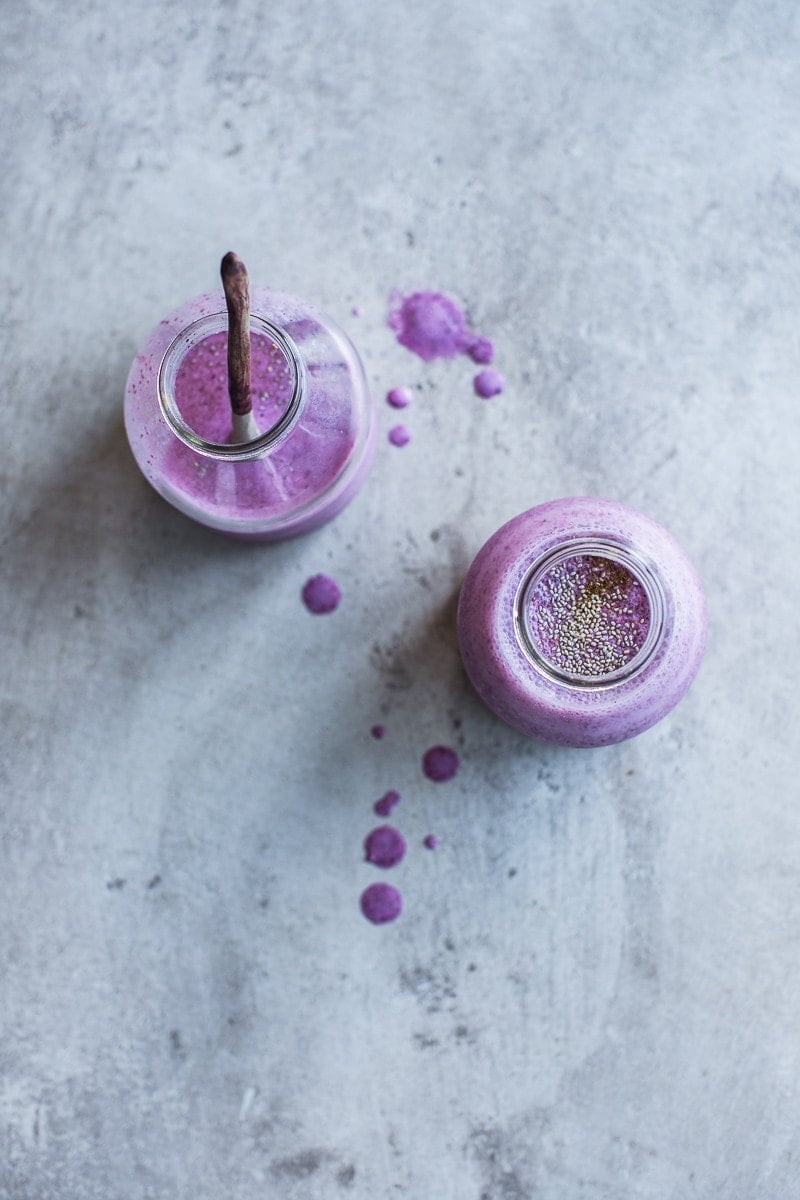 I love that lassis are a blank canvas for a delectable combination of flavours. Blueberries give that insane purple colour to the lassi which lifts my mood even before I drink it. I like to freeze blueberries when they're at their peak, so I always have them on hand even out of season. Eventually I run out of those as well as they are heavily used in smoothies, salads, cakes, pancakes and (of course) lassis. In this delightfully refreshing drink, the blueberry flavour is lifted with the cardamom notes, and the chia adds a subtle viscosity to the drink in addition to providing a low-carb fibre hit. This version is vegan but I usually make it with normal Greek yoghurt.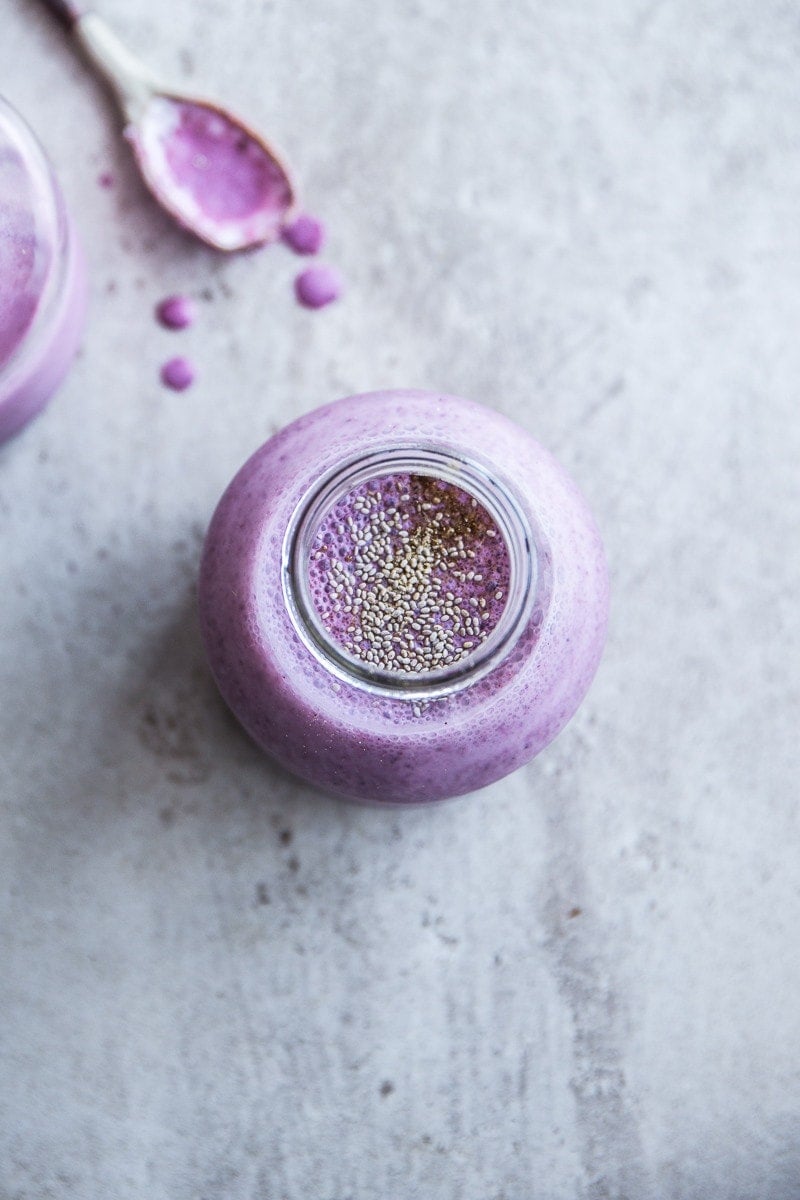 The best past is that it can be made in the blender in less than 5 minutes. So go ahead and make it and tell me what you think in the comments below. Don't forget to share your beautiful lassi with me on Instagram using #cookrepublic.
Recipe
Hungry For More Recipes? Subscribe to my newsletter. Check out Facebook, Instagram and Pinterest to see everything I share! And if you love cooking and new cookbooks, join my free Cooking Club on Facebook!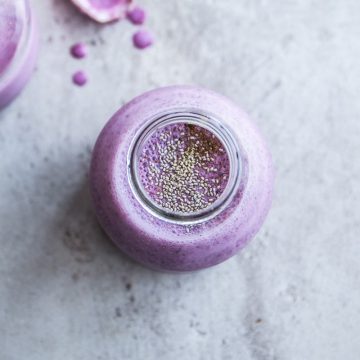 Ingredients
1

cup

(

250

g

)

frozen blueberries

1

cup

(

250

g

)

coconut yoghurt

1

cup

(

250

ml

)

coconut water, chilled

2

tbsp

maple syrup

¼

tsp

ground cardamom

,

plus extra to garnish

1

tsp

white chia seeds

,

plus extra to garnish
Instructions
Place blueberries, coconut yoghurt, coconut water, maple syrup, cardamom and chia seeds in the jug of a blender and process until smooth.

Pour mixture into two 300ml glasses or jars. Top with extra chia seeds and a sprinkling of ground cardamom. Serve chilled.
Did you make my recipe?
I'd love to hear how you went! Tag me on Instagram @cookrepublic