Hung yogurt is quite simply the thick creamy yogurt you are left with after you drain the yogurt in a muslin or cheesecloth hanging from your kitchen tap. The liquid that drains out is whey which is excellent for cooking or to thin your smoothies. Hung yogurt takes about 5 hours to make and keeps well in the fridge for a week. It is a great light option to have on hand.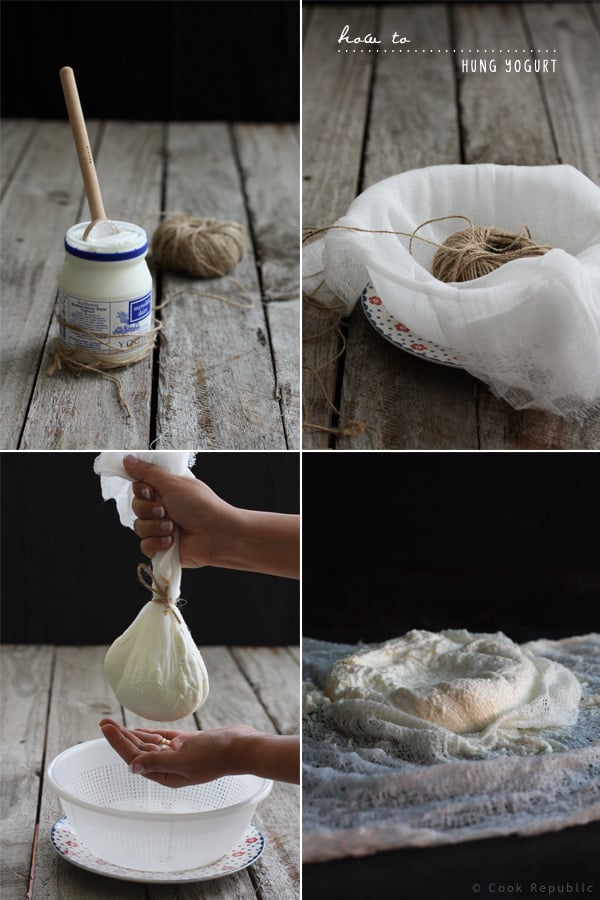 In my little hometown in India, there was a train station. Even 25 years ago, thousands of people passed through that station every day on their way to work and school. The footpaths leading up to the train station would be dotted by local women on one side, farmer's wives selling fresh produce arranged beautifully in baskets. The other side would have deli like shops, individual specialty stores that sold tea, coffee, cheese, yogurt, spices and exotic kitchenware. I loved walking on the footpath, a narrow pathway winding through these magical stores to the left and women hawking their strawberries, eggplants, chilies, okras and mangoes to the right.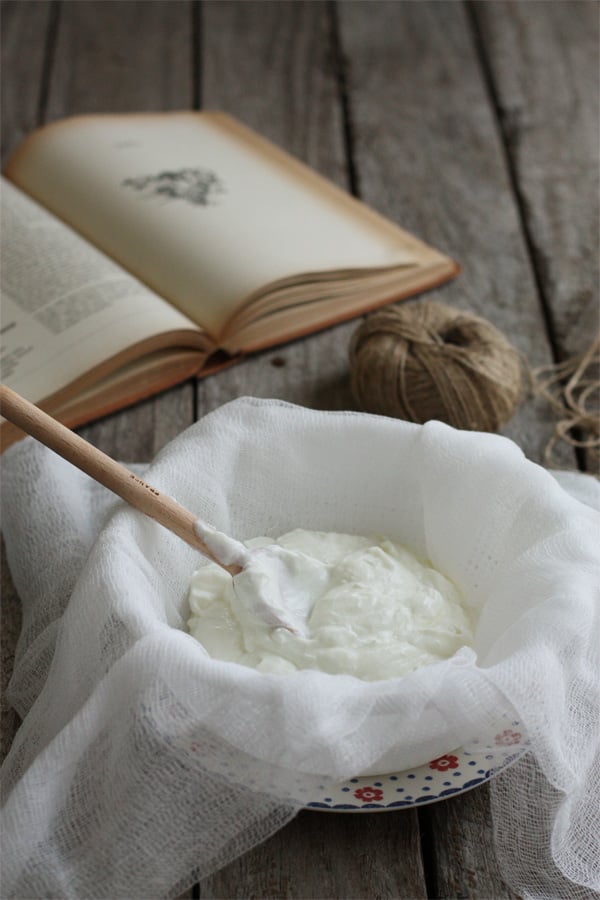 I remember my nose starting to prickle with the first whiff of a  milky, cheesy aroma and my pace would quicken as I would walk toward a gloomy-looking store that emanated a cool drift. Through glass doors I would cup my hands around my eyes and peek in. It was the same scene every time. The man with the big beer gut slumped back on a low raggedy chair, fanning his face with the day's newspaper. In front of him on an equally low counter would be rows of massive steel platters carrying pyramids of what looked like very thick molten yogurt, covered with a netting of sorts to keep the flies at bay. Behind him would be my object of fascination.
A massive hook suspended from the ceiling dangling a giant white pouch, big enough to look like a person bundled up in white. And falling from the bottom of the white pouch would be a steady drip drip drip of greyish-greenish water that would collect in a bowl large enough to be a birdbath for 20 birds. This was the Shrikhand shop and that massive lump of white draining away was hung yogurt.
To a wide-eyed little girl, being able to turn plain old yogurt into something more was quite magical. 25 years later, I haven't lost any of that wide-eyed wonder and get instantly excited about trying to take food to new heights. Hung yogurt is one of those things. Once you start making it in the sanctity of your kitchen, you realize the power it gives you to create your own fresh unprocessed dips, desserts and spreads.
Ways you could use Hung Yogurt
To make Shrikhand, the traditional Indian dessert flavoured with nuts and fruit.
As a substitute for cream cheese in desserts.
To make creamy dips and spreads.
To use as a marinade base for meats.
To sweeten with honey and use as a topping instead of cream.
Hungry For More Recipes? Subscribe to my newsletter. Check out Facebook, Instagram and Pinterest to see everything I share! And if you love cooking and new cookbooks, join my free Cooking Club on Facebook!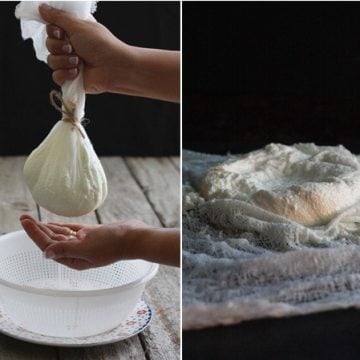 Ingredients
1

kg

full-fat yogurt

,

I used full fat sheep's milk yogurt

2

cheesecloth squares

,

30cm or a nut milk bag

jute twine

colander and bowl
Instructions
Place the colander in a bowl. Place the two cheesecloth squares/nut milk bag in the colander with the ends hanging over. Place the yogurt in the center of the cheesecloth/bag. Gather the ends gently and hold them up to form a pouch at the bottom. Tie the twine around the gathered ends just above where the yogurt is.

Place the bowl with the colander and yogurt under your kitchen tap or peg or hook (whatever you are using to hang it) and tie the open corners of the cheesecloth around it. Make sure your yogurt pouch is hanging over the colander and bowl to collect the whey and avoid making a mess. Leave this hanging for at least 5 hours.

Untie the twine around the pouch and scoop the hung yogurt into a jar. Use as required. Will keep in the fridge for up to three days (longer if you add sweeteners and flavourings)
Notes
The consistency of the yogurt after hanging for 5 hours is that of cream cheese. You can reduce the hanging time by a couple of hours to get a softer more pliant yogurt.
Did you make my recipe?
I'd love to hear how you went! Tag me on Instagram @cookrepublic