Shrikhand is Western India's most popular sweet offering. It is a traditional dessert made by mixing Greek yogurt with powdered sugar to obtain a luscious and glossy base for fruit and nuts. Shrikhand is made with hung yogurt, where yogurt is hung in cheesecloth and the whey (liquid) is drained out from it over a period of several hours. It is believed that ancient travelers in India practiced this method of draining yogurt to make it more mobile and easy to transport. The sugar and fruit were added to make it more palatable.
There are many different kinds of Shrikhand, the most popular being Saffron Shrikhand (also called Kesar Shrikhand) and Mango Shrikhand (also called Amrakhand). Another popular form of Shrikhand called Matho is a version that has a motley of fresh diced fruit stirred through it and is the most delicious in my opinion. Imagine licking off a spoon, a thick creamy dollop of sweet yogurt with bursts of fresh pineapple, mango, grape and strawberries.
The traditional Shrikhand is a sugar trap and although I do enjoy it once a year, I have spent many weekends experimenting with a low-fat, low-sugar alternative to achieve something equally delicious. A sophisticated dessert served in tiny glass milk bottles that has a modern feel and universal appeal. It is made using low-fat yogurt and sweetened with organic manuka honey and it is stunning.
Recipe
Hungry For More Recipes? Subscribe to my newsletter. Check out Facebook, Instagram and Pinterest to see everything I share! And if you love cooking and new cookbooks, join my free Cooking Club on Facebook!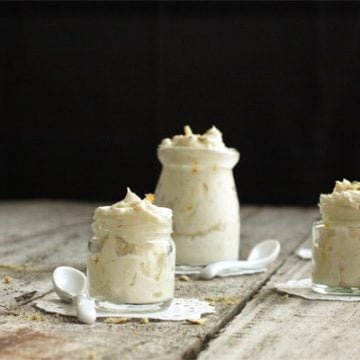 Ingredients
1

kg

low-fat yogurt

6

tablespoons

honey

,

I used manuka honey

3

tablespoons

of your favourite slivered nuts

,

I used pistachios and almonds

few saffron strands and crushed cardamom seeds

,

optional
Instructions
Place 2 large square cheesecloths in a large bowl. Place yogurt on the cheesecloth, gather the open edges and tie them up to form a pouch. Hang this yogurt pouch from the tap over your sink to drain the liquid out into the bowl.

Another way to drain yogurt is to place the cheesecloth in a mesh bowl/colander. Place the colander inside a large bowl. Place yogurt on the cheesecloth, gather the edges and tie a pouch. Place a heavy weight on top of the yogurt. Whatever liquid drains out will collect in the bowl below the colander and you will be spared a mess. You might need to drain the bowl from time to time. See

How To Make Hung Yogurt

for photos of the process.

After 4 hours, untie the pouch and scoop the drained yogurt into a medium bowl. Add the honey and nuts. If you are adding saffron and cardamom, they would go in the bowl now. Stir gently with a wooden spoon until thoroughly mixed. Cover and chill in the fridge for at least 2 hours before serving.
Did you make my recipe?
I'd love to hear how you went! Tag me on Instagram @cookrepublic