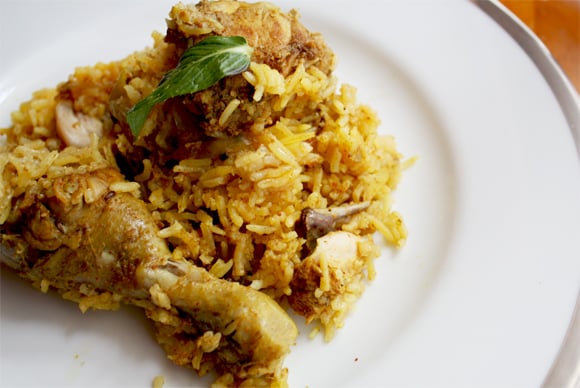 Baking is an exact science. Indian Cooking is not. One of the most forgiving styles of cooking [except mithais and pakwaans], Indian cooking is kind to the cook and takes on as many beautiful and delicious variations as there are cooks. The versatility of spices is truly exploited in Indian cooking and I say that in a good way. And what better case study to present on this topic than to talk about a true classic "Murgh Biryani", "Chicken Biryani", "Murgh Dum Biryani", "Hyderabadi Murg Biryani". As many names as there are variations, as many tastes as there are spices.
I have had the pleasure of tasting a myraid variety of "Biryanis". The chicken biryani quickly escalated to my list of "have to eat" foods. There was a restaurant called 'Namaskar' in a little suburb called Thane in Mumbai. They used to dish up the most gorgeous looking biryani ever. The rich, creamy, golden sauce enveloping succulent pieces of perfectly browned chicken, speckled with the contrasting tastes and textures of saffron infused rice, cashewnuts and raisins was a feast for the soul. The 'Briyani' [no, I haven't spelt that wrong] as it was called in Singapore had a very 'shiok' feel to it, the influence of Malaysian cooking evolving the Nasi Briyani's taste to a new level. The Biryani at "Khansama" in Singapore's Little India was bursting with North Indian Dhaba-style flavour.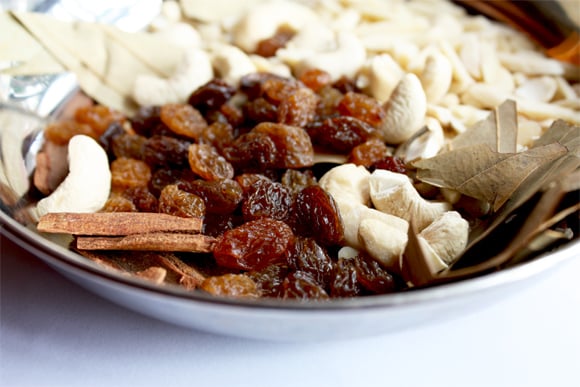 We love biryani in this home, the traditional saffron infused version from Hyderabad in India. Over the years I have tried making different kinds of biryanis at home, with different meats and different preparation methods but the true Hyderabadi Biryani taste always eluded me. Then I came upon this gorgeous little book of traditional Hyderabadi recipes. This book had three versions of Chicken Biryani or Murgh Dum Biryani. On a quest to perfect the authentic taste of this beautiful rice recipe, I tried all three several times [and no, we were still not tired of having it over and over again]. This experiment revealed that the last version was the closest to the authentic taste we so craved.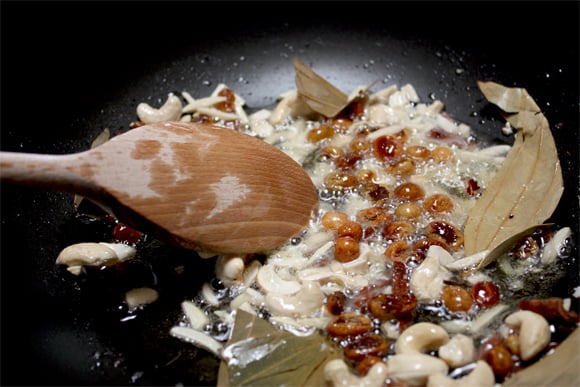 Dum is an ancient style of slow cooking that was introduced in India by the Moghuls in the 16th century. Dum is derived from the Persian word Dumpukht which means air-cooked or baked. A Handi is a spherical clay pot with a narrow neck and flared rim. It doen't have any handles and is the vessel of choice for "dum' cooking. To "dum" cook a biryani, the meat, rice and spices are layered in a handi. The mouth of the handi is covered with a clay saucer/lid and it is sealed using a thick paste made of flour and water. The handi is then placed on open fire or hot charcoals and the steam trapped inside cooks the meat to tender perfection.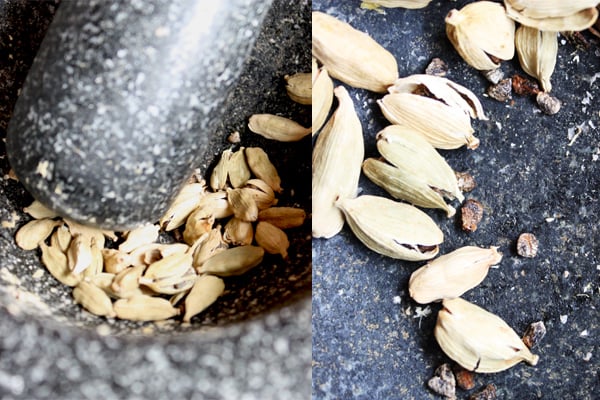 When I cook a biryani, I use a large, heavy bottomed steel saucepan to layer the ingredients and cover it with a lid. When I put the biryani in the oven to cook, I add a weight [usually the pestle of my stone 'mortar and pestle set'] on top of the closed lid. This seals the air in and creates a pressure which cooks the ingredients to perfection, a modern style "dum".
Perfect for large numbers at an Indian Style banquet, this Chicken Biryani cooked at home in the oven with a modern "dum", is truly delicious. Don't let the long process and preparation time scare you. If you make it enough number of times, you will get faster and better at it.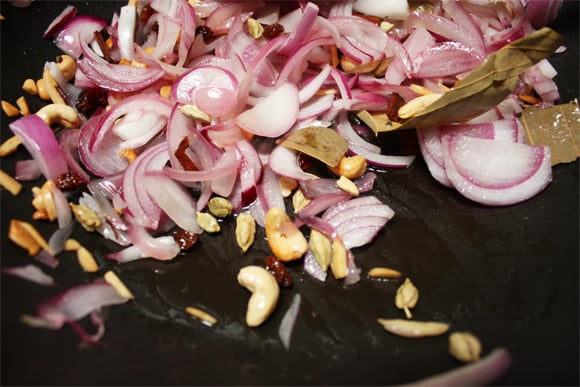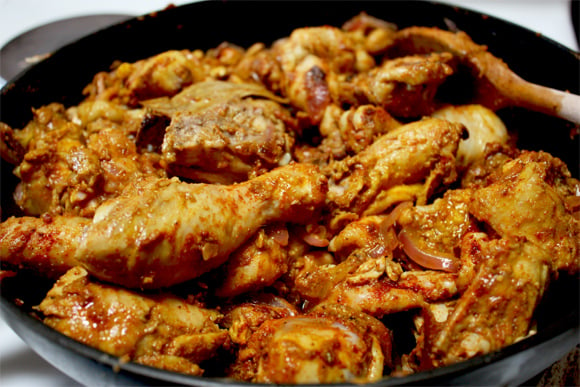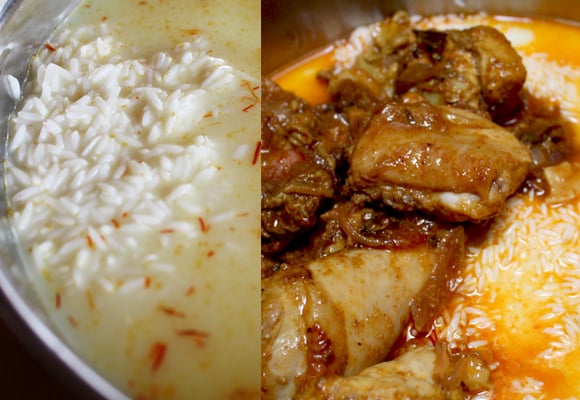 [print_this]
recipe
CHICKEN DUM BIRYANI HYDERABADI STYLE
Preparation Time: 25 mins | Cooking Time: 2 hrs | Serves 8
Ingredients
1 large chicken, cleaned and cut into pieces
2 cups basmati rice, washed and drained
2 large red onions, halved and thinly sliced + 1 small red onion
1/2 cup yoghurt
1/2 cup almonds
1/2 cup cashewnuts
1/4 cup raisins
1 inch piece of ginger
8 garlic cloves
2 green chillies
1 inch piece of cinnamon
5-6 cloves
6-8 cardamom pods
3 bay leaves
1 tsp red chilli powder
1/2 tsp turmeric powder
2 tsp cumin powder
1 tsp garam masala
1 tsp chicken masala [optional]
1 cup milk
1 cup water
6-8 strands of saffron
3 tbsp ghee [clarified butter]
1/4 cup fresh cream
salt to taste
2 tsp sugar
freshly chopped coriander and mint leaves for garnish
Method
Warm milk and add saffron strands. Add water, cover and set aside.
Combine 1 small red onion, garlic, ginger, almonds, cinnamon, cloves, cardamoms, green chillies, turmeric powder and red chilli powder in a mortar and grind with the pestle to form a coarse paste. Add salt to taste and yoghurt. Mix well and coat the chicken pieces with this marinade. Cover and set aside.
In a heavy bottomed deep pan, heat ghee on medium heat. When hot, add bay leaves, cashewnuts, raisins, sugar and sliced onions. Cook, stirring continuously for a few minutes till onions are golden and soft. Add the marinated chicken pieces and cook on high heat for 15 minutes, tossing and mixing, till the chicken pieces are golden and lightly browned. Add all the remaining spices. Adjust seasoning according to taste. Reduce heat to low, add cream and mix well. Remove from heat.
In an oven-proof deep dish [I like to use a huge Claypot or heavy bottomed saucepan with a lid], spoon in a layer of soaked rice. Top with a layer of the cooked chicken. Add another layer of rice, followed by a layer of the chicken, finishing off with a layer of rice. Gently pour the milk and saffron mixture over the rice. Cover with the lid and bake in a pre-heated oven for 40-50 minutes at 200°C. When done, remove the lid and test the rice. If fluffy and cooked, remove from the oven and stand with lid covered for approximately 30 minutes.
Serving suggestions
Garnish with freshly chopped coriander and mint leaves.
Serve hot with yoghurt or fruit raita.
[/print_this]