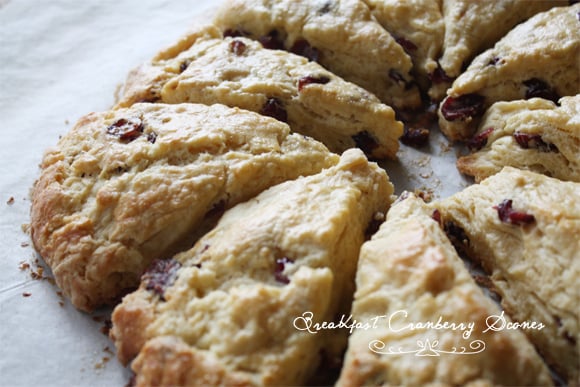 For the past several weekends, we have been having pancakes in all shapes and sizes for breakfast. We've done Dutch, traditional American and even silly animal ones. It was time to break the pancake run this weekend. Browsing through Bill Granger's Holiday cookbook for inspiration, a photograph of triangle scones in a pan jumped out at me. I love scones! Cranberry scones are my favorite. But I have always made them in their traditional rounded scone shapes. Rolling the scone dough out like a pizza and cutting them in wedges felt like an adventure that bright Sunday morning. The recipe was for blueberry scones, so I changed it because the urge to have bits of dried cranberries bursting in my mouth as I bit through the crunchy crust to the soft baked goodness within, was very strong. These scones cook very quickly and are best eaten warm from the oven. We indulged in some whipped cream and strawberry jam.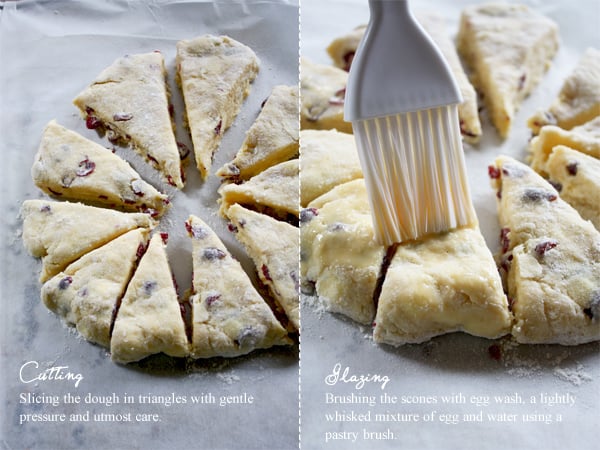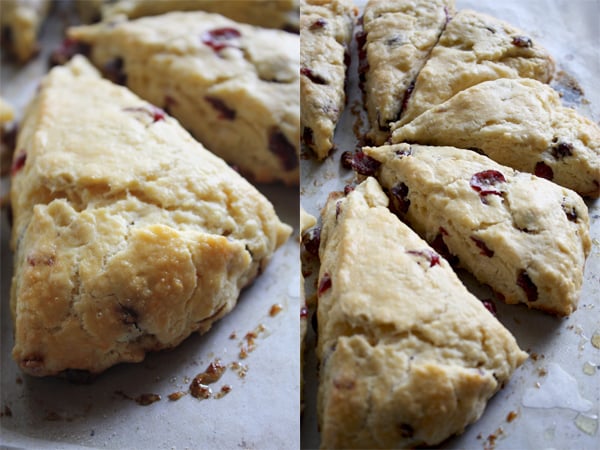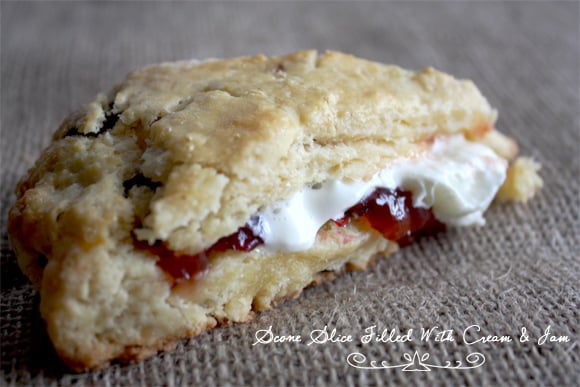 [print_this]
recipe
BREAKFAST CRANBERRY SCONES
Preparation Time – 20 minutes | Baking Time – 20 minutes | Makes 8 wedges
Ingredients
2 cups plain flour
1 tablespoon caster sugar
3 teaspoons baking powder
a pinch of salt
100g unsalted butter, cold cubed
2 eggs, lightly beaten
1/2 cup buttermilk
1/2 cup craisins or dried cranberries tossed in a little flour
1 egg mixed with 1 tablespoon milk, for glazing
Method
Preheat the oven to 200°C [400°F]. Line a baking tray with baking paper.
Mix the flour, sugar, baking powder and salt in a large bowl until well combined. Rub in the butter cubes with your fingers till mixture starts representing breadcrumbs. Mix in the buttermilk and eggs with a spatula in slow, cutting motions. Gently mix in the cranberries with your hands.
Turn the dough onto a lightly floured surface. Gather it in a huge round ball and gently flatten it to an uneven 6-inch wide circle. Cut into quarters and then each quarter into a half to get 8 wedges. Place on the prepared baking tray and brush with the egg glaze.
Bake for approximately 20 minutes in the pre-heated oven till it starts becoming golden and crusty. Serve hot with whipped cream and jam.
[/print_this]