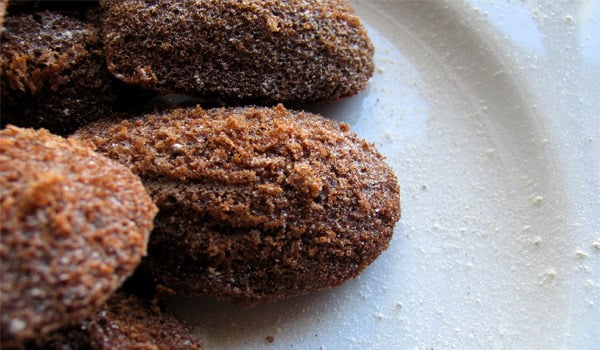 I don't remember whether I have mentioned this before but I have Donna Hay's "Chocolate" cookbook personally signed by her and it is a well put together little cookbook with simple and brilliant recipes and absolutely gorgeous photos. A couple of days ago I bought a very nice madeleine pan from the local David Jones store and was itching to try the chocolate madeleine recipe from Donna's book. The recipe had minimal ingredients and looked quite simple. I followed it to the letter and had a batch of spongy, fluffy, chocolatey madeleines in less than 30 minutes. The madeleines looked so ethereal and wispy with tiny flecks of vanillin sugar dusted on them that i couldn't resist calling them Little Miss Chocolate Madeleines.
CHOCOLATE MADELEINE
Makes : 18 Prep Time : 10 mins Cooking Time : 10 mins

Ingredients
1/3 cup plain flour
1/3 cup superfine caster sugar
60g butter, melted
2 eggs
1 tsp baking powder
2 tbsp cocoa powder

Method
Preheat oven to 180oC. Grease a madeleine pan and set aside. In a bowl whisk together the butter and sugar till light and fluffy. Add the eggs and continue beating for a minute. In a separate bowl sift the flour, cocoa powder and baking powder. Add the dry ingredients to the wet ones and beat to mix well. Spoon into the prepared pan and bake in the preheated oven for 10 minutes until the madeleines are just set. Remove and cool. Dust with vanillin sugar before devouring.