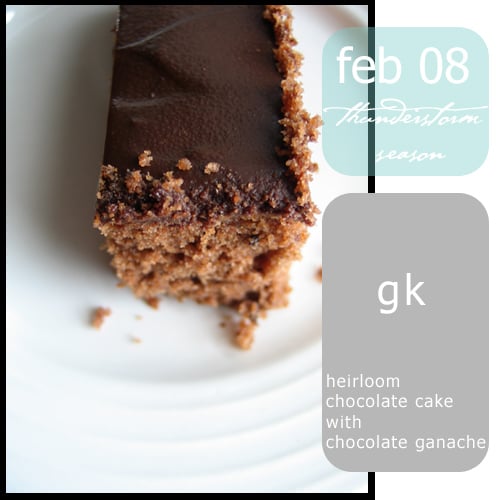 Summer is on a slow decline here in Sydney. Thunderstorms cool the spiking temperatures every few days and tease you with the anticipation of autumn. On days like today when the sun is on vacation and there is a delicious chill in the air, there is nothing more comforting than a slice of homemade chocolate cake and a cup of hot coffee. A good, solid, no-fuss chocolate cake recipe is akin to the classic white shirt in your closet which happens to be a perfect fit and never goes out of style .... meant to be used over and over and yet over again with great results every time. I made this gorgeous chocolate cake over Christmas and then again to ring in the New Year. The recipe came from a personally signed copy of Donna Hay's "simple essentials Chocolate" cookbook [yep ... signed by the lady herself while she briefly chatted with me at the Sydney Good Food And Wine Show 2007]. You won't believe how easy this is to make, the ganache being the crowning glory of this chocolat-ridden masterpiece. I have always craved those store-bought Swiss chocolate cakes with their perfect fudgy frosting and velvet texture, but I will pine those no more. I will simply march into the kitchen and make myself a big slab of this beautiful cake. The only demand this no-fuss recipe makes is that you use good quality chocolate. I have tried it with Green & Black's Organic Chocolate Bars. It tasted better with Green & Black's, maybe I am partial to their beautiful packaging but their vast range of organic chocolate bars are pure magic.
Meandering back to the chocolate cake, it is the kind of recipe that one would pass down in the family. Hence the witty 'heirloom' mention, now ain't I resourceful? The frosting that Donna mentions for this recipe is called 'chocolate glaze' in the book. I compared the recipe for that as well as 'chocolate ganache' and other than the sequence of mixing both ingredients, I didn't find any other difference. Here is the recipe. Enjoy!
Heirloom Chocolate Cake with Chocolate Ganache Frosting
courtesy Donna Hay's "simple essentials Chocolate"; basic chocolate cake
Serves : 12/Prep Time : 15 mins/ Cook Time : 1 hour 10 mins
Ingredients
for the cake
2 cups plain flour, sifted
2/3 cup cocoa powder, double sifted
1 1/2 cups brown sugar
375g butter, softened
2 tsp baking powder
3/4 cup milk
3 eggs
for the chocolate ganache
150g chopped dark couverture chocolate
1/2 cup pouring cream
a dash of Tia Maria
Method
to make the cake
Preheat the oven to 160oC [320oF]. Place butter and sugar in the bowl of an electric mixer and beat for 8-10 minutes or until light and creamy. Gradually add the eggs and beat well. Fold through the flour, baking powder and cocoa powder. Stir in the milk. Spoon the mixture into a 22cm [8 1/2 in] round cake tin lined with non-stick baking paper and bake in the pre-heated oven. Cool in the tin for 10 minutes, then turn onto a wire rack to cool completely. Frost with the ganache after chilling the cake for an hour in the fridge.
to make the ganache
Place the chocolate and cream in a small saucepan over low heat, stirring until melted and smooth. Add Tia Maria and mix. Allow the mixture to stand for 10 minutes till it has thickened slightly. Pour over a well chilled cake and tap to remove any bubbles.