A gorgeous, one-bowl, mix-and-bake Maple Syrup Cake with the most delicious soft buttery crumb and a delicate crunch in the crust from the maple syrup baking to golden perfection. The soy sauce addition is something you must try! Dress it up to make it fancy or just enjoy with a smattering of icing sugar and some berries.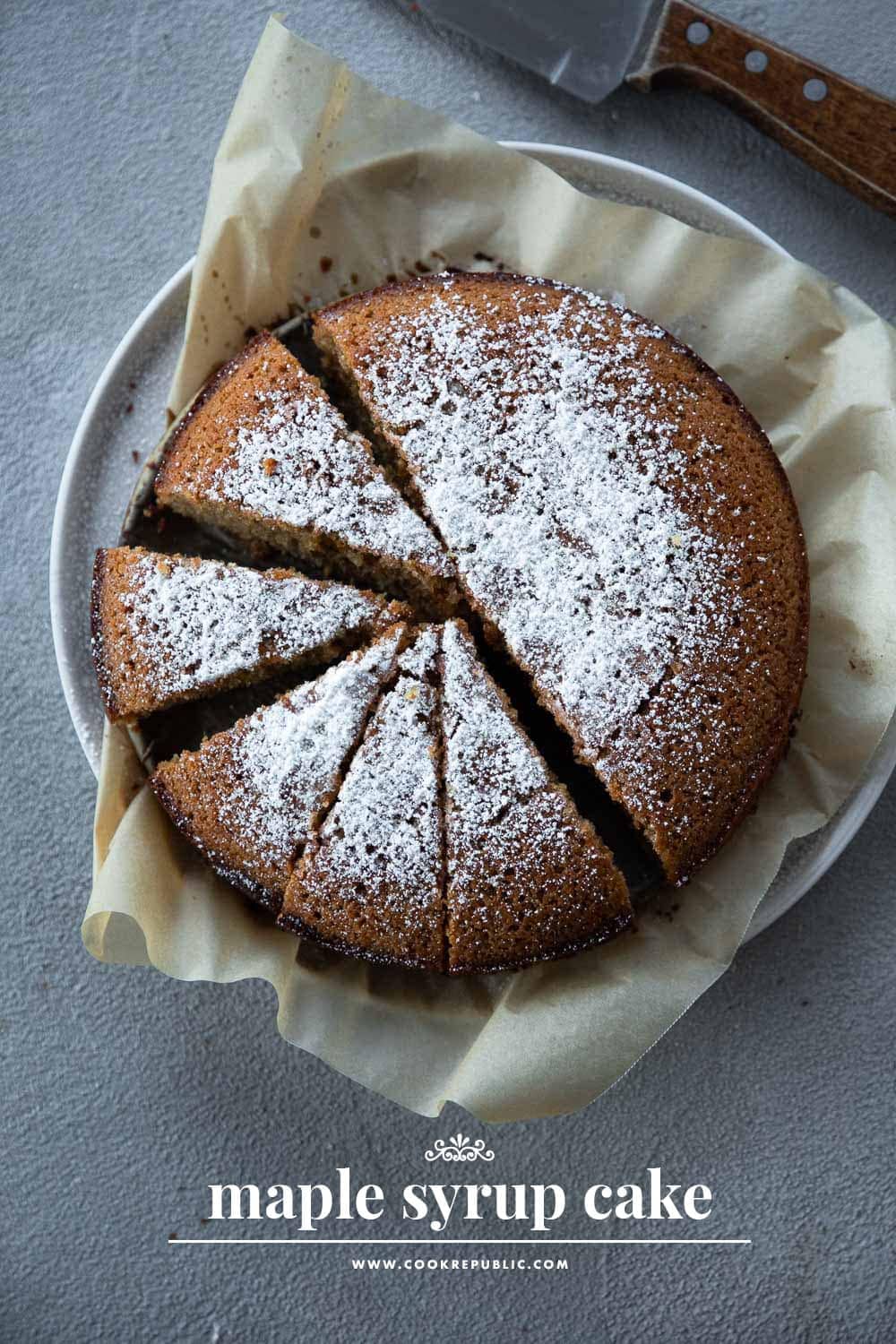 Using Maple Syrup As A Sweetener In Cakes
I have been using sugar alternatives in my baking for the longest time. For the past few years, I have almost completely switched to baking with rapadura/unrefined palm/coconut sugar. But every now and then, I bake a cake with just honey or maple syrup without adding anything else and let the taste of that sweetener define the entire cake. It is always lovely and the result is super delicious.
This cake from one of my favourite baking books Love Bake Nourish by Amber Rose first caught my attention because it was a simple yellow cake topped with white icing and some berries. I baked it for my younger son's birthday a couple of years ago and it was a hit. Since then I have adapted it with some minor tweaks for everyday baking. A staunch member of the sturdy cake committee.
The maple syrup flavour really comes through on day two as the cake sits on your benchtop under a glass cake dome and ages. And when you bake with maple syrup, something magical happens to the crust. It gets a little bit crunchy, almost like candy making every mouthful feel decadent as you bite into the first crunchy crust and experience the oh so soft crumb.
Adding Soy Sauce To Cakes When Baking And A Note On Sweetness
I am sure adding soy sauce to cakes is nothing new. But in this cake, paired with maple syrup; it is brilliant! I mean, everyone loves a maple-soy marinade, right? There is something wildly complimenting and pleasing about this sweet and salty combination. You only need a little bit of that salty soy sauce hit to amplify the umami sweetness of this gorgeous cake. This is not a very sweet cake (like all my cakes!) so if you want it to be sweeter, just go nuts with the icing sugar when you serve. A dollop of ice cream or sweetened whipped cream with berries  is also nice.
My other substitutions include wholemeal spelt flour to boost the wholesome rustic sturdiness of the cake and more flavouring from vanilla and lemon. Enjoy baking this cake and make sure you resist eating it until the following day as it is then that it truly shines. Happy baking! x
Make sure you are subscribed to my weekly newsletters so that you don't miss any of the delicious new recipes coming out of my kitchen!
Recipe
Hungry For More Recipes? Subscribe to my newsletter. Check out Facebook, Instagram and Pinterest to see everything I share! And if you love cooking and new cookbooks, join my free Cooking Club on Facebook!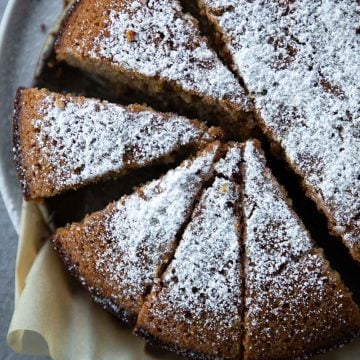 Ingredients
180

g

unsalted butter

,

softened

180

ml

maple syrup

2

teaspoons

vanilla extract

1/2

teaspoon

light soy sauce

3

large organic eggs

finely grated zest of 1 small lemon

160

g

spelt flour

20

g

cornflour

2

teaspoons

baking powder

2

tablespoons

soy milk
Instructions
Pre-heat oven to 180°C / 160°C (fan-forced). Grease and line a 20cm base diameter cake pan with baking paper.

Add butter, maple syrup, vanilla and soy sauce to the bowl of an electric stand mixer. Whisk for a couple of minutes until pale and creamy. Add eggs one at a time and continue beating until you get a fluffy and creamy mixture.

Add lemon zest, spelt flour, cornflour, baking powder and milk. Beat for a brief few seconds until just combined. Alternatively, fold these ingredients gently into the egg mixture using a wooden or silicone spoon until just combined.

Spoon cake batter into the prepared tin. Bake in the preheated oven for 40 minutes until golden and cooked through the middle.

Remove from the oven and allow to cool in the tin for a bit. Remove carefully onto a cake plate when cool. Dust with icing sugar and serve.
Notes
Soy Sauce Substitution - If you don't want to use soy sauce, substitute with a pinch of salt instead. Simple Icing - In her book, Amber tops the cake with a simple icing made by whipping cream and honey together. I have tried this and it is quite lovely too. Sweetness - This isn't a very sweet cake to begin with. If you like your cakes sweeter, just dust with more icing sugar when serving or serve with a dollop of ice cream or sweetened whipped cream with berries.
Did you make my recipe?
I'd love to hear how you went! Tag me on Instagram @cookrepublic