A take on the popular Indian dish Chicken Saag, this Spinach Garlic Chicken Masala is a lighter, healthier and delicious everyday option to boost your protein and iron intake. Made in a cast iron pan in just 15 minutes, it is the Indian stir-fry recipe that is bout to become a family favourite.
Chicken Recipes For The Boys
I haven't shared chicken/meat recipes on the blog in a long time. I do have quite a few on my blog that are actually quite popular. In fact, this slow-cooker lamb curry is one of the most cooked recipes on the blog! To give you a bit of context, I was raised as a vegetarian. In my early twenties, when I got married and left India, I started working in the food industry. As a result of that, I started eating and cooking meat/poultry/seafood although sparingly. This went on for almost a decade. In my late thirties, I felt a switch flip. I just didn't want to eat poultry/meat anymore. And so I stopped. One fine day in March. Just out of the blue. That was five years ago.
I have been a Pescatarian since and that is what I have been sharing on the blog. Lots of vegetarian/vegan recipes with the occasional seafood recipe making an appearance every now and then. But I still cook everything. For the boys. They also follow a predominantly Pescatarian diet, but I cook sustainably raised, organic chicken for them a couple of times a week. How do I know that it tastes great? Believe it or not, I can actually smell a dish and name most of the ingredients in it. Thirty years of cooking will probably do that. Nick also taste tests for me. And all my chicken recipes have been vegetarianized. I have tasted those. So I know the exact amount of spices and seasonings to add to these chicken recipes.
Why Share Chicken Recipes On The Blog?
Why have I decided to share chicken recipes after such a long break? There are two reasons.
The first one being my boys. They are now 17 and 13 and in high school. They are very active and play soccer, do cross country, go for multiple walks and runs, do HIIT and do strength training (at home with bands and kettlebells). I like to cook high protein food to help them sustain their active lifestyles. As such, they are taking a lot of interest in their food and pushing towards becoming more independent in the kitchen. And they use the blog to help them in their cooking journies.
The blog was always meant to be a journal of our lives and our kitchen adventures. And before I know it, they will fly the coop and will be living by themselves. To that avail, I made the decision of sharing simple chicken recipes that they love, that I cook for them weekly and that they in turn can access and cook for themselves whenever they want. And in doing so, you all get access to these delicious family recipes as well.
And the other reason was - You! When I recently asked everyone on Instagram what recipes you wanted me to share, surprisingly there was a HUGE number of people requesting the chicken recipes that I often share on Insta Stories. So that was it. BUT, fear not my vego-loving friends. I am STILL GOING TO SHARE THE SAME AMOUNT of veggie recipes as I have always been sharing.
A Spinach Heavy Garlic Chicken Masala Inspired By Chicken Saag
If you aren't familiar with Chicken Saag (a recipe I shall be sharing soon), it is a rustic North Indian curry of tender chicken pieces in a delicious green spinach sauce. Saag means greens and in this recipe, the greens are cooked down to a paste with tomato and spices. My Spinach Garlic Chicken Masala, is inspired by this famous Indian curry and adapted for a quick weeknight meal that also happens to be lighter and healthier.
Adapting the dry-curry method (sabji) most common in Indian cooking, this beautiful dish comes together in less than 15 minutes. I cook it in a cast-iron pan which really helps to seal and sear the chicken while keeping it tender inside. You basically stir-fry the spices and aromatics, add and sear the chicken on high and add a whole lot of the spinach right at the end so it is still vibrant and green. Goes really well with a delicious dal, a good raita and some steamed rice or fresh rotis. Don't forget sliced red onions (soaked in cold water for 10 minutes and drained) along with some lemon wedges!
If you make and love this delicious family favourite chicken dish, I would love to hear your feedback in the comments below. And if you have any chicken recipe request, please email me. Enjoy! x
Recipe
Hungry For More Recipes? Subscribe to my newsletter. Check out Facebook, Instagram and Pinterest to see everything I share! And if you love cooking and new cookbooks, join my free Cooking Club on Facebook!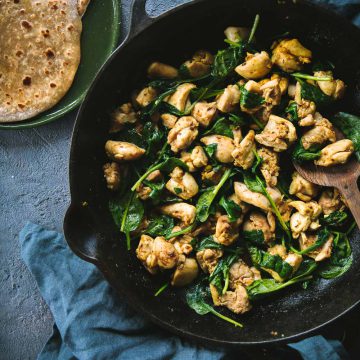 Ingredients
1

tablespoon

olive oil or ghee

6

garlic cloves

,

minced

1

bay leaf

1

teaspoon

cumin seeds

700

g

chicken thigh

,

boneless skinless and cut into 2.5cm pieces

1 ½

teaspoons

sea salt flakes

½

teaspoon

ground turmeric

1

tablespoon

ground cumin

1

teaspoon

garam masala

¼

teaspoon

ground chilli

¼

teaspoon

ground cardamom

200

g

baby spinach leaves

Lemon wedges

,

to serve
Instructions
Heat oil in a large sauté pan or skillet on medium-high. Add garlic, bay leaf and cumin seeds. Sauté for a few seconds until garlic starts caramelizing.

Add chicken and salt. Mix well and increase heat to high.

Add turmeric, cumin, garam masala, chilli and cardamom. Cook, tossing constantly for 1-2 minutes until chicken is seared, starting to brown and is coated with all the spices.

Reduce heat to medium and continue cooking the chicken for 8-10 minutes until it is completely cooked.

Add spinach and mix well, cooking for a minute until spinach is wilted.

Remove from heat. Serve hot with lemon wedges and rotis.
Notes
Make sure you are cooking this in a big wide cast-iron pan or sauté pan. You need the surface area for all the spinach which will soften and condense after cooking.
Want to amp up the iron in the dish? Double the amount of spinach.
Did you make my recipe?
I'd love to hear how you went! Tag me on Instagram @cookrepublic