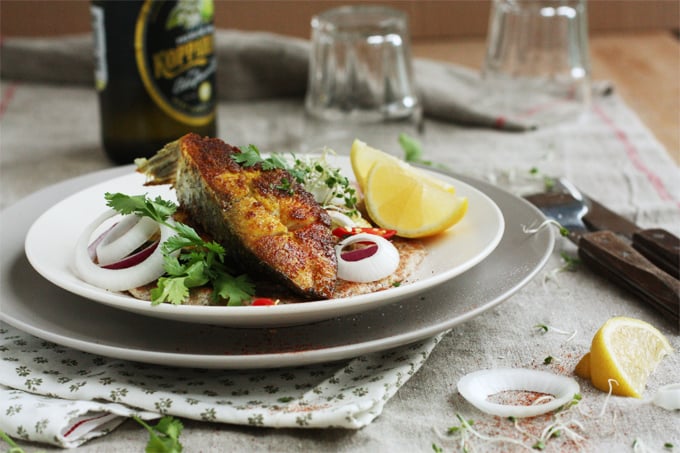 Memories are tricky little buggers. They constantly play a game of hide and seek, weaving in and out of our daily thoughts. If you are lucky and alert enough, you might be able to spot one from very long ago zooming by and trying to hide. I caught one the other day and that started the chain of events that led to this recipe. But first, a little of where I have been in the past couple of weeks.
I have been at college. It has been two weeks. And I am finding it hard, for now. For those of you new to the blog, I am studying Graphic Design at Shillington college in Sydney. Part time. For a year. It is at night. I am loving it. I am also blogging and designing full time, working on Tasty Circus and juggling home and family. I have just started work on a huge food photography project for a client and there is copious amounts of cooking and styling everyday. Through the blur that is now my typical day, the only time to reflect and think is on my train commute to and back from college. And because I was wired up on caffeine, I managed to catch that wisp of memory last week.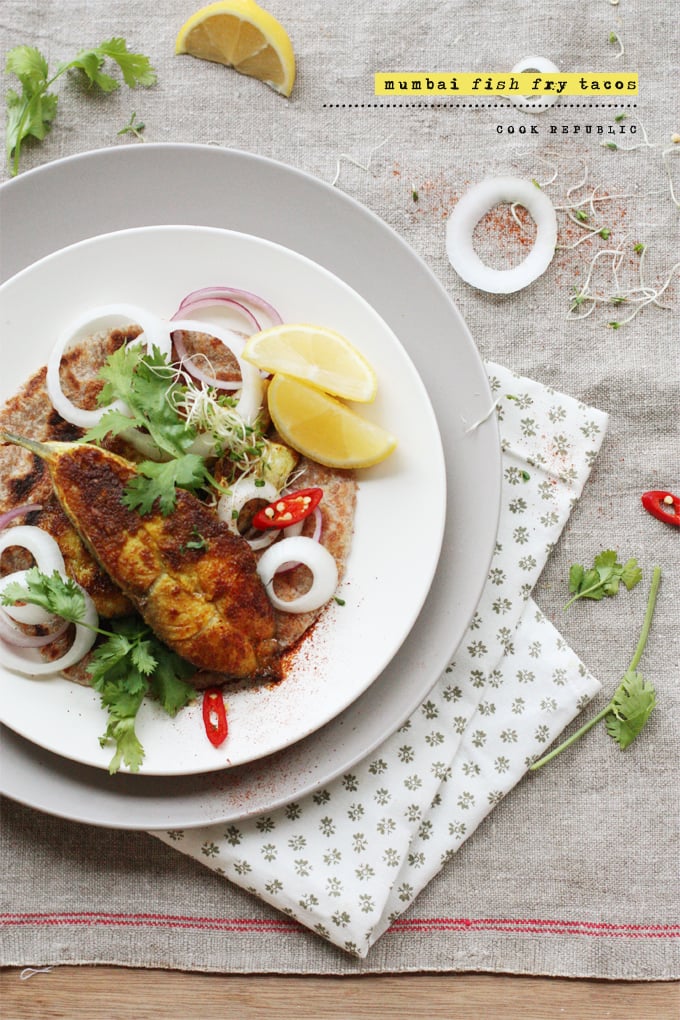 I remembered someone telling me that my mum was awesome. It was at a neighbour's home just before a big party. My mum had disappeared in the kitchen hours ago and all kinds of delicious was happening in there. I remember asking the person what a child always asks - Why? They said that she was cooking fish fry for nearly three dozen people. The catch was that she was a vegetarian and couldn't stand the smell of fish, but there she was gutting, cleaning and cooking. Yes, a legend! And just like that at 10:30 in the night on an almost deserted train back home from college, I had a sudden ridiculous urge to cook fish. As I said, memories are tricky little buggers.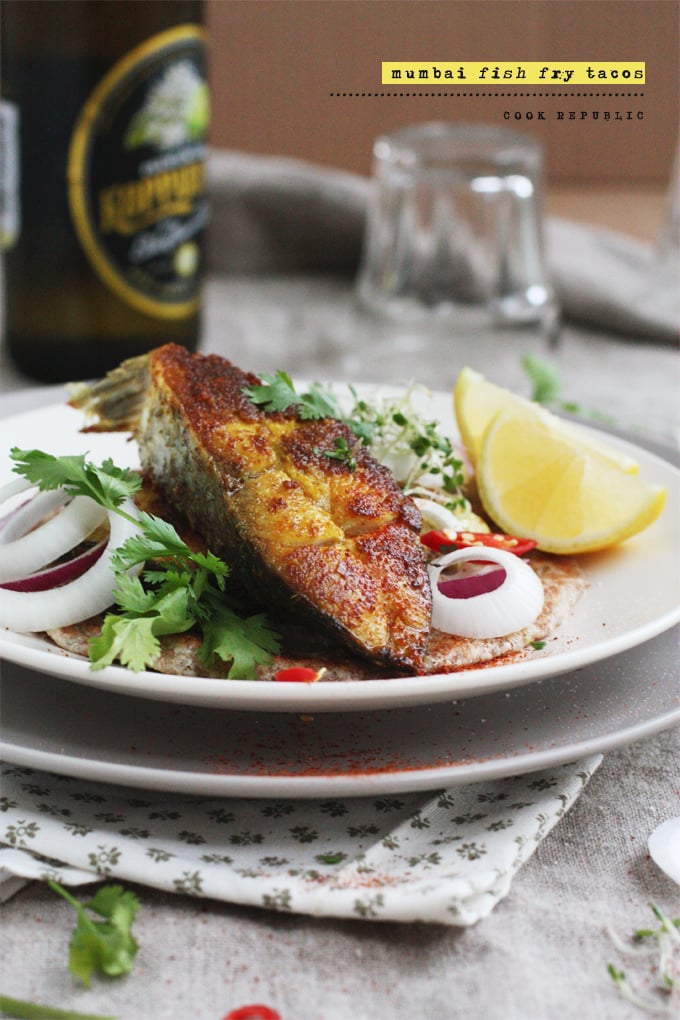 Fish fry in India is one of the most basic home recipes in fish-eating coastal communities. Everyone has their own version whether it be dry or in a sauce. Freshly caught fish is cleaned, marinated in a couple of simple spices and briefly pan fried for   a perfect charred crispy meal. This fish fry is inspired by the punchy street flavours of Mumbai. I hope you enjoy it as much as we do.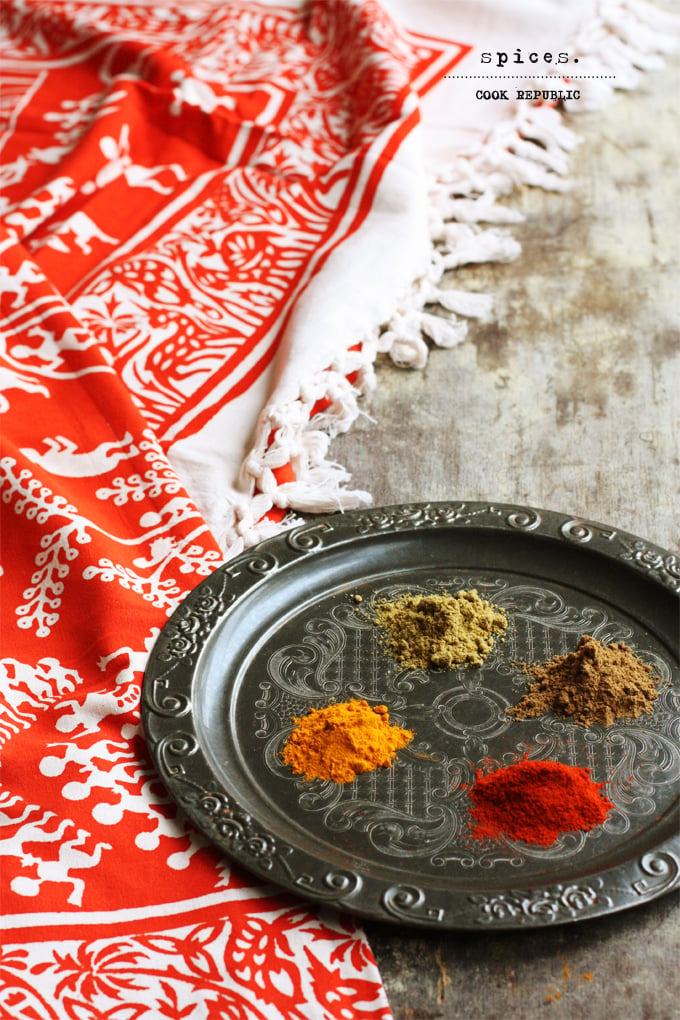 [print_this]
MUMBAI FISH FRY TACOS
A spicy, full of mouthy flavours fish fry inspired by the fish markets and the street spices of Mumbai in India. Served on flatbreads for a punchy taco meal.
Makes - To Serve 4
Ingredients
8 fresh Snapper cutlets
2 tablespoons vegetable oil
juice of half a lemon
salt to taste
1 teaspoon ground turmeric
2 teaspoons ground coriander
1 teaspoon ground cumin
1 teaspoon red chili powder
1 teaspoon ginger paste
1 tablespoon garlic paste
1 tablespoon chopped coriander root (optional)
sliced white onion (to serve)
fresh coriander leaves (to serve)
red chili slices (to serve)
lemon wedges (to serve)
whole wheat flatbreads
or tortillas (to serve)
oil for frying
Method
In a large bowl, combine oil, salt, turmeric, ground cumin, ground coriander, ground chili, lemon juice, coriander root, ginger paste and garlic paste. Mix well. Add the fish cutlets. Cover and marinate in the fridge for half an hour.
Heat a frying pan on high. Add 1 tablespoon of oil and swirl the pan gently to coat evenly with oil. Gently place four of the fish cutlets in the pan. Fry for 3 to 4 minutes on each side, turning over with wooden tongs till the desired consistency of charring is reached.
Repeat with another tablespoon of oil and fish cutlets.
To serve, arrange flatbreads or tortillas on a plate. Place one or two fish cutlets on the flatbread/tortilla. Top with onion slices, coriander leaves, chili slices and lemon wedges.
[/print_this]