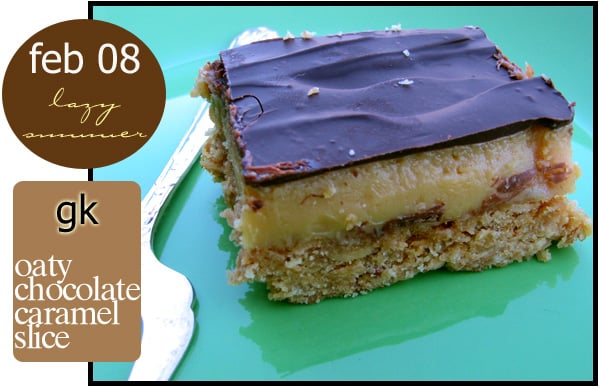 How many times have you overlooked those little pull-out cards accompanying a product advertisement in a cooking magazine? Well I have plenty of times, until one fine day last year I paused over one that caught my eye. It was a totally random occurrence and now when I think back, I am glad I did. The product was Nestle's dark chocolate bits and they had a recipe for "Chocolate Caramel Slice" featured on the card with a gorgeous photo of the most perfect slice I had ever seen. The inclusion of oats in the recipe sold it to me really fast, as I thought to myself "Ah well, a little bit of healthy breakfasty with a whole lot of sinful chocolatey and caramelly!!". So, then I made it for a Playgroup breakfast one morning and it was a hit. I tweaked it a bit and tried it again for a barbecue get-together the following weekend. It was devoured in seconds. Then for a picnic lunch the following month and then one morning for no simple reason at all, since Nick kept asking when I was making it next. I have forgotten the countless times I must have made it since first laying an eye on that card which is now pinned to my recipe diary. It is simple and brilliant in its sinful taste. I am playing around with the idea of making it this week, since I haven't made these in a while. Just the thought of sinking my teeth through a well set, thin layer of dark chocolate to the gooey, buttery caramel and ending with an oaty, coconutty crunch is making my taste buds tingle.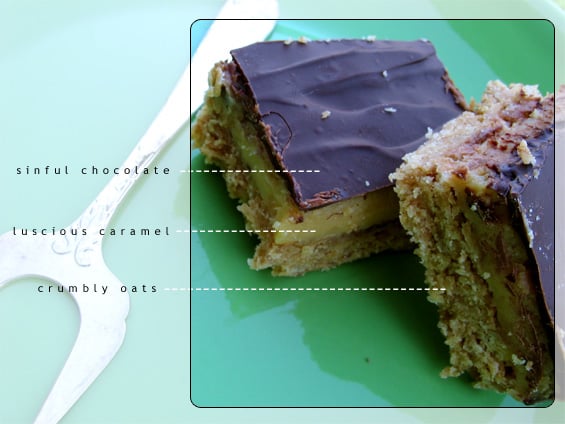 OATY CHOCOLATE CARAMEL SLICE
[Makes 20/Prep Time : 20mins/Cook Time : 25 mins]
Ingredients
1 cup self raising flour, sifted
1 cup dessicated coconut
1 cup rolled oats
1/2 cup brown sugar
150 g butter, melted
350 g sweetened condensed milk
2 tablespoons golden syrup
30 g extra butter
200 g dark couverture chocolate, melted

Method
Preheat oven to 180ºC. Combine flour, oats, coconut, butter and sugar in a bowl. Mix well. Press into the base of a 18cm x 28cm lamington/slice pan lined with non-stick baking paper hanging over the edge. Bake for 10 minutes until golden. Combine condensed milk, golden syrup and extra butter in pan and bring to a boil stirring constantly. Reduce heat, simmer for 5 minutes stirring until it reaches a light brown colour. Pour caramel over cooked base, return to the oven and bake for a further 10 minutes. Cool. Spread the melted couverture chocolate over the caramel filling in swirling motions. Chill in the fridge for at least 1-2 hours before slicing into neat squares.