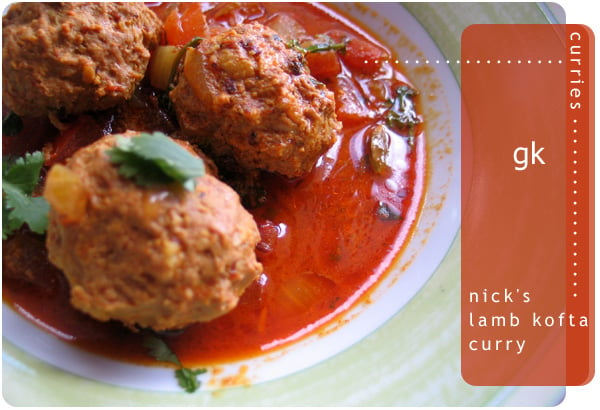 For those of you who don't know Nick, he is my significant other and a good cook. He particularly enjoys picking up a cookbook and trying out a new recipe every once in a while. He was the one who introduced me to this lovely dish called "Parsi Egg" back when we were still at university. And he mastered the famous "Singaporean Chilli Crab" when we were living in Singapore. His "Paneer Bhurji" is to die for and he can dish out a mean "Lamb Kheema". But more about those later, because today I am about to share one of his latest experiments "Lamb Kofta Curry".
A couple of months ago I bought "The Food Of India" off ebay. It is a brilliant book and when I say brilliant, I mean it. It is hard to beat the authenticity of the recipes, the tastes of signature Indian dishes true to the versions dished out in restaurants in India on a daily basis. We have tried quite a few recipes from this book and they have never failed to satisfy our palates. Over the Christmas break, Nick had a hankering for lamb and wanted to do something different from the usual roasts and kebabs. A few minutes after browsing the book, he came into the kitchen a merry twinkle in his eye and told me that he was going to whip up something exciting. So off I went to put my feet up and wait. Within the hour delicious smells were tantalizing my taste buds and come lunchtime he had managed to lay out the table with a plate of Lamb Kofta Curry beautifully presented. Koftas are essentially meatballs and when gently simmered in a cream or yoghurt based gravy/curry become oh so tender and infused with the flavours of a million spices.
[print_this]
NICK'S LAMB KOFTA CURRY
Recipe courtesy 'The Food Of India' by Priya Wickramasinghe and Carol Selva Rajah
Serves : 4 | Prep Time : 30 mins + 2 hours to chill the koftas | Cooking Time : 1 hour
Ingredients for Kofta

500g minced lamb
2cm piece of ginger, grated
3 garlic cloves, finely chopped
2 green chillies, deseeded and finely chopped
1 onion
1 egg
1/2 tsp salt

Ingredients for the Curry
200g tin chopped tomatoes
150ml thick natural yoghurt
1 onion, finely chopped
2 tsp coriander seeds
2 tsp cumin seed
10cm piece of cinnamon
6 cardamom pods
6 cloves
1/2 tsp ground turmeric
1 tsp garam masala
1 tsp paprika
1/2 tsp salt
3 tbsp oil freshly chopped coriander leaves

To Make the kofta
Grate the onion, put it in a sieve and use a spoon to press out as much liquid as possible. Put it in a bowl and combine with the lamb, ginger, garlic, green chilli, salt and egg. Mix well, and divide into 20 equal portions. Shape each into a ball. Cover with clingfilm and refrigerate for 2 hours.
To Make the curry
Place a small frying pan over low heat and dry-roast the coriander seeds until aromatic. Remove, then dry-roast the cumin seeds. Grind the roasted mixture to a powder using a mortar and pestle. Heat oil in a karahi or heavy bottomed frying pan. Add the cinnamon stick, cardamom pods, cloves and onion. Fry until, the onion turns golden. Add all the ground spices and salt. Sauté for 30 seconds. Stir in the tomato and remove from heat. Slowly stir in the yoghurt and mix well. Return the pan to heat, slide in the koftas and bring to a boil. Simmer uncovered for 50 minutes over very low heat. Gently shake the pan from time to time to prevent the koftas from sticking. If the curry starts drying out add a little bit of water and continue cooking. Serve hot garnished with coriander leaves.
[/print_this]