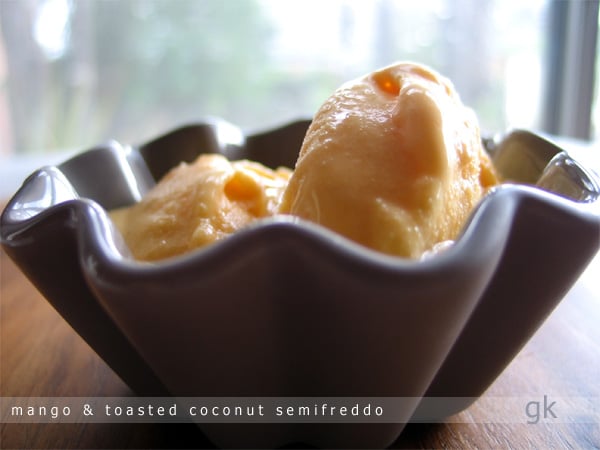 I was very excited to try the new Krups GVS2 Ice Cream Maker when it arrived the day before. After unpacking and the box and making sure everything was in place, I briefly browsed through the manual. As per the instructions I placed the main tub in the freezer where it would sit for the next 24 hours. A couple of hours later I had been through "Iced" and a couple of cooking magazines waiting to be inspired by an ice cream recipe, inspired enough to try it out instead of just drooling over the pictures and fantasizing about the taste.
When I came across the Mango & Toasted Coconut Semifreddo recipe in the launch issue of Donna Hay's magazine, I found the inspiration I was looking for. The Krups manual did not have any instructions on different operations for different kinds of iced treats like ice cream, semifreddo or granita. I figured that the machine would churn them all just the same, but the different ingredients in different recipes would produce a whole new end-result. I prepared the semifreddo mix and popped it in the fridge to chill for 12 hours, again as per instructions. Once the tub had been in the freezer for 24 hours, I got it out and poured in the mix following all the steps in the manual. 25-30 minutes later the semifreddo was ready, a runny albeit very creamy and slushy treat. I scooped it out in a tupperware freezer container and stuffed it on one of the shelves of my exploding freezer. Overnight it transformed into a firm, delicious dessert. The recipe was fantastic and I had followed it to a T with a minor addition and a slight tweaking, I kid you not but it was the most gorgeous ice cream ... oh sorry .. semifreddo I have ever tasted.
The Krups GVS2 passed with flying colours. For the price it comes at, it provides fantastic value. Some might say that the entire process takes too long, and they won't be wrong but even if you were to skip using an ice cream maker and make iced treats from scratch the old-fashioned way [see my sweet corn ice cream recipe], it would probably take you the same amount of time plus more effort. I think a little bit of extra time and effort is a small price to pay for the deep rooted satisfaction of making ice cream at home. That being said, I now leave you to enjoy the recipe.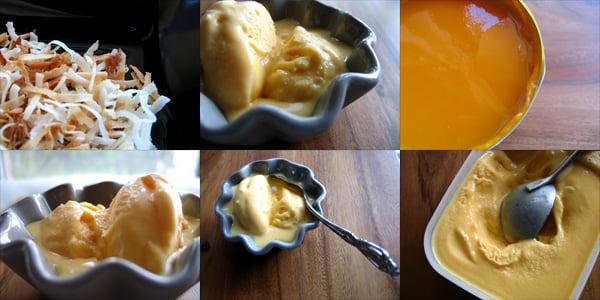 [print_this]
MANGO & TOASTED COCONUT SEMIFREDDO
Adapted from Donna Hay's "Holiday" Launch Issue Magazine
Makes 1 litre/Serves 6-8| Prep Time : Forever | Making Time : 25 minutes
Ingredients
1 1/4 cups store bought mango puree [I used a can of pureed 'Kesar' mangoes from India]
1 3/4 cups cream
1/2 cup caster sugar
1 cup caster sugar, extra
3 eggs
3 egg yolks, extra
1/2 cup toasted shredded coconut [I lightly toasted moist, shredded coconut in a dry pan on low heat]
1 tbsp milk powder

Method
Place the mango puree and sugar in a saucepan over medium to low heat. Allow to simmer for 5 minutes until the sugar dissolves and mixture thickens. Set aside to cool. Place the eggs, egg yolks and extra sugar in a heatproof bowl. Place over a saucepan of shimmering water and whisk the mixture for 5 minutes until heated through and frothy. Remove from heat, add milk powder and beat with an electric mixture for 5-6 minutes until pale and thick. Gently fold through the mango mixture. Beat cream in the bowl of an electric mixture until very soft peaks form. Fold the egg mixture and coconut through the cream. If not using an ice cream maker, pour mixture in a metal pan lined with non-stick baking paper, cover with foil and freeze for 4-6 hours until firm. If using an ice cream maker, follow manufacturer's instructions.
[/print_this]