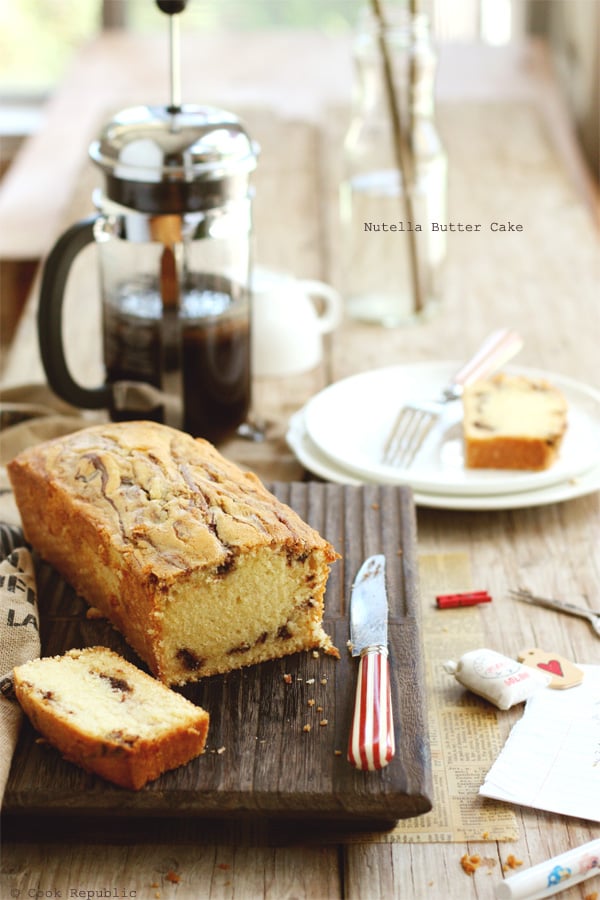 When I was a little girl, I was ever curious about the pot of suspicious looking cream stowed away in a dark corner on the kitchen countertop. Every morning after boiling the milk and allowing it to cool (a common practice in India to pasteurize fresh buffalo milk), my mum would scoop a thick layer of cream off the top and promptly deposit it in the cream pot.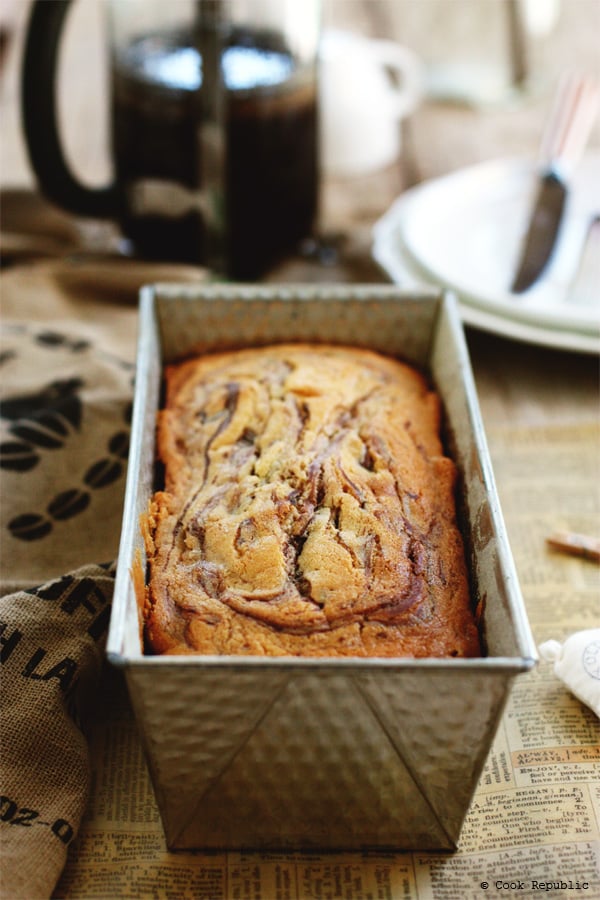 The fate of what looked like clotted cream in the pot was decided by the ocassion at hand. If there was a festival looming, the pot of cream got made into a jar of golden ghee. If there was a birthday coming up, the cream got churned into beautiful butter, white as snow with plenty of buttermilk left over for a chilled glass of Cumin Lassi after lunch. This butter with the consistency of marble and the smell and taste of sour cream was the star ingredient in my mum's home made butter cakes.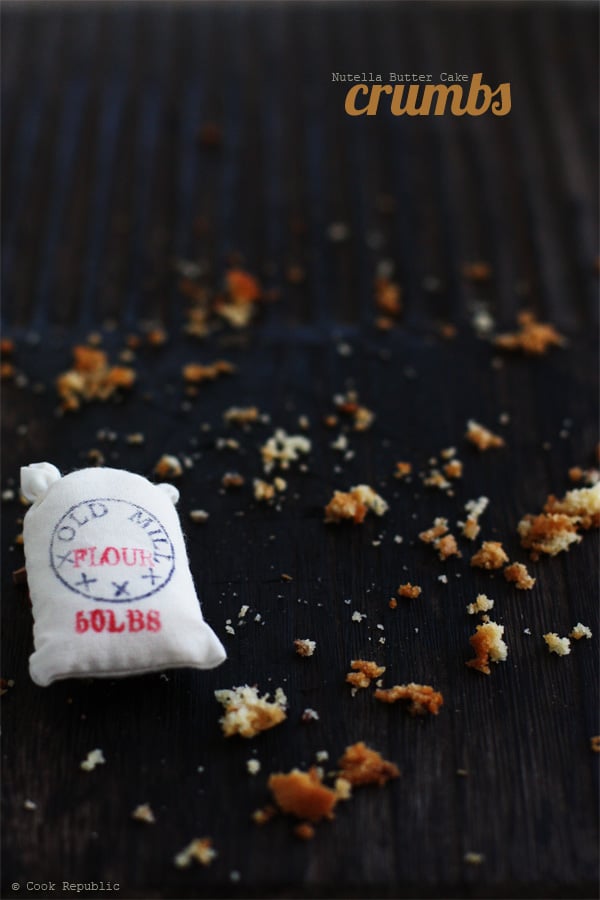 Butter cakes are beautiful in their simplicity. They are rich in flavour and have a beautiful crumbly texture. In our home, if they are not eaten straight from the oven, they get put in to dessert bowls and topped with custard and fresh fruit. Which doesn't happen very often as they are eaten warm from the oven. Every single time. I follow a base recipe which I have been using for ten years now and experiment with fruit, nuts and conserves to give my butter cake a fresh reboot every time. This time around I swirled through two huge tablespoons of Nutella through my cake batter to get a marble cake with a twist. We love our cakes without the icing, so I substitute the ingredients accordingly. It keeps it simple. It makes my life easier. Immensely.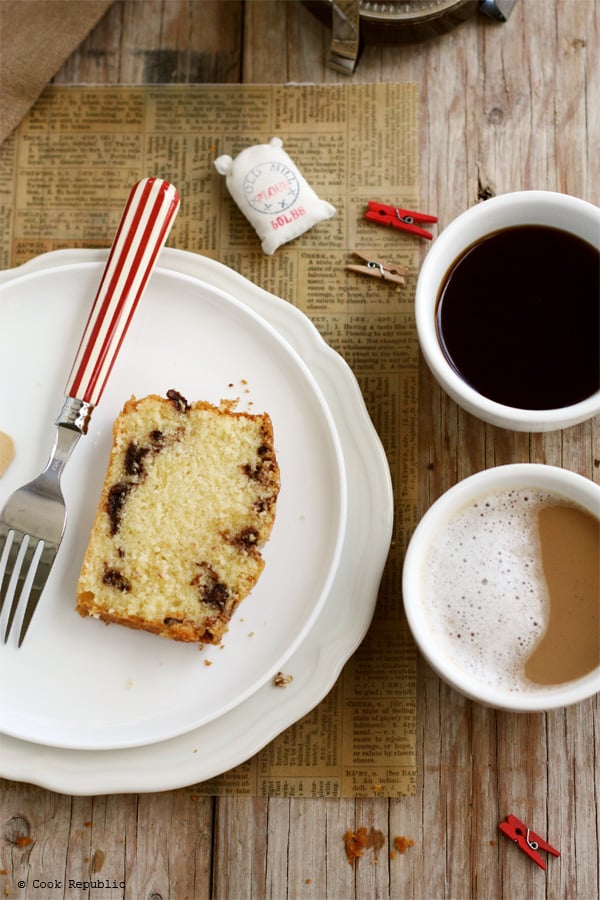 Food Styling, Prop & Photography Alert
- Scallop edge white plate & White Coup Plate - $4 each from Target. Vellum dictionary printed 12x12 paper - $1 from Scrapbooking Store. Pack of 12 mini coloured pegs - $3 Scrapbooking Store. Mini Flour Sack - $2 from Ebay. White Coffee Cups - $2 each from Freedom. Red Striped Fork & Knife - $4.95 each from David Jones.
Kaiser Loaf Tin
- $15.22 from Amazon.
Bodum Chambord 8 cup Coffee Press
- $46.95 from Kitchenware Direct. Beautiful Belladonna Bunch - from my garden. Flower Vase - Upcycled $2 Pasta Bottle. Heart tag - from Ebay. Ingrid Owl White Pen - from
Kikki.K
. Coffe Sack Tea Towel - $6.95 from Bed Bath & Table. Ornate scissors -
Grosgrain Homewares
. Dark brown cake board - $20 foot mat from a Spa Set. Photography surface - Salvaged Building Timber.
In this food shoot, I have used miniature crafting elements as props for a quirky and whimsical effect. Mini pegs to secure recipe pages and mini hand stitched flour sack to provide a contrast to the crumbs. It is attention grabbing and makes one linger. I have used Vellum instead of napkins under the plates and cake board to blend with the wood and provide continuity to the browns. I have smattered the surface with butter blots and crumbs to create a natural, dig in feel. The neutral and brown colour palette is vitalized with bits of red and pops of pink.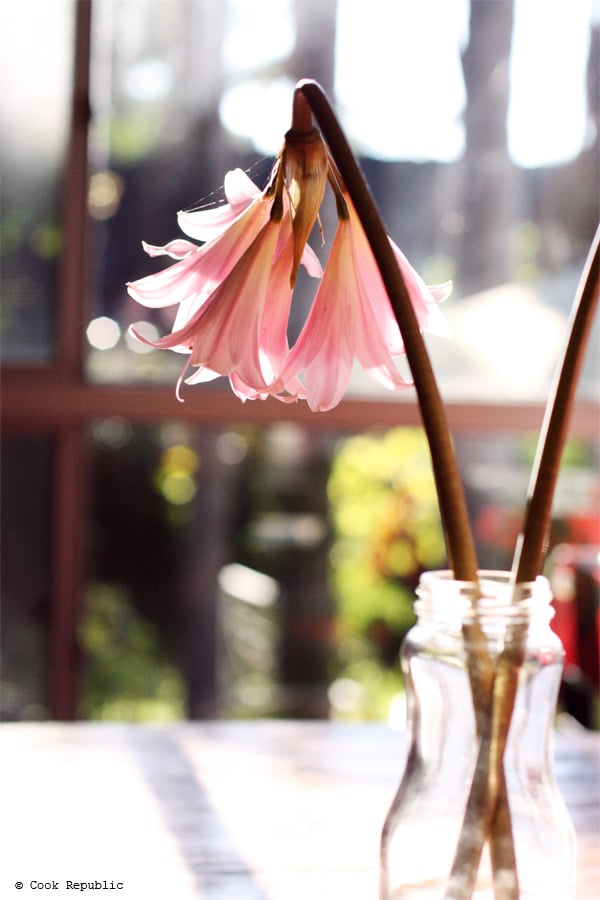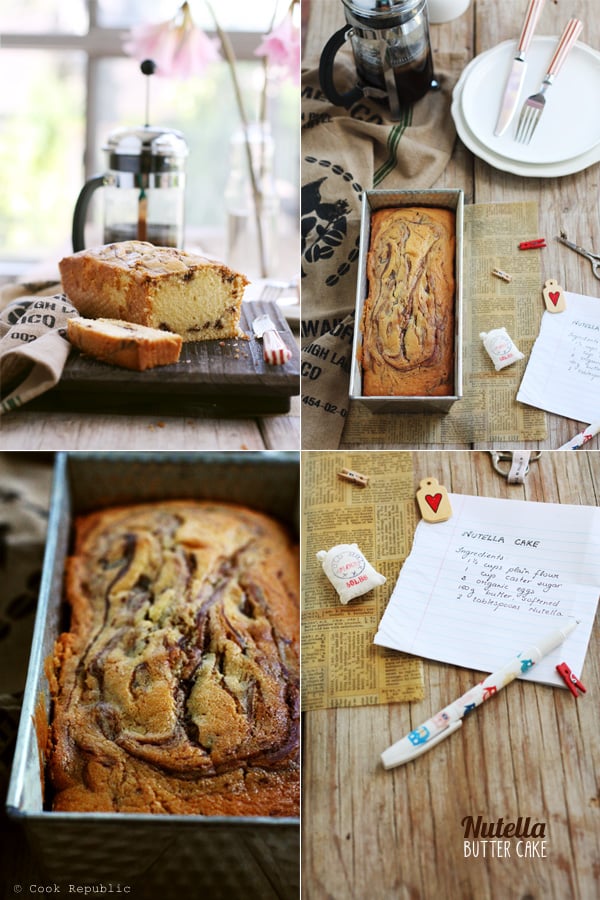 [print_this]
NUTELLA BUTTER CAKE
Preparation Time - 10 minutes
Baking Time - 60 minutes
Serves - 8
Ingredients
150g churned, salted butter
1 cup caster sugar
3 organic eggs
1 tablespoon vanilla extract
1 1/2 cups plain flour, sifted
1 teaspoon baking powder, sifted
1/2 cup milk
2 tablespoons Nutella
Method
Preheat oven to 160C. Grease and line a 20cm (8 inch) round or 25x11cm (10x4 inch) rectangle loaf tin with baking paper.
Combine all ingredients except Nutella in a large mixing bowl and beat with an electric mixer for approximately 4 minutes until combined and smooth.
Spoon half the mixture in the prepared tin. Place one tablespoon of Nutella over the mixture. Using a wooden skewer or fork, gently swirl the mixture through the batter along the top to get a marble effect. Top with remaining cake batter. Add another tablespoon of Nutella on top and repeat the swirling pattern. Place in the oven and bake for approximately 50-60 minutes until cooked when tested with a skewer. Allow to cool for 5 minutes then turn on to a wire rack to cool completely. Will keep in the fridge for 4 to 5 days.
My Notes
Use full-fat salted butter for this recipe. You can use light and unsalted butter, but that will compromise the fabulous taste of the cake. If you do use unsalted butter, be sure to add a pinch of salt while mixing the cake batter. The salt is essential to cut through the sweetness of the cake.
I like to use only the best quality churned and salted butter for my butter cakes. Pepe Saya butter is my weapon of choice.
Next time I would double the amount of Nutella to maybe 4 tablespoons.
[/print_this]