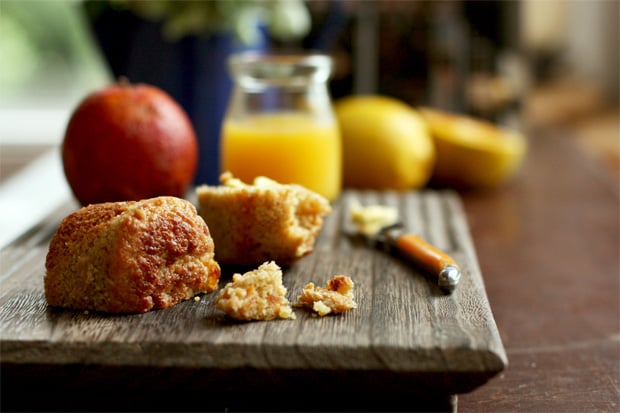 When you do something for a very long time, it becomes a way of life. It integrates into your being and becomes one with you. Then it is no longer a thing. It is you. I started food blogging six years ago and today food blogging is me.
It is a milestone. But there is no fanfare. Instead, there is quiet contentment. A quickening of a heartbeat, a sporadic burst of that blossoming feeling in the chest (don't panic, its not a heart attack!) to realize that I started something and stuck with it for so long. And just like that, it is back to being me. It is back to food blogging.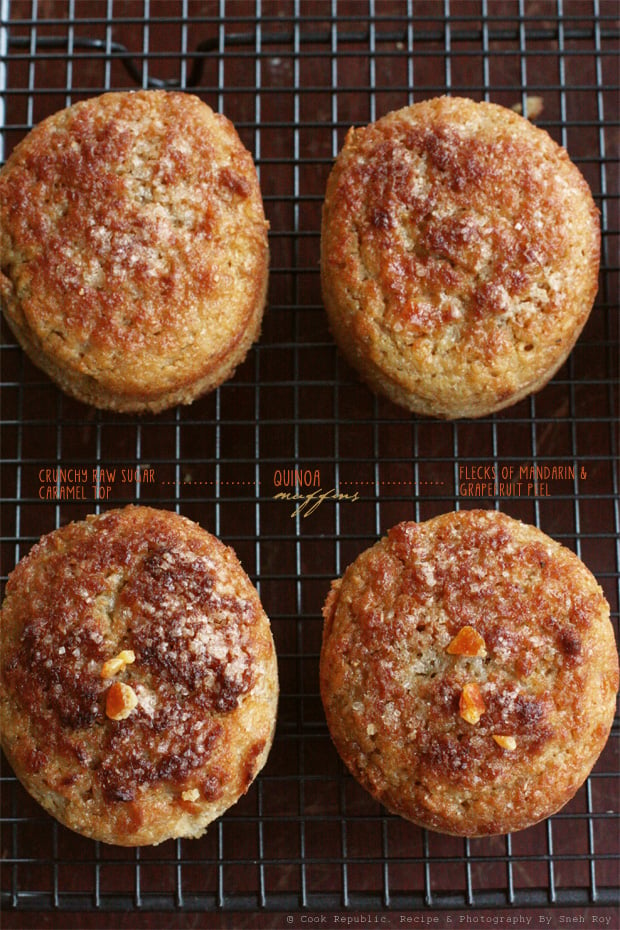 For the more curious, my first post on the blog was a Flower Pot Dirt Cake I baked for Nick and my 5th anniversary. Two days ago we celebrated our 11th. I didn't bake any cakes this time around. But we had a candle-lit dinner of Indian takeaway and whittled away 2 hours laughing and becoming nostalgic.
Even though my month-long feature of
Heidi Swanson
ended in January, I have continued exploring her beautiful cookbook. It is a never-ending source of inspiration. Her recipe for Bran Muffins was what inspired these Quinoa Muffins that I am about to share with you. They are carefully concocted of mostly healthy ingredients and packed with fiber. They are an excellent breakfast standby and are fast becoming my experimental canvas for all kinds of nut, fruit and grain additions. I hope you will bake them, because they are amazing!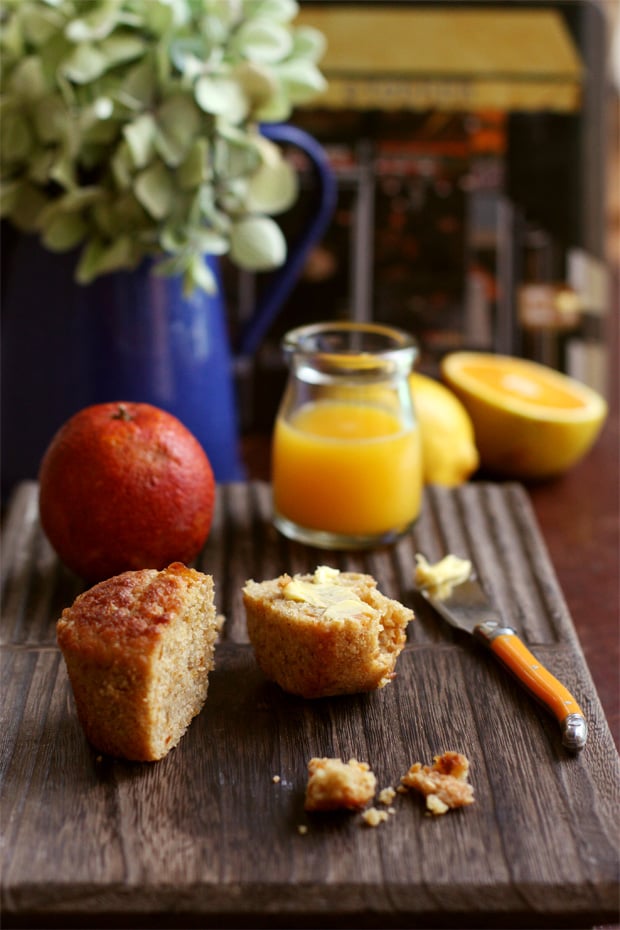 Food Styling, Prop & Photography Alert
- Orange pate knife - Set of 3 $49.95 by Laguiole from King Of Knives. Vintage Blue Enamel Coffee Pot (used as a vase) - $5 from Thrift Store (Salvation Army). Rectangle Wire Rack - $10.95 from
KitchenWare Direct
. Little Milk Bottle - $2 from
Breadtop
.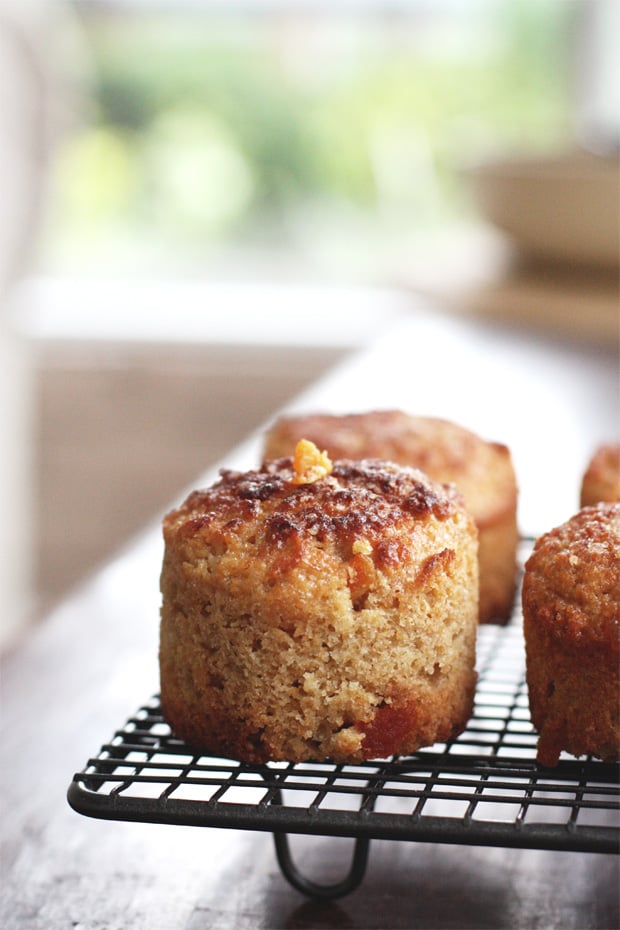 [print_this]
QUINOA MUFFINS
Baking Time - 25 minutes
Makes - 12
Ingredients
2 large organic eggs, lightly beaten
1 cup buttermilk
1/2 cup unsalted butter, melted
1/4 cup maple syrup
1/2 cup wheatgerm
1 cup wholemeal flour
1/4 cup raw sugar + extra for sprinkling
2 teaspoons baking powder
1/2 teaspoon salt
2 tablespoons mixed citrus peel
Method
Preheat oven to 200C. Line a standard 12 cup muffin pan with paper muffin cases. Alternatively, butter the holes of the muffin pan and set aside.
In a large bowl whisk together the eggs, buttermilk, butter and maple syrup. Sprinkle wheatgerm on top, mix and set aside.
In another bowl whisk together the flour, sugar, baking powder, salt, citrus peel and quinoa. Add this mixture to the wet ingredients and gently mix until just combined.
Fill each muffin case/hole three quarters full. Sprinkle the top with some raw sugar. Bake for approximately 20 to 24 minutes until the muffin starts to brown and the sugar has caramelized. If during baking the sugar starts browning too quickly, reduce the oven temperature and bake for slightly longer at the lower temperature until muffins are golden and cooked through. Cool for 5 minutes in the pan and turn on to wire racks to cool completely.
Eat warm, slathered with good butter or freeze for brekfast emergencies. Muffins will keep well for nearly a week in the fridge.
My Notes
At a recent trip to Pyrmont Grower's Markets, I bought a small bag of organic mixed citrus peel. It had a delightful mix of grapefruit and mandarin. I think that grapefruit flavour really makes these muffins shine. You can always substitute with your favourite citrus peel from the bakery section of the supermarket.
I like to have a box of
cooked quinoa
handy in the fridge for baking whims like this one. If you have cooked quinoa and frozen it, thaw at room temperature before using in the recipe.
Wheatgerm can be substituted by quinoa flakes, flattened puffed rice, crushed cornflakes or your favourite crushed nuts. It just adds a beautiful texture to compliment the quinoa.
I like my muffins to have a crunchy top. Hence the sprinkle of raw sugar before baking. If you are not comfortable with that and have had issues with burning sugar in baking, you can either  sprinkle powdered sugar or skip the step completely. The muffin has enough sweetness without the addition of more on top.
[/print_this]