Aloo Palak is a famous Indian home-style curry of potatoes and spinach. My version is a fuss-free, one-pan traybake that is extremely easy to make. This delicious Oven-Baked Aloo Palak is packed with healing spices and is great for meal prep days. It makes a wonderfully light meal.
Aloo Palak - a true Indian homestyle curry of potatoes and spinach
Throughout India, there are many variations of Aloo Palak; a versatile curry made of spinach and potatoes. Some versions are saucy while some are drier. But they are all equally delicious. My version is a modern take on Aloo Palak. Based on the incredible success of my other tray baked Indian dish - Aloo Gobi Traybake, I decided to use the same method on Aloo Palak.
The results were fantastic. What can be better than mixing everything in a bowl, spreading on a baking sheet and letting the oven do its magic? In the traditional dish, potatoes are softer and often boiled before cooking in a pan. The spinach is chopped and cooked to dark, creamed perfection. But my version makes the potatoes golden with crispy edges. The spinach also stays vibrant green. This dry, almost salad-like curry is more-ish and perfect to snack on with a dollop of yoghurt and spicy chutney.
How To Make Oven-Baked Aloo Palak?
1. Add All ingredients (except spinach) to a large bowl. Make sure the potatoes and tomatoes are cut into 1-inch-sized pieces and the onion is diced finely.
2. Mix all ingredients well. Use your hands to mix ingredients well, ensuring that the spices coat all the veggies evenly.
3. Spread Aloo Palak mixture on a prepared tray - Line a large, rimmed baking tray with baking paper. Spread the Aloo Palak mix evenly on the prepared tray making sure there is room for the veggies to breathe.
4. Bake in the hot oven. Bake for the stipulated time in the hot oven until potatoes are done, golden and tender when tested with a fork.
5. Add spinach to the hot potatoes. Add spinach and water to the hot tray. Mix well to ensure spinach is also coated with all the spices and starting to wilt.
6. Place Aloo Palak tray in the oven. Bake the Aloo Palak for a further 5 minutes until water is evaporated and spinach is cooked. Remove and mix well before serving.
Three Genius Ways Of Eating Aloo Palak
1. Make A Chaat - Add Aloo Palak to a shallow bowl. Top with chopped raw onion and capsicum. Top with a dollop of yoghurt and a sweet/spicy chutney. Add a dash of hot sauce. Garnish with coriander and pomegranate seeds.
2. Make A Kathi Roll - Drizzle a few drops of olive oil in a cast-iron frying pan. Add a store-bought tortilla/wrap/roti. Whisk an egg and pour over the tortilla. Cook for a minute and flip it over to finish cooking the egg. You now have an omelette-crusted tortilla. Lay it egg side up. Add Aloo Palak, sliced raw onion, chutney, greens, a dash of yoghurt and hot sauce. Roll it up and enjoy or wrap it in baking paper/foil for lunchboxes
3. Make A Toastie - Slather two slices of bread with cashew cheese and some mustard. Add Aloo Palak to one slice. Add ketchup on top. Cover with the other slice. Toast in a toastie-maker or jaffle-maker for a delicious golden-grilled sandwich.
Recipe
Hungry For More Recipes? Subscribe to my newsletter. Check out Facebook, Instagram and Pinterest to see everything I share! And if you love cooking and new cookbooks, join my free Cooking Club on Facebook!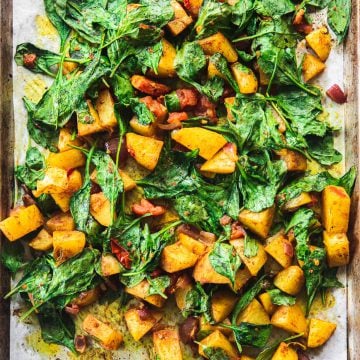 Ingredients
800

g

potatoes

,

Sebago, Russet

1

large red onion

,

diced

½

green cayenne chilli

,

deseeded and diced

1

large tomato

,

finely diced

3

garlic cloves

,

minced

1

teaspoon

cumin seeds

½

teaspoon

red chilli powder

½

teaspoon

ground turmeric

½

teaspoon

garam masala

1

teaspoon

ground coriander

1

teaspoon

ground cumin

1/4

teaspoon

amchur

,

(mango powder), optional

1

tablespoon

lemon juice

1

teaspoon

sea salt flakes

,

or to taste

2

tablespoons

olive oil

200

g

baby spinach leaves
Instructions
Pre-heat oven to 200°C (180°C fan-forced). Line a large, rimmed baking sheet (43cm X 31cm X 2.5cm) with baking paper.

Prepare potatoes by peeling them and washing off the dirt. Cut into 1-inch pieces.

Add potatoes to a large bowl. Add onion, chilli, tomato, garlic, cumin seeds, chilli powder, turmeric, coriander and cumin powders, lemon juice, salt, amchur (if using) and olive oil. Mix well until potatoes are evenly coated with spices.

Spread the Aloo Palak mix on the prepared baking sheet, allowing room around the veggie pieces to breathe.

Bake in the pre-heated oven for approximately 25 minutes until potatoes are tender and roasted.

Remove from oven. Add spinach and 1-2 tablespoons of water to the hot pan. Mix gently until spinach is combined with potatoes and starting to wilt.

Pop the tray back in the oven for 5 more minutes (at 200°C/180°C fan-forced). Remove from the oven. Mix well. Scoop into a serving bowl. Check and adjust seasoning. Serve hot or pack away in a lidded glass container (after cooling). Will keep in the fridge for up to 3 days.
Nutrition
Calories:
171
kcal
|
Carbohydrates:
30
g
|
Protein:
4
g
|
Fat:
5
g
|
Saturated Fat:
1
g
|
Polyunsaturated Fat:
1
g
|
Monounsaturated Fat:
3
g
|
Sodium:
449
mg
|
Potassium:
855
mg
|
Fiber:
5
g
|
Sugar:
3
g
|
Vitamin A:
3358
IU
|
Vitamin C:
42
mg
|
Calcium:
68
mg
|
Iron:
3
mg
Did you make my recipe?
I'd love to hear how you went! Tag me on Instagram @cookrepublic