A delicious, warming, nutrient-rich Vegan Ramen Broth made with mushrooms, miso paste, tahini and lots of ginger and garlic. A divine, fragrant recipe to whip up in a hurry when you are craving homemade ramen noodle soup.
Different Types Of Ramen Broths
If you have eaten Ramen Noodles at many restaurants, you would've found them to vary quite a bit. Some ramen broths are creamy and opaque while others are lighter and almost clear. Some ramen broths have a distinct heaviness to them with the flavour being deeply meaty while others have an ephemeral quality with a cleaner taste. The ones that are most popular are the creamy brown ones with pools of oils/fats dotting the surface while noodles, meat, aromatics and chilli swim in symphony in the bowl.
My knowledge of ramen comes from the hundreds of bowls of ramen noodle soup I sampled when I lived in Singapore and traveled across South East Asia. Back then I used to eat everything (I am now a Pescatarian/Vegetarian for the past 6 years).
The four main types of Japanese ramen are
1. Shio Ramen (salt) - It is a lighter seafood-based broth seasoned with salt.
2. Shoyu Ramen (soy sauce) - It is a lighter chicken-based broth seasoned with soy sauce.
3. Miso Ramen (miso) - It is a creamier chicken-based broth seasoned with miso.
4. Tonkotsu Ramen (pork) - It is a heavier fatty golden pork-based broth rich in flavour and colour.
How To Make Vegan Ramen Broth?
My Vegan Ramen Broth is based on the popular Miso Ramen. Shiitake mushrooms are used instead of meat/chicken to add and boost the umami flavours of this creamy broth. I use tahini paste more often but when I can find Chinese sesame paste, it is my number one choice for making this broth. Chinese sesame paste is made from toasted sesame seeds and has a darker colour and richer nutty flavour than tahini (which is made from raw sesame seeds). Peanut butter is a good variation to add creaminess to ramen, although it seems to be more a Thai thing than Japanese.
STEP BY STEP
1. Frying the aromatics - Heat oil in a saucepan and fry onion, ginger and garlic until they are caramelized.
2. Cook the mushroom - Add shiitake mushroom and cook until tender.
3. Simmer the broth - Add water and simmer all ingredients to make a rich, delicious vegan ramen broth.
4. Strain the broth - Strain the broth and return the liquid to the pan on low heat.
5. Add the miso paste flavouring - Add the miso paste flavouring/sauce to the broth. Whisk with a balloon whisk to mix everything well and warm for a few minutes.
Recipe
Hungry For More Recipes? Subscribe to my newsletter. Check out Facebook, Instagram and Pinterest to see everything I share! And if you love cooking and new cookbooks, join my free Cooking Club on Facebook!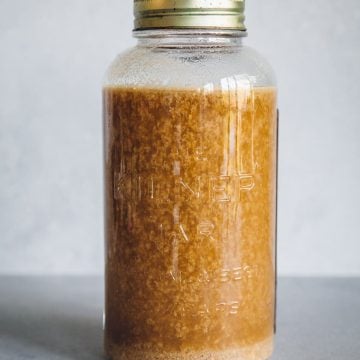 Ingredients
1

tablespoon

olive oil

1

large brown onion

,

peeled and chopped

6

garlic cloves

,

peeled and smashed

1

inch

piece of ginger

,

sliced

200

g

shiitake mushrooms

,

chopped

2

litres water

1

tablespoon

cooking sake

,

note 1

2

tablespoons

mirin

,

note 2

1

tablespoon

light soy sauce

3

tablespoons

miso paste

,

note 3

1

tablespoon

tahini

,

note 4
Instructions
Heat oil in a large heavy-bottomed saucepan on medium heat.

Add onion, garlic and ginger. Sauté and cook for a few minutes until onions are glazed.

Add mushrooms. Toss occasionally and fry for 20-25 minutes until onion and mushrooms are caramelized. Reduce heat to medium-low if you feel they are browning too quickly.

Add water, increase heat to high and bring to a boil. Once the broth comes to a boil, reduce heat to low and simmer uncovered for 20 minutes.

While the broth is simmering, mix cooking sake, mirin, soy sauce, miso paste and tahini in a small bowl until smooth.

After the broth has simmered for 20 minutes, remove from heat and strain the broth, discarding the mushroom-onion mix. Return the liquid to the saucepan on low heat. Add the sauce mix to the pan, mix well and cook for 5-8 minutes until heated through. Remove and make your ramen.

Broth can be stored in the fridge for up to 4 days.
Notes
Cooking Sake - It is Japanese rice wine. It has a small amount of sweetness but is predominantly sour, tart and umami. It can be substituted with rice wine vinegar.
Mirin - It is a rice wine with higher sugar content and lower alcohol content. The sweetness is used to balance salty and sour flavours in a dish. It can be substituted with sweet sherry or just brown sugar in the same quantity.
Miso Paste - I like to use a mix of white and red miso paste. The addition of red miso paste gives it more depth of flavour and heightened colour. But any miso paste works well in this recipe.
Tahini - Tahini adds a rich creamy nuttiness to the broth. If you can find Chinese sesame paste, make that your first choice. Chinese sesame paste is made with toasted sesame seeds, making the paste darker and richer in its nutty flavour. Tahini on the other hand is made with raw sesame seeds, so the colour and taste will be more subdued if you use tahini. Peanut butter is another good substitution if you don't have either. My broth is made with hulled tahini.
Nutrition
Calories:
130
kcal
|
Carbohydrates:
16
g
|
Protein:
5
g
|
Fat:
6
g
|
Saturated Fat:
1
g
|
Polyunsaturated Fat:
2
g
|
Monounsaturated Fat:
3
g
|
Sodium:
814
mg
|
Potassium:
272
mg
|
Fiber:
3
g
|
Sugar:
5
g
|
Vitamin A:
15
IU
|
Vitamin C:
4
mg
|
Calcium:
30
mg
|
Iron:
1
mg
Did you make my recipe?
I'd love to hear how you went! Tag me on Instagram @cookrepublic