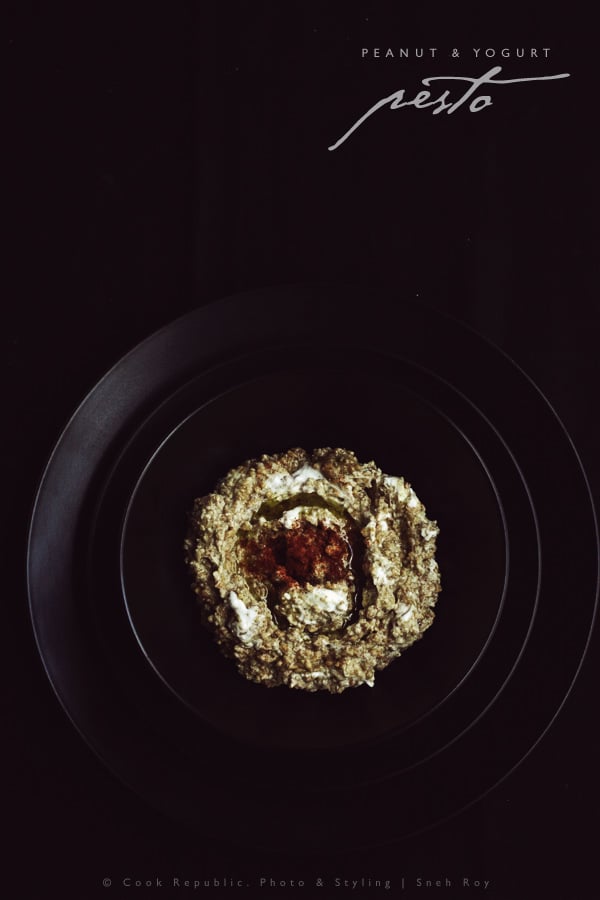 I cooked some beautiful okra last week and the idea for this gorgeous pesto was a result of that cooking exercise. The stuffing that I made for the okra, evolved and became the peanut and yogurt pesto. I brought out my grinding beast and off to work I went. It took me a couple of tries before I arrived at what would become my favourite thing to whip up at a gathering.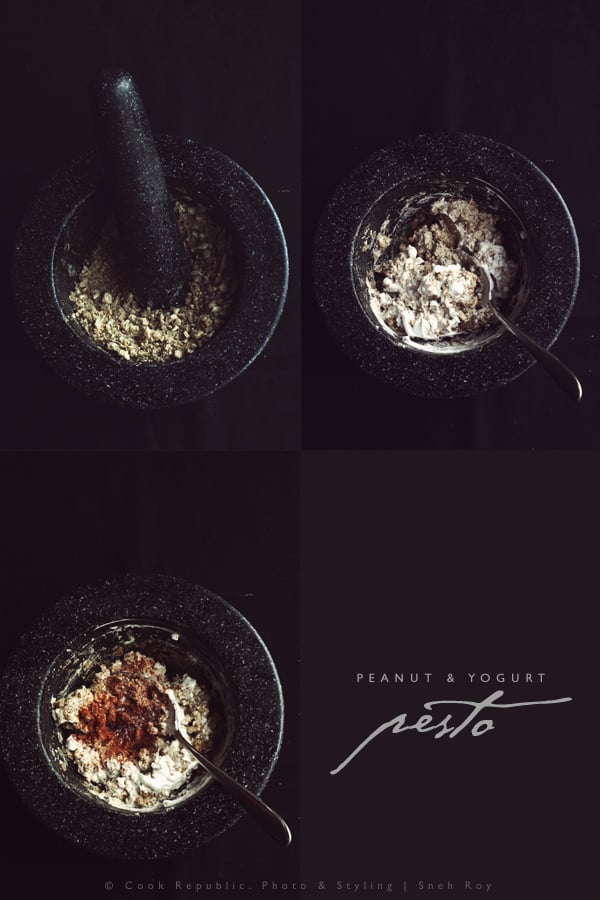 I have used raw, unsalted peanuts for this recipe. I have used
Chobani Yogurt
which I am loving at the moment. I have used a generous splash of
Grove avocado oil
to which I was introduced by the lovely
Internet Chef Bridget Davis
. Toasting the peanuts gives this pesto a beautiful texture that is not cloying on the palette. You can blitz this in a food processor, but I find using my mortar and pestle very satisfying. My granite mortar and pestle has to be one of the most overused and loved member of my kitchen. It sits on my uneven benchtop and starts the day off with a pounding of fresh ginger that goes in Nick's tea. I love making pestos using the mortar and pestle. The rustic nature that is imparted from the rythmic motion of swirling your wrist and gently pounding the ingredients to the consistency you like cannot be achieved in the processor.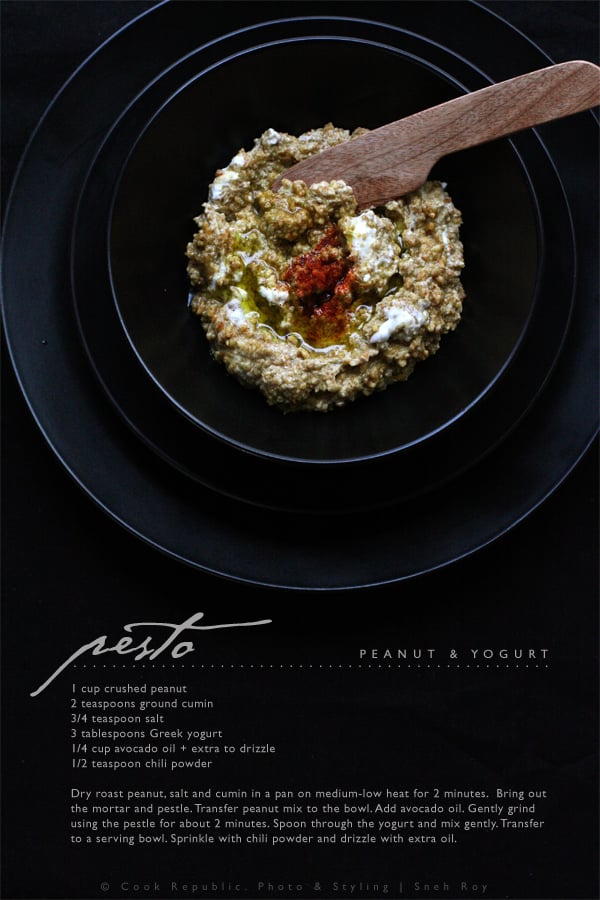 Food Photography & Prop Styling Alert - Black bowls and plates - 89 cents each from Target. Black tablecloth - $10 from Spotlight. Wooden Knife - $6 from Attia. Granite Mortar & Pestle - $39 from House.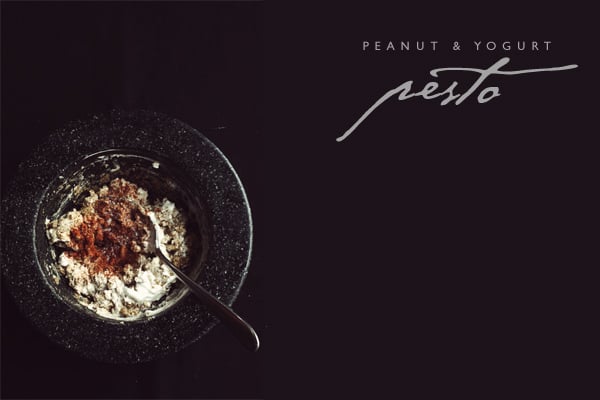 [print_this]
PEANUT AND YOGURT PESTO
A quick, vegetarian pesto with a crunch. The peanut and yogurt pesto can be whipped up in 5 minutes and is lovely with toasted flatbread at a party. The smoky flavour of cumin is a perfect flavour match for yogurt.
Preparation Time - 5 minutes
Cooking Time - 5 minutes
Makes - 1 cup
Ingredients
1 cup crushed peanut

2 teaspoons ground cumin

3/4 teaspoon salt

3 tablespoons Greek yogurt

1/4 cup avocado oil + extra to drizzle

1/2 teaspoon chili powder
Method
Dry roast peanut, salt and cumin in a pan on medium-low heat for 2 minutes. Bring out the mortar and pestle. Transfer peanut mix to the bowl. Add avocado oil. Gently grind using the pestle for about 2 minutes. Spoon through the yogurt and mix gently. Transfer to a serving bowl. Sprinkle with chili powder and drizzle with extra oil.
Notes & Ideas
Besides the obvious serving suggestion of putting it on a cheese platter with some toasted lavash or crispbread or crackers, here are some more ideas to use this gem of a pantry staple.
* Wash and scrub some baby potatoes, slit them halfway through in two spots with a sharp knife. Stuff this pesto in the slits and pan fry them uncovered on high heat and then later on low heat with a bit of water added till they are done.
* Spread them on baguette slices, top with a fresh salad like the Kachumber and serve.
* Slather in brunch sandwiches instead of butter or cheese.
* Stir through in savoury muffins before baking.
[/print_this]