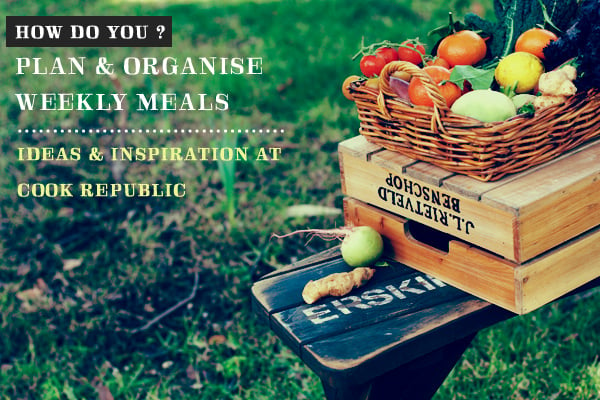 One of the skills you learn from running a full house with growing children, a yard to mow more frequently than you shave your legs and work that piles higher than your frequent flyer miles is - juggling. The price you pay to master that skill is a chaotic mind and frequent bouts of confusion, both of which I manage to keep under a lid most of the time. But sometimes, I; like most normal human beings, am at a loss.
Here is the deal. For the past several weeks, I have been trying sometimes successfully and sometimes failing miserably to organise my weekly meals. I want to do this in an effort to go down to zero wastage (I have minimal food wastage at the moment and it weighs down on my mind constantly), create more quality time to pursue the things that matter and to eat a variety of healthier meals without stressing about time. I want to be more organised to feel more in control of what I put on the table, save some money in the process and avoid the state of confusion and uncertainty surrounding my cooking when I have nothing planned.
Methods I Use To Plan And Organise My Meals (Not all work for me all the time)
taste.com.au - I love this website. It has recipes from some of Australia's leading food publications, rated by real people who are cooking real food in their kitchens. Cooks like me who are sometimes harried and pressed for time benefit a lot especially from the helpful comments below each tried recipe. I save recipes to the My Recipes section for members. Most of the recipes that I have tried from this website are always pretty spot on.
Paprika App - If I cook something or have a recipe from a blog that I want to try out, it goes straight to my app. There is a weekly menu planner where you can add recipes from you collection and a shopping list that will let you add items from those recipes. But I need to explore it more and build my recipe collection to the point where I can start creating weekly menus with a lot of variety. Love this app.
My Pantry - On some days, I open my pantry and stand there staring at all the jars, boxes and packets in there till inspiration strikes. Same goes for my fridge. Although a very primitive and not at all organised way of planning your meal, it does work.
Weekend Cooking - For the past few weeks, I have started setting aside a couple of hours in the weekend to either prep or cook and freeze some meals for the week. I am really loving this exercise as it is helping me provide a lovely variety and use up fresh, in season produce every week. This is by far my most favourite way of organising my meals.
iPad Gallery - Once or twice a week, I sit down with a couple of magazines or cookbooks over a cup of coffee. As I browse through the recipes, I take pictures of recipes I could potentially cook in the week with my iPad and store them in a gallery labeled with the current week. In this way, I have recipes and ideas from a wide range of books in one place without having to bother with sticky notes, lists or a gazillion bookmarks.
The Pantry Game - I talked about how I play the pantry game in one of my posts last year. Basically, I put notes of one ingredient each in a box. These are all ingredients present in my pantry. Then I pick one out. The rule is to stick with the ingredient you pick. Once I have my ingredient, I either create a recipe from the top of my head or Google for ideas. Sometimes, having the ingredient picked for you is all it takes to charge ahead and create a meal.
Lists - I am old fashioned that way. And I love lists. Anything that I can write in ink, my mind deciphers as the word of God and I must obey. It just works that way. I must have a hundred lists stuffed everywhere, menu lists that I forget I wrote down. They live in old diaries, daily planners, cookbooks and littered on my desk.
Shop Shop Shopping List App - Now that I can make lists on my iPhone on the go, the paper lists have lost a bit of their appeal. This is one app I dearly love. It is easy to use, it is free and it stores every single item you add on it. So the next time you want to make a new list, you just pick from a database that is already there. Moreover, you have the option of striking out what you put in your trolley as you shop. You can have multiple lists and they can be emailed or sent as a text message.
Now my biggest challenge is that I fall out of sorts with a lot of these methods. I forget to use them. Out of sight, out of mind. This results in a haphazard system. I know a lot of you plan and organise your meals. How do you do it? Do you make lists? What are your favourite methods/resources for organising your daily/weekly/monthly meals? Do you find it easy to stick to your methods? Does it work to keep away the confusion? Do you find yourself saving time and money? What websites/apps/cookbooks do you use? I am curious. Please share in the comments below so me and a lot of others can take inspiration from you. Ideas, links, tricks, stories - everything is welcome! Thanks!
Talk - A new community feature on Cook Republic where I encourage readers to share their ideas, opinions and stories of their cooking methodologies and food escapades. A place to voice their opinions to inspire others to discover new things and become better cooks. Join me and have fun! If you have questions or ideas about what you would like to see discussed, please send me an email (link in sidebar in my profile).