A brilliant one-pan pasta dinner that is as light as it is delicious! This Pumpkin Garlic And Sage Spaghetti is perfect for your pasta-loving heart in summer when you still crave those delicious carbs but want something light and bursting with big flavours. It is ready in just over 30 minutes and very forgiving if you want to change it up!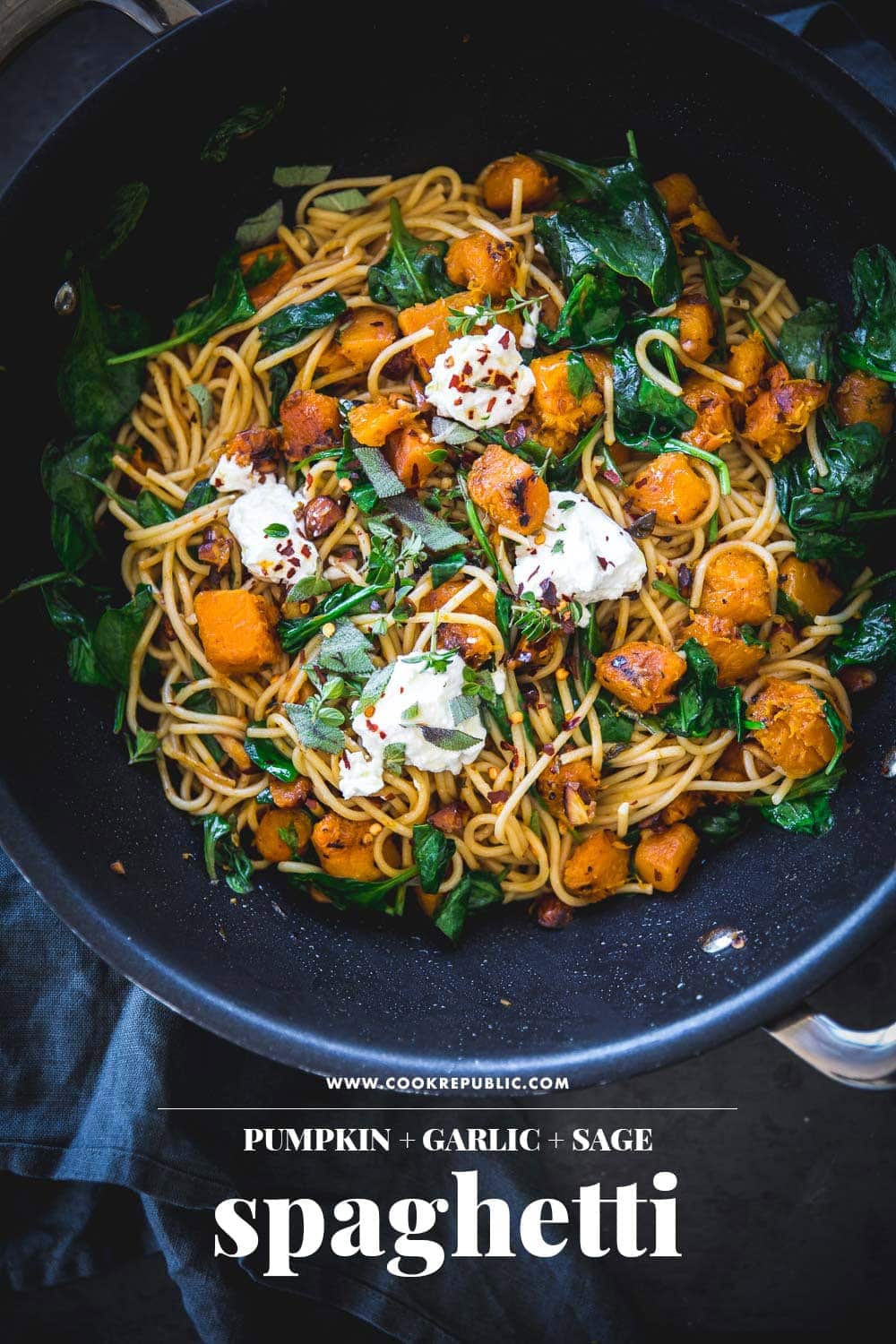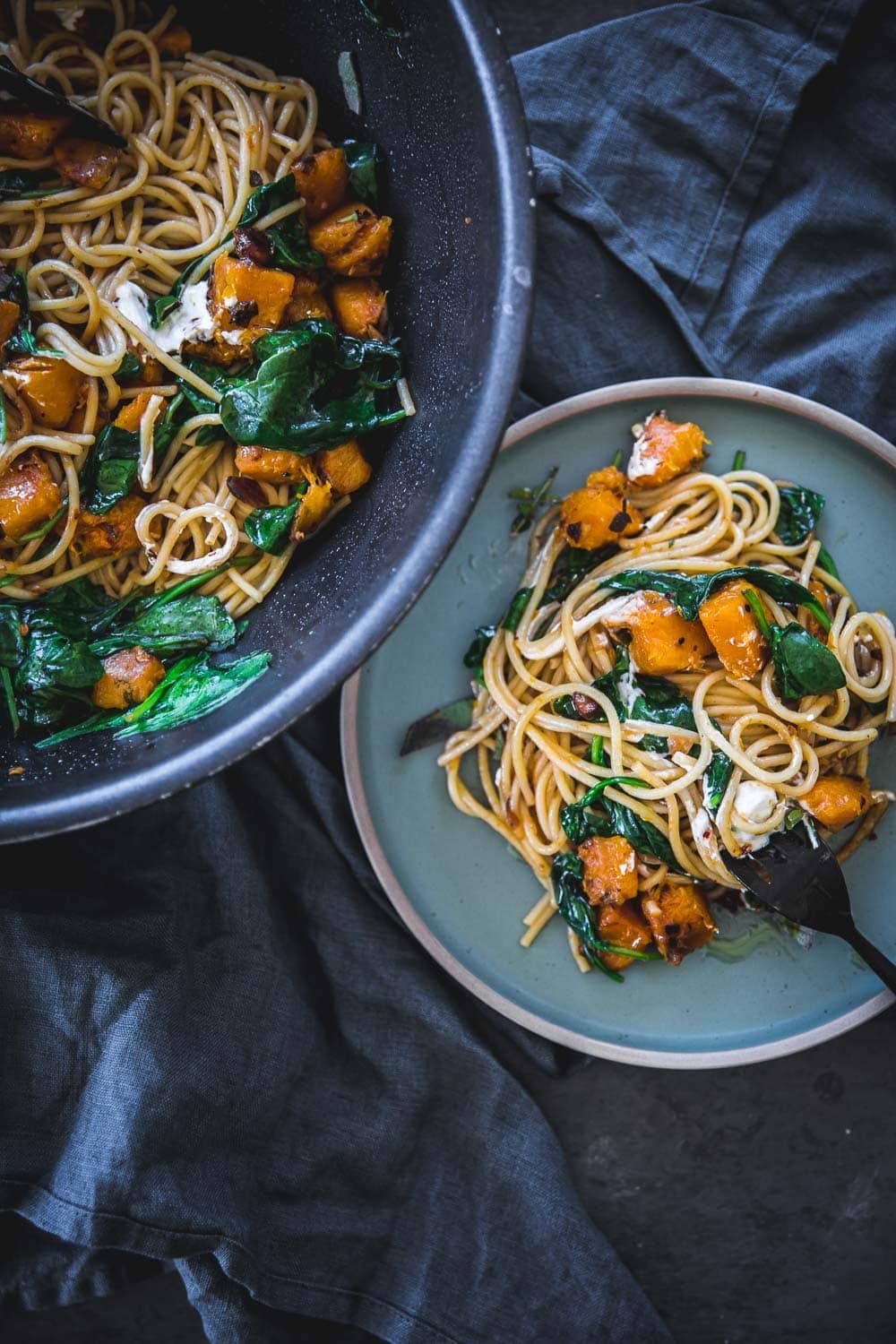 A Not So Hot Sydney Summer, Perfect For Pasta
I know I am going to jinx the beautiful weather we have been having in Sydney, the minute I announce that it has actually been quite nice and cool this year after the horror bushfire season of last year. The La Nina weather system has brought us gloriously cool days with just enough warmth from the sun to lounge in comfy tees and walk around bare feet while cooking up pasta and risottos to beat the evening chill. An almost autumn-weather. My kind of weather.
And so, I have been cooking a lot of beautiful pasta dishes for dinners. After slurping really hearty saucy pasta for a few weeks, I have graduated to cooking lighter pasta dishes that can be eaten early on in the evening while it is sunny and bright and the cicadas are droning on. Veggie-full pasta meals driven simply by the sweetness of the roasted veggies, chilli garlic and lots of fragrant herbs. Dishes elevated by a drizzle of good quality, robust extra virgin olive oil and a dollop of decadent soft cheese. I bet your mouth is salivating right now!
A Pumpkin Pasta With A Twist
Cutting pumpkin is not one of my favourite things to do in the kitchen. But if I have to, I prefer cutting a Butternut pumpkin (also known as squash in other parts of the world). A butternut pumpkin has a thin oblong shape that is so much easier to manage than a round, fat pumpkin that can't hold itself up to save its life. Did you know that a pumpkin can be stored for a good 5-6 months in a cool corner of your kitchen? I didn't! I only discovered this fact by accident years ago when I started hoarding pumpkins of different shapes and sizes for various photoshoots. And they would still be absolutely fine a few months down the line when I would cook with them.
The butternut pumpkin I have used for today's recipe is at least three months old. When I cut into it, it was still plump and bright orange. Had it not been a bit dry, my chickens would have had a pumpkin feast and I would have cut into another one from my never-ending supply in the pantry. Pumpkin and sage are a match made in heaven. If you haven't tried this combination, you need to right now! I have recently planted some sage in my garden and have been using it liberally in a lot of my dishes. If you can't find sage, thyme will do just fine.
Instead of roasting the pumpkin cubes, I pan fry them on high heat till they are golden and caramelised. I add the pasta to the pan with all the cooked aromatics, flavoured oil and pumpkin. It adds a whole new world of flavour to the dish and is so much quicker than roasting the cubes in the oven. Because you want the flavours to really shine and there is no sauce, make sure you are using the best olive oil, herbs and cheese. This pasta dish can be adapted to whatever herbs or green you have in your fridge (please see notes) and is really lovely with a glass of light red or a chilled Rosé.
If you make this Pumpkin Garlic And Sage Pasta, I would love to hear your feedback in the comments and ratings below. Don't forget to tag me on Instagram @cookrepublic with #cookrepublic when you share dishes that you have cooked from the blog. Enjoy!
Recipe
Hungry For More Recipes? Subscribe to my newsletter. Check out Facebook, Instagram and Pinterest to see everything I share! And if you love cooking and new cookbooks, join my free Cooking Club on Facebook!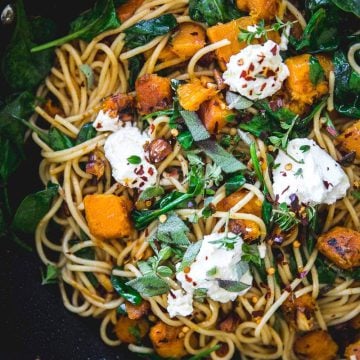 Ingredients
300

g

dry spaghetti

2

tablespoons

extra virgin olive oil

1/2

teaspoon

red chilli flakes

5

garlic cloves

,

minced

15

sage leaves

,

thinly sliced + extra to serve

1/4

cup

raw almonds

,

roughly chopped

4

cups

(

600

g

)

cubed pumpkin pieces

2

cups

(

70

g

)

baby spinach

80

g

goat's cheese

,

to serve

sea salt flakes and freshly crushed pepper

,

to serve

thyme sprigs

,

to serve
Instructions
Cook spaghetti in a pot of salted, rapidly boiling water for approximately 8 minutes or until al dente. Reserve 2 tablespoons of the pasta water and drain the rest.

In a large wide chef's pan, heat oil on medium. Add garlic, chilli and sage. Sauté for a few seconds until fragrant and garlic starts to caramelize.

Add the chopped almonds and pumpkin cubes. Sprinkle with a dash of sea salt flakes and black pepper. Sauté on medium for approximately 10-15 minutes until pumpkin pieces are caramelized and almost cooked through. Toss constantly and if starting to brown too quickly, reduce heat to medium-low.

Add cooked spaghetti and reserved pasta water. Mix well and cook on medium heat for a couple of minutes. Add sea salt flakes and black pepper to taste. Cover and cook for another couple of minutes until the pumpkin is thoroughly cooked but still firm.

Remove from heat. Stir through the spinach. Adjust seasoning to taste. Dollop goat's cheese and garnish with sage and thyme leaves. Serve.
Notes
Cooking Pasta - I use the standard measurement of 75g dry pasta per person. 300g pasta serves 4 in this recipe. Cooking Pumpkin - I find pan roasting the pumpkin much quicker than oven roasting. It also gives perfectly caramelized cubes that are still firm as opposed to almost dehydrated pieces from roasting in the oven. By pan-frying the pumpkin, the flavour is more intense as the oil in which it is cooked is what the spaghetti gets tossed through. Seasoning - This is a very simple dish. The seasoning comes from the garlic, chilli, salt and pepper. I have not stipulated exact measurements for salt and pepper as it is very subjective. The saltiness in this dish comes from a few different sources. Bear in mind that the spaghetti is cooked in salted water, some reserved salted pasta water gets added to the final dish. The addition of goat's cheese also adds a bit of saltiness. But there is nothing worse than bland pasta, so check and adjust seasoning before serving. Make It Gluten-Free - Substitute with gluten-free spaghetti. Try lentil or quinoa spaghetti for a variation. Make It Vegan - Skip the goat's cheese altogether. Or add a vegan soft cheese before serving. Green Substitution - I have successfully substituted the baby spinach with fresh rocket leaves. Sage leaves can be substituted with thyme and oregano.
Did you make my recipe?
I'd love to hear how you went! Tag me on Instagram @cookrepublic