Mangoes at their peak are pretty sublime and make a fantastic addition to fast, no-cook salads especially with Asian flavours. This gluten-free Thai-style Prawn And Mango Salad comes together in 15 minutes and is fantastic for entertaining or a lazy summer afternoon light meal.
A New Year And A Promise Of Even More Vegetables At Every Meal
It feels like forever since I last posted a proper recipe here on the blog. And that is because it truly has been a long minute. After posting this Vegan Aloo Gobi and this Iced Masala Coffee back in November 2020, I took a few weeks to wrap up my client projects for the year and take a break from all the cooking and bread baking for two weeks. It was a welcome break as my cooking mojo was completely depleted. During those two weeks, I cooked all our meals from my blog and cookbook - breakfast, lunch and dinner. Simple, everyday nourishing food. Nothing fancy. Nothing new. It allowed me to slowly replenish my dwindling supply of recipe ideas. Then over the holiday period, I cooked for family and friends as we caught up with them, one family at a time (maximum of 5 visitors only). It was indeed the strangest Christmas we've ever had.
If you remember, back in March 2020 we went into voluntary isolation and I started doing all my grocery and fresh produce shops online. I never realised back then that I would love the convenience of that so much that I would continue doing it post lockdown as well. Between Delish Deliveries, Harris Farms and Woolworths, I have boxes of fresh produce arriving throughout the week. I especially love Delish Deliveries and their sublime service with the promise of 36 hours from farm to doorstep. With boxes of fresh vegetables and fruit at my doorstep when I wake up, it is literally like Christmas every day. And I am loving all the time I save from having to physically go to the stores. I can cook more, write more and create more!
At the beginning of last year, I vowed to pack every meal with vegetables. I am really happy to report back after a year and tell you that I kept that promise. Chopped salads, veggie-packed stir-fries, dals, pancakes and burgers graced our dinner table. And veggies transformed in the oven became the supporting act to most meals. But above all, I built up a vault of fresh new recipes packed with veggies that I am going to share with you this year, so you too can pack more vegetables (and fruit!) in your meals every day.
A Seasonal Summer Mango Salad With A Thai Twist
I first make this Thai Prawn And Mango Salad for Christmas every year. And then continue making it several more times into the new year while the mangoes are luscious and in abundance. It is such an easy no-cook salad to make. All it requires is some chopping, prepping and mixing. All the colours look absolutely beautiful on a platter which really makes this the most ideal salad for entertaining as it always impresses!
The famous Thai dipping sauce Nahm Jim is the inspiration for this delicious, fresh salad. It is one of my favourite dipping sauces - sweet, salty, spicy, sour ... the kind that makes you salivate when you get the punchy aroma! The dressing can be made several days ahead but why would you when it only takes 5 minutes to mix? I buy sustainable Australian Wild-Caught Tiger Prawns for this recipe. You can add more herbs to the salad - fresh coriander, Thai basil, mint. But I don't as I feel it overpowers the beautiful flavour of the nahm-jim dressing which has a lot of coriander, garlic and chilli. The toasted peanuts add a wonderful crunch and finish off the salad beautifully. The Thai Prawn And Mango Salad is great as a meal on its own or as an accompaniment to a full dinner (as it was at my recent Thai dinner on New Year's Eve).

I would love to welcome you all to another year of cooking, eating, sharing and inspiring here at Cook Republic. I hope you hang around and discover many new recipes to add to your weekly cooking. If you make any of my recipes including the salad below, please leave me your feedback in the comment/rating. I love hearing from you and try my best to reply to all your feedback and questions. Don't forget to follow me on Instagram where I am constantly sharing my daily cooking adventures via posts and stories. Happy New Year folks! Hope this year is better than what last year was! x
Recipe
Hungry For More Recipes? Subscribe to my newsletter. Check out Facebook, Instagram and Pinterest to see everything I share! And if you love cooking and new cookbooks, join my free Cooking Club on Facebook!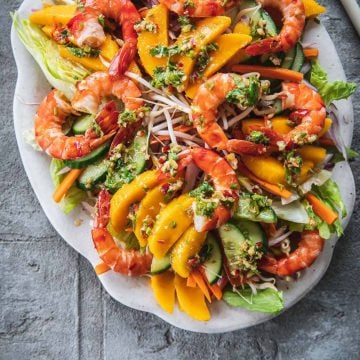 Thai Prawn And Mango Salad
A great summer recipe for a quick, fresh, no-cook, Thai Prawn And Mango Salad tossed with a delicious nahm-jim dressing.
Print Recipe
Rate / Comment
Ingredients
For the salad
1

kg

cooked tiger prawns

2

mangoes

,

ripe and firm, note 1

½

(

300

g

)

Iceberg lettuce

,

sliced thickly

1

red onion

,

halved and thinly sliced

1

large carrot

,

julienned

1

Lebanese cucumber

,

halved lengthways and thinly sliced

1

cup

(

60

g

)

fresh bean sprouts

¼

cup

(

30

g

)

unsalted peanuts

,

toasted and roughly chopped

fresh coriander leaves

,

to serve

lime wedges

,

to serve
For The Nahm Jim Dressing
2

tablespoons

lime juice

1

tablespoon

fish sauce

2

tablespoon

coconut sugar

1

teaspoon

grated ginger

4

garlic cloves

,

minced

1

tablespoon

chopped coriander root and leaves

1

red cayenne chilli

,

deseeded and finely chopped, note 2
Instructions
Prepare prawns by removing and discarding the heads. Peel and devein the prawns. Set aside.

Prepare the mango for the salad by cutting four mango cheeks from the two mangoes. Slice the flesh inside the mango cheek by scoring it thinly with a paring knife. Scoop the thin mango slices with a large metal spoon.

Prepare the dressing by mixing all ingredients in a lidded glass jar. Shake well and store in the refrigerator until ready to use.

Layer the sliced lettuce in a large serving bowl. Add onion, carrot and cucumber. Arrange the mango and prawn over the salad.

Add sprouts and crushed peanuts. Drizzle with the dressing and garnish with fresh coriander leaves. Toss at the time of serving and serve with lime wedges on the side.
Notes
Mango - I use ripe, fragrant but firm Kensington Pride mangoes for this salad. You can use any variety of mango as long as they are ripe (for the sweetness) and firm (so they don't disintegrate in the salad). Honey gold and R2E2 mangoes are also great alternatives.

Cayenne Chilli

- It is a moderately hot chilli from the capsicum family. It can be bought as either a red or green chilli. Red cayenne chillies are a great option for Thai cooking and serving if you cannot tolerate Birdseye chillies which are very hot. Cayenne chilli can sometimes be quite hot. This can be remedied by deseeding the chilli before using. Make sure you wash your hands thoroughly after handling the chillies.
Nutrition
Calories:
283
kcal
|
Carbohydrates:
26
g
|
Protein:
28
g
|
Fat:
9
g
|
Saturated Fat:
1
g
|
Polyunsaturated Fat:
2
g
|
Monounsaturated Fat:
4
g
|
Trans Fat:
0.01
g
|
Cholesterol:
210
mg
|
Sodium:
1207
mg
|
Potassium:
638
mg
|
Fiber:
4
g
|
Sugar:
17
g
|
Vitamin A:
3106
IU
|
Vitamin C:
44
mg
|
Calcium:
135
mg
|
Iron:
1
mg
Did you make my recipe?
I'd love to hear how you went! Tag me on Instagram @cookrepublic