One of the best ways to eat a whole vegetable is to roast it and make a fabulous dip out of it! And if you been on the Baba Ghanoush train for too long, it is time to hop off and try out Muhammara - a delicious Middle Eastern Red Capsicum And Walnut Dip!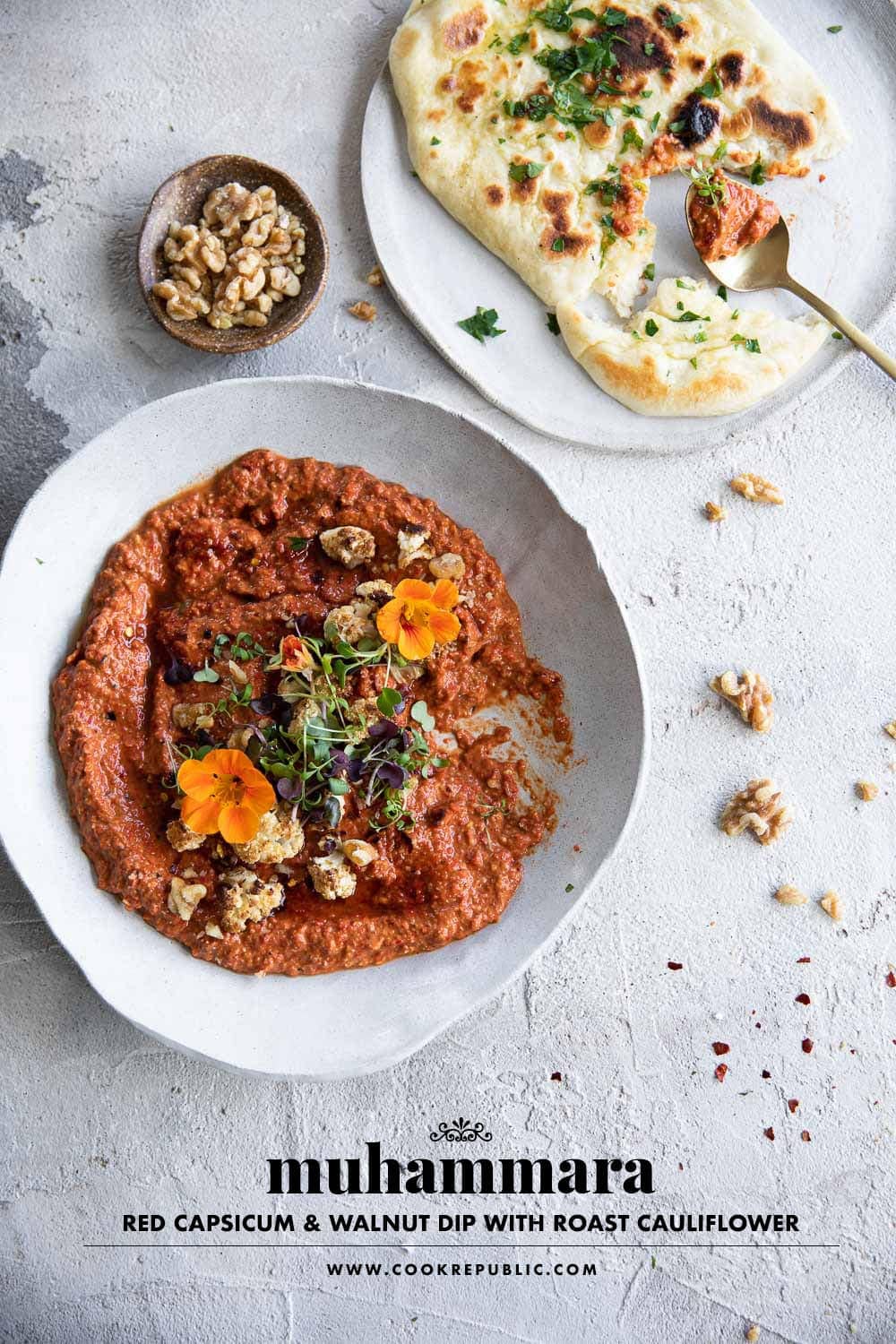 The Elusive Red Capsicum and Aleppo Pepper Flakes
Red Bell Peppers or Red Capsicums as they are known here in Australia are available all year round for some strange reason, are always super expensive. Even in peak summer which is supposed to be capsicum season, the red ones are much dearer at almost $2.50-$4 a piece! With the green capsicums roughly half the price of the red, we end up buying and cooking more with green capsicums (yay for Indo-Chinese style noodles, stir-fries and stuffed roasted capsicums). But for certain things, you need red capsicum. Like making Muhammara. Or this Red Capsicum Hummus and Smoky Harissa. So, I still end up buying 4-5 red capsicums a month in order to make this fabulous dip.
Muhammara is a Red Capsicum And Walnut Dip hailing from Aleppo in Syria with one of the key ingredients being Aleppo Pepper Flakes. Aleppo Pepper Flakes are mild and fruity and available at select online grocers and spice markets like Essential Ingredient and Herbie's. But if you can't find them, regular red chilli flakes work just as well, since the heat level of both these chilli flakes is not high.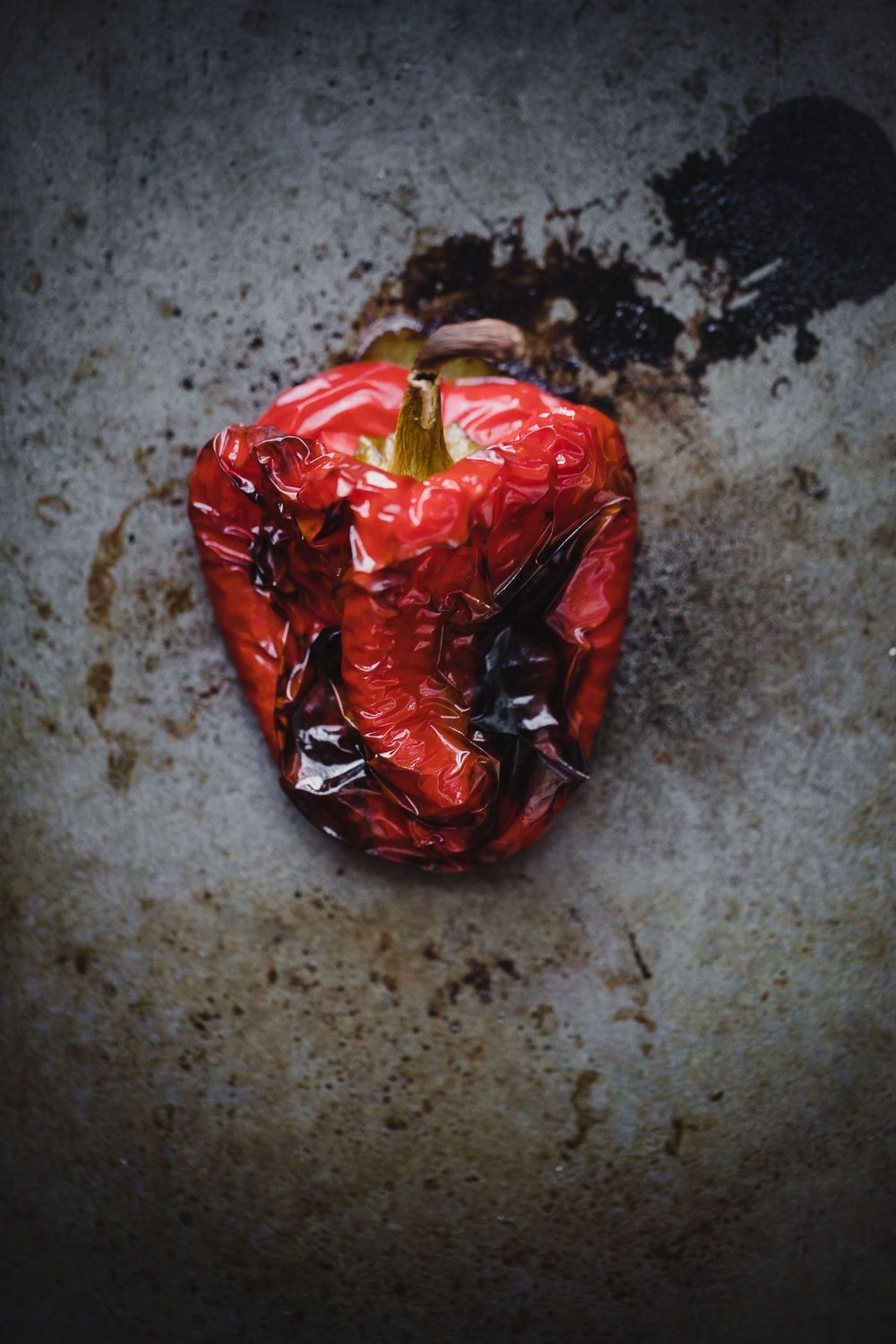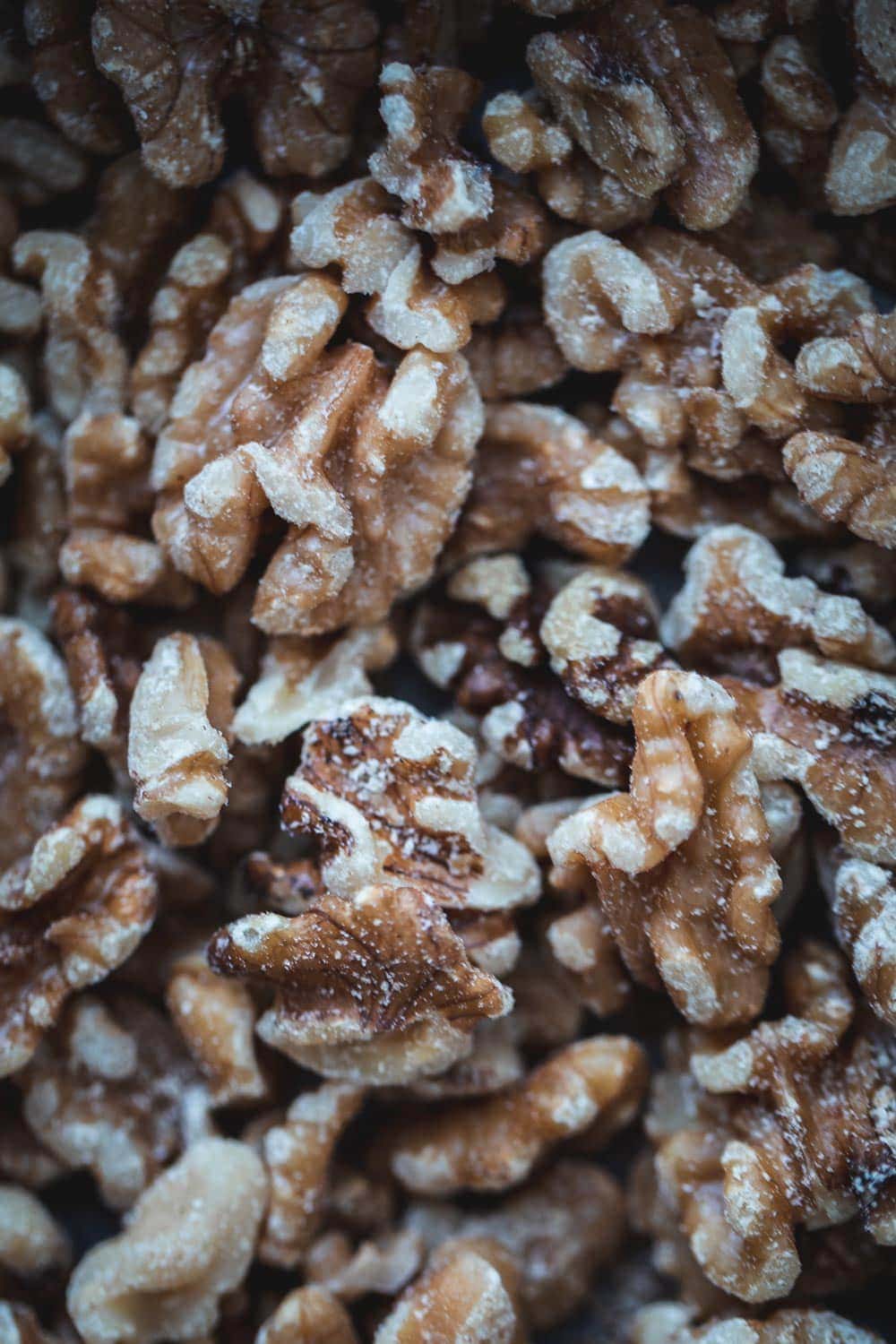 An Easy Muhammara For An After School Snack
Muhammara is an exquisite balance of flavours
the sweetness of the red capsicum
the nutty bitterness of the walnuts
the acidity from the pomegranate and lemon
the smokiness from the cumin and paprika
the spiciness from the chilli and garlic
Roast veggie dips like this Muhammara make an excellent, flavour-packed and nutritious after-school snack. Especially topped with roasted cauliflower (If you are going to fire up the oven to roast some capsicum, might as well throw in some cauliflower, right?). You could serve it with rice crackers or carrot sticks. My boys love it with garlic bread or my Instant Lebanese Flatbread. A jar of muhammara resting in the fridge can be pretty much used as pesto, stirring through some hot pasta instead of pasta sauce. The possibilities are endless and the health benefits massive. Did you know that red capsicum has 11 times the Beta-Carotene of green capsicum and 1.5 times the Vitamin C. Not to mention folate, fibre and Vitamin A.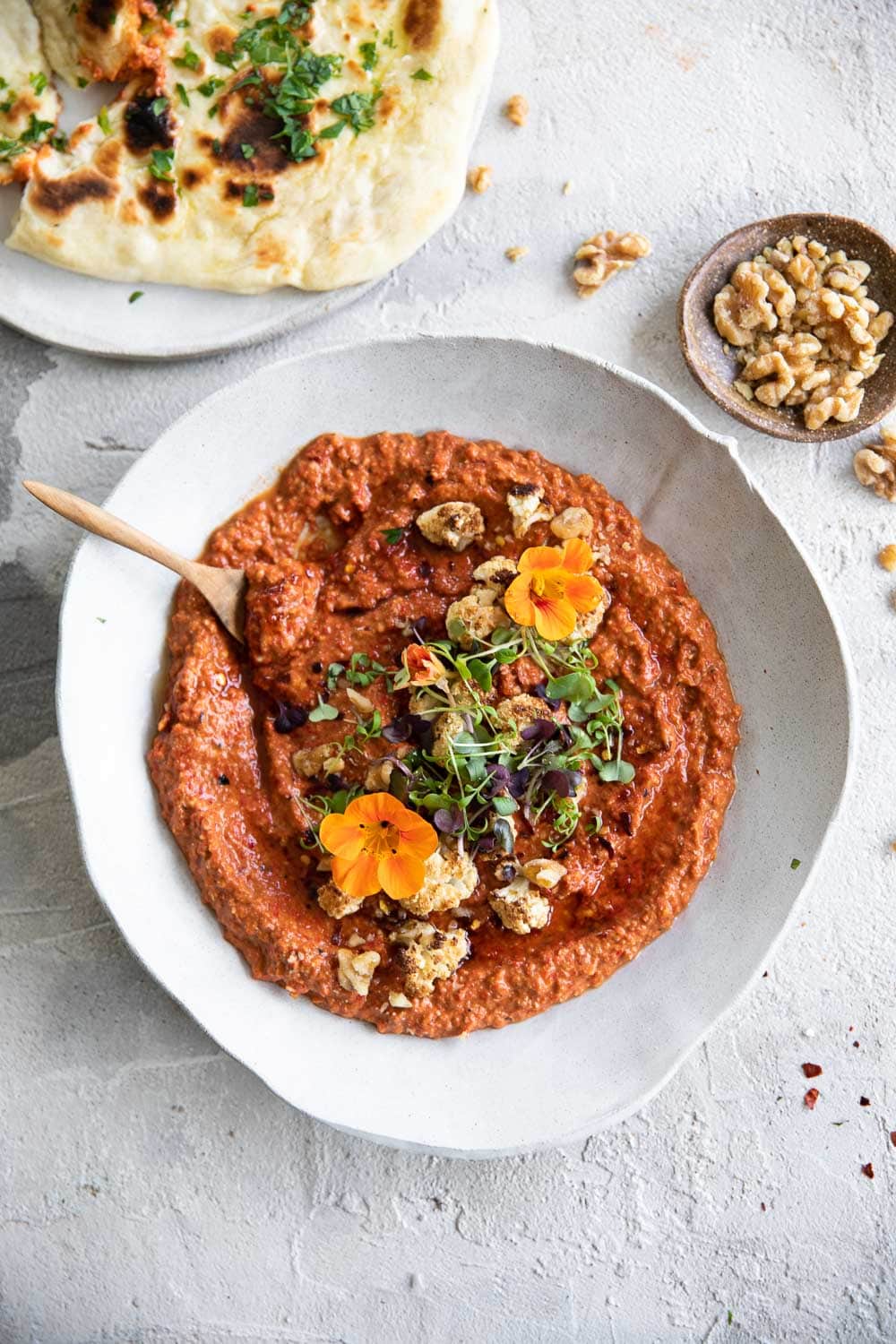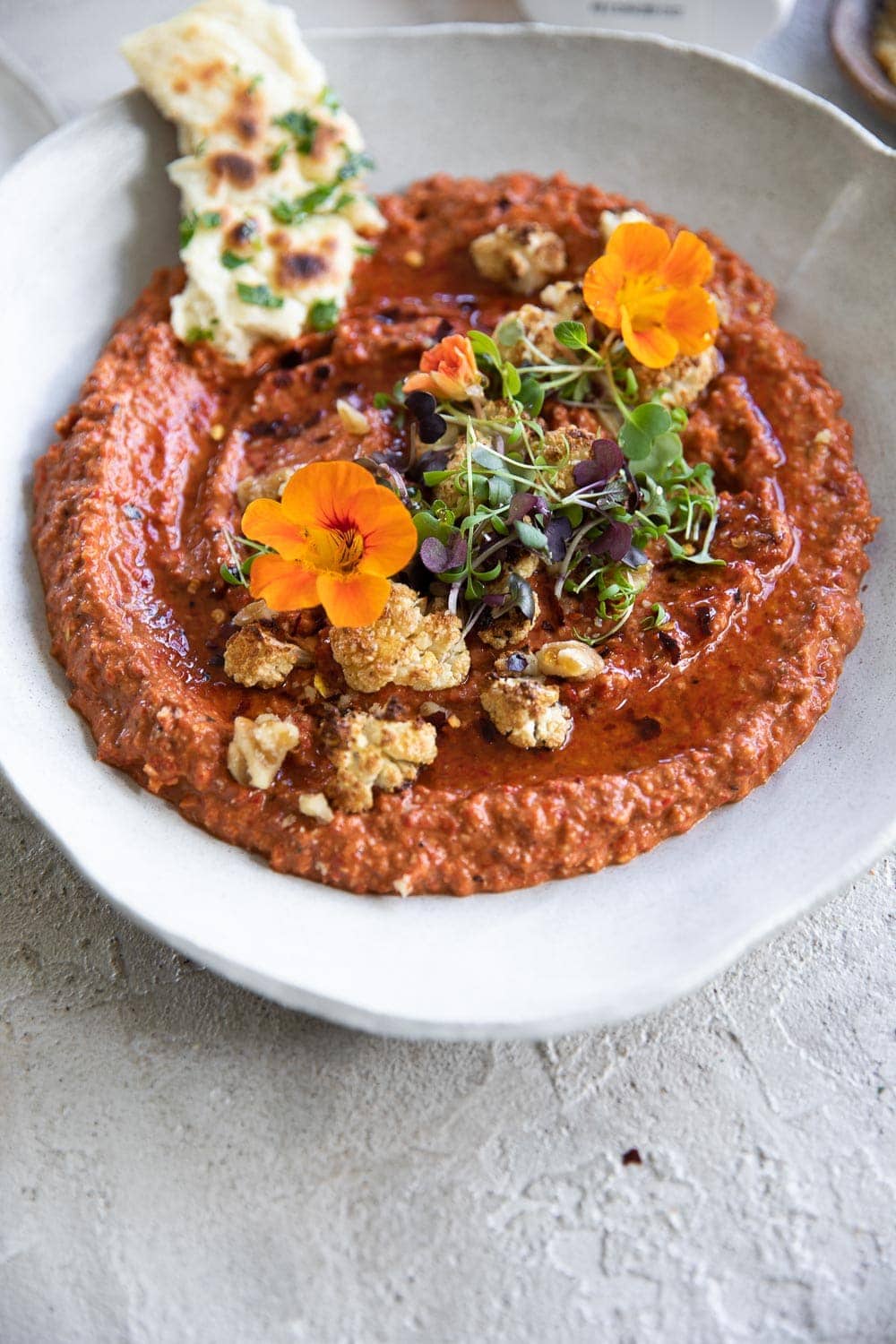 Hungry For More Recipes? Subscribe to my newsletter. Check out Facebook, Instagram and Pinterest to see everything I share! And if you love cooking and new cookbooks, join my free Cooking Club on Facebook!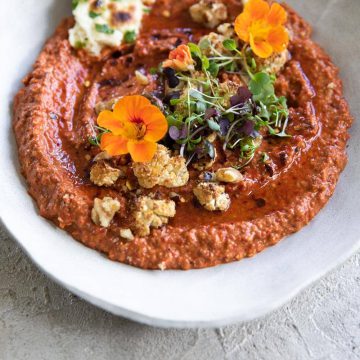 Ingredients
2

red capsicums

1

cup

cauliflower florets

4

tablespoons

fresh breadcrumbs

1

tablespoon

pomegranate molasses

1

teaspoon

ground cumin

1/2

teaspoon

smoked paprika

1

teaspoon

red chilli flakes

2

garlic cloves

,

chopped

½

cup

walnuts

1

tablespoon

lemon juice

1

tablespoon

olive oil

½

teaspoon

sea salt flakes and crushed black pepper

Micro herbs

,

crushed walnuts, chilli flakes, olive oil – to serve
Instructions
To prepare the capsicum - Place capsicums on a small, rimmed baking sheet. Rub with olive oil. Roast capsicum in a pre-heated oven at 220C (convection)/200C (fan-forced) for approximately 20-25 minutes until capsicum is blackened and cooked. Remove from the oven and transfer capsicum to a bowl. Cover with cling film or foil to steam the capsicum as it cools. Cool for 10-15 minutes. Remove and discard the core, skin and seeds.

To prepare the cauliflower - Toss cauliflower florets with a light drizzle of olive oil and sprinkle with salt and pepper. Arrange on a small baking sheet and roast in a pre-heated oven at 220C (convection)/200C (fan-forced) for approximately 18-20 minutes until cauliflower is cooked and golden. Remove from the oven.

Place the capsicum flesh, breadcrumbs, pomegranate molasses, cumin, paprika, chilli flakes, garlic, walnuts, lemon juice, oil, salt and pepper in the bowl of a small food processor and pulse a few times to get a textural dip.

Taste and adjust seasoning as necessary.

Spoon the red capsicum dip (muhammara) in a medium serving bowl. Create swirling dips with the back of a spoon and drizzle with extra olive oil (if using). Top with crushed walnuts, chilli flakes, micro herbs and edible flowers. Serve warm with pita bread.

Store leftovers in the fridge for up to 3 days. Can be warmed for a few seconds in the microwave before eating.
Notes
Make It Gluten Free

- Use gluten-free breadcrumbs or rice crumbs.
Did you make my recipe?
I'd love to hear how you went! Tag me on Instagram @cookrepublic