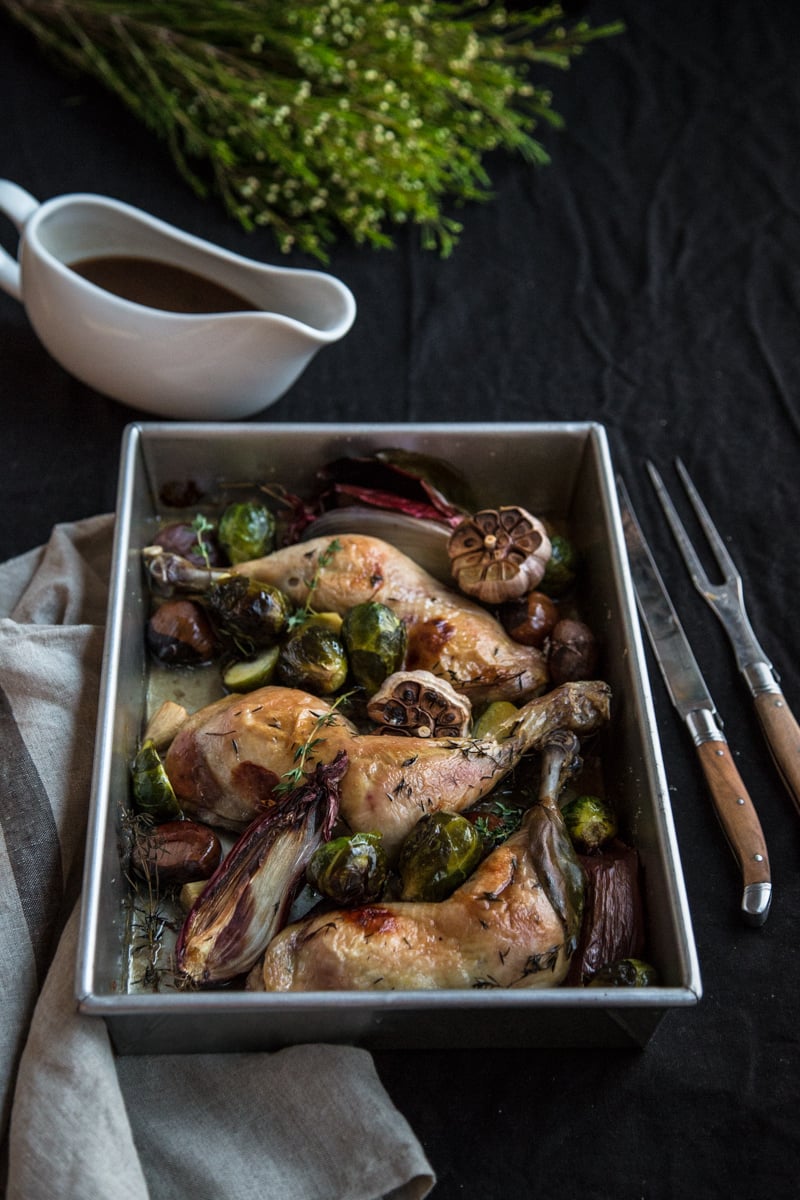 We are now into week 6 of our renovations and I will be the first to admit - it hasn't been easy. For one, it has been bloody cold in our garage where we eat our meals (our garage is partially open with fancy gaps in brickwork). Cooking and washing up at the lone cold garden tap is hellish when the wind picks up. When we do eat inside the house, we are perched precariously on stools and empty boxes with bowls in our laps doing our very best to not make a mess. On the plus side renovations have spurred me on to be creative with my recipes. I am using the slow cooker a whole lot more and cooking this curry every week. These noodles are becoming a weekly staple too as they are a dream to wash up after. And who knew that a good old fashioned apple crumble could be cooked on a stovetop?
Renovations have slowed down my work which leaves me more time to chase up construction deliveries and take leisurely strolls through the Thursday markets dreaming of the things I will cook in my new kitchen. Last week I picked up a bag of feijoas (my first taste of this passionfruit and guava love child), an armful of chestnuts and garlic, a bag of brussels sprouts, new Kanzi apples, Jiros and some nice coconut kefir.
A whole head of garlic is a thing of beauty. Perfectly formed little cloves hugging each other in a tight cluster. A good little head goes a long way, especially in a roast. Like the one I am sharing today. This recipe was originally intended for my cookbook but we had enough chicken recipes so it was filed away for a rainy blog day. A good roast needs very little in terms of time and effort. What it does need though is fresh wholesome ingredients. Recipes like these where you practically throw things together in a roasting pan (or in my case arrange them neurotically in an artful fashion) are also great to cook with your kids. My boys love robust roasting recipes. They started with a simple rosemary potato recipe and graduated to a simple chicken roast with loads of garlic and root veggies. This recipe is a bit glam with brussels sprouts and chestnuts finished with a sticky boozy marsala sauce. Served with some soft polenta or mash, this would make mum very happy on Mother's Day. Recipes like these which are perfect for the whole family appear in my book (hint hint - Mother's Day gift?). You could buy one at Bookworld or Tasty Circus (signed copy).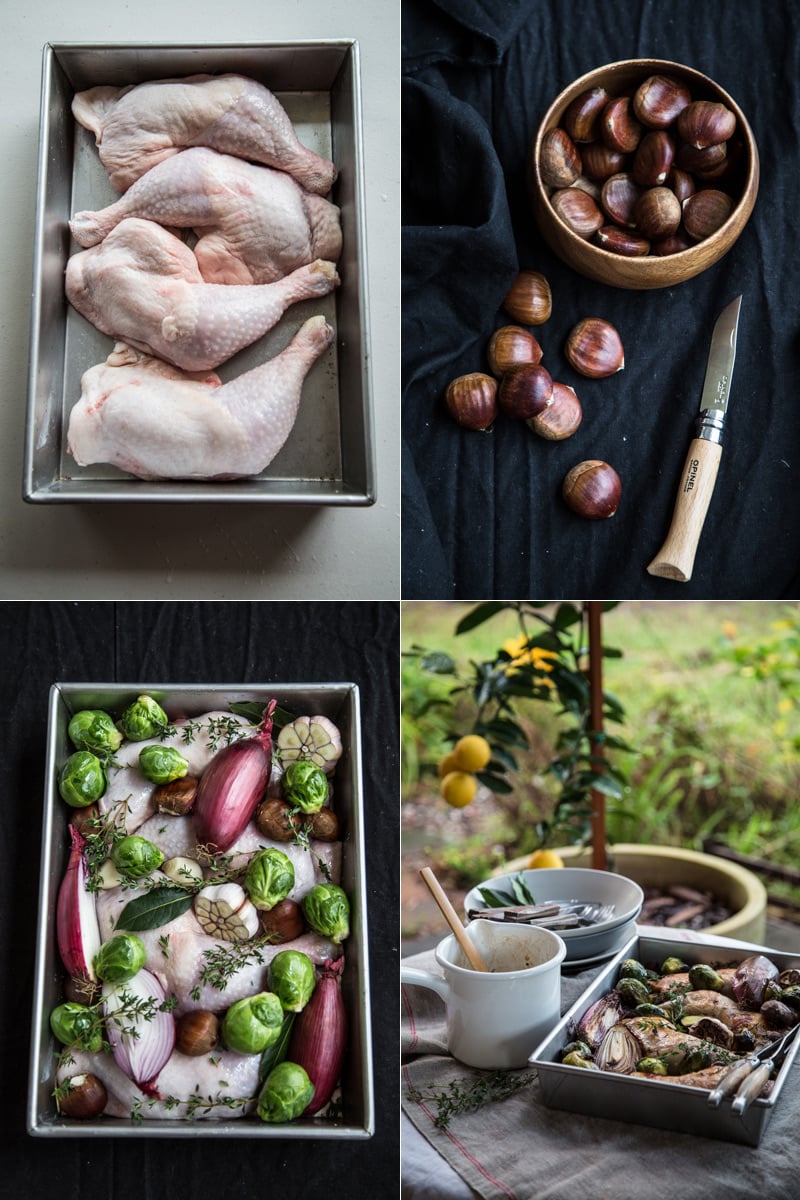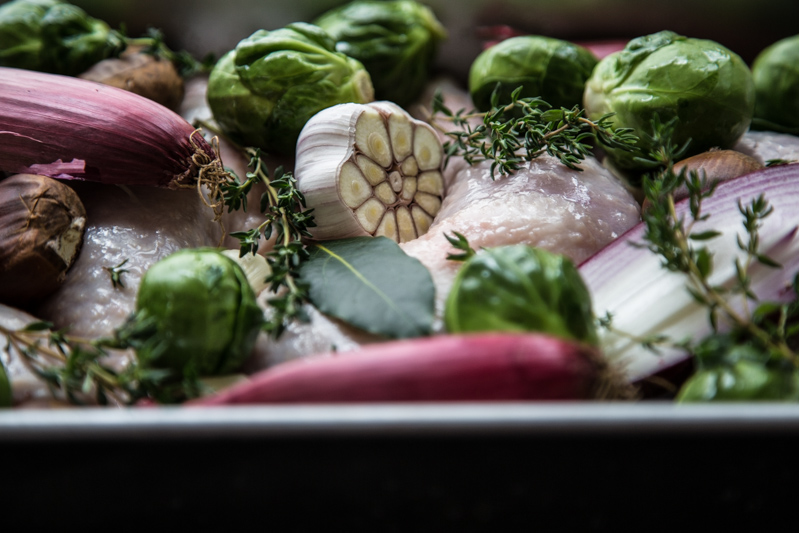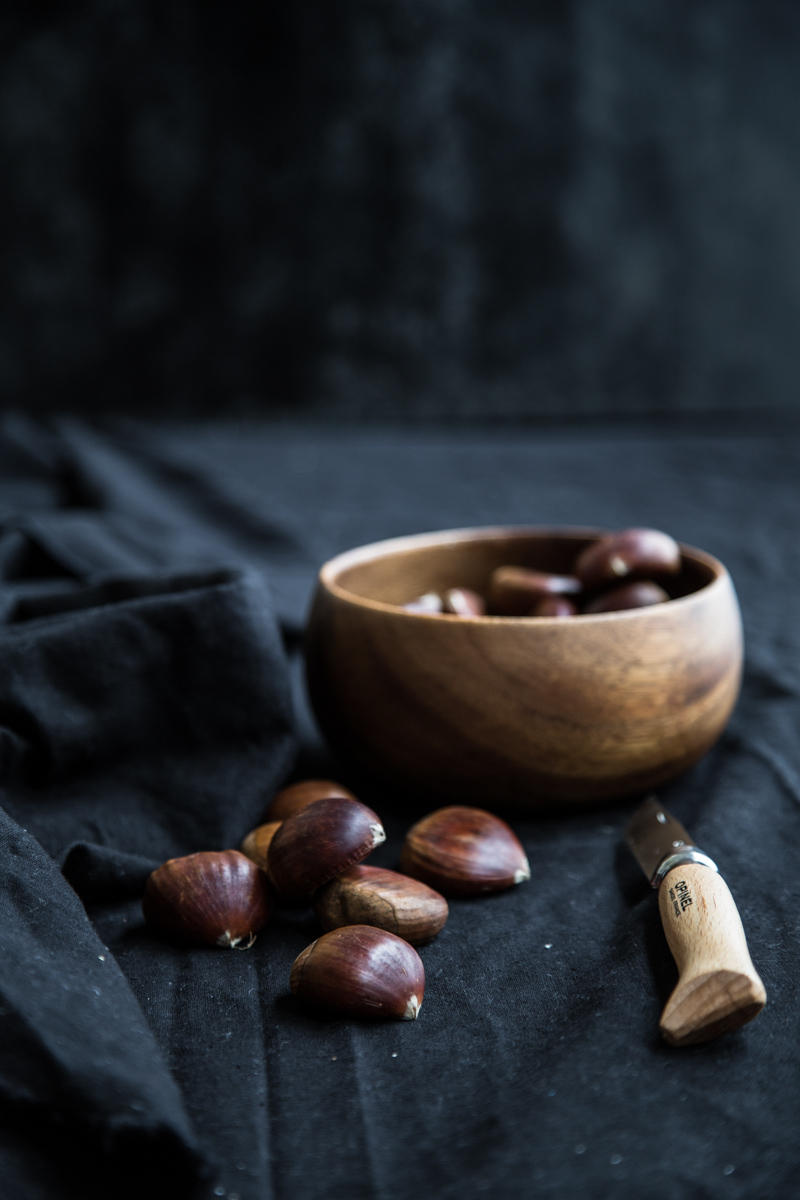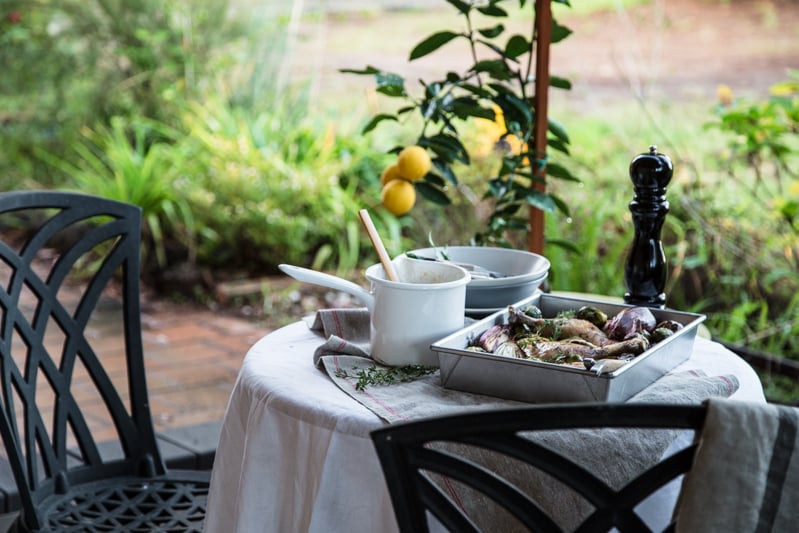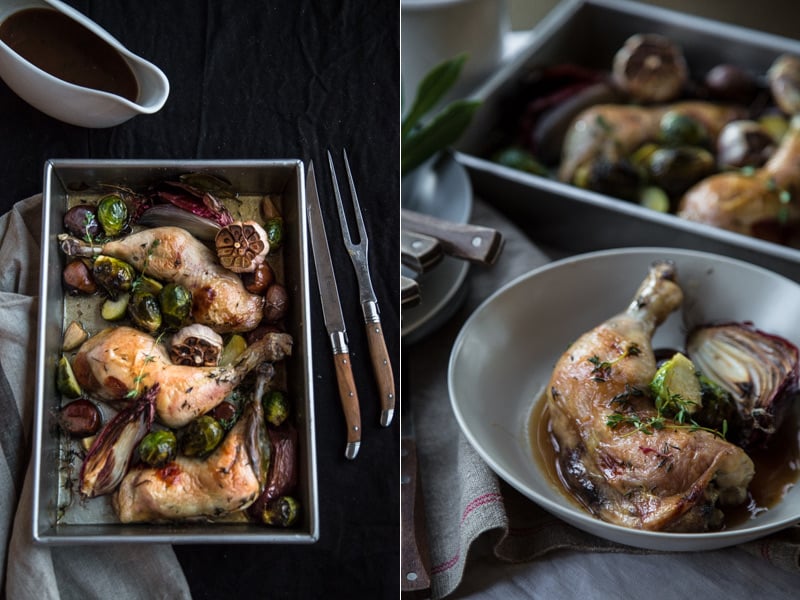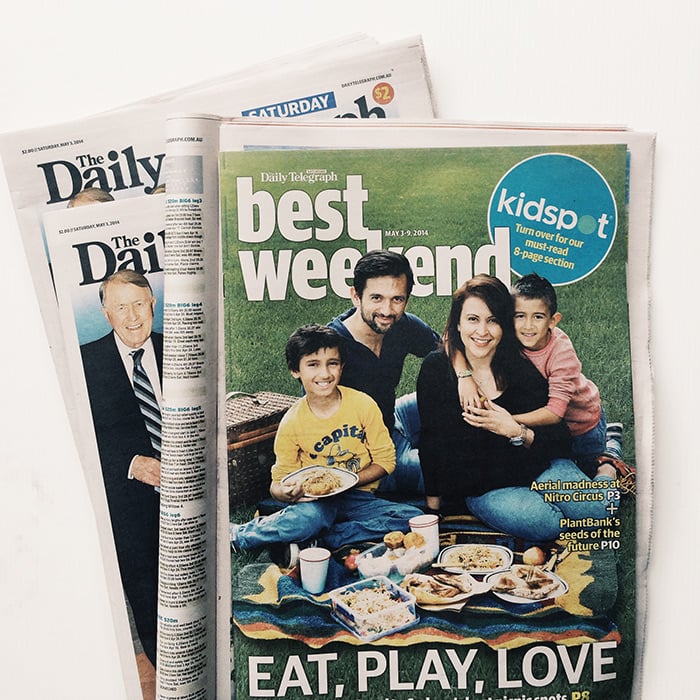 Over the weekend, there was more love for me and Tasty Express in The Daily Telegraph. I was shocked to see us on the front cover and thrilled to bits with the feature that shared best picnic spots in Sydney, picnic food tips when traveling with kids and three amazing picnic recipes from the book that even the kids love. I will also be on television this week!! EEEEP!! I will be cooking on Channel 10's morning show Wake Up. If you are around a telly at that time, don't forget to watch me hopefully not make a fool of myself 🙂
[print_this]
ROAST GARLIC CHICKEN WITH CHESTNUTS AND STICKY MARSALA SAUCE
A very garlicky and very golden roast chicken tastes even better with roasted chestnuts and brussels sprouts drizzled with sticky boozy marsala sauce.
Serves - 4 to 6
Ingredients
1.2 kilos chicken Maryland pieces
2 whole garlic heads, tops trimmed
olive oil to rub
10-12 sprigs fresh thyme
salt to rub
black pepper to sprinkle
1 cup brussels sprouts
1 cup chestnuts
4 spanish or tuscan onions, halved
3-4 bay leaves
Method
Rub chicken with salt, olive oil and garlic. With a sharp knife, mark a tiny cross on the blunt end of each chestnut. Toss brussels sprouts in some olive oil. Place chicken in a roasting tray. Arrange garlic, onion and chestnuts around the chicken. Place bay leaves and thyme over the chicken. Bake in a hot oven (200C) for 30 minutes.
Remove tray from oven, drain half of the juices. Add brussels sprouts and return tray to oven. Cook uncovered in the hot oven (200C) for approximately 40 minutes until chicken has started to brown. Remove and rest for 20 minutes before serving with marsala sauce.
****************************************
Ingredients (Sticky Marsala Sauce)
1 tablespoon butter
2 cloves garlic, minced
1 tablespoon fresh thyme
2 tablespoons plain flour
1 cup marsala
2 cups chicken stock
1 teaspoon salt
Method (Sticky Marsala Sauce)
Heat butter in a saucepan on medium-high heat. Add garlic and sauté for a minute. Add flour and cook for a few seconds, stirring constantly. Add the marsala to deglaze the pan. Mix well, removing all lumps from flour. Add chicken stock, salt and thyme. Bring to a boil. Remove from heat and cool.
[/print_this]