A kedgeree is the love child of an Indian Khichari and the colonial British obsession for all things curry. I grew up eating Khichari (a savoury porridge of rice and lentils often spiked with spices and enjoyed with a vegetable curry on the side) but it was only after I moved overseas that I discovered kedgeree. Loose references in old Indian and British cookbooks seem to suggest that kedgeree was take on Khichari. But with the addition of flaked fish and boiled eggs, it was fashioned into a delicious breakfast dish by the British after their stay in India.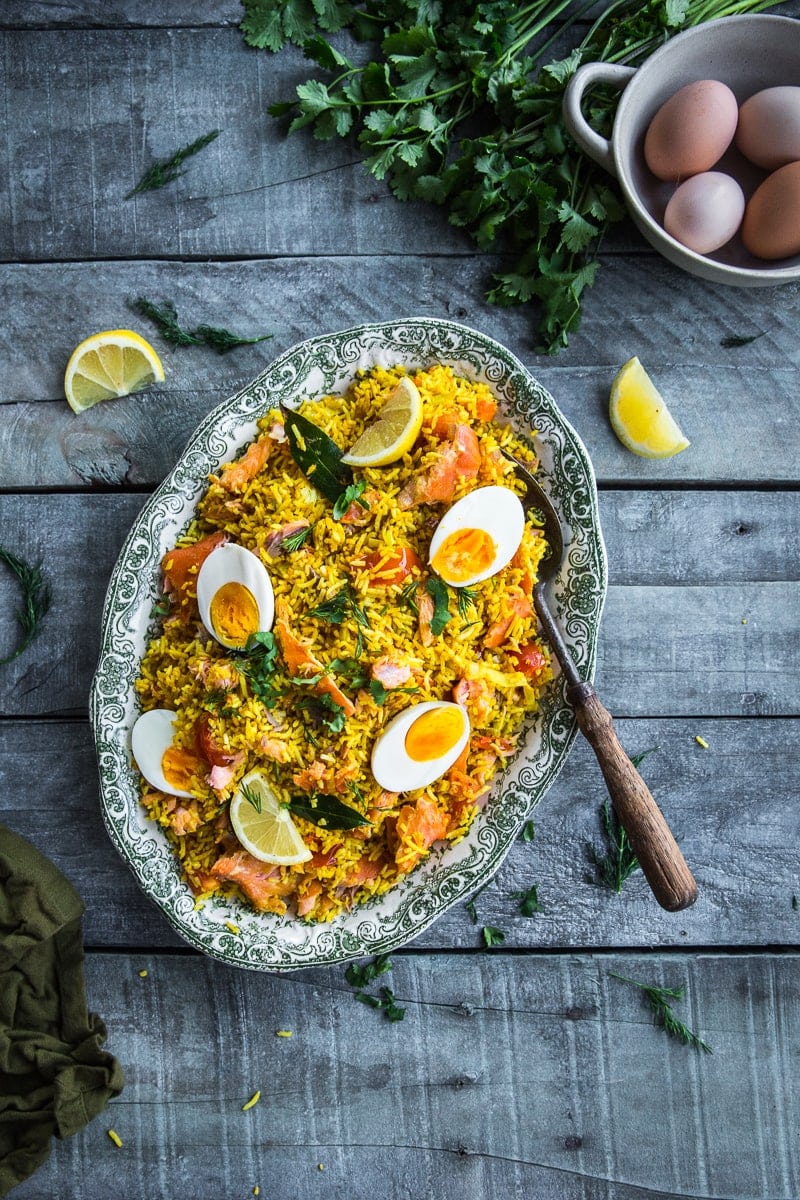 We love kedgeree in our home because it is one of the most ingenious ways of using leftover rice. Another great selling point for this beautifully fragrant dish is that you can eat it hot or cold and it packs a powerful flavour punch, regardless. This is also one of my quick go-to meal prep recipes - prep the rice and boil the eggs and have dinner ready within minutes. Rice spiked with hot curry powder, lemon and herbs is just the most incredible combination of flavours.
I have a rice cooker (Breville Multichef) that I use to quickly cook basmati rice in (see Recipe Notes for tips on cooking the best pot of rice). From this point on, it is just a matter of a quick stir fry to produce a beautiful Smoked Salmon Kedgeree. The use of ghee and a good curry powder is essential to the gorgeous fragrant taste of this rice dish. My top two choices for curry powders are Bolst's and Keen's. The base kedgeree is vegetarian which means you can easily veganize the dish using the handy tips in my notes.
The Smoked Salmon Kedgeree makes for a great breakfast dish and an even better lunchbox option. On lazy nights, it is a lifesaver at the dinner table with a bit of pineapple or cucumber raita on the side. I hope you enjoy this recipe. I would love to hear your thoughts and feedback in the comments/rating below. Share you kedgeree with me on Instagram by tagging #cookrepublic. Thanks my lovely friends! x
Recipe
Hungry For More Recipes? Subscribe to my newsletter. Check out Facebook, Instagram and Pinterest to see everything I share! And if you love cooking and new cookbooks, join my free Cooking Club on Facebook!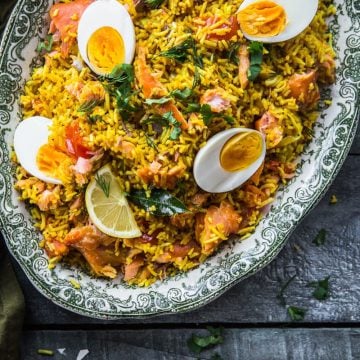 Ingredients
2

tablespoons

ghee

2

garlic cloves

,

minced

1

tablespoon

grated ginger

2

bay leaves

1/2

teaspoon

cumin seeds

1/2

teaspoon

fennel seeds

1

tablespoon

mustard seeds

1

leek

,

finely chopped (white only)

2

large tomatoes

,

finely chopped

4

cups

cooked basmati rice *

2

tablespoons

curry powder

juice of 1 lemon

1 1/2

teaspoons

sea salt flakes

,

or to taste

200

g

cooked/smoked salmon fillets

2

boiled eggs

,

sliced in half

lemon wedges

,

fresh coriander and dill - to serve
Instructions
Heat ghee in a large sauté pan or frying pan on  medium. Add garlic, ginger, bay leaves, cumin seeds, fennel seeds and mustard seeds. Sauté for a few seconds until seeds start crackling and get fragrant.

Add leek and sauté for a minute or two until leek starts softening and caramelising.

Add tomatoes and cook for another minute or two until tomatoes are glazed and softened.

Add cooked basmati rice, curry powder, lemon juice and salt. Mix well. (I use a potato masher to break down the rice and mix all the spices evenly. It is much easier than using a large spoon.)

Flake cooked salmon fillets and add them to the pan. Mix well. Reduce heat, add 2 tablespoons of water if too dry, cover and cook for 2-3 minutes until warmed through.

Garnish with boiled eggs, lemon wedges, fresh coriander and dill. Serve hot with a raita on the side.
Notes
Make It Vegan - Use olive oil instead of ghee. Skip the boiled eggs. Substitute salmon with smoked tofu or roasted sweet potato cubes. Vegetarian Alternatives To Smoked Salmon - Smoked Tofu, Pan Fried Halloumi, Pan Fried Paneer Cubes, Oven Roasted Sweet Potato. * Cooking Basmati Rice - Always wash in cold water, rinse and drain the rice. Do this 3-4 times until the rinsing water gets clear. This helps reduce the starch covering the rice, resulting in fluffier individual grain after cooking. I use a rice cooker to cook my rice using the rice/water ratio 1 : 1.5. Turn off the warmer after cooking to allow the rice to cool down. Always use cold rice for a stir-fry like this one.
Did you make my recipe?
I'd love to hear how you went! Tag me on Instagram @cookrepublic