A few years ago when I was doing food photography and styling workshops, a gluten free cake I adapted from Belinda Jeffery's Mix & Bake cookbook (one of my favourite baking cookbooks) was a staple at morning tea. A simple almond and coconut cake that I tweaked to be just sweet enough with a generous lashing of lemon. It was so wildly popular at all my workshops that I would get emails requesting the recipe.
I always sent everyone a photo of my hand scribbled recipe from my recipe testing diary, hoping they could read what I had written. Over the years, many friends and family scored that phone picture of my hand written recipe and they in turn served it to their friends who in turn loved it and requested the recipe. And so it went around. For all those who didn't ask me but wondered when I would share the recipe, here it is at long last.
When you bite in to this cake, the two stand outs are coconut and lemon riding a delicious buttery wave. The rapadura sugar adds a rich caramel flavour. It is moist with a perfect crumb and delicious warm or cold. I must have baked this cake at least a hundred times (no jokes!) and it is so ingrained in my muscle memory that my body just knows what ingredients to pluck out of the pantry and the quantity to place in my mixing bowl. I can honestly make this cake on auto-pilot.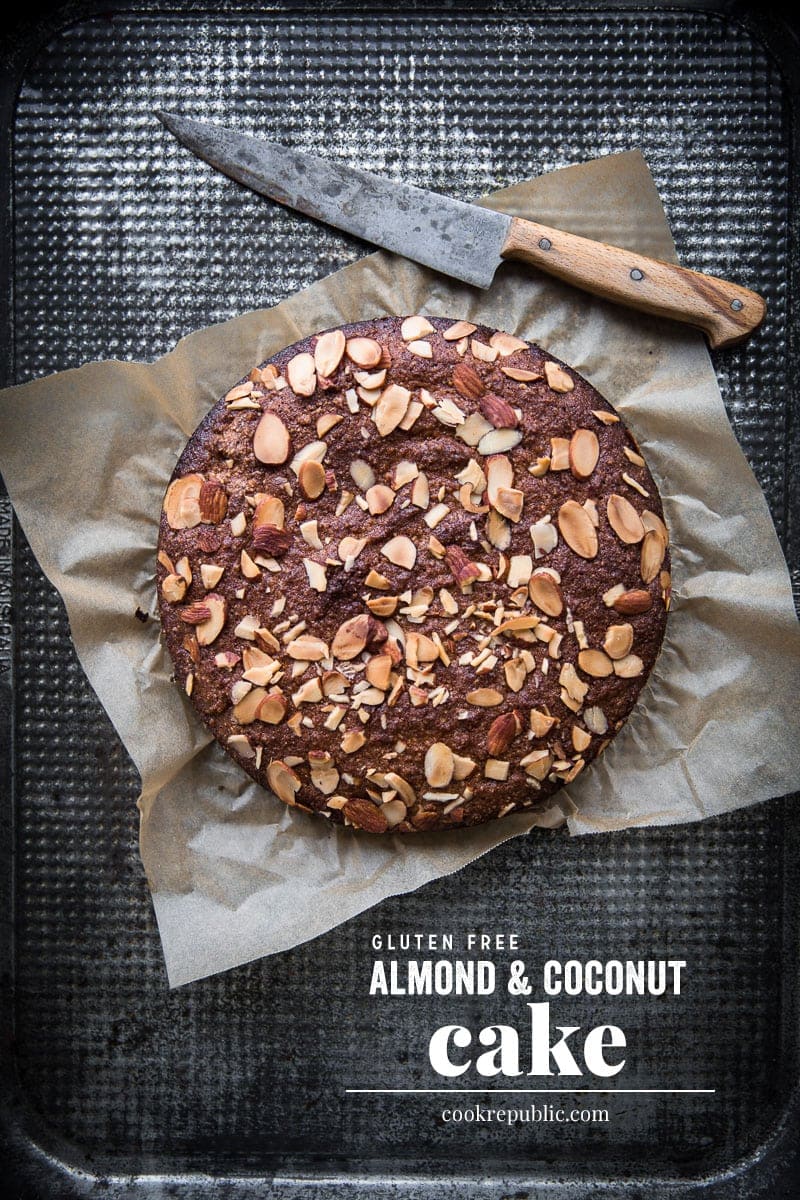 The cake itself is beautifully simple and you just can't stuff this one up even if you are a novice baker. Because the cake is gluten free, you can't under beat or over mix it. No matter what you do, it will turn out perfectly. I have added a few options and variations in the notes for you to try in case you don't have certain ingredients or want to jazz it up even more. I hope you try making this. I promise you will love it so much that you'll be baking it every week. I would love to hear your thoughts and feedback in the comments/ratings below and don't forget to share your cake pictures with me on Instagram using #cookrepublic. Happy baking lovelies! x
Recipe
Hungry For More Recipes? Subscribe to my newsletter. Check out Facebook, Instagram and Pinterest to see everything I share! And if you love cooking and new cookbooks, join my free Cooking Club on Facebook!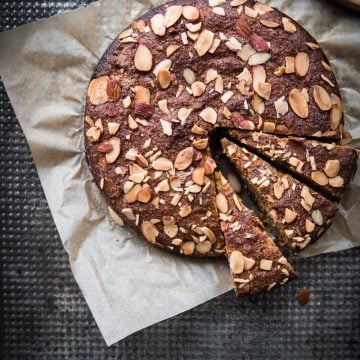 GLUTEN FREE ALMOND COCONUT CAKE
adapted from Belinda Jeffrey's Mix & Bake cookbook.
Tested : 50+ times
Print Recipe
Rate / Comment
Ingredients
180

g

almond meal

60

g

desiccated coconut

pinch

of salt

150

g

rapadura sugar*

1

teaspoon

vanilla powder/extract

zest of 1 large lemon

3

organic eggs

200

g

butter

,

melted and slightly cooled

handful of almond flakes
Instructions
Pre-heat oven to 180°C (convention)/ 160°C (fan-forced/convection).

Grease and line a 20-23cm round cake tin with baking paper.

Place almond meal, coconut, salt, sugar, vanilla and lemon zest in a medium bowl.

Add eggs and cooled butter to the dry mixture. Using a wooden or metal spoon, mix the cake batter until smooth and thoroughly mixed.

Spoon into the prepared cake tin. Scatter with almond flakes.

Bake in the pre-heated oven for approximately 40-45 minutes until lightly browned and cooked through the middle (centre springs to touch).

Remove from oven and cool for 15-20 minutes before slicing and serving warm.

The cake will keep in a cool corner of your kitchen for up to 4 days and in the fridge for up to 2 weeks.
Notes
* Rapadura sugar is unrefined cane sugar. The water is evaporated from the cane sugar until it crystallizes, which makes the sugar truly unrefined. The molasses in the sugar cane give rapadura sugar its rich golden colour and caramel flavour. If you can't find rapadura sugar, the closest substitute would be coconut sugar followed by regular brown sugar.
If your eggs are really fresh and a decent size, you could get away with only 180g butter instead of 200g. I often add butter ad hoc and try to reduce its quantity. I just ensure that the cake batter is not too dry (like a thick but moist pancake batter of droppable consistency).
If you don't have desiccated coconut, coconut flour works well too. When using coconut flour, if you find that the batter is dry (very thick and won't drop from a spoon), then add an extra egg to make the batter loose and of droppable consistency.
Make It Dairy-Free : Use cocoa butter instead of regular butter.
Variation : Mix a handful of frozen berries before baking it for a summery/springtime picnic cake.
Did you make my recipe?
I'd love to hear how you went! Tag me on Instagram @cookrepublic