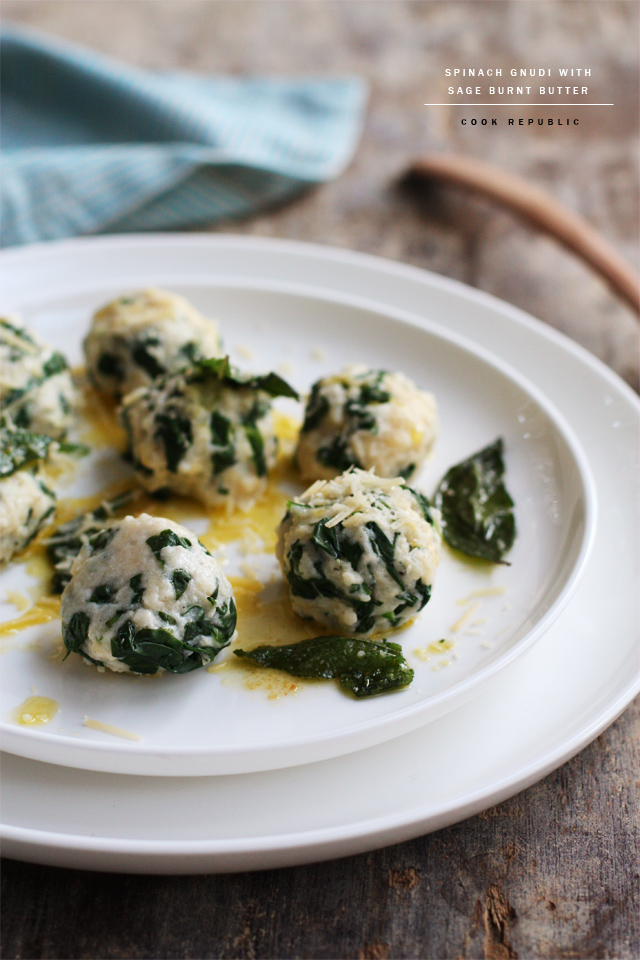 I have been growing purple sage for a few months now. I love the smell. I love how the top of the leaf is green and the underbelly purple. I love the wispy flowers that shoot out on a stalk, on their way to seeding. It is a pretty herb and I have only admired it with a cup of tea in hand for so many months. Today however, I took my herb scissors and with my face pressed against the black bird netting over the veggie patch I snipped off a few stalks of sage hiding under the explosion of tomato plants. I had been perusing Valli Little's newest offering Home Cooking and I was a woman on a mission.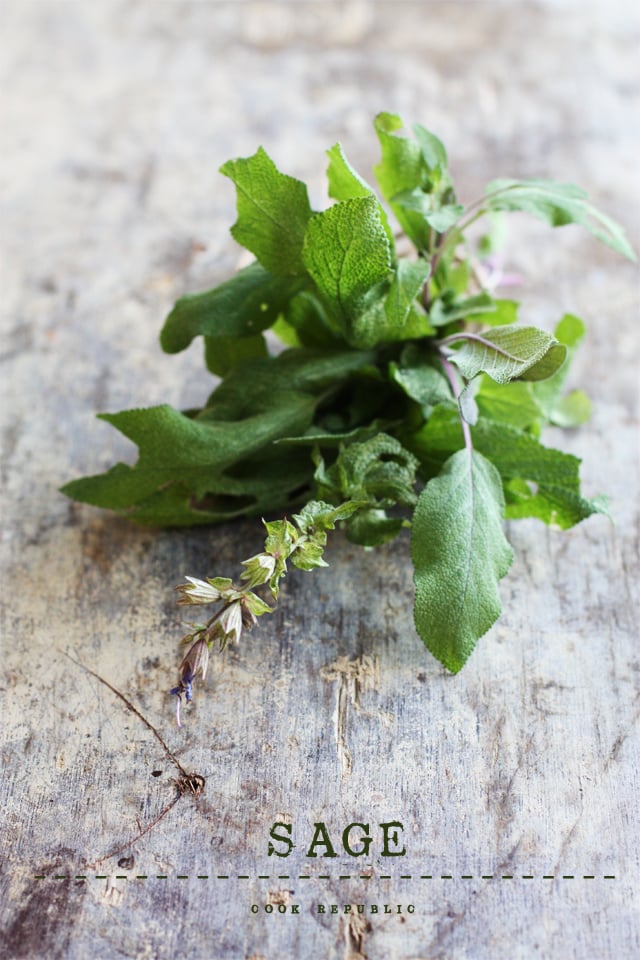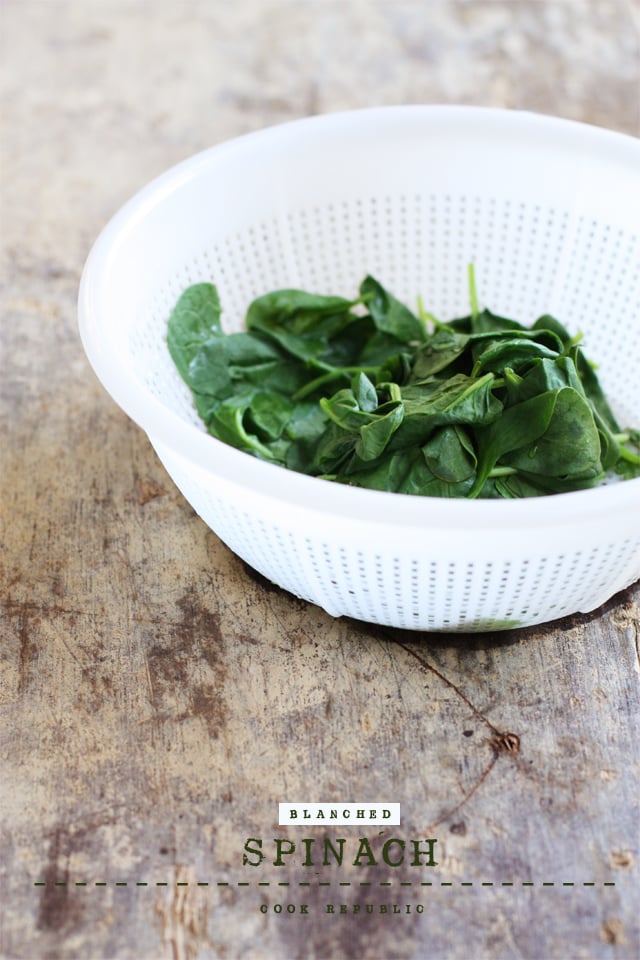 I recently made Gnocchi for the first time, aided by my first born. Today, a recipe for Gnudi in the cookbook aroused my curiosity. Gnudi pronounced nu-dee (tee-hee) is a type of gnocchi made from fresh ricotta cheese and flour. A delicate dumpling cooked in boiling water and served with a lashing of burned butter infused with herbs. The Gnudi I cooked from the book had a generous dose of spinach in it and the butter was infused with sage. A simple dish, an indulgence for brunch. The blank canvas of the ricotta dumpling can be painted with vivid veggies and herbs. A dish ripe for experimentation.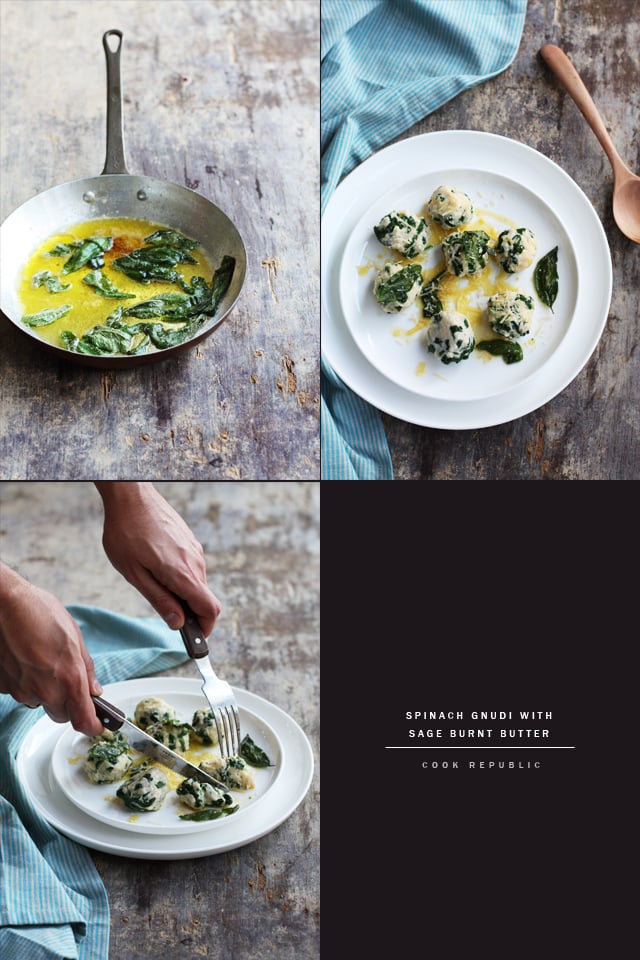 [print_this]
SPINACH GNUDI WITH SAGE BURNT BUTTER
adapted from Home Cooking - Valli Little
A beautiful light brunch dish made with spinach and ricotta dumplings tossed in herby sage burnt butter sauce.
Makes - To serve 4
Ingredients
1 cup fresh spinach leaves
1 1/2 cups fresh ricotta, drained
3/4 cup finely grated parmesan plus extra to serve
1 cup plain flour, plus extra to dust
1 teaspoon ground nutmeg
1/4 teaspoon salt
2 egg yolks, lightly beaten
100g unsalted butter
16 sage leaves freshly cracked black pepper
Method
Bring a small pot of water to boil. Plunge spinach leaves in boiling water and cook for a minute. Scoop spinach leaves out and plunge in icy cold water. Drain, chop leaves and place in a large bowl.
Add ricotta, nutmeg, salt, parmesan and egg. Mix in the flour. Shape ricotta mixture into golf ball sized rounds. Dust lightly with flour.
In batches, cook the gnudi in a large saucepan of simmering water. Make sure the water is just below boiling and hot enough to cook the dumplings (if it is not hot enough or too hot, the dumplings will disintegrate). Watch the dumplings as they cook. When they pop up to the surface, gently scoop them out on to a serving plate.
Melt butter in a small frying pan over medium heat. Add sage leaves and cook until crisp and butter starts to brown. Add gnudi to the frying pan and gently toss to coat. Alternatively pour butter tempering over the plated gnudi. Top with extra parmesan and serve immediately.
[/print_this]