Before I talk about food today, I would like to talk about something else. Email subscriptions! If you have subscribed to receive my newsletter via email, you will be (pleasantly) surprised to see that the email has structure and form that follows the site. My emails will henceforth be sent via Mailchimp. You will only receive emails every time I put up a new post (and never in between). Nothing changes, except the emails you get from now on will hopefully look nice. For those of you who have subscribed to my feed via readers, please consider subscribing by email (go to Cook Republic and subscribe by entering your email in the box on the right sidebar. It is quick, easy and free! That way when Feedburner dies (and there are rumours of that), you won't miss a thing from Cook Republic. I always send ENTIRE posts in my newsletters and hopefully they will continue to be ad-free). Now on to the food talk …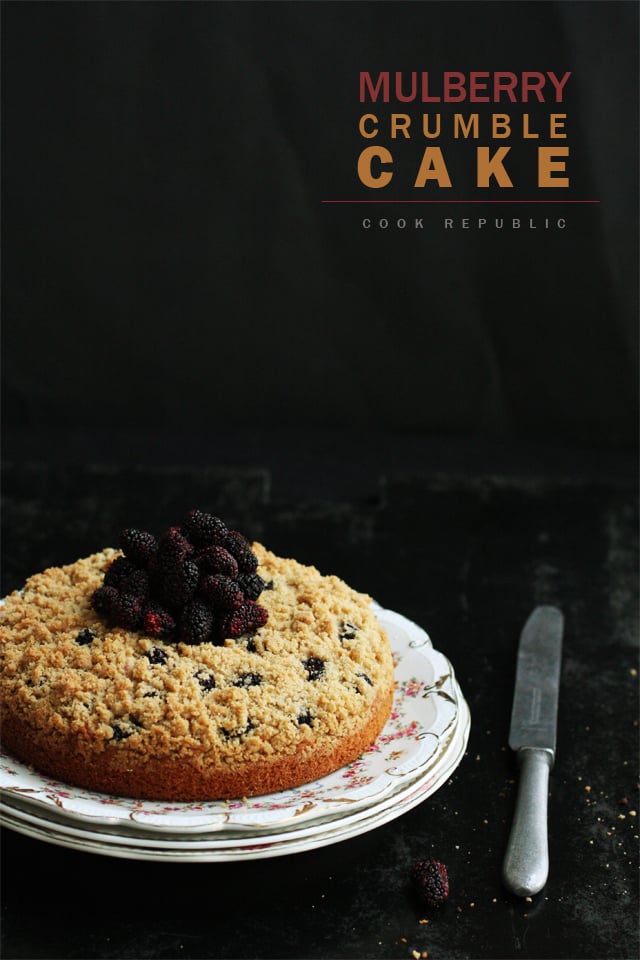 We live on a ridge with valleys on either side and the national park surrounding us as far as the eye can see. If we drive down a back road, it takes us on a descending winding path through a gorge. A wooden bridge signals the end of the descent and the start of a gentle uphill drive. Within minutes we are in one of the most beautiful farming suburbs on the outskirts of Sydney.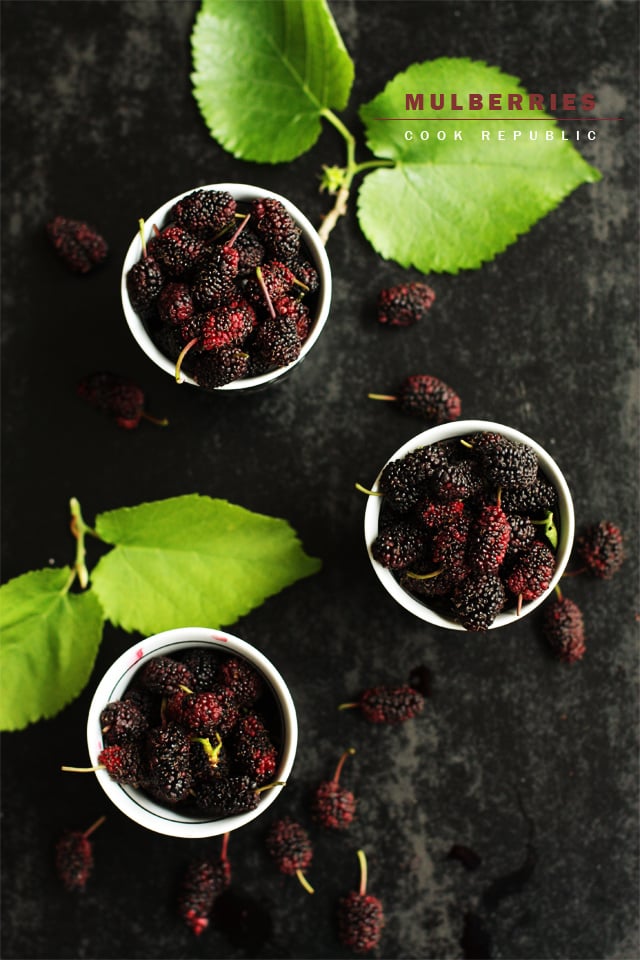 There are massive houses set back from the road at the end of long snaking driveways. Abandoned carts with fresh produc and money boxes are almost always at most gates. We love driving down through the gorge to this beautiful part of the world every other weekend. I am always excited to see what fresh produce awaits us in those carts. A few weeks ago my excitement was rewarded with a $4 punnet of fresh juicy mulberries. They were plump, black and sweet. We ate most, staining our lips and fingers purple. The rest I made into a Mulberry Crumble Cake.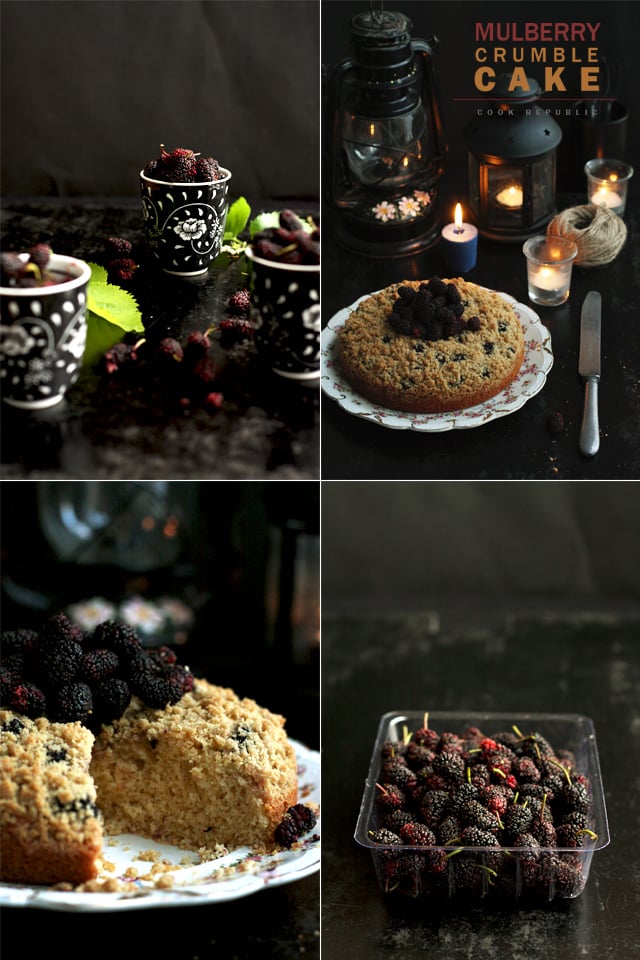 We were going to have a quiet dinner, Nick and I. I wanted to make something out of the ordinary, something light but scrumptious. I loved how the cake turned out. I loved how fancy it looked and made our date night special.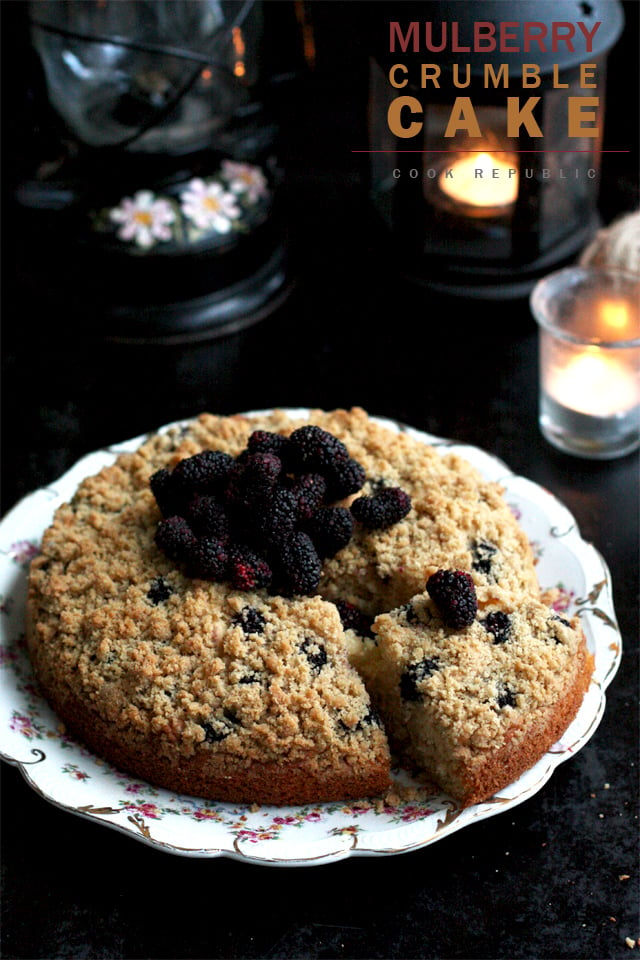 Berries and stone fruit cakes shine when their squishy texture is complimented with a crunch. Crumble elevates a plain cake and almost always eliminates the need for sugary icing. I adore crumble on cakes and desserts and have a base crumble recipe on hand to use at my whim and fancy. Use only the best and ripest mulberries for this recipe.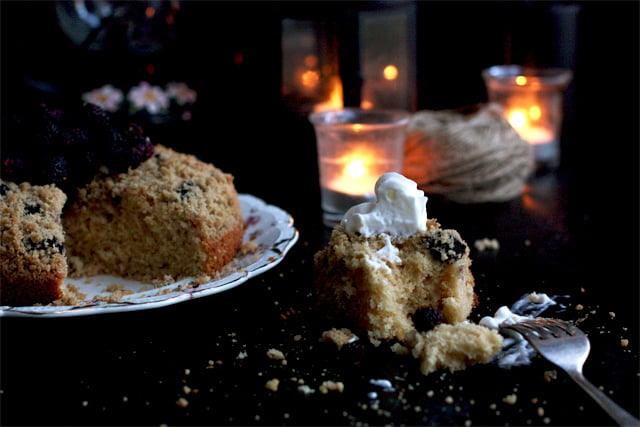 [print_this]
MULBERRY CRUMBLE CAKE
A bucket full of juicy, ripe, plump mulberries is made into a gorgeous crumble cake for a special after dinner dessert.
Makes – To Serve 6
Ingredients
for the cake
60g butter, melted and cooled
1 cup self raising flour
1/2 cup brown sugar
1 teaspoon vanilla extract
1 egg
1/3 cup milk
1 1/2 cups very ripe mulberries, stalks trimmed
for the crumble
1 cup flour
1/2 cup brown sugar
1/2 teaspoon cinnamon
60g butter, softened
Method
Preheat oven to 180C (350F). Grease and line an 8inch round springform pan with baking paper.
Combine ingredients for cake except the mulberries in a large bowl. Beat until light and fluffy.
Combine ingredients for the crumble in a separate bowl. Mix gently by rubbing with your fingertips till the mixture resembles bread crumbs.
Spoon batter into the prepared tin. Top with most mulberries and reserve some to decorate. Finally top with crumble. Bake in pre heated oven for approximately 35 minutes until golden and cooked through. Serve warm dusted with icing sugar, topped with extra mulberries and with fresh cream or ice cream.
[/print_this]