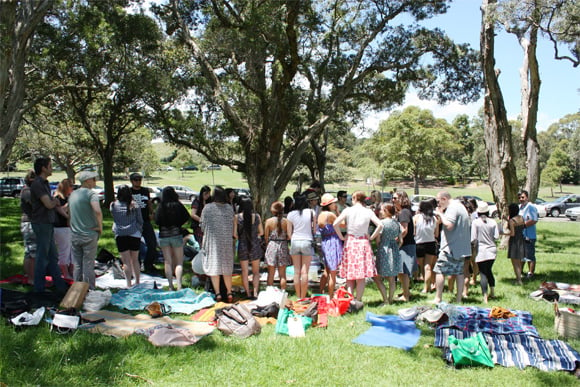 On December 11, 2010; I trudged halfway across the country to my very first Sydney Food Bloggers Xmas Picnic at Centennial Park in the heart of Sydney city. Well, not quite halfway across the country but from the far reaches of Sydney's upper north shore. And it was worth every minute of the 2 hours it took me to reach the meet that was festooned with spectacular food and some really lovely people, all brought together by their fanaticism for good food and the uncontrollable urge to capture every aspect of it on their cameras and phones. All brought together by Suze (Chocolate Suze) & Helen (Grab Your Fork).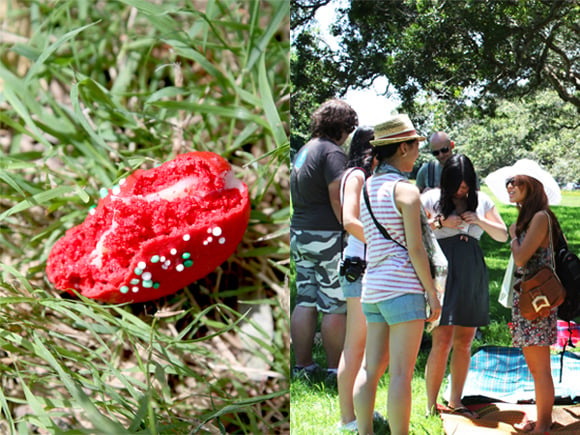 I was nervous, unsure and extremely hurried in my dash to get to the picnic after packing off my sons to the Koala park with my significant other. I brought a plate of sunny fudge to the picnic which a lot of people mistook for some suspicious looking pumpkin disaster. I knew I should've labeled my mango and pistachio fudge speckled with fresh rose petals from my garden.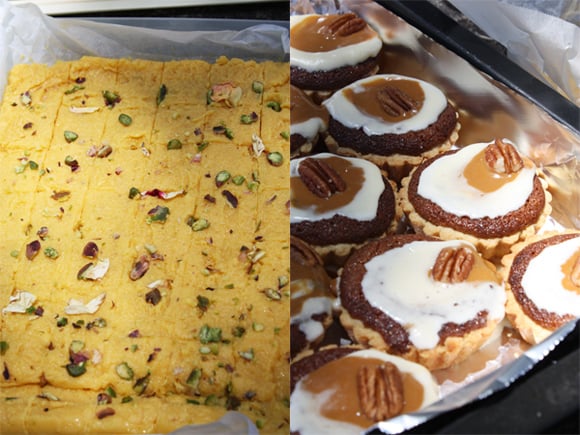 As I walked into Centennial Park, my phone connection dropped and I couldn't rely on the internet to lead me to the correct venue. So I kept walking for about 3 minutes and spotted a huge crowd of people with cameras bigger than their bags hanging around their necks, eyes wide with excitement as they all hovered over a giant slab of concrete which was laid out like a king's banquet with food that reminded me that it was almost lunch time. I had arrived safe and sound at the Sydney Food Bloggers Xmas Picnic.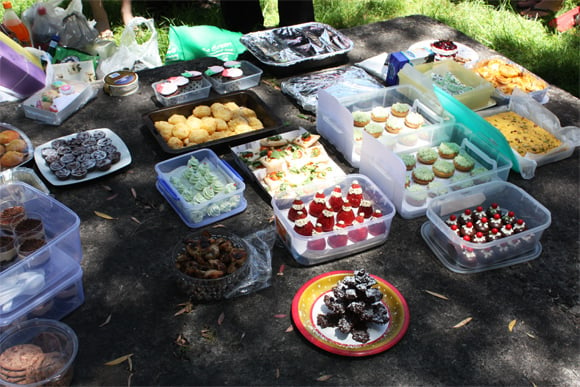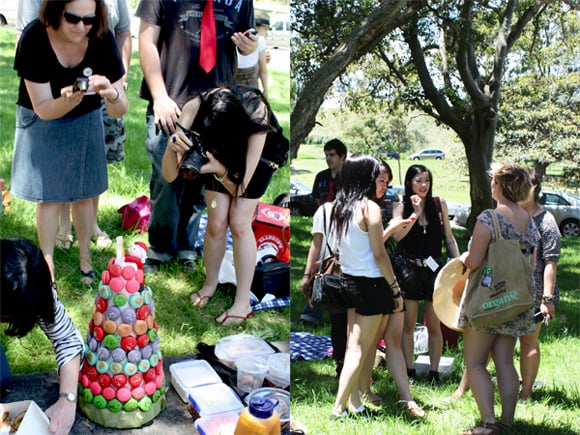 I got my name tag, pinned it on and proceeded to add my box of fudge to the assortment on the concrete slab. No sooner had I done this that a handful of people descended on the new addition with their lenses poised. "Oh, so that is what you have to do!" I thought to myself. I grabbed my camera and waited at the slab's periphery, eager to capture things from my perspective. I was learning fast.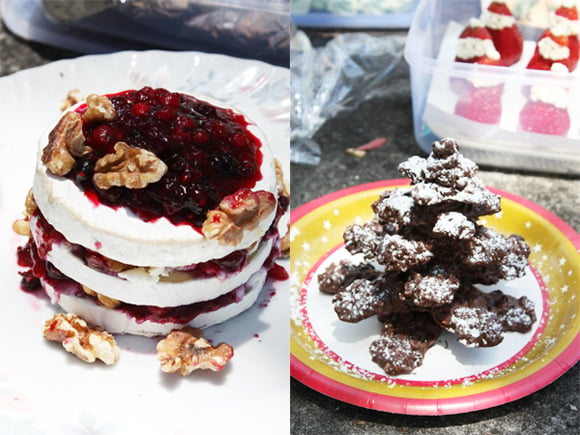 Georgia from Bakery Bookery proved that simple indeed can be special with this beautiful concoction of cheese and cranberries which I enjoyed thoroughly.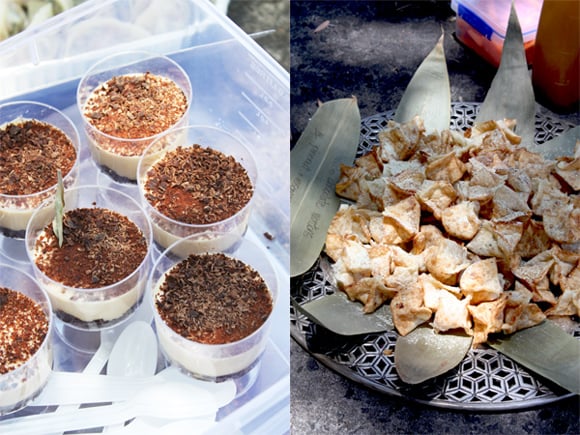 I went a little nuts over John's (He Needs Food) Fried White Chocolate Wontons With Rosemary Hazelnut Praline and had two! I so made a pig of myself over Gaby's (Lateral Eating) Peruvian fruit cheesecake brownie dessert. Beautifully presented and delicious to the last scrape of the spoon.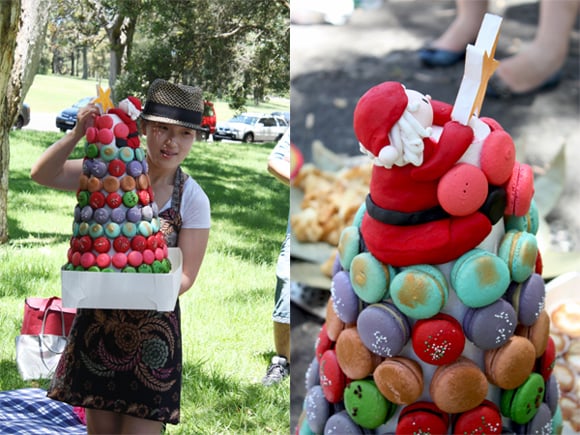 Cleony (I Eat Sweet) outdid herself with the gorgeous macaron tower. I willed myself to have only one and it was probably the best one of the motley of colorful rounds adorning the cone. The red macaron I tried had the best rose cream ever and was absolutely festive. Just like the juicy Santa I had (now that sounded wrong!), but the gigantic juicy strawberry fashioned into a Santa was pure genius courtesy of Absolutely Ayanna.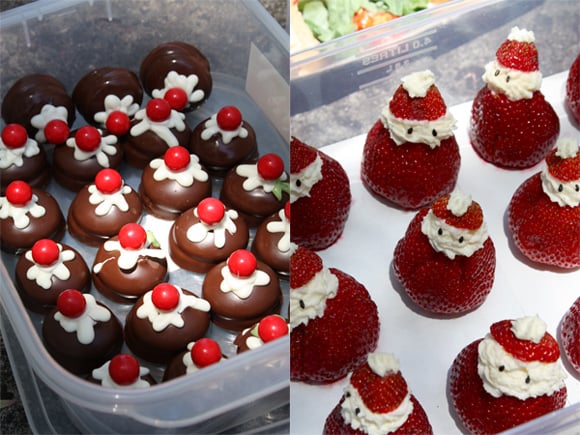 I promise, I was responsible and sampled a lot of the savouries too. Although I did miss out on Billy's ribs. I was no match for the younger people who can apparently move lightning fast.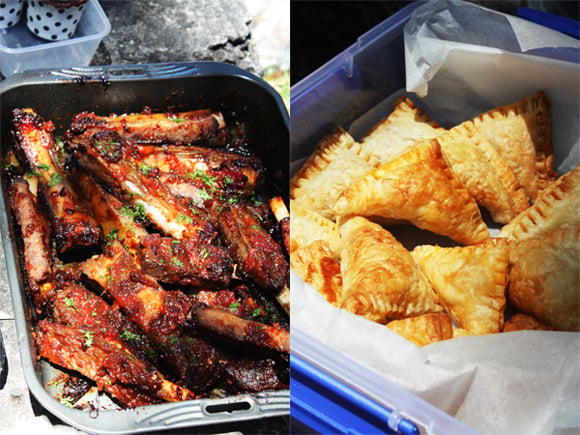 We had Food Olympics and our team was called The Fondant Penguin and was made up of Melanie (The Adventures Of Miss Piggy), Phuoc (Phuoc'n Delicious ... oh I so love that name!), Adrienna (Fish In A Car) and yours truly. Adrienna was our little chopstick ninja flicking soy beans with amazing dexterity. Phuoc was our blind taster, Melanie plated up the entire macaron tower while I borrowed Phuoc's iPhone to be the photographer for the plating. We won a bronze, yay!!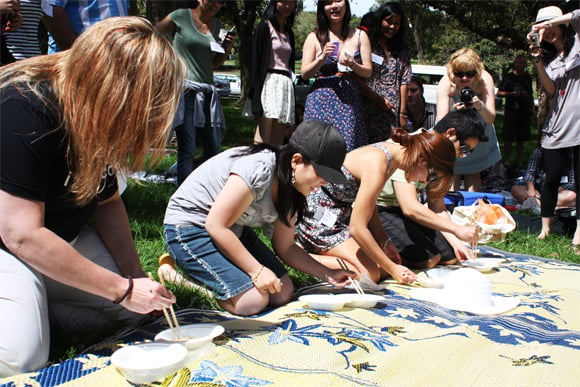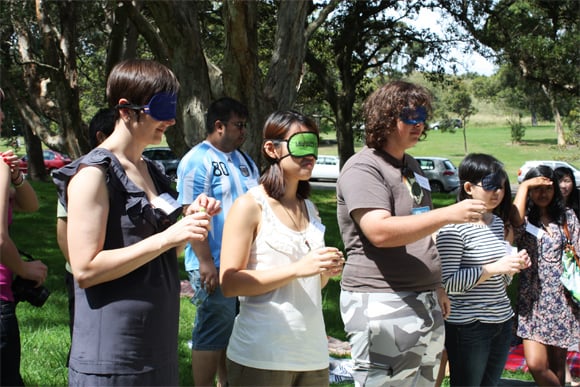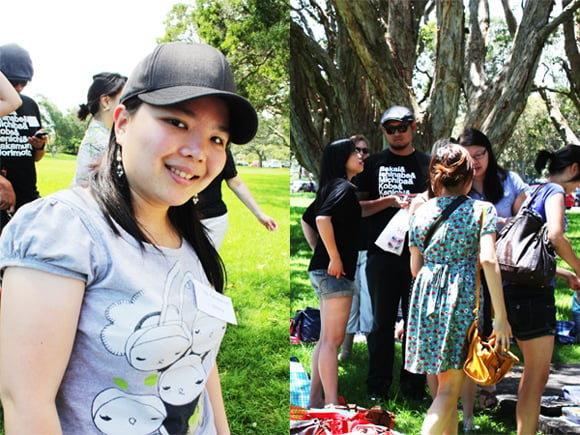 Kris Kringle was absolute fun. It was my *gasp* *shock* FIRST Kris Kringle! Its not that I don't get invited to parties, only that I've been living under a rock. So the bonfire of presents in the center of this crowd of thieving, conniving food bloggers (including myself) proved to be highly entertaining. Presents were picked, snatched, snatched back, coveted and snatched some more. I stole from Kat (Noodlies) and I am not proud but it was worth the squeals of joy from my two little boys when I showed them the rocket ice pop molds.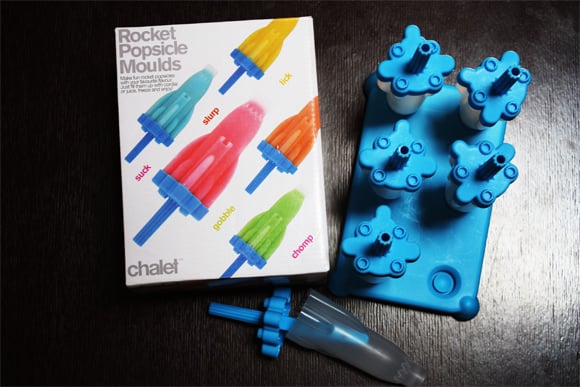 I was also honored to be standing next to Sheena (A Sticky Affair) when she managed to hold on to the Cake Wich which along with the Ninjabread men was apparently cursed till the very end. Josh (Belly Rumbles) got full marks for persistence in pursuing and retaining his ninjas. Kimberley (Kaybscakes) enlightened me on the form and function of the Matryoshka measuring cups. Karen's neon banana had a little fork. That statement was totally random. It is truly amazing what the mind retains from get togethers like this one. As I am always on the lookout for fun foodie gifts, gadgets and kitchen paraphernalia, watching everyone open their presents and reveal whimsy and quirky food gifts was an absolute delight.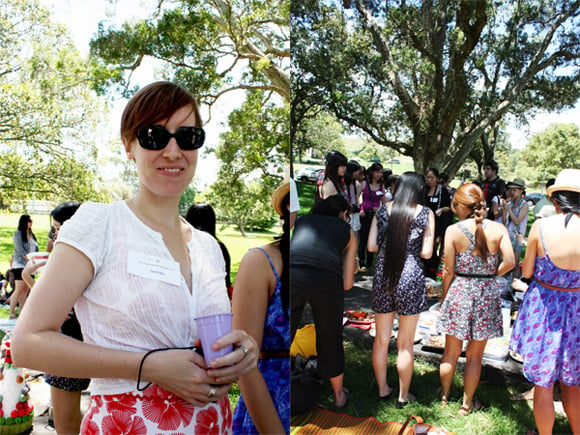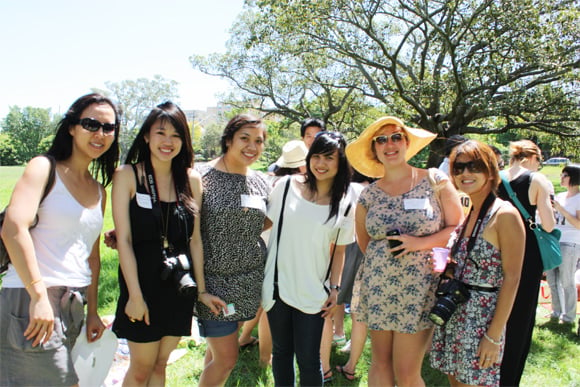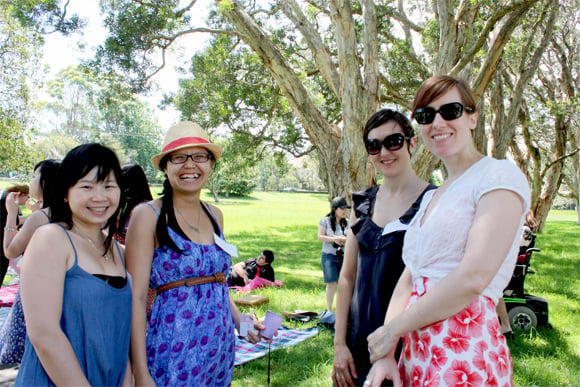 As the evening bore down on us, plates emptier, bellies fuller and group shots done; we started trickling out of the park happy to have come. I left with Melissa (Mel's Love Of Food) and we had an easy conversation going on as we outrun two dogs on leashes and the bumpy bus rise back to the station. I finally got to meet people I have only seen and followed on the interwebs like Peter from Souvlaki For The Soul, Karen from Citrus & Candy and Billy from A Table For Two and many fresh faced bloggers that I didn't know about.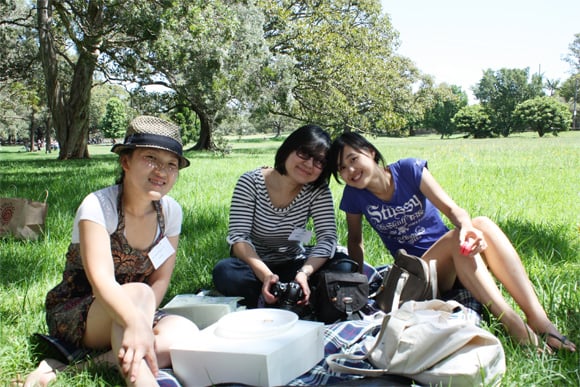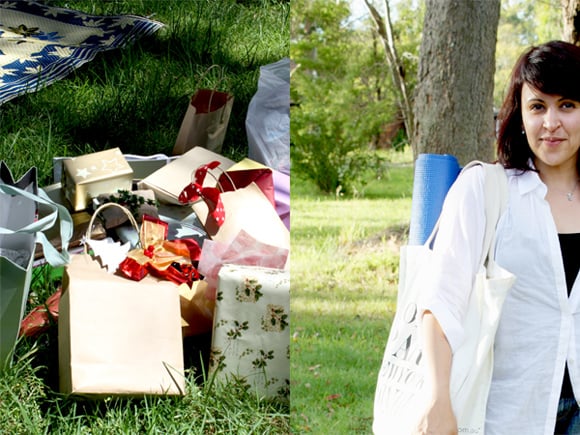 At the end of the day when I reunited with my family who were back from Koala Park, my boys had taught the cockatoos a few new words, my other half had annoyed a cockatoo into a screaming frenzy and I had something to blog about.
Until the next food blogger's meet.