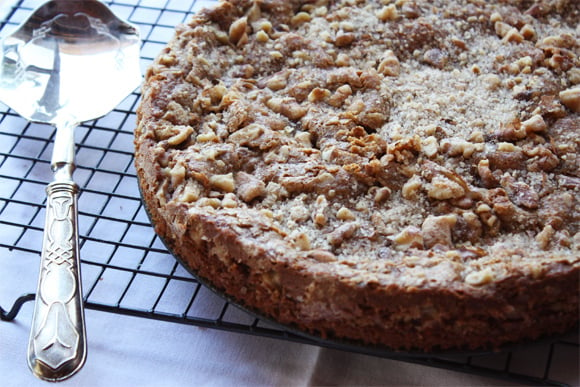 A recipe doesn't have to come from a fancy schmancy cookbook to be really good. Take this recipe for a gorgeous coffee crumble cake that I found in The Sydney Morning Herald's Good Living section. If you are a regular reader of my blog, you will know that I just can't resist a simple recipe. What makes a simple recipe? Simple ingredients, fewer ingredients, no nonsense approach to cooking (no mixing wet ingredients with dry ingredients dramas, no separating lots of eggs then worrying about what to do with the yolks). It doesn't mean I don't try out complex recipes with a million and one steps. I just like simple recipes. They make me happy and amazed at how little can go towards creating something so delectable.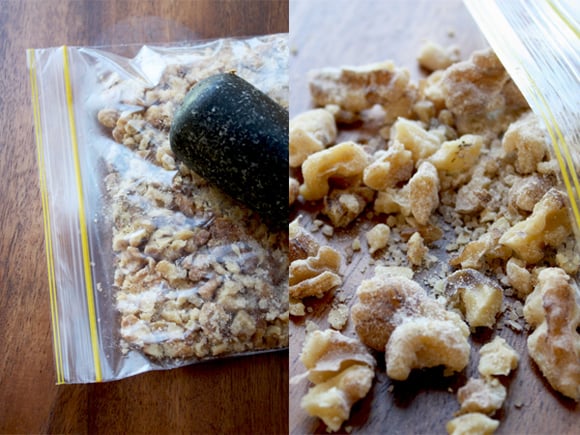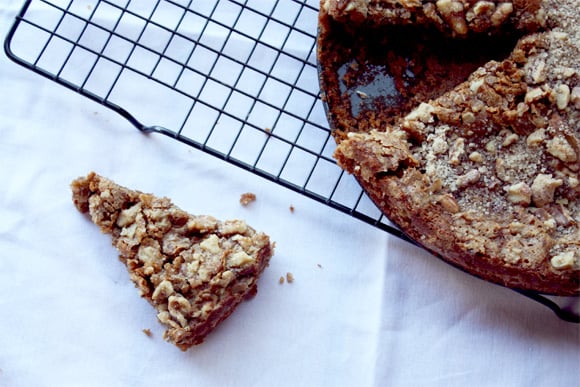 This cake recipe that I found was by Jill Dupleix. If you live in Australia or the UK, you'll most likely know who the lovely Jill is. If you don't, Jill is a celebrity chef who was born in Australia and was Sydney Morning Herald's food writer before scoring the position of The Times Cook in London. She has several amazing cookbooks (which I own and cook from all the time) full of simple recipes that just make you want to cook.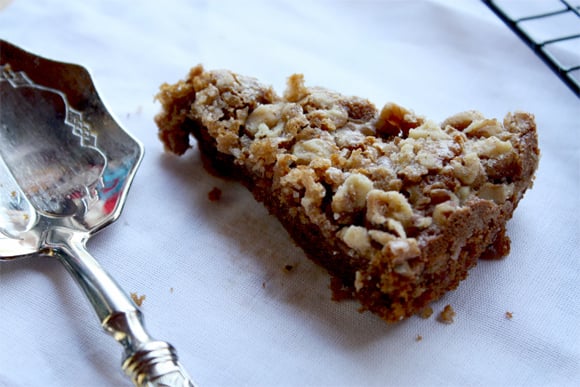 I love coffee cakes. Not cakes that are meant to be had with your coffee like teacakes that are meant to be had with your afternoon tea. But cakes with actual coffee in them. It has been a while since I baked one and I've never made a coffee crumble before, so this recipe was very intriguing indeed. I increased the quantity of walnuts and added some nutmeg. The cake turned out to be absolutely fantastic with the dense base and crunchy crumble. It was very moist and had a beautiful coffee flavour. I am making this again with a smattering of chili in the crumble.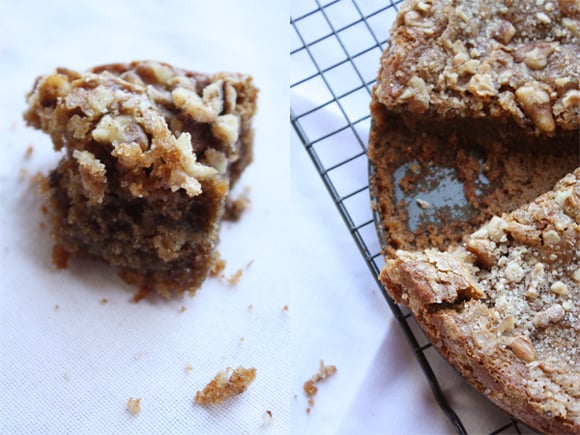 [print_this]
recipe
COFFEE CAKE WITH CINNAMON WALNUT CRUMBLE
Preparation Time - 10 minutes | Baking Time - 50 minutes | Serves - 10
Ingredients

For The Cake
150g caster sugar
125g unsalted butter, softened
a pinch of salt
3 large eggs
125g sour cream
2 tablespoons very strong coffee
1/2 teaspoon vanilla extract
170g self-raising flour
1 teaspoon baking powder
2 tablespoons milk
For The Crumble Topping
90g walnuts
50g raw sugar, granulated
1 tablespoon plain flour
1 teaspoon ground cinnamon
1/2 teaspoon ground nutmeg

Method
Preheat oven to 180°C. Grease and flour a 20 centimeter round cake tin.
Beat sugar,butter and salt with an electric beater until pale and creamy. Add eggs, extract, sour cream and coffee. Beat until smooth.
Add sifted flour, milk and baking powder. Fold gently and mix well.
In a ziplock bag combine all ingredients for the crumble topping. Zip it close leaving a tiny bit open at the end. Lay on a flat surface like a chopping board. With a heavy spoon or stone pestle gently bash the ingredients coarsely to get your beautiful crumble.
Spoon the cake batter in the prepared tin. Scatter the crumble over the batter evenly. Bake in the center of the pre-heated oven for approximately 50 minutes until cooked. Cool on a wire rack and serve.
Notes
Don't go easy on the coffee. I mixed 3 tablespoons of instant coffee in 2 tablespoons of water. The coffee flavour was full and robust.
Don't be tempted to over bake. The flour content is less in this cake and at the end of 50 minutes it doesn't rise like normal cakes do, which is just the way it should be. The end result is similar to a flourless chocolate cake.

[/print_this]