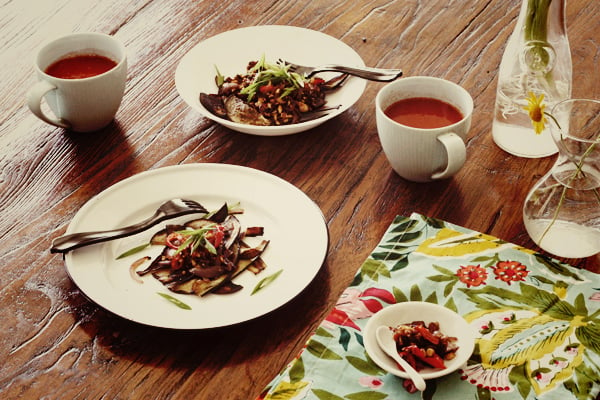 This is my go-to dish for a solitary weekday brunch. I love eggplant, especially if it is smoked or charred. It is earthy with a robust flavour that is very warming especially during winter. This charred eggplant salad is Asian inspired and served warm. It has a delightful crunch from adding the peanuts and a lot of heat from the chili. It is my pick-me-up during slow afternoons.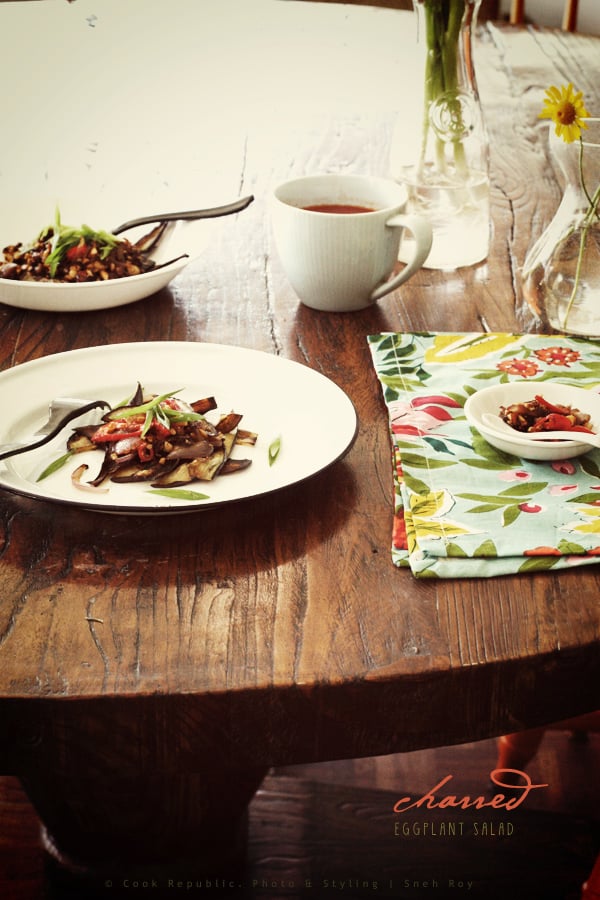 I use lebanese eggplants, the small long thin variety. I slice them quite thin. This is important in achieving the dry ribbon-like charred bits while cooking. I would prep everything before hand, because you want to eat this while it is still warm. It is sensational while still warm. The eggplant needs very high heat and a short cooking time to avoid it going soggy. If you prefer less spice, reduce the amount of chili. You can also zing it up with lime zest and a dash of fish sauce.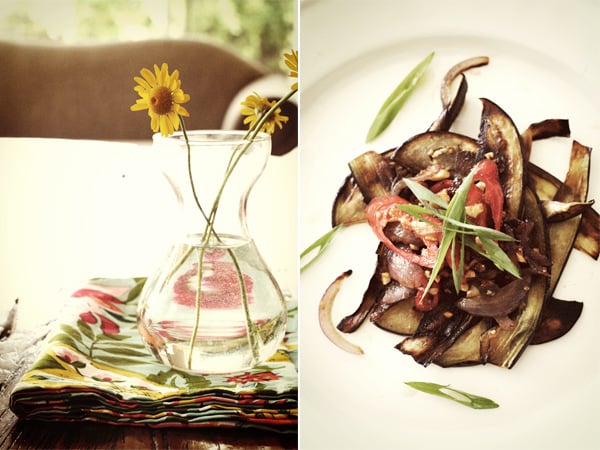 [print_this]
CHARRED EGGPLANT AND CHILI SALAD

An Asian inspired warm charred eggplant salad with the crunch of peanut and bite of red chili.
Preparation Time - 10 minutes
Cooking Time - 10 minutes
Makes - To Serve 2
Ingredients
eggplant
2 Lebanese (small and thin) eggplants (aubergines), thinly sliced lengthwise
2 tablespoons sesame oil
salt to taste
dressing
1/4 cup crushed peanut
2 large red chilies, finely sliced
1 red onion, thinly sliced
1 tablespoon sugar
1 tablespoon sesame oil
salt to taste
garnish
1/4 cup fresh coriander leaves, chopped
1/4 cup spring onions, sliced fine
1/4 cup carrot (purple or red), grated
dash of soy sauce
lime wedges to serve
Method
make the dressing
Heat oil on high in a saucepan. Add chili, onion and peanut. Sauté on high for 2 minutes. Remove from heat and set aside.
prepare the eggplant
Heat oil in a frying pan on high. Add the eggplant, sugar and salt. Sauté on high for about 4 minutes, turning eggplant constantly with tongs until glazed and chargrilled in places.
prepare the garnish
Combine all ingredients in a bowl and toss gently.
assemble the salad
Place slices of eggplant on a plate. Scoop a tablespoon or two of the dressing on the eggplant. Heap generously with the garnish and serve warm.
[/print_this]