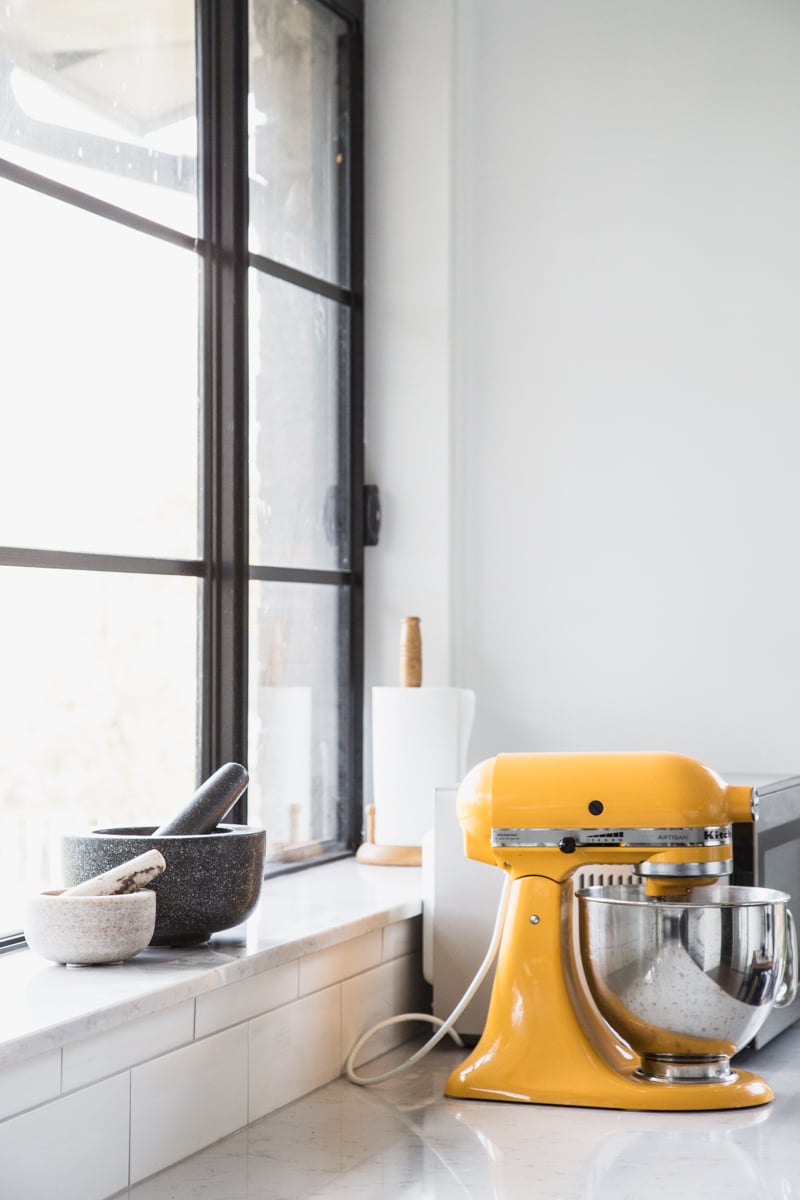 For 8 years, I worked day and night on a single steel bench overflowing with kitchen paraphernalia, food, portable cooktop and very little working space. The barely functioning kitchen housed an old oven, a leaking sink, sunken and peeling countertops and basically served as a large mustard storage space. And I had fun with those limited resources testing recipes for my blog, writing a cookbook and developing new flavours for clients. Because I knew someday we would save enough to change it all. Then I won a $30,000 kitchen makeover by
the Good Guys
at Kidspot's
Voices Of 2013 event in November
last year. And everything changed!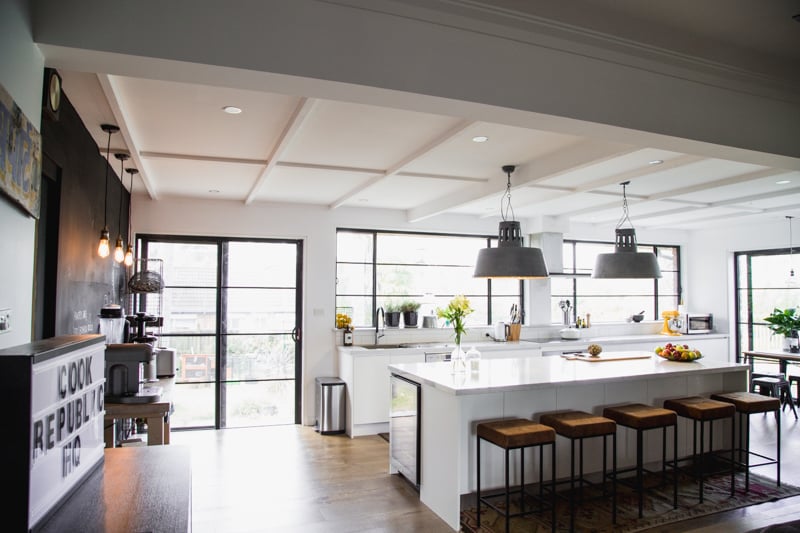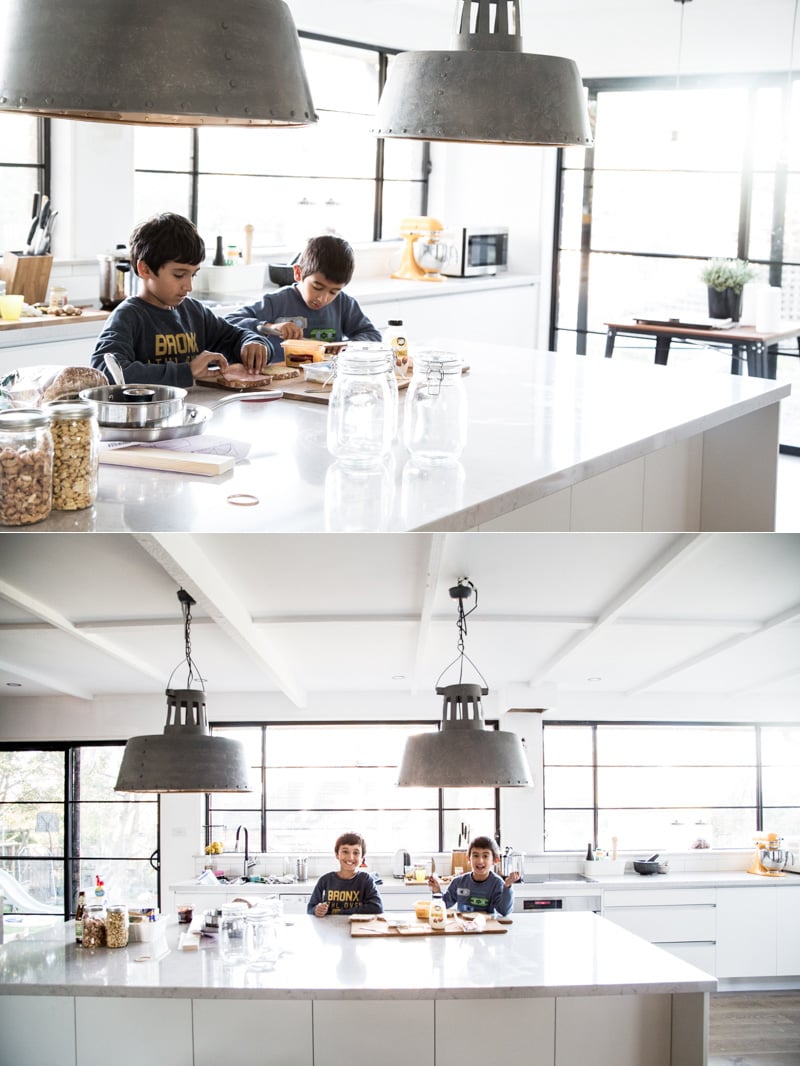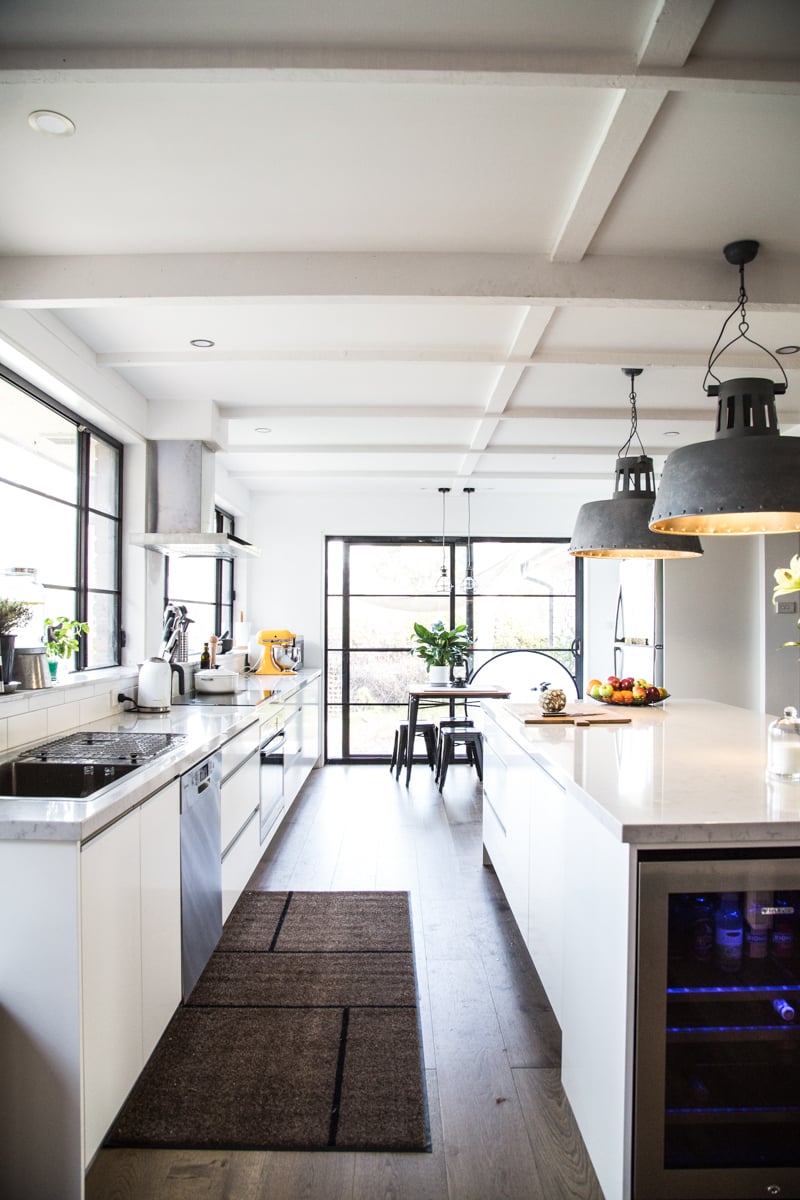 With an amount so generous, we decided to fast track our renovations and so began what would become a six-month-and-ongoing exercise to create a beautiful space for our family and for my work. Our old kitchen was in the centre of the house with extensions to the house radiating off it. I wanted the kitchen to be close to windows and the outer wall of the house.
Our home is close to 60 years old and had dark wood panelling on the walls, a patchwork of rose hued carpet, slate tiles and parquetry flooring flowing throughout. We also had all these walls and openings creating unnecessary nooks and stealing all the light and usable space. Knocking down walls and making it open plan was one of the first things our builder did. We wanted to retain all that gorgeous light in our family room (that I used as my kitchen/study/studio). So we made one of the best decisions we have which was to build a low lying kitchen with massive counters/island and not have any cupboards or storage overhead. Which meant, we could have beautiful long windows running along the length of the 6 meter long counter.
Our old space had metal and glass doors, reminiscent of the French industrial era; the kind you would find in an old factory or warehouse. We wanted to carry that look through our renovation. We spent hours configuring the most perfect set of windows with bold black bars that were dynamic and changed the look just by sliding and creating an entirely new configuration.   We pulled up our old timber floor boards and lay down wide oak planks with gorgeous wood knots and grain detailing.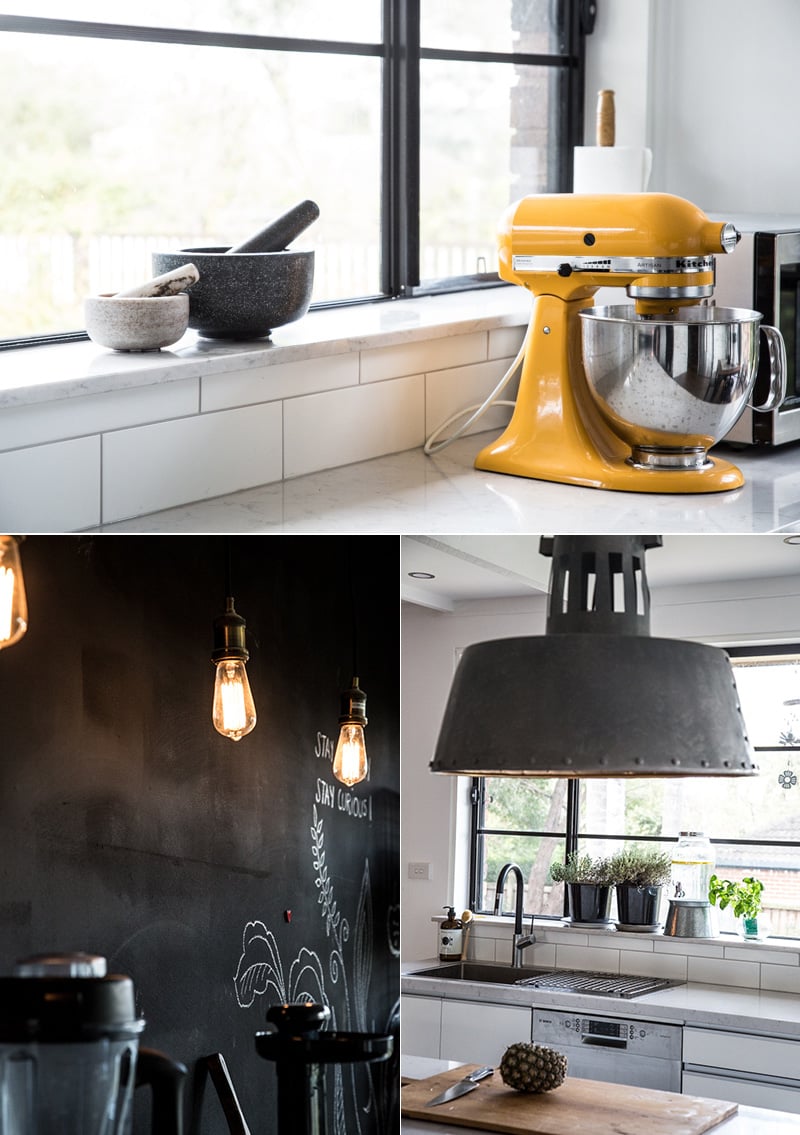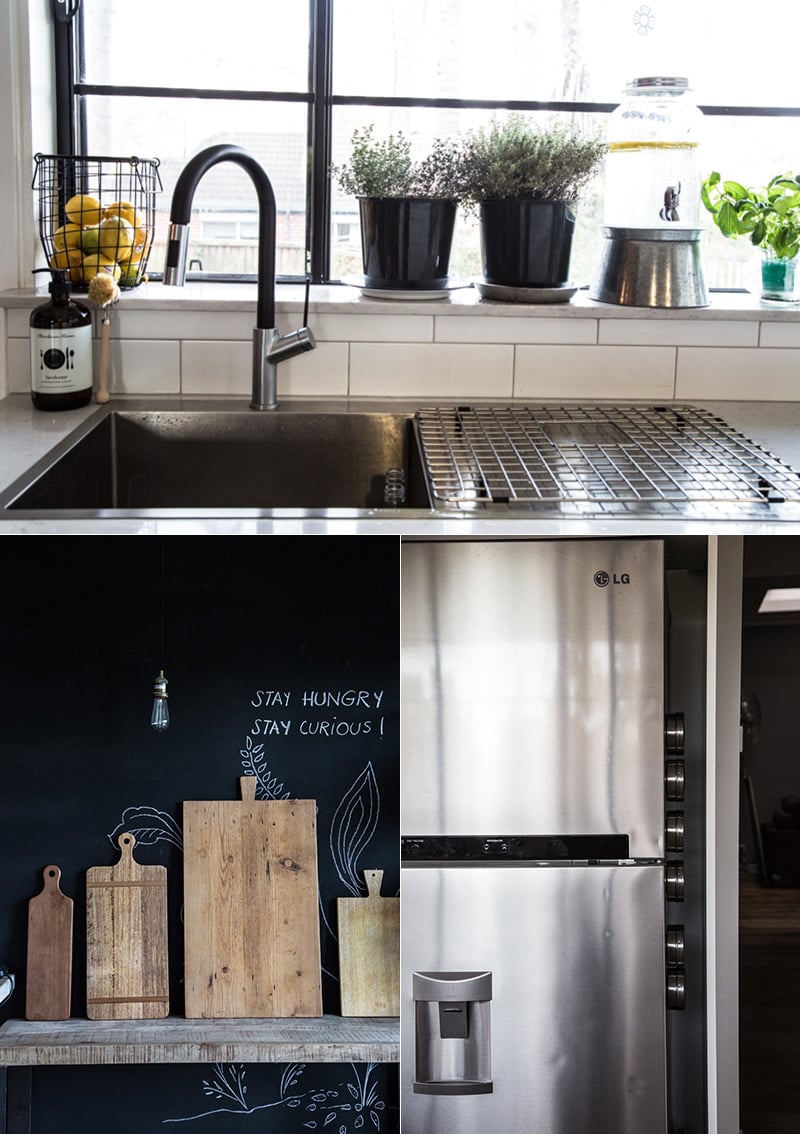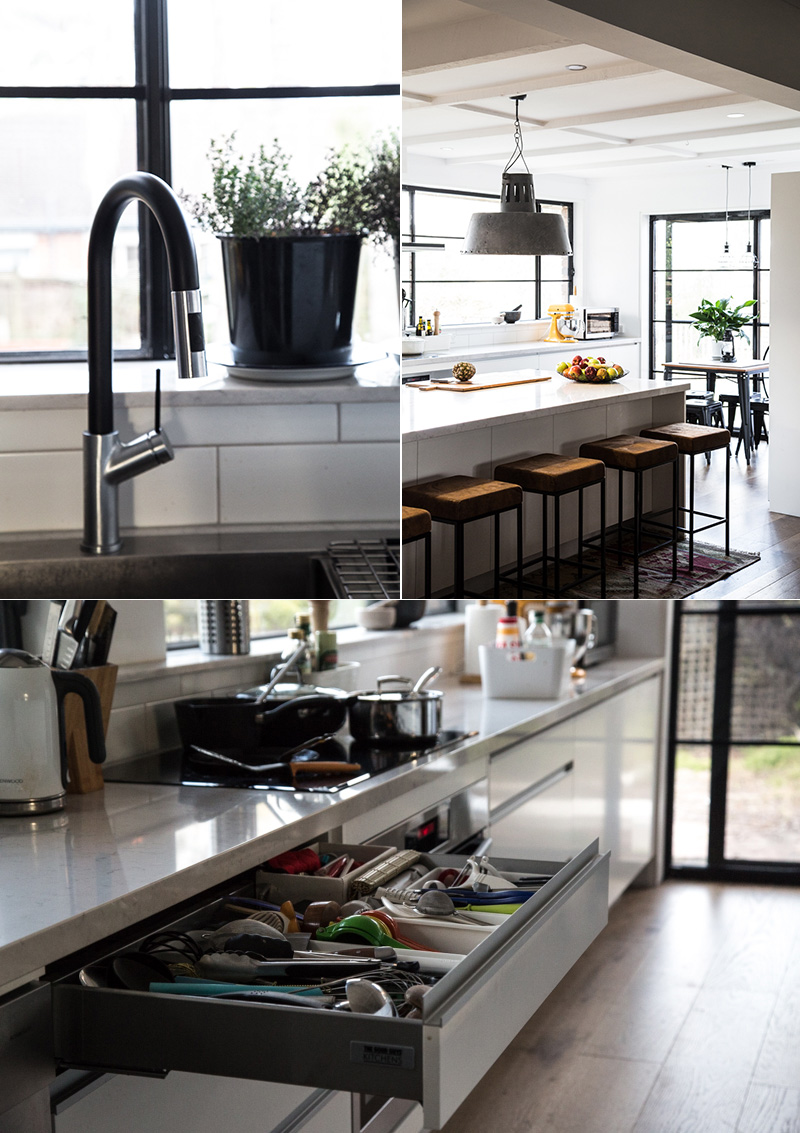 We reclaimed some of the space from the new kitchen zone and built a new bedroom for Rish. Some of the space went into an ample walk in pantry hidden behind a chalkboard/magnetic wall. Our laundry was moved into a compact cupboard with bifold doors within the living area. The old fireplace was half sealed and lifted to a sexy rectangular reveal high in the wall. The idea was to have a portable biofuel burner during the colder months and a display of indoor potted plants during summer.
The kitchen was built to enable small groups of 6-8 to cook together. I retained the same old corner I have always used for my photography. Nothing fancy. I have realised a good window and enough space for a small table is all you need for smashing photos. The
sink is a huge professional sink
with a pull out tap mixer that also has a spray. I love
the black tap by Oliveri
. Just love it! Although my photography style is often dark and moody, I knew I wanted a bright light filled space for my kitchen and a nod to marble. So we chose to go with Lagoon by Silestone that mimics a soft marble facade for our bench top. The 6 meter long counters have a matching window sill in the same marble effect stone. It is super handy for herb pots, flower vases, sprouting jars and other kitchen experiments.
My pantry storage was plastic and over 13 years old from my Singapore days so I decided to go all glass with the amazing Fido flip top jars. We chose induction mainly for the kids, for its aesthetic appeal and ease of cleaning. The Indian signage of an actual vintage truck banner was a surprise Temple & Webster find. I refreshed our old wooden chairs with some black paint and created this bold yet cosy dining corner with a hand loomed rug from India and industrial pendant to bring it together with my old reclaimed wood round table.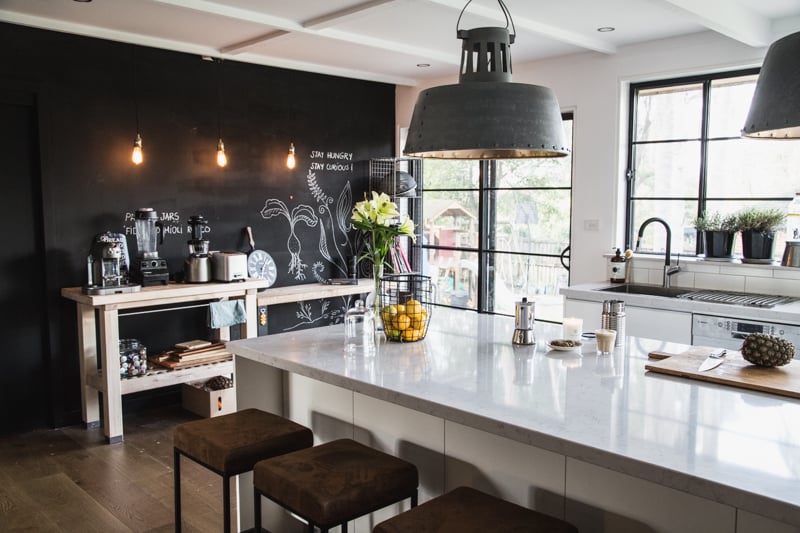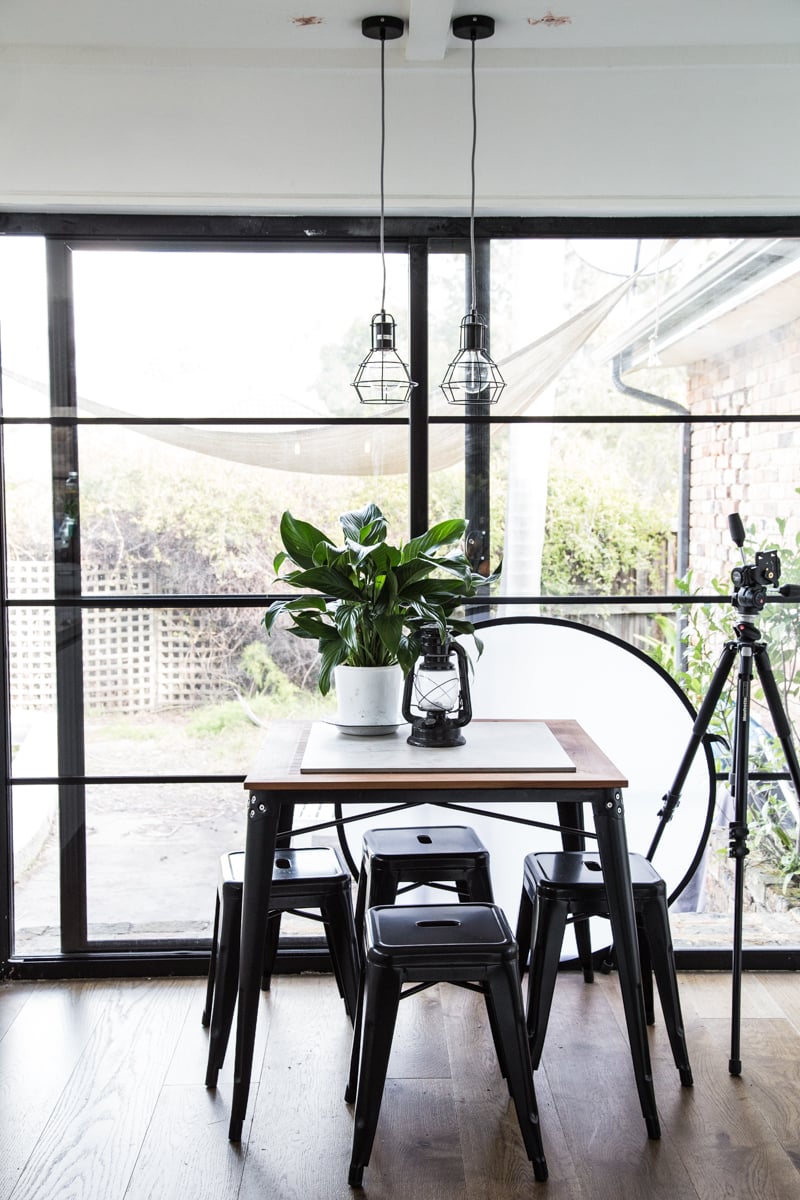 The library unit was a clever solution from IKEA where we bought a few different sizes and piled them to get floor to ceiling storage for my books. The stunning industrial fan light was Nick's find and was one of the first things we bought prior to demolition. After weeks of poring over industrial stools online (because it is just so hard to find them in the shops) and being completely uninspired by the round corkscrew stools that everyone seems to be going for, I found the gorgeous square Dakota stools. With a metal frame that matched our windows and a soft suede cushion, these were meant to be.
They are counter stools. Not bar stools. Because they match the counter height which is always lower than a bar. The beautiful and lush house plant was a dream of mine for years (see my plant obsessed Pinterest board) and we found just the right thing last week at our local nursery. It is a heart-shaped philodendron that makes that nook look like an amazonian rainforest. It is on NASA's list of top 15 plants that can save your life and plants that are impossible to kill. I hope I don't.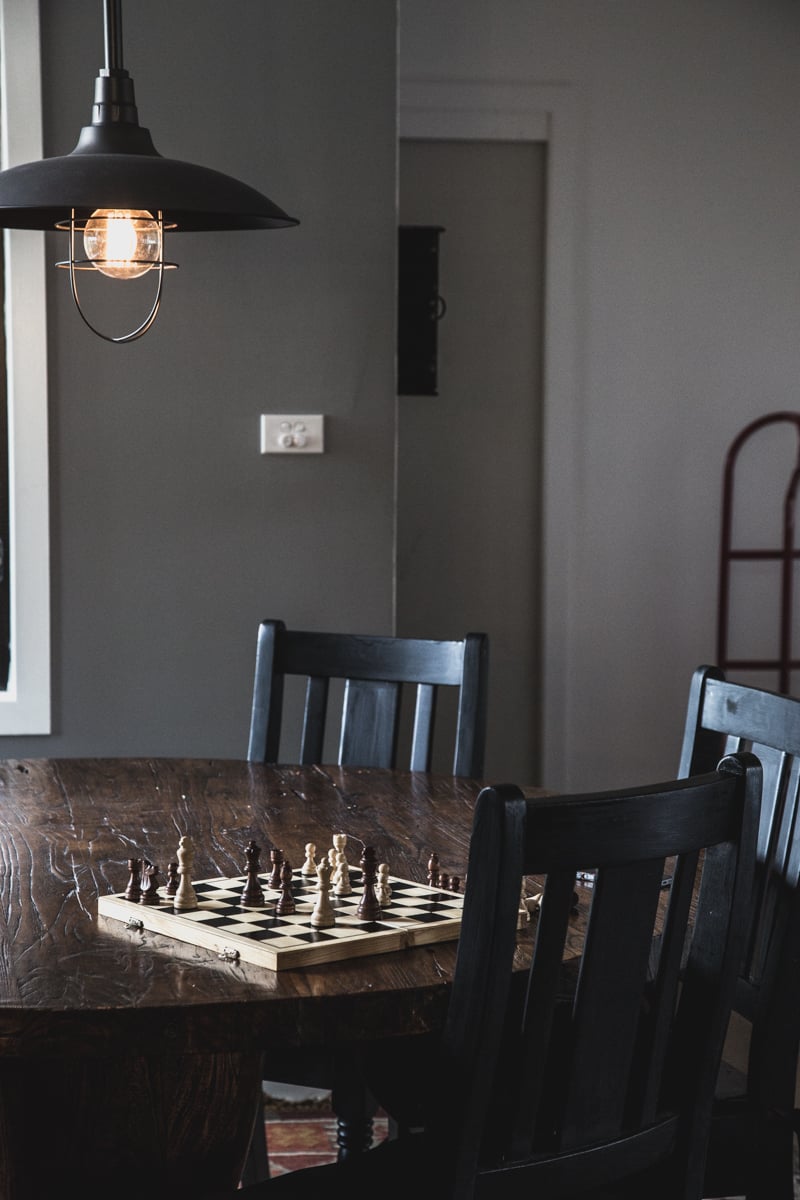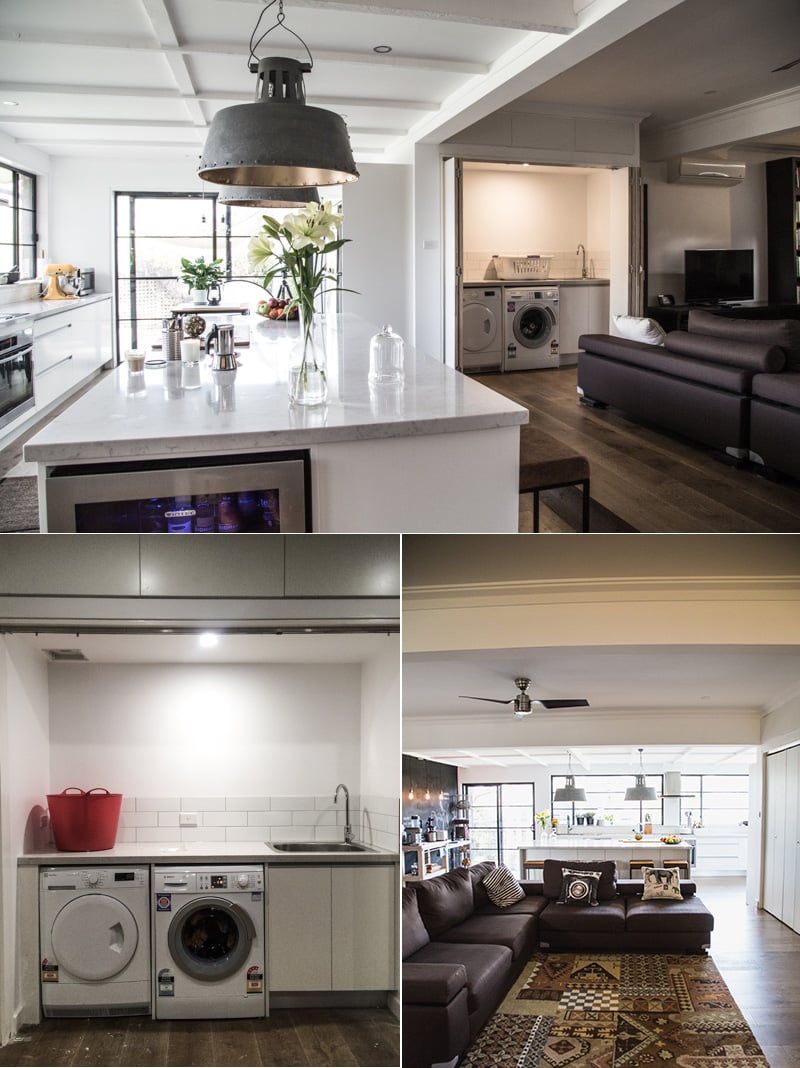 We began our process in early February with several visits to the Good Guys showrooms in Chatswood and Castle Hill. We looked at their kitchen display and brought back samples of Silestone benchtops. The Good Guys organised for a designer to visit us at home and create the kitchen we were after. Blake spent an entire day discussing our needs and bringing our design to life on screen.
Because the Good Guys were sponsoring The Block and because I was a prize winner, there were a few hiccups in initially getting the whole process rolling but once all the different companies got involved (Kitchen/Appliances/Benchtop), things started happening. The girls at The Good Guys were amazing throughout the process, super helpful and always there to assure me that things were on track (thank you Leiana, Monica, Lisa!).
Holly and Blake from the kitchen group worked tirelessly to get the design and kitchen contract running smoothly. Anjana from The Good Guys Castle Hill showroom was a champ when it came to appliance pricing and Michael Pap our installer got it done without a hitch. Darren Brooks put the spotlight on all the right bits (quite literally with his fancy electrical work!). But this amazing space came to life with the tireless efforts and vision of
Craig Becchio
, the most intuitive and resourceful builder there was.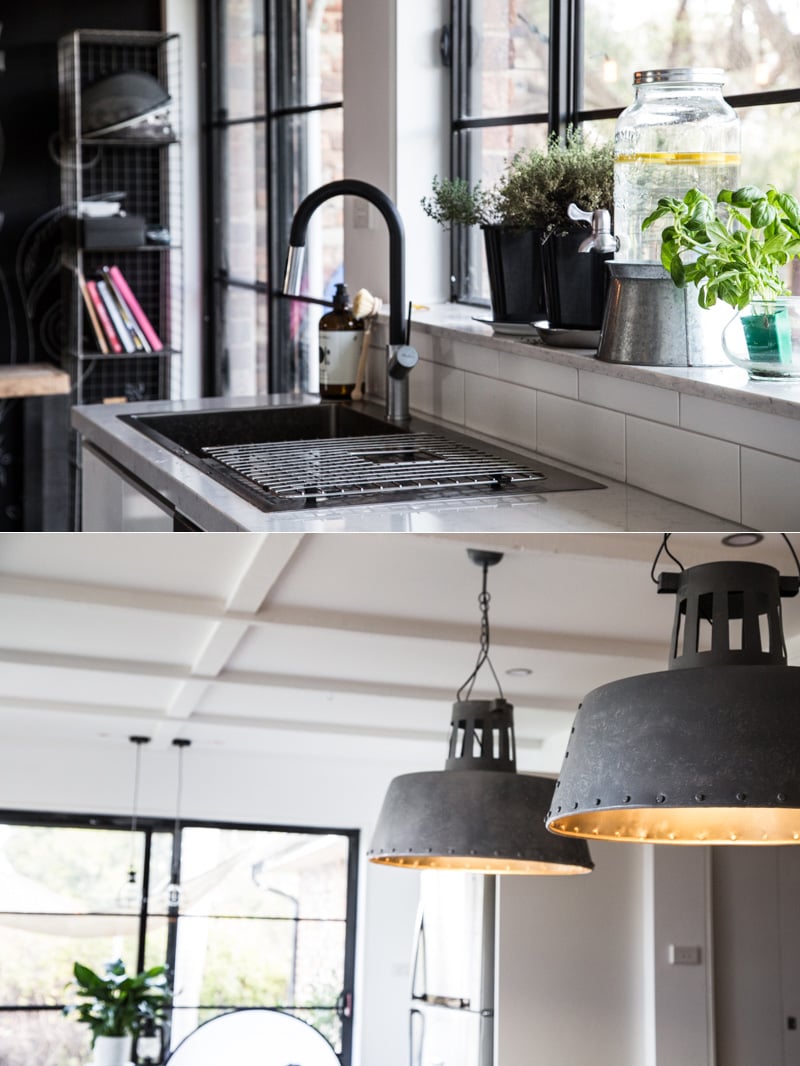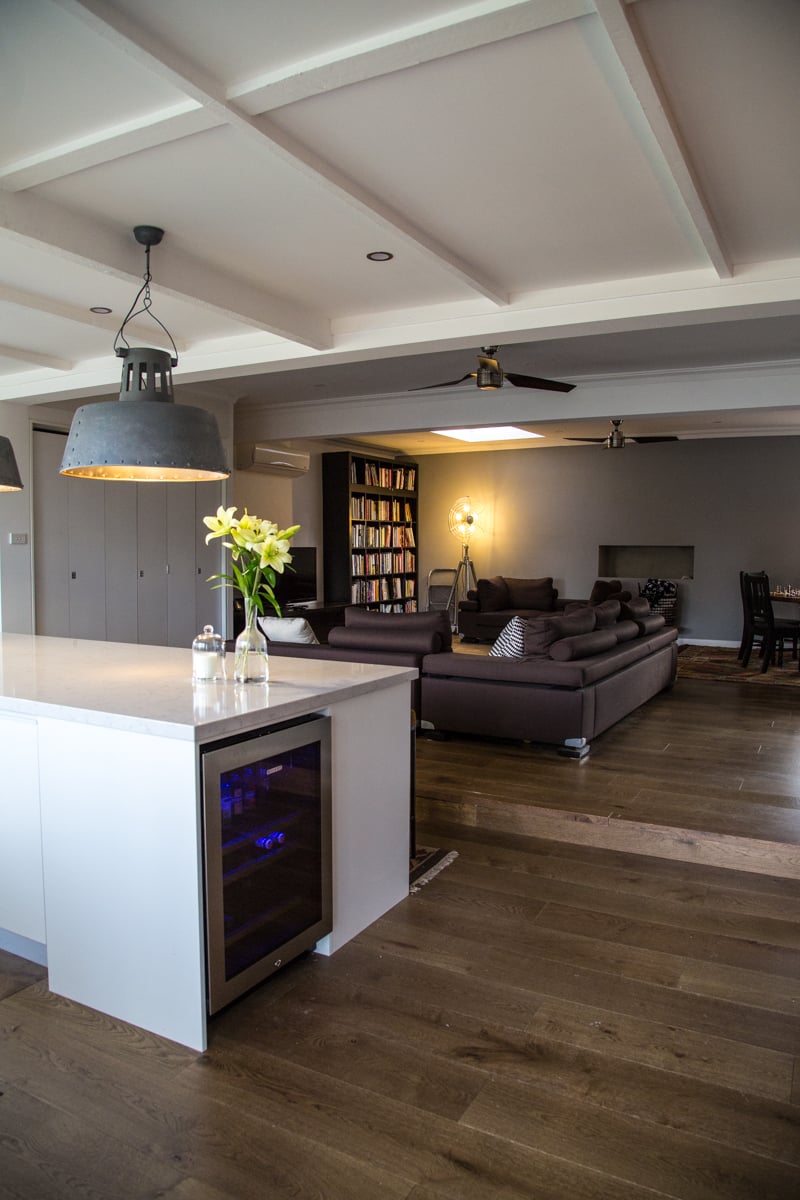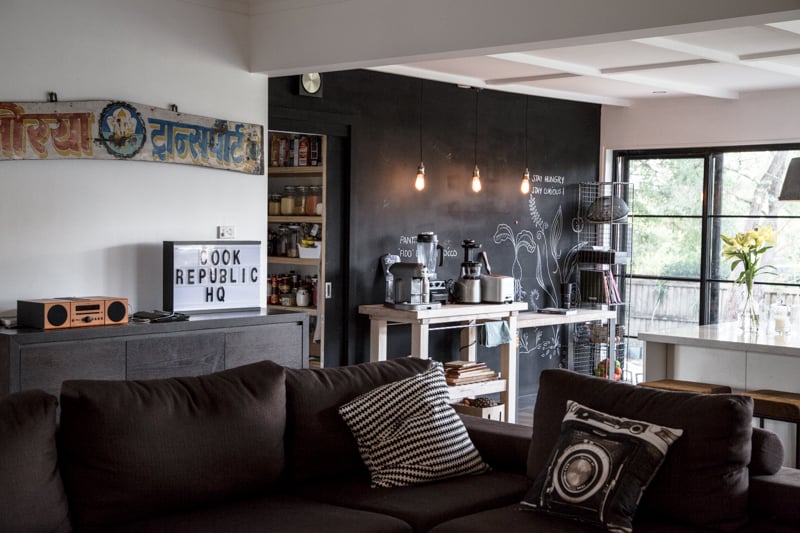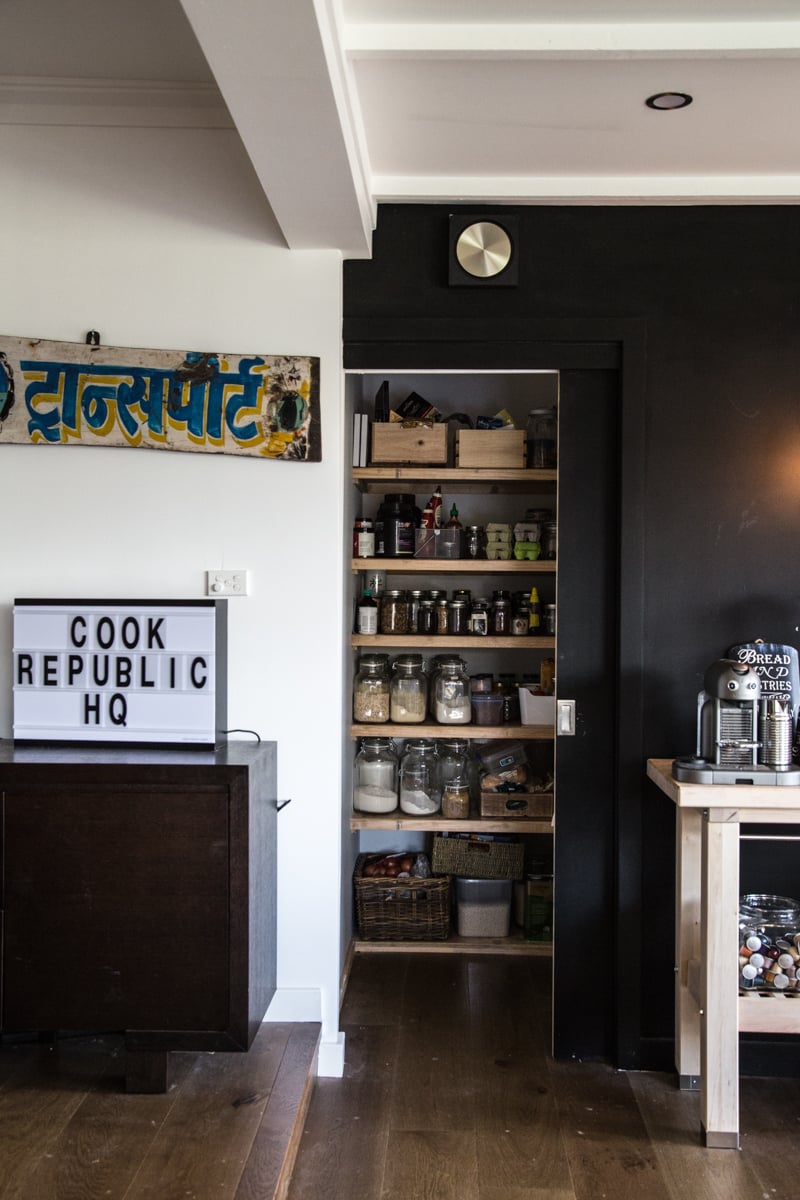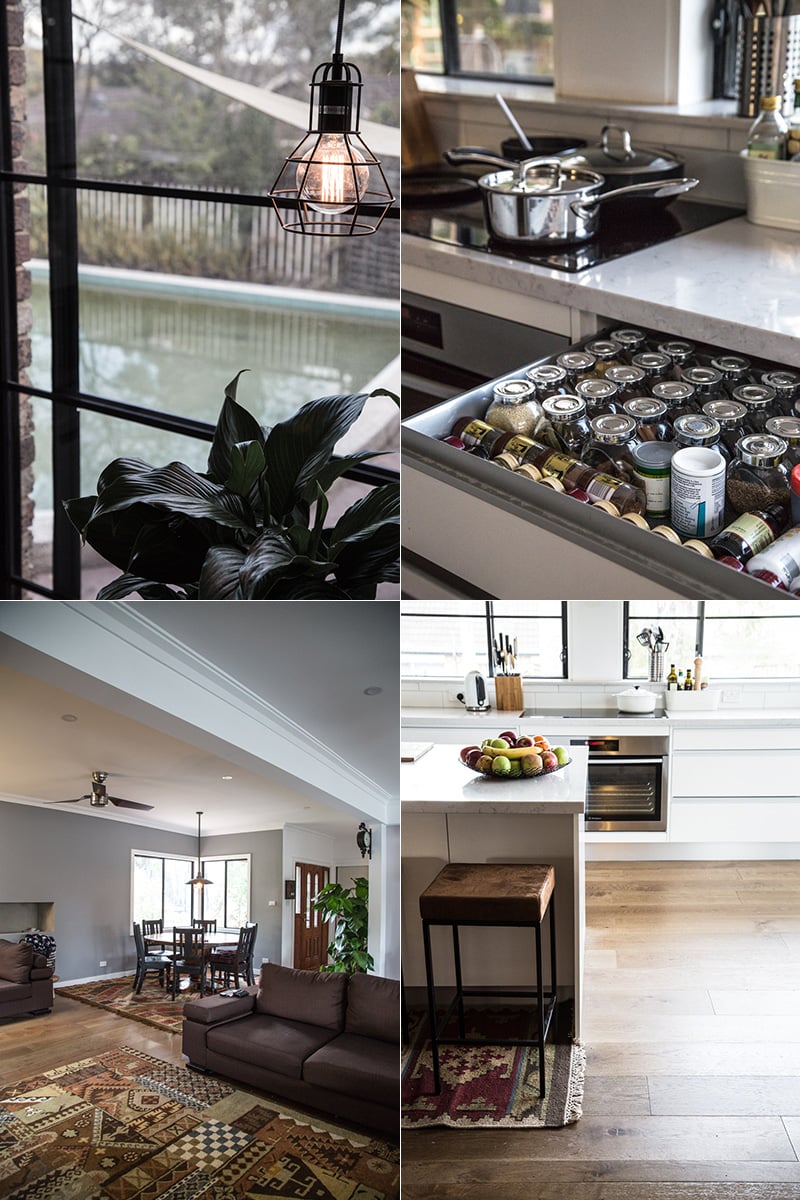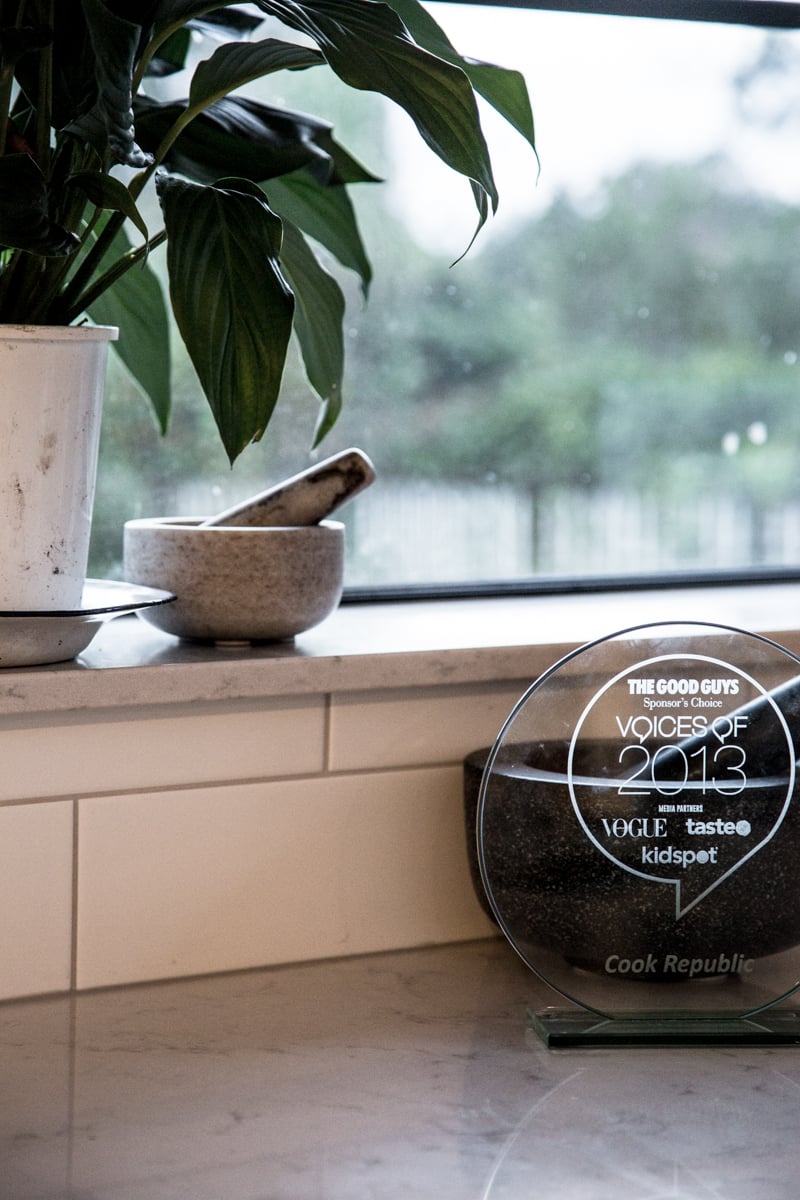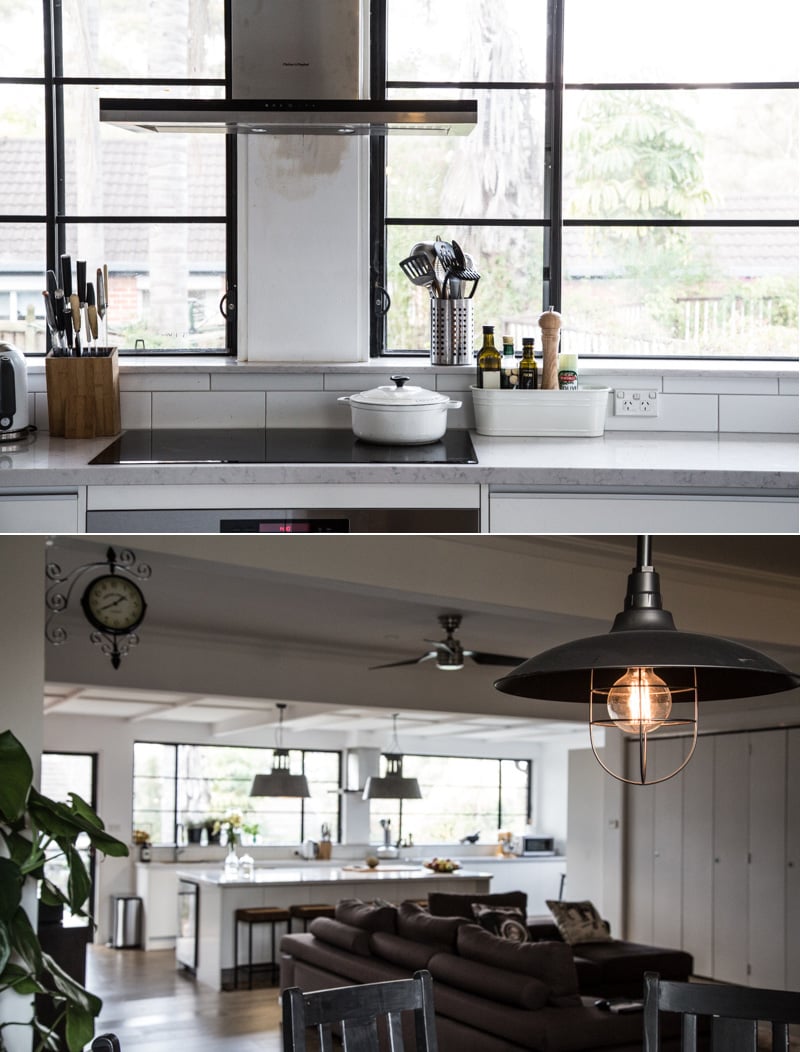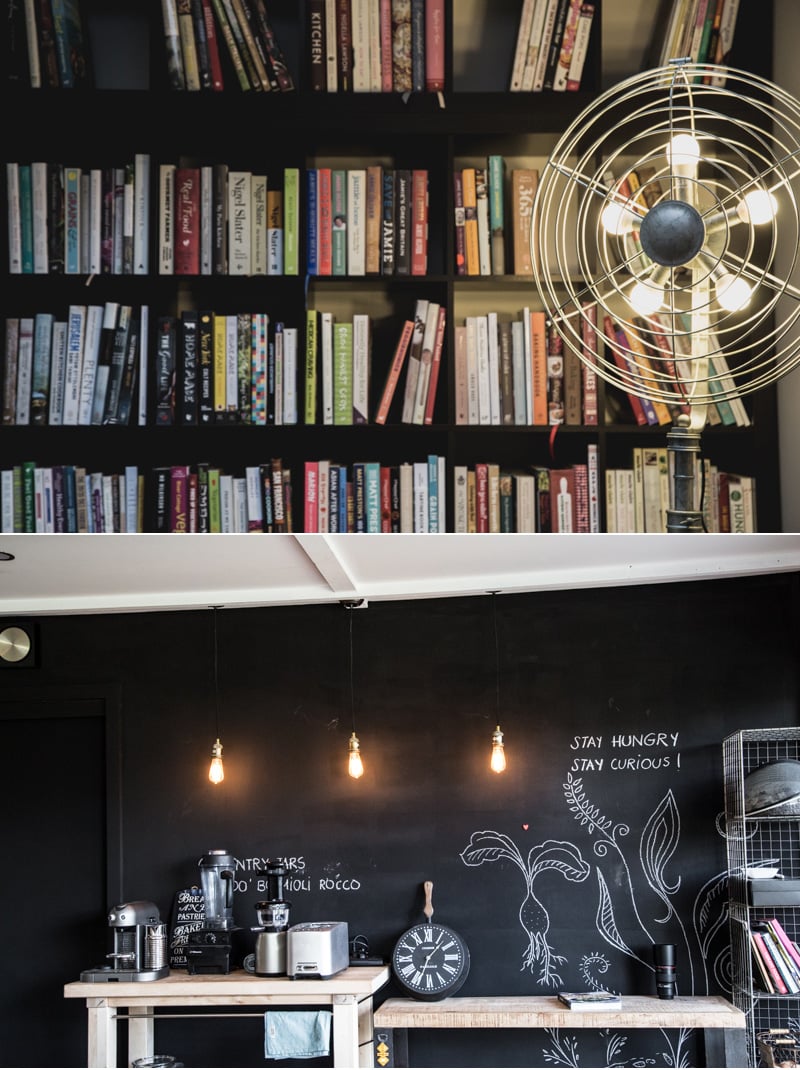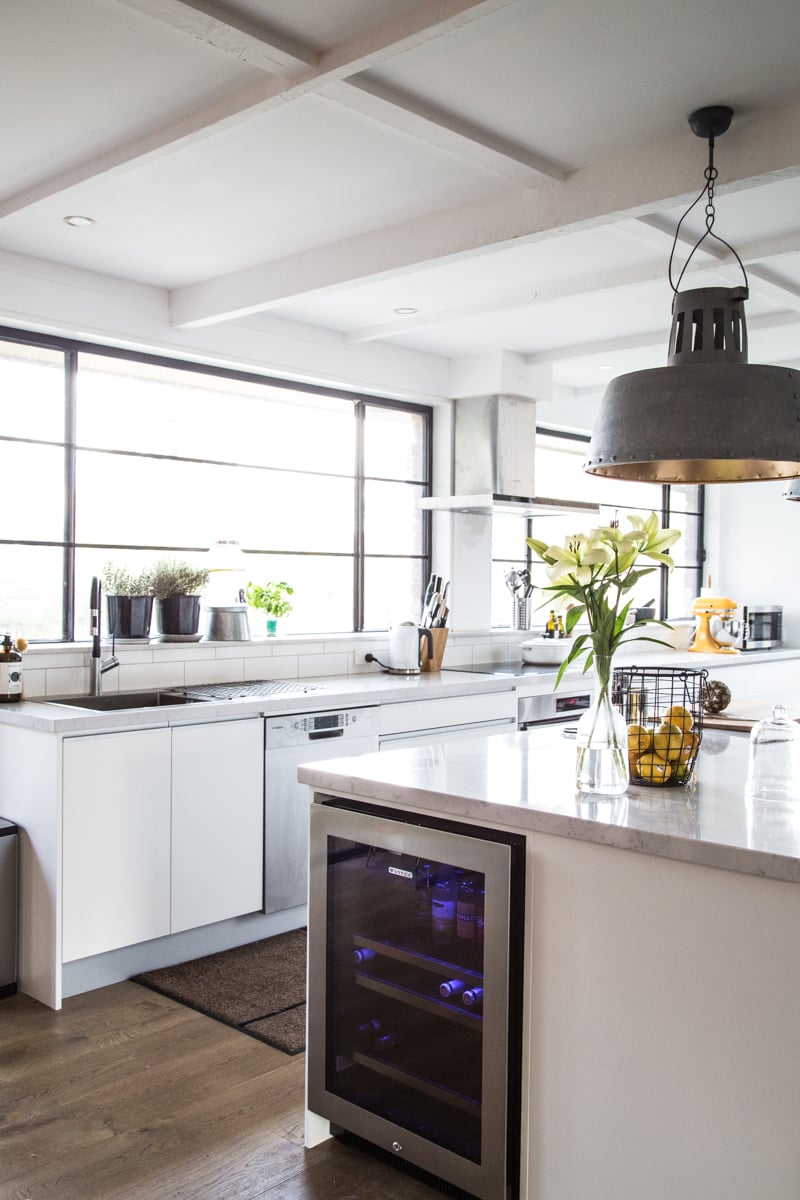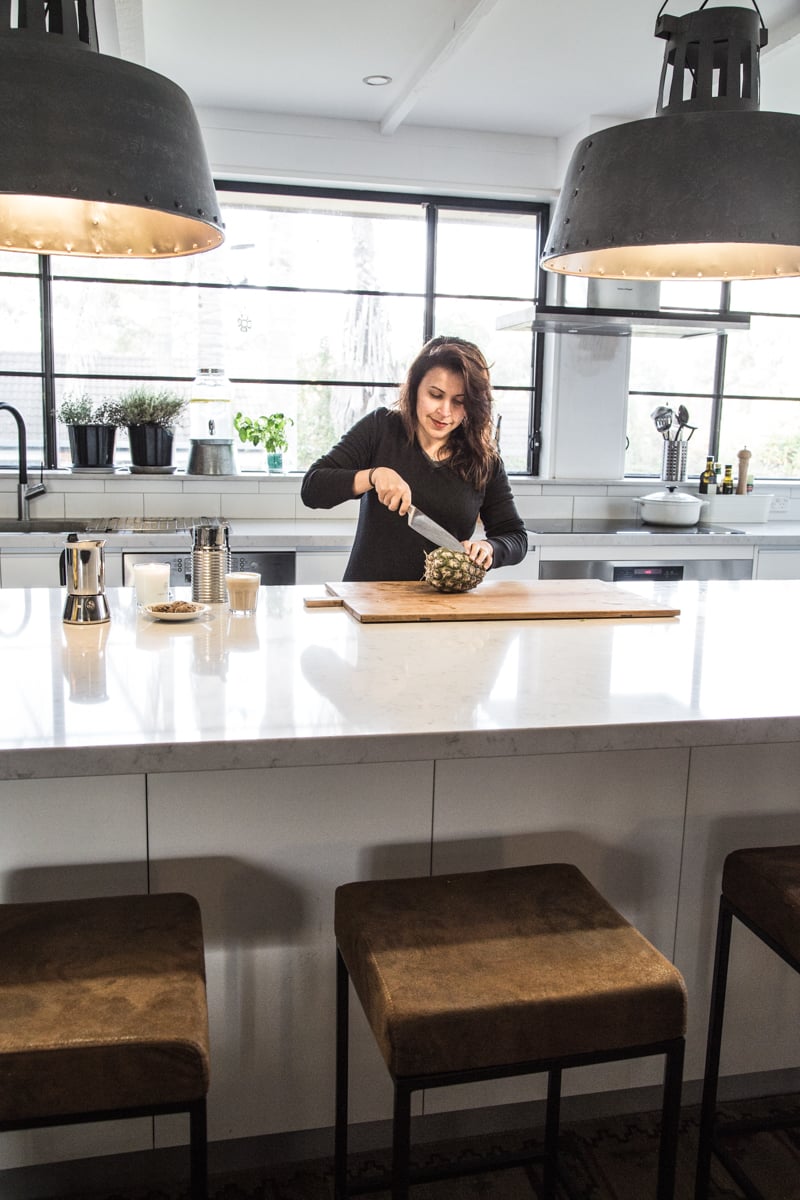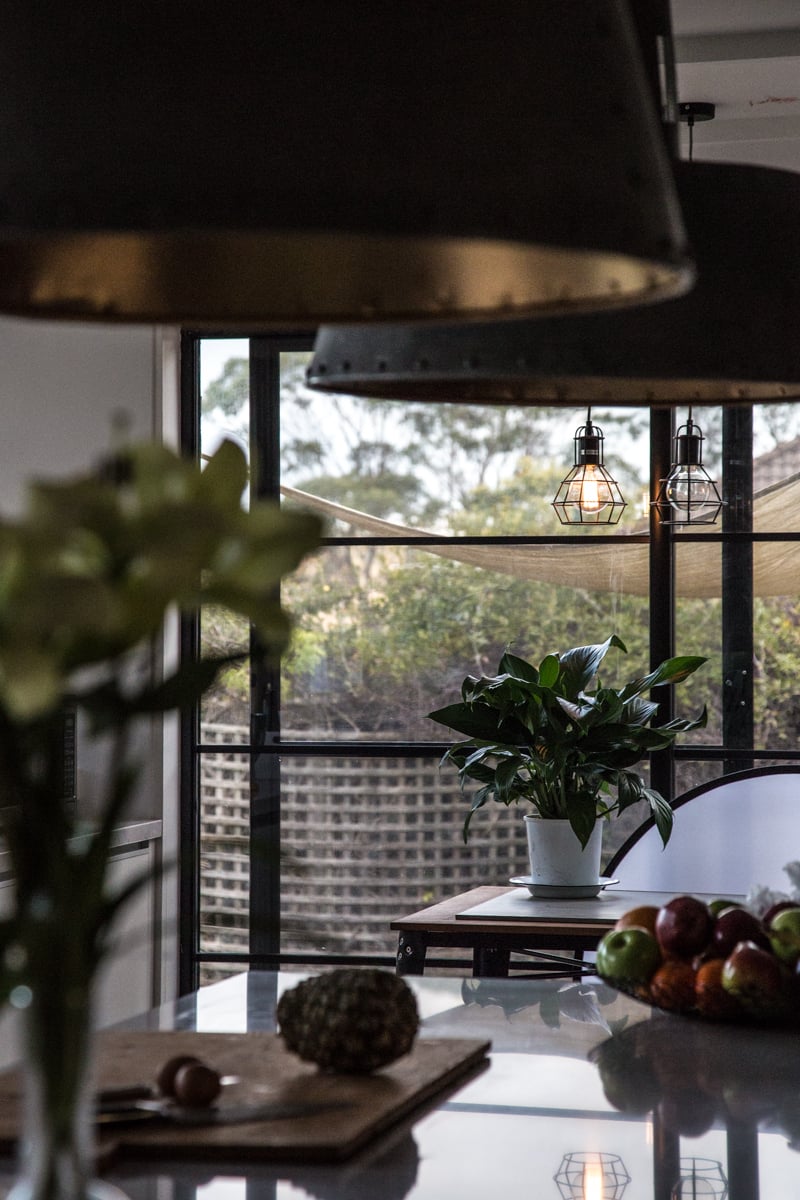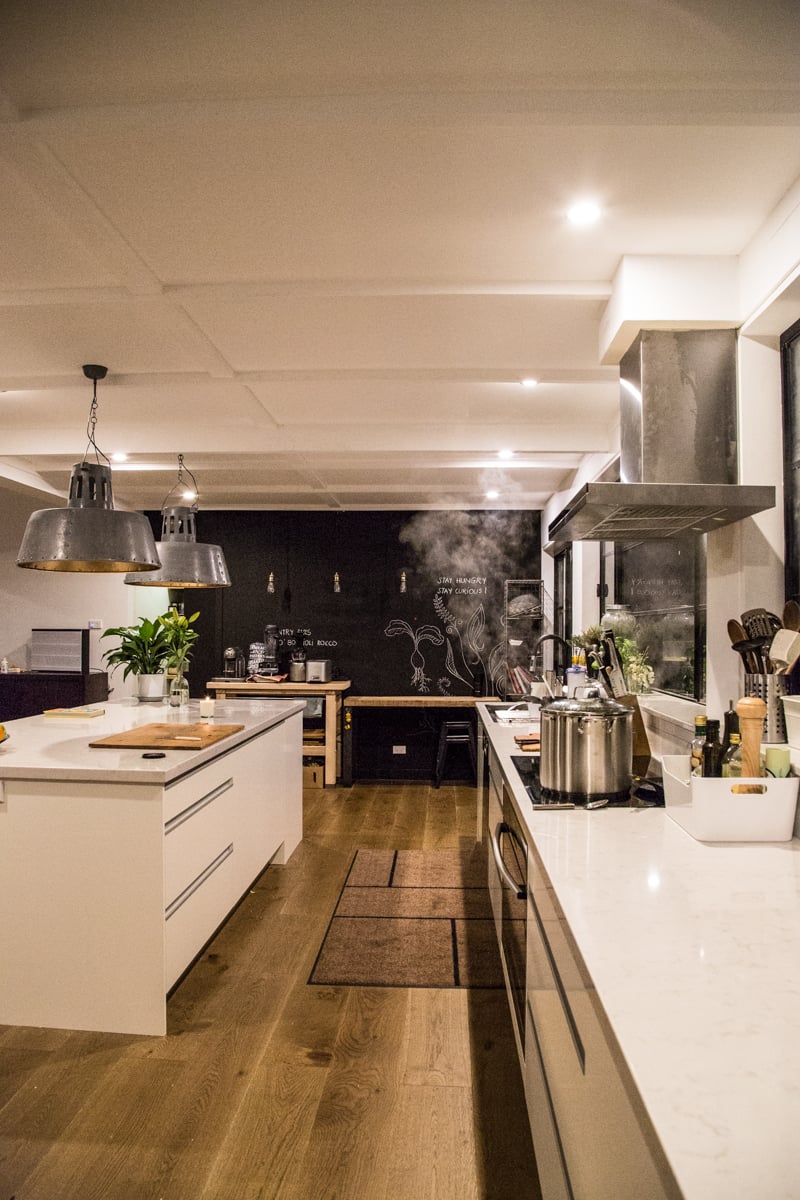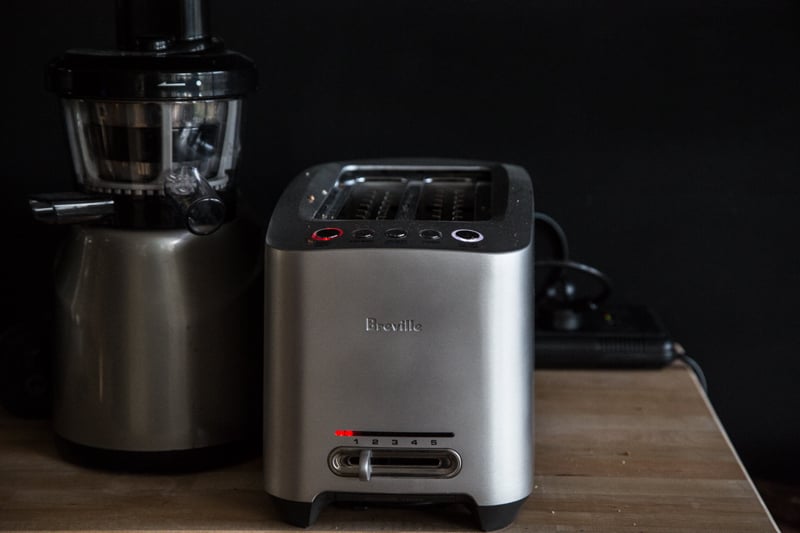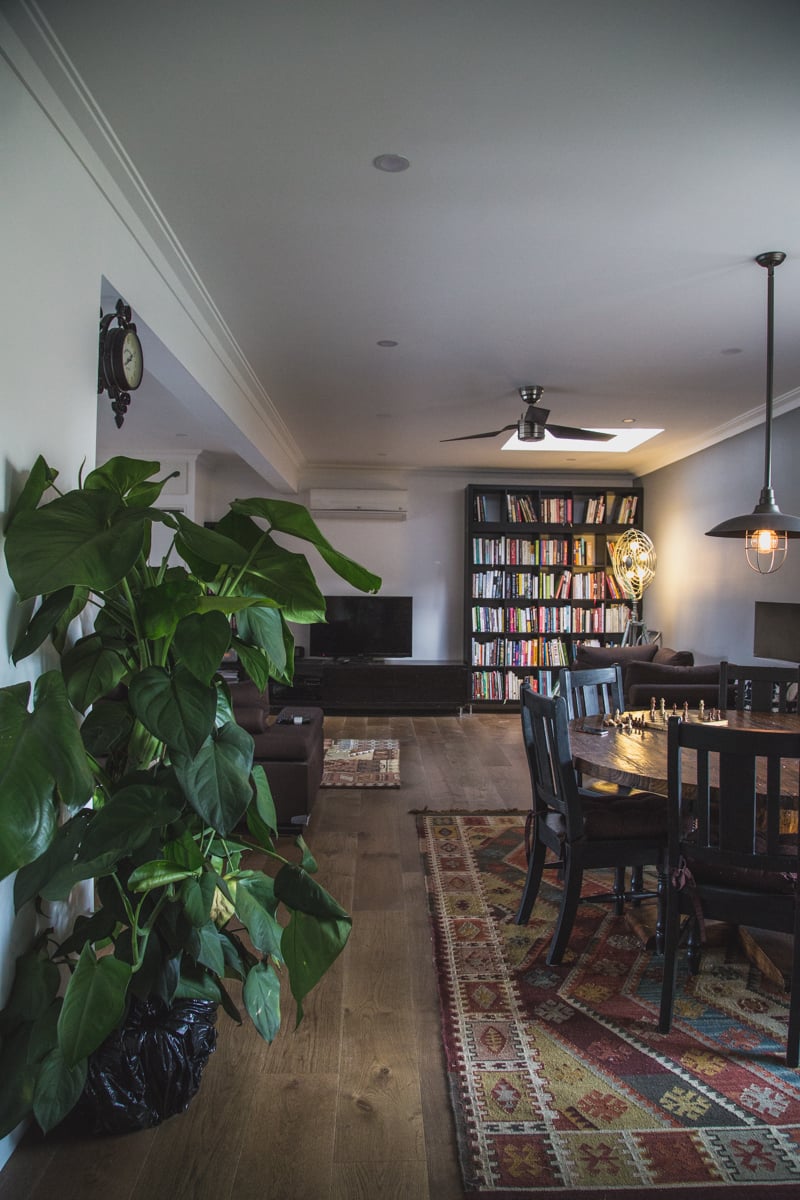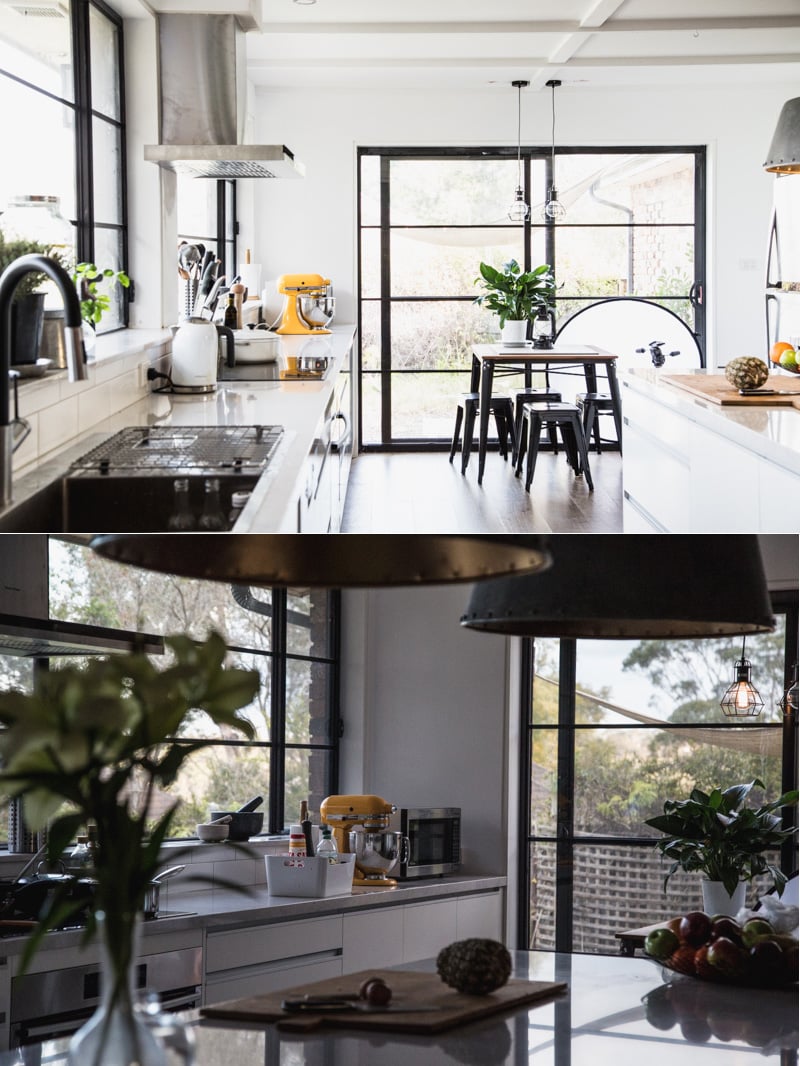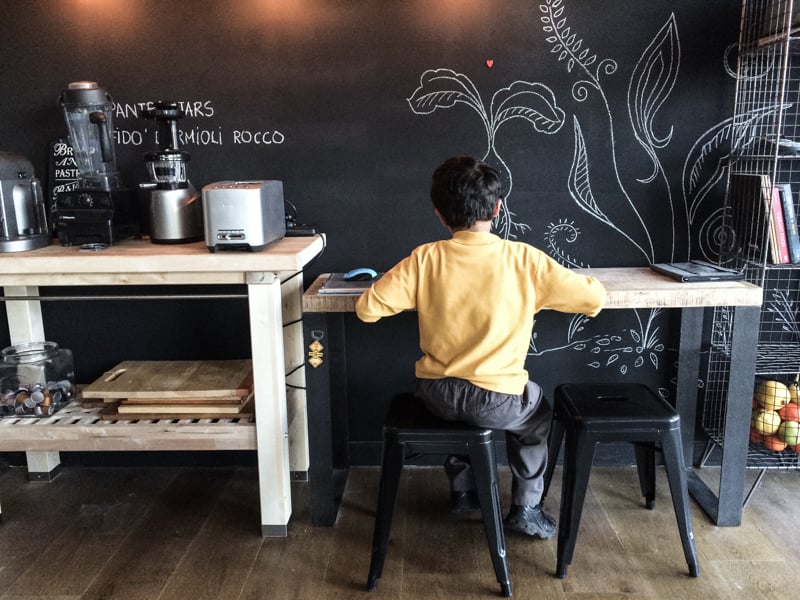 The kitchen cost us a total of $62,000. The $30,000 that I won courtesy of The Good Guys went towards design consultation, Silestone benchtops for the counter/island/laundry, kitchen cabinets and laundry under bench cabinet, tile splash back, kitchen sink and tap, induction cooktop and built in oven. Then we spent approximately $32,000 on the remaining appliances, building and structural work, flooring, plumbing, electrical, light fixtures, furniture, pots and pans, pantry, paint and decor. We spent an additional amount on the rest of the living areas, the additional bedroom and are continuing our renovations with new carpets for the internal rooms, an open deck in our backyard, more painting and restructuring.
Our end of the renovations began in mid March when we moved into the garage and started glamping. For a while we had no ceiling and big gaps in the floor, we discovered possums remains in our sealed fireplace and resorted to doing dishes in tubs using the garden tap. We had no heating, no hot running water for the makeshift kitchen and no laundry but we survived. Like squatters, we jumped in and reclaimed any small area of the house that was habitable. We played hide and seek in the new fireplace, we spread out our lego sets amidst nails and air compressors, we floorboarded (quite a fun sport!), we cursed as we painted into the night, we cursed even more when after nearly 10 litres of paint we realised that the white we chose actually looked a tiny shade of purple and had to redo all of it in a more vivid shade of white.
But we made memories and we braved the cold and we celebrated milestones in our garage. Rivs celebrated his 10th, Nick revelled in being 37 and
I cooked food for my book launch
and television appearance. It was all worth the wait. We have already stamped the new space with our messy ways and I have to still bake my first cake in the new oven (the boys baked one!), but I am taking it slow and savouring every little bit as it comes. I love how the light changes the look and feel of everything during different times of the day. The kitchen is easily my most favourite part of the house now and it is a dream in the making that surpassed all my wildest expectations. A dream that wouldn't have been if not for everyone involved and the jumpstart and opportunity that
Kidspot
and
The Good Guys
chose to give me! Thank You from the bottom of my heart!! Much love!! x
Scroll all the way down for some "Before & After" pictures as well as behind the scenes!
POINTS TO NOTE
- We debated about having a double sink or a single sink with a drainer. We chose to go with a single large sink with a drainer because we felt it was more usable. The sink is 45 litres (as big as a laundry trough) and swallows huge amounts of dishes. It is large enough to section off parts of it for food prep (thawing/washing) etc.
- We put a huge pull out drawers on either side of the oven. One for all the spoons/gadgets/peelers and the other for spices. All the prep utensils are under the spice drawers and all the most used plates and bowls are under the gadget drawer and next to the dishwasher for fast loading/unloading.
- We decided to keep the island free of any surface disturbance (no sinks/cooktops) to maximise prep and eating space. The island is 2.8 meters by 1.2 meters. The extra depth means storage on both sides of the island. Deeper cupboards on one side, slightly narrow cupboards behind the stools for less used crockery, linen and appliances.
- We got a cheap kitchen island from IKEA and converted that into a beverage station to house our coffee machine, blender, juicer and toaster - 4 of the most used items in the kitchen that needed to sit on the bench without crowding the counters. The bottom shelf is great for heaps of chopping and serving boards.
- The only overhead cupboard is above the fridge which houses kitchen tissue, hand held vaccuum, lunch boxes and drink bottles.
- We have got heaps of portable tiered wire shelves from Howards Storage World to use inside the cupboards to increase storage.
- We have also lined all drawers and cupboards with non slip liners from IKEA.
- A non-slip rubber backed mat from IKEA protects the wooden floor near the sink and dishwasher. I have also bought eco-mats from ALDI for protecting the floor in many other areas.
- The cornice seen in the living areas is called "Alto". The timber beams in the kitchen are the original ceiling painted in white.
- The pantry was constructed by our builder using strong and thick plywood. I coated it in polyurethane to enable quick cleaning. It cost us a third of what it would've cost to get it built by the kitchen guys.
- The kitchen cabinetry is called "Essendon" and the colour is "Alabaster". It is amazingly easy to wipe and is German made.
- We have a powerpoint on the side of the island. It is brilliant for juicing when the juicer, bowls full of fruit and chopping boards need to have a lot of room. It is also great to quickly connect extra appliances on the island for prepping.
- The bifold doors in the laundry were bought from HUME Doors. They were painted white to blend into the room.
- The laundry tub is also by Oliveri. The tap in the laundry is from IKEA.
Here are some more details of all the beautiful things you see in the pictures. Most old and rest new.
: 22mm wide Engineered Oak Flooring in Moscato by Prestige Flooring - World Of Tiles
: White subway tiles - World Of Tiles
: Benchtop (counter/sill/laundry/island) - Lagoon by Silestone 
: Pantry Jars by Fido - from Peters Of Kensington and Kitchenware Direct
: Island Hammered Pendant Lights - Freedom
: Mechanical Cage Lights (over square table) - Beacon Lighting
: Vintage Barn Light & Cage (over round table) - Beacon lighting
: Industrial Fan Light - Domayne
: Bookcase Unit - IKEA
: Rosario Rug (under round table) - Pottery Barn
: Rug (lounge) - Freedom
: Rug (under stools) - Temple & Webster
: Dakota Counter Stools - Living Styles
: Replica Tolix Square Table - Zanui
: Replica Tolix Black Stools - Stools & Chairs
: Cinematic Light Box - Top 3 By Design
Against Chalkboard Wall
Wire Storage Unit - Freedom
Raw Console - Interiors Online
Beverage Station - IKEA
Industrial naked pendants - Beacon Lighting
On IKEA Beverage Station
Nespresso Gran Maestria Coffee Machine by Delonghi
Vitamix Blender
Froothie Optimum 400 Slow Juicer
Breville Smart Toaster
Appliances
Oliveri Professional Series Sink (PR1121 1TH)
Oliveri Vilo Pull Out Spray Mixer (VT0426B)
Vintect 100 Bottle Wine & Beer Cooler (V40BVCS3)
Dishwasher - BOSCH (SMU68M15AU)
Cooktop - SMEG 90cm (SIHP294S)
Oven - Westinghouse 90cm (WVE916SA)
Rangehood - Fisher & Paykel 90cm (HC90DCXB1)
Pots And Pans
Scanpan IQ range saucepan, chef's pan, casserole and stock pot.
Jamie Oliver Wok, saute pan.
Chasseur casserole.
De Buyer crepe pan, frying pan.
IKEA frying pan.
Raco mini wok.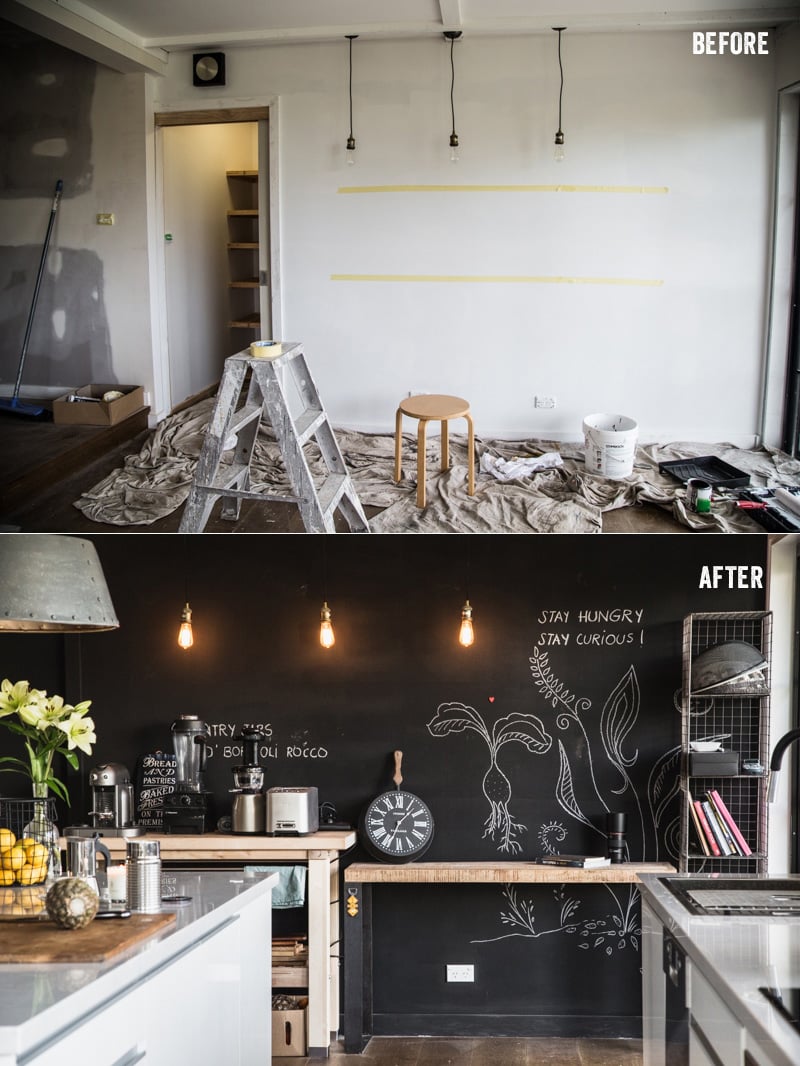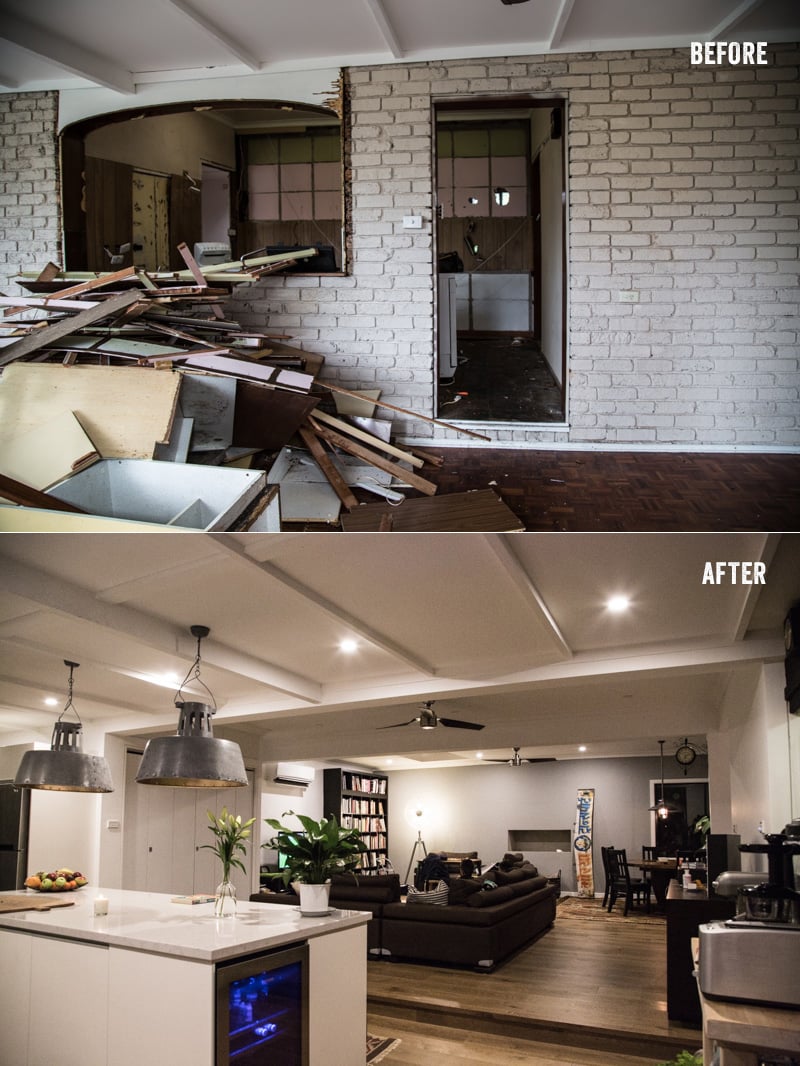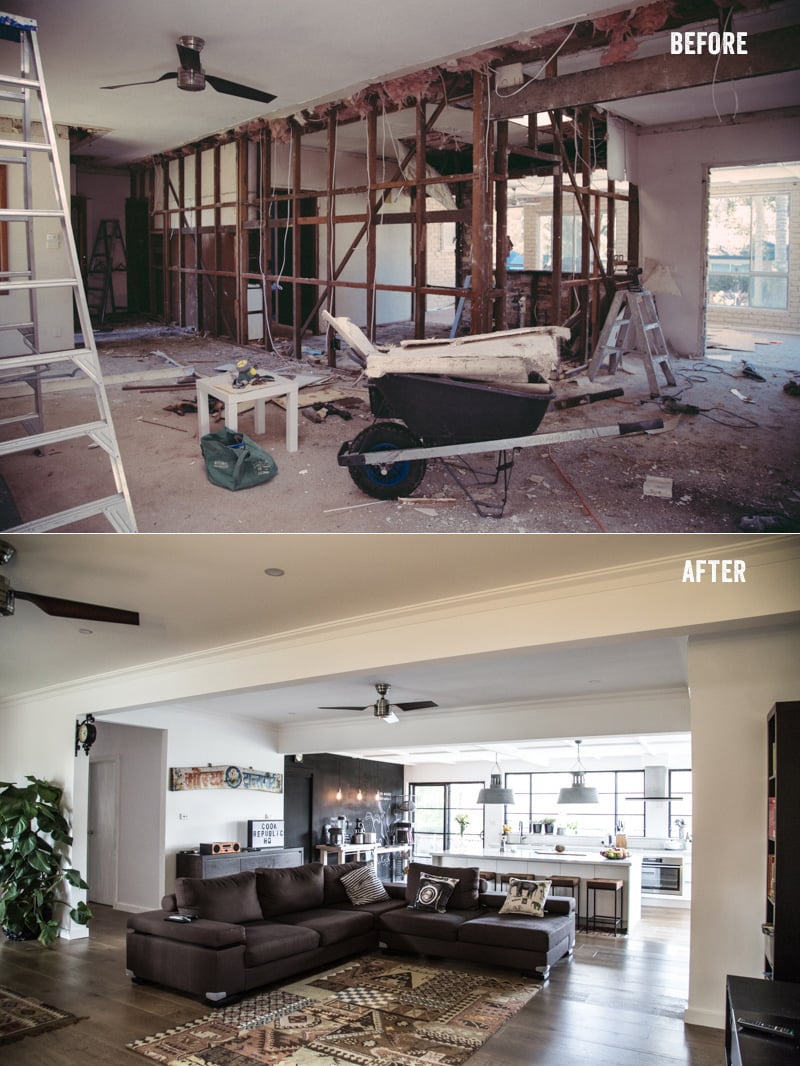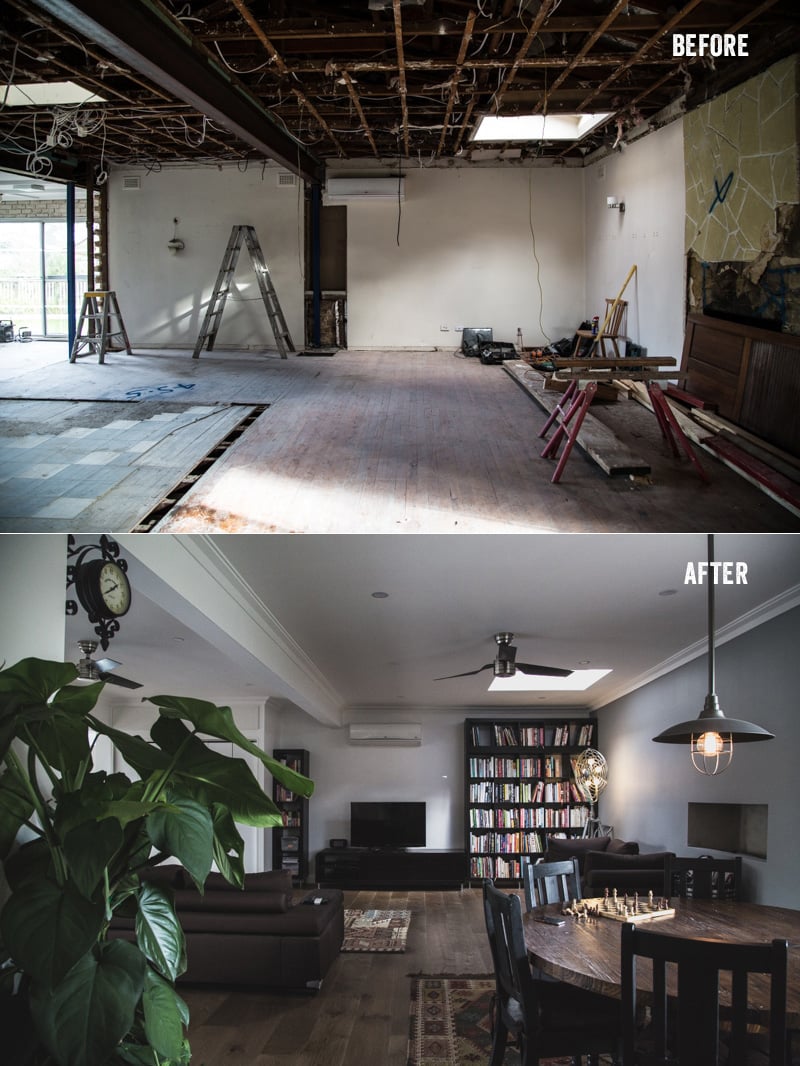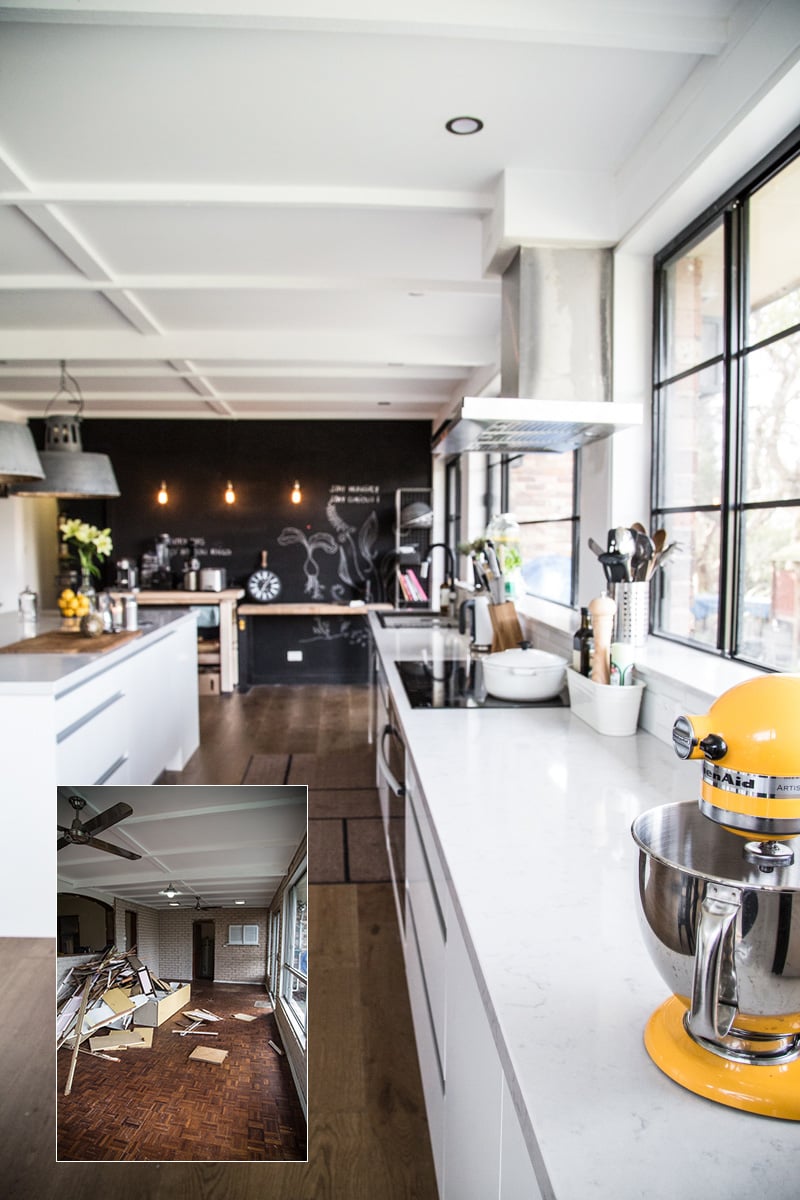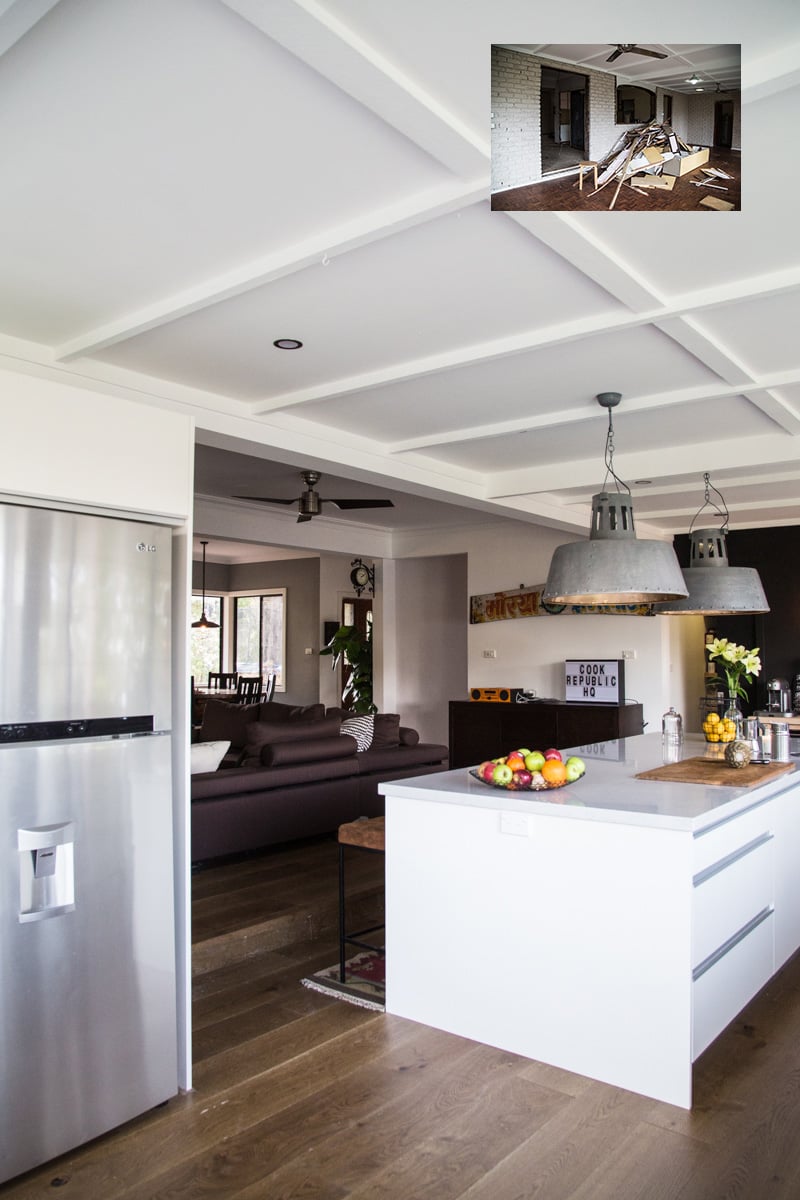 I'll leave you with some behind the scenes fun over the past four months. Thanks for staying! I know it was a super long post 🙂