It is nice to be able to look at your new year's resolution when half the year has passed you by and realize that you are still sticking with it. At the start of the year, I made a promise to myself - to sit down and eat a nourishing meal either from leftovers or one I had put together quite simply. This was hard for me because as much as I hate to admit it, eating food was low on my priority of things that needed my attention. I cooked it, styled it and photographed it to death but somewhere along the way, I lost the most primal emotion associated with food. To want to eat it and savour eat.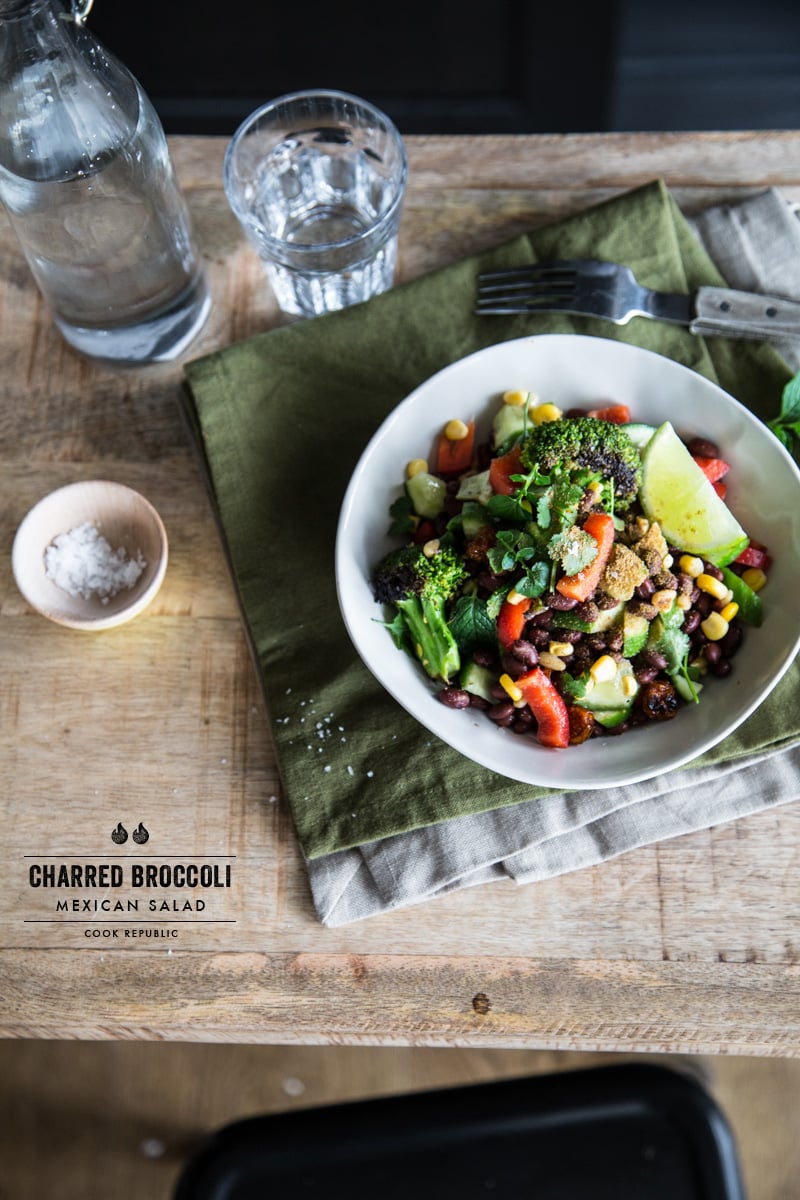 It was hard at first to get used to the discipline of stopping work in the middle of the day to think about nourishing my mind and body for just half an hour. On some days, I fried an egg and stuffed it in bread while I caught up with emails (bad idea as I often had runny egg spills on the keyboard - yikes!). On other days I would make myself a big bowl of cereal. Because it was easy and quick (but really, cereal is not lunch fuel!). A lot of the times I had a small serving of whatever it was that I was shooting and only cared about rushing off to work again.
But as the days passed and spilled into February, I realised I was consciously cooking more the previous night so I would have nice leftovers the next day. When March came and the cold weather was no longer suitable for bircher muesli straight from the fridge, I realised I was roasting vegetables in the evenings so I could blend them into a gorgeous soup for lunch. Right through the renovations with absolutely no permanent place to call my own, I felt like I was getting addicted to thinking about and prepping for the next day's lunch.
Then came a time in early May when I caught myself looking at the clock at 11:00 in the morning wondering when I could stop and have the gorgeous raw noodles I had prepped for lunch. That was an epiphany. I was a convert. I needed to stop and switch off for half an hour. I needed to sit down and eat whether it was with a friend or client or by myself. I needed to have time off in the middle of the day to nourish my body and rest my mind. It had become a habit and I was very pleased about it.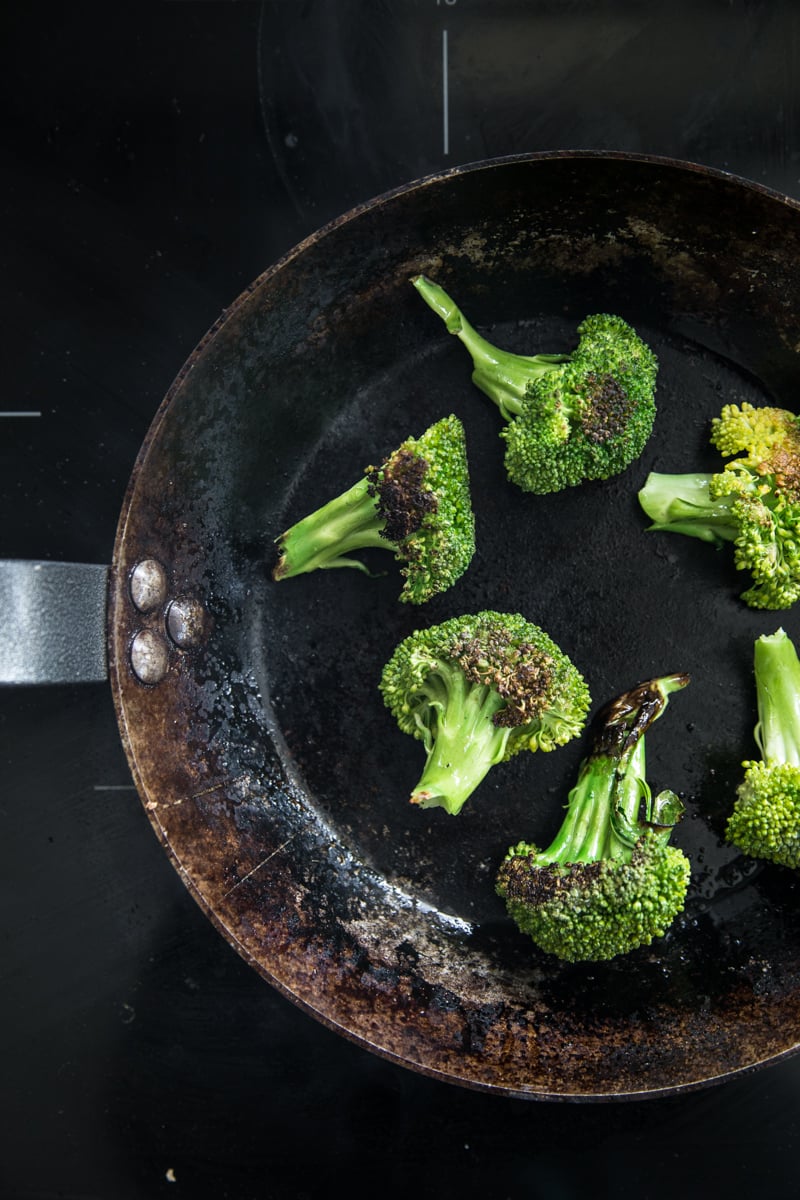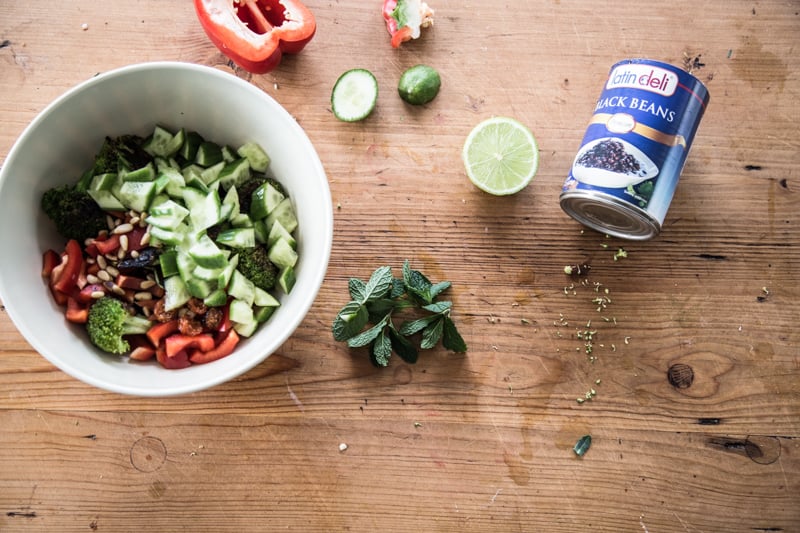 Over the months I created heaps and heaps of really simple and nourishing lunches for myself, a lot of them inspired from recipes in my cookbook. Just for me (with maybe some leftovers for Nick so he could get a taste of what I was raving about during the day!). And I felt happy. It is by far the kindest, most special thing I had done for myself. Even when I was shooting at home, there would be a simple sit down lunch for my clients and everyone involved.
As a result of consuming a nutritionally dense meal in the middle of the day, I felt clear headed and pumped. I stopped craving caffeine for a pick-me-up. I don't think I can ever go back to not being mindful about my lunch. Remembering to feed ourselves can be a struggle we can all relate to in our busy, social media loving lives. So I am going to share my Power Lunch For One recipes here in the hope that they bring you more energy and a pocket of peace during the flurry of your everyday. The recipes have become some of my favourites because they are quick to make and full of delicious and wholesome ingredients. I hope you cook them and love them as much as I do!
Today's recipe is a charred broccoli salad with lots of crunch, some black beans, some chewy sweet and sour inca berries and heaps of Mexican flavour. I love pan charring broccoli, it seriously elevates the humble vegetable to all kinds of awesome. This salad is a spin-off this broccolini almond salad that I have loved for years. Inca berry , an indigenous fruit of South America is hailed as a superfood because it is higher in antioxidants than goji berries, green tea & blueberries. It also has three times the dietary fibre of most dried fruits. If you don't find it substitute with prunes or craisins.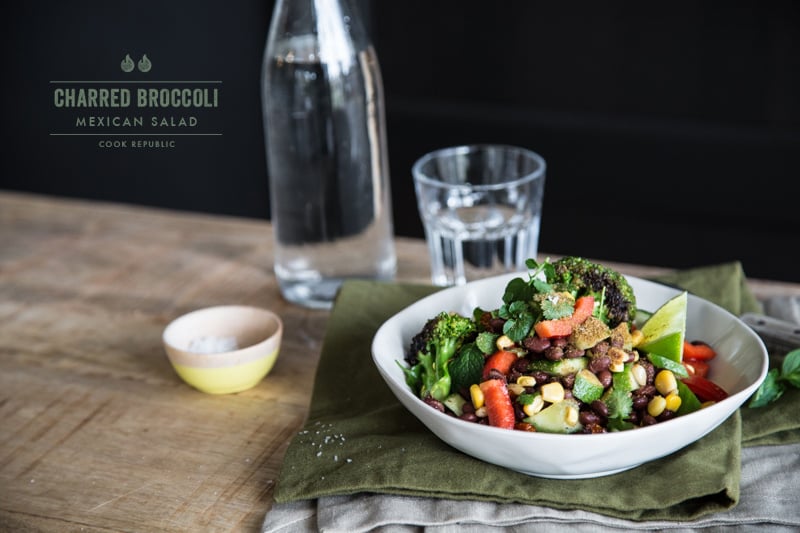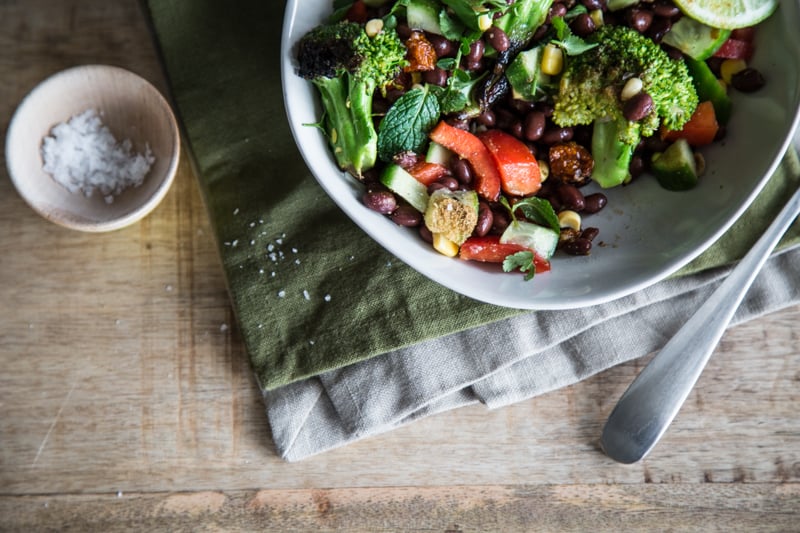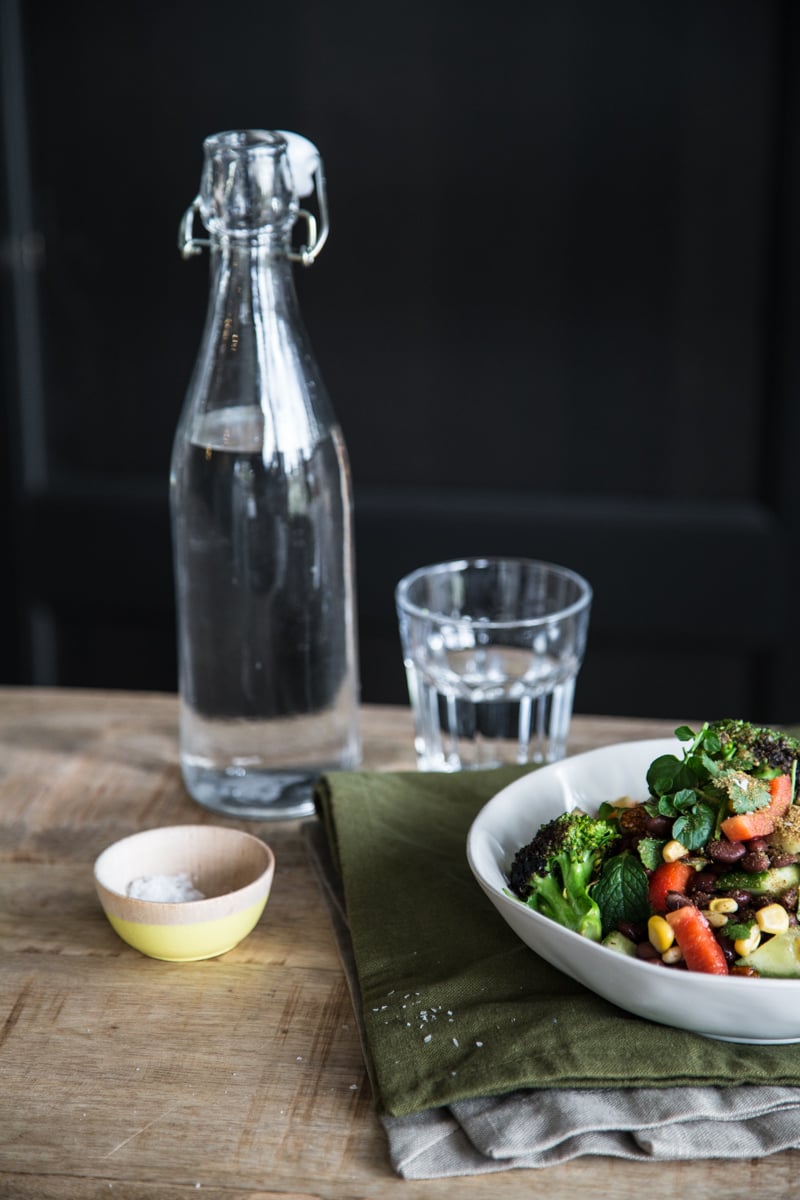 Hungry For More Recipes? Subscribe to my newsletter. Check out Facebook, Instagram and Pinterest to see everything I share! And if you love cooking and new cookbooks, join my free Cooking Club on Facebook!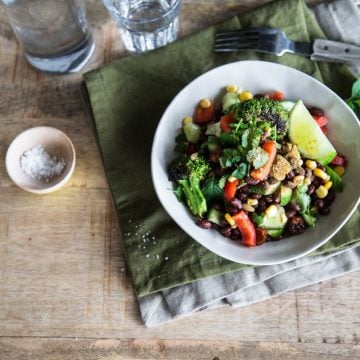 CHARRED BROCCOLI MEXICAN SALAD
A simple salad of pan charred broccoli tossed with black beans, inca berries and vibrant Mexican flavours makes a nourishing power packed lunch for one.
Print Recipe
Rate / Comment
Ingredients
1

small head of broccoli

,

florets torn

2

tablespoons

extra virgin olive oil

handful of toasted pine nuts

handful of dried inca berries or craisins

1

can

,

400g black beans, drained rinsed and drained

1

small red capsicum

,

deseeded and diced

1

small lebanese cucumber

,

diced

120

g

fresh corn kernels

handful of fresh coriander leaves

handful of fresh mint leaves

juice of half a lime

1

tablespoon

ground cumin

salt and black pepper to taste

lime wedges

,

to serve
Instructions
Heat the oil in a small wok or skillet on high. Add the broccoli florets and sauté for a few minutes until charred. Reduce heat to medium and cook for 3-5 minutes until broccoli is cooked and stalks appear glossy. Turn off the heat. Remove broccoli and place in a large bowl.

Toss the nuts and berries in the hot pan for a minute until lightly toasted. Add these to the pan with the broccoli.

Add all ingredients except lime wedges to the bowl with the broccoli and nut mixture. Toss lightly to mix well. Plate the salad and serve with lime wedges. Find a nice book to read or sit in a quiet corner and don't think of work while you enjoy this beautiful dish.
Did you make my recipe?
I'd love to hear how you went! Tag me on Instagram @cookrepublic