A Neopolitan-inspired Seafood Soup with a vibrant, bright broth brimming with layers of unbelievable flavour that forms a base for the best fresh seafood, seared and charred on high heat. Zuppa Di Pesce is an incredibly easy, effortless, 30-minute recipe that will wow everybody. A staunch family favourite for special occasions. Serve with plenty of lemon wedges, fresh herbs and good crusty bread for a good time!
Jump to:
The History Of Seafood Soup In Italy
Like all regions known for their famous dishes, the history of this delicious seafood soup is rooted in its practicality and availability. This delightful soup and its many variations were invented by the fishermen all along the vast coast of Italy, in order to use up the day's unsold catch. Although more stew than a soup, this evolved from being simply about fish to be a symphony of seafood. And that is what I love the most about it.
While some regions in Italy have a dozen varieties of fish in their soup, others serve their soup with a dollop of salsa verde. Some others add olives or raisins, while some add saffron and throw their seafood on charcoal before adding it to the soup. The idea is to keep it simple with whatever is fresh and in abundance while getting creative with ways to cook it - simply!
Italian Seafood Soup for a Celebration Dinner
I first started making this delicious Italian-inspired seafood soup a couple of years ago. We love our seafood in this home and are always looking at trying out new recipes to hero the fresh, wild-caught seafood I occasionally source from the fishmongers. But, it was only during the height of Covid last year when we were in isolation and had our older son's 16th birthday to celebrate that I perfected this gorgeous Seafood Soup.
Last year it was just the four of us for the sixteenth birthday celebrations. I cooked a five-course Seafood And Vegetarian Italian dinner. We set up a corner of our kitchen like a quaint trattoria with a little table, a checkered tablecloth, a small handwritten blackboard with the special menu and some fairy lights. We all dressed up and had the most special night complete with charming Italian music playing on Spotify somewhere in the room.
A Great Neopolitan Zuppa Di Pesce
So, having made many variations to this Italian Seafood Soup, I have gleaned the best technique and ingredients to make a perfect soup every time in just over 30 minutes. My seafood soup is inspired by the Neopolitan Zuppa Di Pesce but with some slight variations. I love building layers of flavour into that bright red broth. And for that I always start with Val Verde Passata for my base. This beautiful passata made with 100% Italian tomatoes to a traditional recipe is always a constant in my pantry. It has an amazingly rich taste and that colour it imparts to dishes is just incredible.
I use a wide, cast-iron sauté pan that is deep enough to hold a 5-6cm layer of broth and seafood quite comfortably. I like using a wide pan because it not only makes the final dish look spectacular but also keeps the seafood gently resting above the broth which in turn stops it from overcooking. Nobody likes chewy seafood!
I first start by caramelizing my onion, garlic and fennel in the pan. After adding saffron and deglazing it with some good dry wine, I add the passata and herbs and let it build the flavours on low. While the sauce simmers away gently, I cook all my seafood. I steam the mussels and clams in stock and flash fry all the fish, prawn and squid/octopus on high heat for mere seconds to sear and char them.
The stock goes into the soup base and simmers to build more flavour and when I am ready to serve, I add the seafood to the soup base and with some crusty bread and fresh herbs, we are ready for a feast! I hope you make this incredibly delicious Italian Seafood Soup over the Easter weekend. I would love to hear your feedback in the comments below. Happy Easter lovely people! x
Recipe
Hungry For More Recipes? Subscribe to my newsletter. Check out Facebook, Instagram and Pinterest to see everything I share! And if you love cooking and new cookbooks, join my free Cooking Club on Facebook!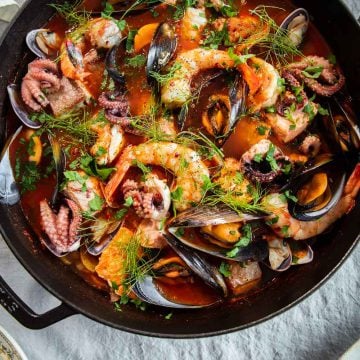 Ingredients
300

g

mussels

,

scrubbed and debearded

300

g

clams

12

large prawns

,

heads trimmed, shell removed and deveined

200

g

salmon fillets

,

cut into large pieces

200

g

squid tentacles

750

ml

Vegetable stock

3

tablespoons

olive oil

4

garlic cloves

,

minced

1

teaspoon

red chilli flakes

2

brown onions

,

finely chopped

1/4

tsp

saffron

1

small fennel

,

thinly sliced

250

ml

white wine

500

g

passata

2

teaspoons

dried oregano

1

tbsp

lemon juice

1/4

cup

fresh parsley

,

chopped

3

fennel fronds

black pepper

,

freshly cracked
Instructions
To Prepare The Seafood
Add mussels and clams to a large heavy-bottomed pot along with 750ml vegetable/fish stock. Cover and cook over medium heat for 3 minutes, shaking pan occasionally until mussels and clams have opened up. Remove from heat. Strain and reserve the stock for the soup. Discard any unopened mussels and clams.

Heat a tablespoon of oil in a large cast-iron frying pan on medium-high heat. Cook fish and prawns for 1-2 minute until seared and starting to char. Remove from heat and set aside.

In the same pan, cook tentacles for 30 seconds on high heat until just cooked. Remove and set aside.
To Make The Soup
Heat the remaining 2 tablespoons oil on medium-high heat in a large wide pan. Add garlic and chilli. Sauté for a few seconds. Add onion and fennel. Sauté for 3-4 minutes until the onion is caramelized. Add the pinch of saffron. Mix well. Add wine to deglaze the pan and mix all the brown, sticky bits.

Add passata, reserved stock, oregano and lemon juice. Mix well. Reduce heat to medium and simmer uncovered for 15-20 minutes to develop flavours.

Add the mussels, clams, fish, prawns, octopus/squid and mix well. Cook for a further 1-2 minutes until heated through.

Remove from heat. Sprinkle with black pepper, garnish with parsley and fennel.  Drizzle with extra virgin olive oil.

Serve with crusty bread.
Nutrition
Calories:
269
kcal
|
Carbohydrates:
21
g
|
Protein:
24
g
|
Fat:
10
g
|
Saturated Fat:
2
g
|
Polyunsaturated Fat:
2
g
|
Monounsaturated Fat:
5
g
|
Trans Fat:
0.01
g
|
Cholesterol:
94
mg
|
Sodium:
950
mg
|
Potassium:
1031
mg
|
Fiber:
4
g
|
Sugar:
8
g
|
Vitamin A:
1053
IU
|
Vitamin C:
21
mg
|
Calcium:
113
mg
|
Iron:
6
mg
Did you make my recipe?
I'd love to hear how you went! Tag me on Instagram @cookrepublic