Today, I am taking the hassle out of roasting carrots. No more wondering how long to roast for or at what temperature and no more mushy carrots. With my crowd-pleasing garlic and miso infused Miso Roasted Carrots! They are so good you will be eating carrots several times a week. Guaranteed!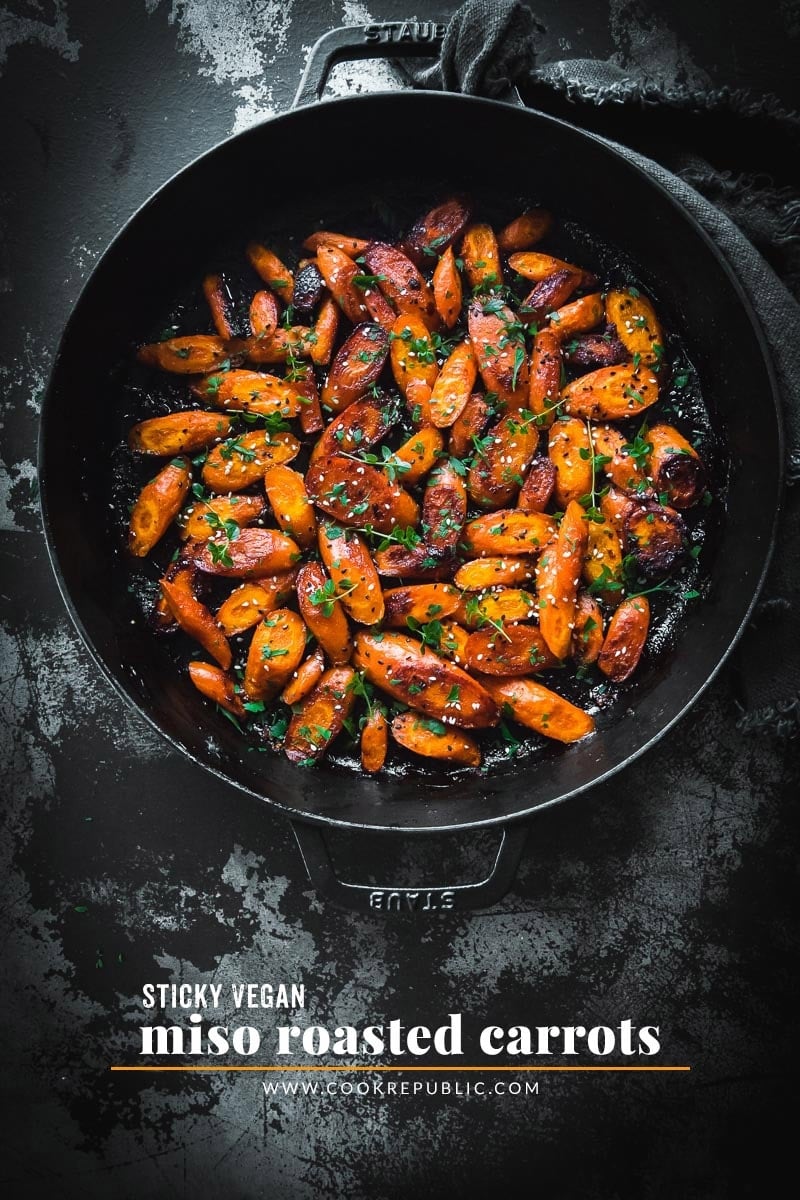 A good cast iron pan is a must for roasting veggies
You might think that roasting veggies entail nothing more than chucking in a pan and shoving in the oven. But it is a little more than that. Often, it is important to use the right pan and the right temperature. Because you want your veggies to roast and get those beautiful charred bits, be a bit dry on the outside but still juicy and full of flavour. The most important thing is that you don't want them to stew and get mushy.
And for that, you will need a pan that can accommodate twice the amount of veggies you plan to roast. Spaced out veggies that can breathe roast really well. So a good roasting pan will win you half the battle. Did you know that the darker the pan, the faster your veggies will roast and reach peak caramelization?
In recent years, I have completely eliminated non-stick coated bakeware, opting to bake in cast iron, enamelware, carbon steel or aluminized steel instead. Having recently bought this big beautiful Staub cast iron pan, I thought it was perfect for perfecting my miso roasted carrot recipe. This cast iron pan is 13 inches wide and has a 3-litre capacity, so perfect for roasting up to 1.5 kilos of carrots.
Perfecting the art of perfectly roasted carrots
This recipe for Vegan Miso Roasted Carrots is incredibly simple and everything gets done in just one pan (win!). It has become part of my weekly meal prep routine. I buy organic carrots and usually leave the skin on. But my last batch was quite heavy on the dirt, so I peeled them for this recipe. I cut each carrot in 4-5 one-inch pieces. I cut them at a slight angle so as to get more surface area for the marinade. They also look pretty this way.
The carrots with the miso and maple get this delicious salty candied flavour which is very very addictive. In fact, if I happen to leave it on the kitchen counter after prepping it, there have been occasions when the boys will snack on them till they are all gone! They are that good! The high temperature and roasting time ensures carrots that have just that tiny amount of bite. When you scoop them out to store, do so gently as you don't want to break them up. Soak your pan afterwards in hot water as the maple syrup literally becomes candied and you will have all these hard candy bits in the pan. The miso roasted carrots will last in the fridge for up to 4 days unless you eat them all before. Enjoy!
Recipe
Hungry For More Recipes? Subscribe to my newsletter. Check out Facebook, Instagram and Pinterest to see everything I share! And if you love cooking and new cookbooks, join my free Cooking Club on Facebook!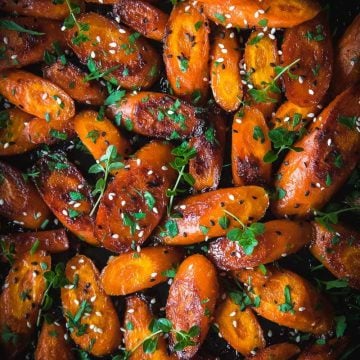 STICKY VEGAN MISO ROASTED CARROTS
Delicious garlic and miso infused candied roasted carrots that are ready in under 30 minutes and great for snacking or adding to everything! Crowd Pleasing recipe!
Print Recipe
Rate / Comment
Ingredients
1

kg

carrots

,

washed peeled and cut into thirds

¼

cup

extra virgin olive oil

4

garlic cloves

,

minced

1

tablespoon

miso paste

3

tablespoons

maple syrup

1

teaspoon

seas salt flakes

,

or as per taste

Freshly cracked black pepper

1

tablespoon

fresh parsley

,

chopped

1

tablespoon

fresh thyme

,

chopped

1

tablespoon

white and black sesame seeds
Instructions
Preheat oven to 220°C (convention)/ 200°C (fan-forced/convection).

Heat oil in a large oven safe pan on medium. Add garlic, miso paste and maple syrup. Sauté for a few seconds until garlic starts caramelizing.

Add carrots, salt and pepper. Toss and mix well to coat carrots evenly.

Cover with foil and bake in the oven for approximately 20 minutes until carrots are tender and starting to turn golden. Remove foil and bake for a further 5 minutes until carrots start caramelizing.

Remove from oven. Add herbs and sesame seeds. Mix and serve.
Did you make my recipe?
I'd love to hear how you went! Tag me on Instagram @cookrepublic
---
BROWSE MORE ROASTED VEGGIE RECIPES
Butter Roasted Whole Cauliflower With Hot Garlic Sauce
Roasted Sweet Potato Salad WithHarissa Chickpeas
Slow Roasted Cauliflower Salad With Sweet Potato Hummus & Dukkah
Roasted Broccoli Steaks With Garlic And Chilli